People have always watched others play video games. They sat around the television, watching each other play, or they would visit the local arcade to watch the masters. Twitch brings that pastime into the 21st century by allowing gamers to stream live to anyone wanting to watch them.
There is more to it than watching a gamer. As the game is live, viewers can often interact with the streamer and help direct the content. Some get the opportunity to play with broadcasters with their game open on one screen and the stream open on another. The platform has grown into a community that continues to grow and thrive.
When Was Twitch Created
The Twitch we know today isn't actually what it was years ago, back when it first started. The original website of Twitch launched back in 2007, and it was called Justin.tv.
While Twitch focuses on video game streaming, Justin.tv was a project created by four friends in which the titular channel owner and one of the founders, Justin Kan, livestreamed IRL activities 24/7. With a webcam attached to his baseball cap, Justin streamed his entire life except for going to the bathroom and bathing.
This simple but interesting premise captured the audience. From being a single-channel website focusing on Justin, they soon decided to turn it into a live-streaming platform the public could enjoy.
What is Twitch?
Twitch is a live streaming service that originally catered to gaming but has now expanded into other categories, including music and entertainment. The website's name was taken from the term "twitch gaming," which means playing fast paced-games that challenge a player's reaction time.
Is Twitch Free?
For the most part, Twitch is free. You can watch live streams, create an account, and even start a broadcast yourself all without spending a dime.
However, to support your favorite streamers, you may have to spend some real-world money and exchange it for Bits. You can also subscribe to Prime Gaming (formerly Twitch Prime) which offers several perks, including in-game loot and ad-free streaming.
When Did Twitch Start?
In 2007, Justin Kan and Emmett Shear (currently the CEO of Twitch) created the live-streaming platform Justin.tv. Though the site had many categories for content, the gaming section grew exceptionally fast.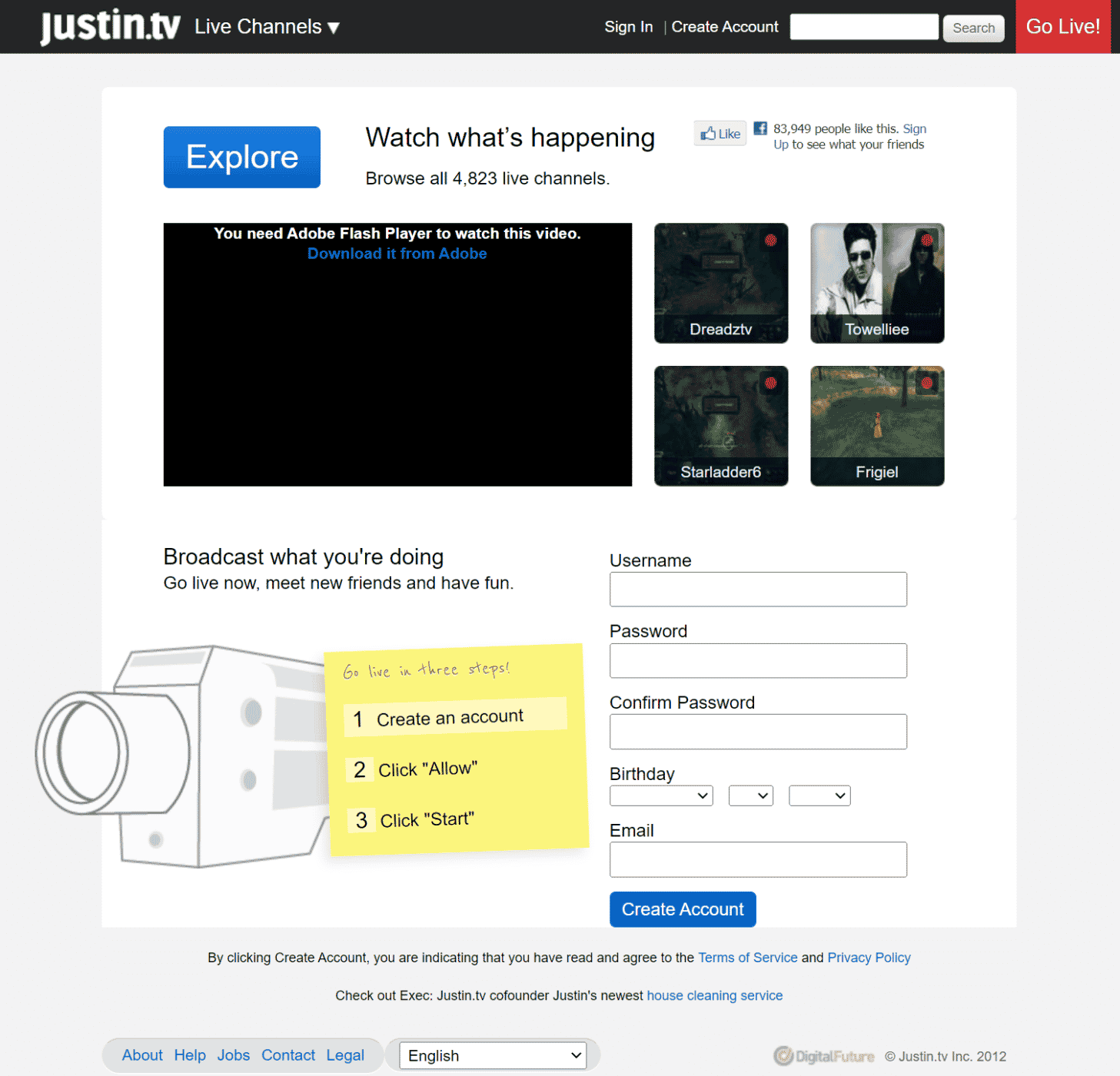 They soon realize that video game streamers have the most audience on the platform. So, in 2011, Justin.tv split the content, renaming the gaming portion of the site Twitch.tv. Since then, Twitch has dominated the industry as far as esports broadcasting is concerned.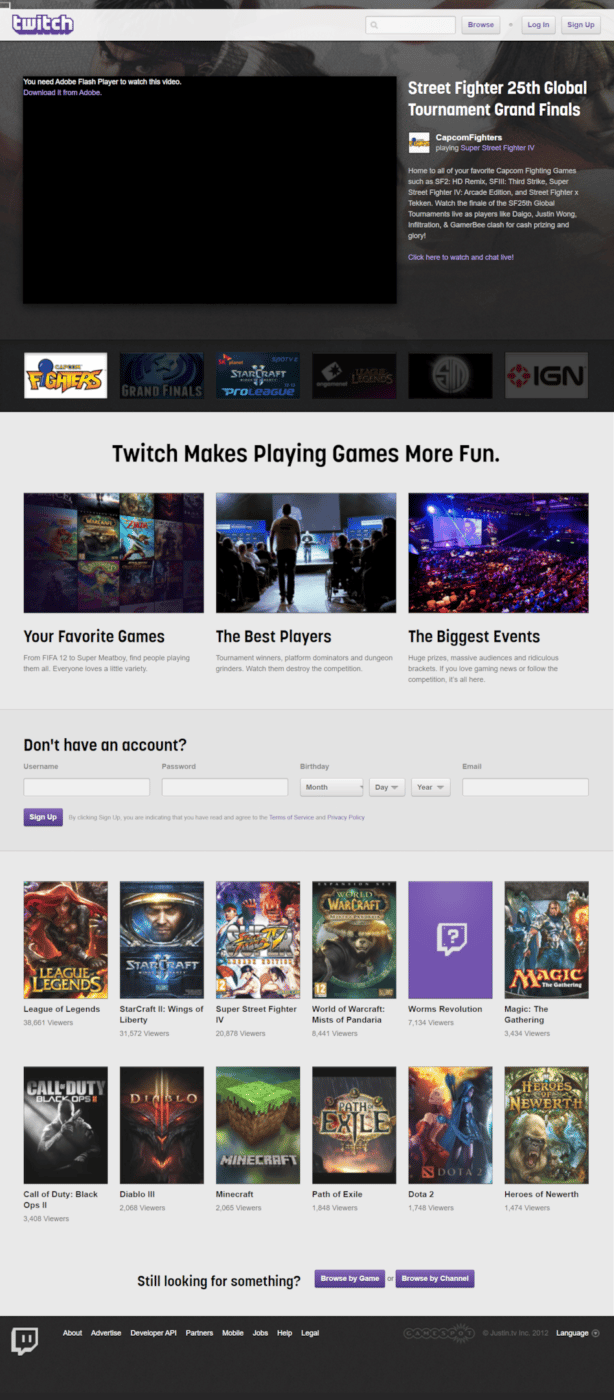 The site began to take off in February 2014 when a stream called "Twitch Plays Pokemon" went viral. Gamers from around the world logged on to Pokemon Red using commands together. The channel was viewed more than 6.5 million times, with an average of 60-70k concurrent viewers.
In the same month, Twitch got 1.8% of peak internet traffic in the US alone.
Seeing the platform's success, the company executives decided to rebrand the parent company from Justin.tv, Inc. to Twitch Interactive and making Twitch their flagship brand.
Growth and Acquisition
Soon, Twitch attracted the attention of tech giants, particularly Google and Amazon.
The two behemoths probably realized its potential by seeing how Twitch functions uniquely from most live streaming and video-sharing websites. In 2014, rumors began spreading around the interwebs that Google plans to acquire Twitch and possibly make it a subsidiary.
However, the deal eventually fell through before the year ended, allegedly owing to potential antitrust issues as the company also owns YouTube, one of its major competitors.
If the deal pushed through, it was reported that Google would have to pay a whopping $1 billion to acquire Twitch Interactive.
On August of the same year, the company decided to shut down Justin.tv and focus on Twitch instead. Then, just a few weeks after the original website was closed for good, another large company had the opportunity to buy Twitch Interactive.
Twitch.tv was purchased by Amazon on August 25, 2014, for $970 million. It is now a subsidiary of Amazon, which already owns two other video game services: Reflexive Entertainment and Double Helix Games. Emmett Shear remained as CEO.
Becoming the Premier Platform For Gamers
Many thought that the buyout was considerably expensive at the time, as it seemed that Amazon was making a huge gamble in acquiring a platform that's primarily known for streaming video games. And yet, the acquisition proved to be an excellent move for Amazon, seeing how Twitch became extremely popular and stayed profitable over time.
In 2021 alone, Twitch made a revenue of $2.6 billion, and the user base is just growing year after year. In the same year, annual concurrent viewers grew to 2.78 million, a far cry from the 530,000 Twitch users watching gaming streams in 2015.
Even though viewers can watch Twitch streams without an account on the platform, many decided to sign up when they saw the benefits of having one. Later on, more and more Twitch users started streaming themselves because of how easy it is to set up a live broadcast on different devices, including PC, gaming consoles, and mobile. This and the ever-expanding gaming community have turned Twitch into a behemoth in the gaming industry itself.
In 2016, Twitch created the "cheering" method, allowing users to purchase Bits (click here to learn how to get them for free) and donate them to their favorite streamer. Later that year, they released Prime Gaming, which gives Amazon Prime members exclusive Twitch benefits such as additional emotes and the ability to subscribe to one streamer per month.
Social Platform for Gamers
Twitch is a great place for gamers to meet and interact with each other. Users can learn more about a particular game by watching it played by professional streamers. By joining a streamer's online community, they can meet like-minded people who enjoy the same content they do and game with them.
Twitch has in-built socializing services like direct messaging (called whispers) and the ability to chat with others watching the same channel.
The platform has boosted the popularity of some games as well. While they would have been popular in their own right, games like Fortnite and League of Legends receive millions of views per month, continually fueling their presence in the gaming industry. Retro games have also "come back to life" as people watch broadcasters play the games of their youth.
Do People Really Earn Money on Twitch?
Many streamers earn a livable wage on Twitch. They can make money in a variety of ways through crowd-sourcing or by working with sponsors. The most common way for broadcasters to earn is through the donations and subscriptions of their followers.
Donations can be made through third-party software or with Bits, Twitch's on-platform currency. Viewers can subscribe to channels at one of three tiers. Tier 1 costs 4.99 USD, Tier 2 costs 9.99 USD, and Tier 3 costs 24.99 USD. Subscribers get to watch the channel ad-free and have access to the channel emotes that the streamer has uploaded. Many broadcasters offer additional benefits to their subscribers. If this is the case, they generally detail the perks on their profile. A channel must have Twitch affiliate status to accept Bits or subscriptions.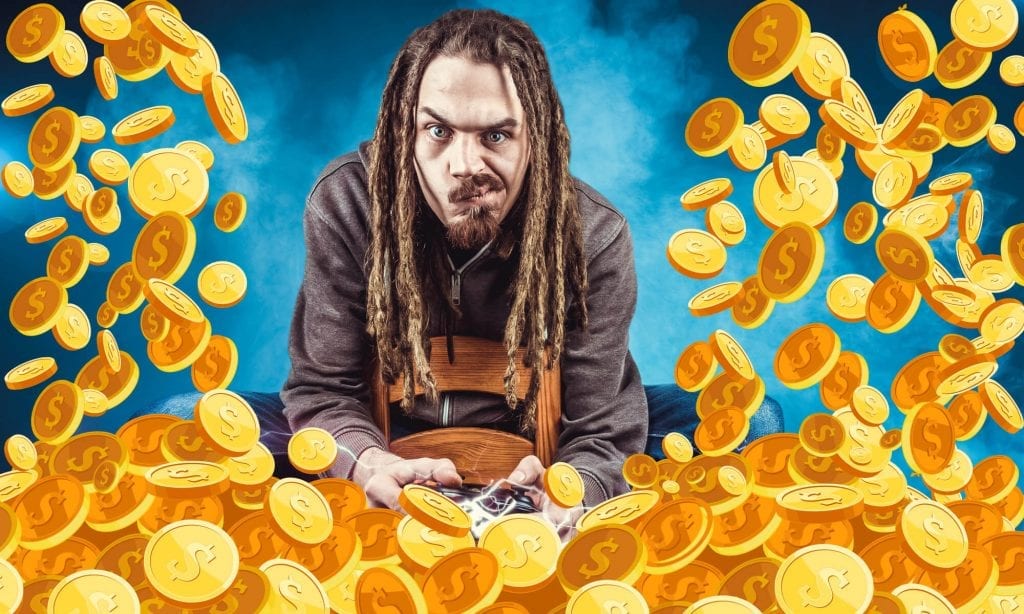 Streamers can also earn by creating deals with sponsors or through affiliate sales. They can also make money by selling (or trading) their skills to other broadcasters.
Restrictions and Controversies
Like any company, Twitch wasn't immune to setbacks and problems. Over time, the platform and its community have faced numerous controversies, including harassment, hate speech, copyright, inappropriate content, gambling, data leaks, and even being linked to extremism. Twitch has continuously tried to address these issues by updating its policies now and then.
Unfortunately, with a community as large as Twitch, some of these issues have persisted until now. Users are advised to use some precautions when browsing the website and interacting with others.
What leak happened on Twitch?
On October 6, 2021, an anonymous hacker released data from Twitch, including the source code, the company's plan to launch a Steam competitor called 'Vapour,' and the payout of the top streamers. It caused quite a stir online, and Twitch later confirmed the data breach on Twitter.
Nine days later, on October 15th, Twitch assured its users that no password had been leaked. They also issued an apology to the community.
Twitch Con
Twitch Con is an annual event (so far held in California every year) that takes place in autumn. For three days, broadcasters gather together to learn from the masters, network, meet new sponsors, and have a good time.
The goal of the event is to celebrate gaming and the streaming community. There are general announcements about new changes to the platform and workshops for broadcasters at every level.
Twitch Competition
While Twitch is still top dog in streaming platforms, it has its share of competitors. While there are many platforms, the most popular are YouTube Gaming and Facebook Gaming.
Frequently Asked Questions
What made Twitch popular?
There are several reasons why Twitch is popular:
It's live and interactive, meaning viewers can engage in discussion with others while the Twitch streamers play in real time.
It's much more focused on gaming content. While YouTube and Facebook caters to everyone, Twitch has been and still is considered the home for live streaming games.
Twitch broadcasts Esports competitions from time to time, which is a much-awaited event by many gaming community members.
There is a wide array of games you can play. Other categories are now also on the rise besides gaming, including Music and Just Chatting.
Setting up a stream is quick and easy, which made it instantly available to anyone.
When was Twitch first released?
The Twitch most people know today was launched in 2011. But before that, it used to be a part of Justin.tv, a livestreaming service that offers a variety of categories and specializing in IRL.
What is the Twitch used for?
Twitch is used for streaming and watching video games live, including FPS, MMORPG, and even more casual games.
What was Twitch originally used for?
Twitch started off as a spin-off of Justin.tv, a popular streaming service back in the day that mostly features IRL live streams. Because the creators saw that gaming is the most lucrative category in the platform, they launched Twitch as a separate platform from Justin.tv. Later on, Twitch became the company's focus, until Amazon acquired it in 2014.
What was Twitch before?
Before Twitch was called Twitch, the website was known as Justin.tv.
Who was the very first Twitch streamer?
Sean Plott, also known as Day9tv, is acknowledged as the first-ever streamer on Twitch. He's also the first one to receive a subscribe button.
Is Twitch only for gaming?
While Twitch originally started off as a live streaming platform for gamers, it attracted other types of users and has expanded into other categories. As of 2023, users can also stream IRL videos, talk shows, and music festivals.
Conclusion
Millions of viewers watch Twitch streams for entertainment and to learn more about a game they are playing. Over the years, the platform has attracted many users, viewers, and streamers. Twitch streaming has helped shape the gaming industry and the community built around it. Suffice it to say, Twitch is still one of the strongest service providers in the live streaming arena, and it's here to stay.