This post will go over what you should do before each stream and what you should do at the end of your stream. Feel free to bookmark this page for future use. We have also included a printable image at the end.
What to Do Before Each Stream on Twitch
This article assumes that you've already gone through the branding process and have set up and understood your equipment. It also assumes that you have set up your broadcasting software and have synced it to your streaming platform (Twitch, Facebook Gaming, etc.). We are covering the steps you should take on a day-to-day basis every time you go live.
1. Gather Snacks Before Your Stream

If you plan for a long stream, make sure that you gather your snacks, water, G-Fuel, and anything else you might need. It is essential to stay hydrated while you stream. We recommend that you eat a substantial meal before you stream so that you aren't hungry throughout it. While many viewers understand if you need to eat on stream (some love it, actually), it does put many other viewers off.

2. Check the Mirror before You Stream

Make sure to look at yourself in the mirror to make sure you look presentable. In the course of the day, a lot of things can happen. You can spill something on your shirt, get something in your teeth, or easily mess up your hair. If you use a green screen, make sure you aren't also wearing green (unless you want part of you to be invisible).

If you are a cosplayer, remember to take extra time to dress up and do your makeup.

3. Restart Your PC

If you use your PC for anything other than streaming (and even if you don't), it is a good idea to restart your PC before you stream. Restarting your computer will purge any programs or applications (temporary files, virus-scanning software, etc.) that might be running in the background. It gives your computer a chance to refresh and reboot before you put it up to the task of broadcasting your content to the world.

4. Launch Your Streaming Software

Once your PC has restarted, open your broadcasting software (Streamlabs, Xsplit, OBS, etc.). Check to make sure that everything is displayed correctly on your screen and will broadcast successfully to your viewers. You should also check to make sure all your scenes are on the software and that none are missing. 

5. Launch Important Applications

Launch Discord, your browser, your game, and other applications you use during your stream.

Most streamers use discord as a way to communicate with their fellow gamers and their community. If you haven't yet, set up your channel Discord server.

Bookmark any browser applications that you use throughout your stream. Keep them in a folder so that you don't forget to open or test any of them.

Start your game and make sure that it is fully updated, your settings are the way you like them, and that it is running smoothly. There have been many times where streamers haven't checked the game pre-stream to find out that there is an issue with the game's server or with their account. If there is an issue, try to troubleshoot it. Think of a backup plan on what to stream for your viewers.

Record yourself on the game for 1-2 minutes so that you can re-watch it to make sure everything looks right and that your audio levels are where you want them to be. Make sure to get to the point in the game where you want to start streaming.

6. Prepare Your Lobby Music

If you plan to play music on your stream, make sure that you have sourced it and have it prepared to go. If you have synced Streamlabs with Jingle Punk Music, you should be set to go. Remember that if you play copyrighted music, your VODs may be muted, and you could receive a temporary ban (it's rare, but it happens). Look for royalty-free music to play instead.

7. Turn on Your Lighting Equipment

Turn on your lighting equipment and look around the space that will be visible on the screen. Discard or move any items that don't belong to tidy up your area. You want to start each broadcast with a fresh space. If you use a green screen for your stream, make sure that it is working correctly on the software.

8. Check Your Video and Audio

Make sure that your video is clear and that your lighting is doing its job. Check to see that your audio and video are synced and make any needed adjustments. Make sure that your audio works and is the appropriate level in relation to your music and sound effects.

9. Open Your Stream Chat

Make sure that your chatbot is working correctly and place it on the screen where you usually view it. If you use a program to overlay the chat over your game, launch it and test it.

10. Title and Categorize Your Stream

Type in Your Stream Title and Select the Correct Categories/Tags for Your Stream. Make sure to add a catchy title to your stream. These titles can draw in new viewers that may potentially support you long term.

11. Promote Your Stream

Post on your social media accounts and Discord that you will be going live soon. Let them know what you plan to stream and any extraordinary things about your channel or content. If you plan to play with viewers, mention it. If you have a past clip you're proud of, include it to show a bit of your content.

12. Check Your Audio and Video Again

Equipment can get moved, settings may change, and your game or music might be louder or quieter than you expected. As video and audio are the most critical aspects of your stream, it is wise to double-check it one last time. Mute your mic until you choose to go live.

13. Start Your Intro Countdown

Before you appear on-screen, go live with a starting screen and music. This gives your viewers a chance to gather together for a few minutes before you begin the show. This way, those who are ready won't miss a thing. Re-check the list, use the toilet, and do any voice exercises you need to do before going live.

14. Go Live

Take a deep breath. Smile. Say your mantras. Unmute. Go Live. Be Awesome.
Checklist Printout
Save or print this checklist for easy reference in the future. You can also bookmark this page.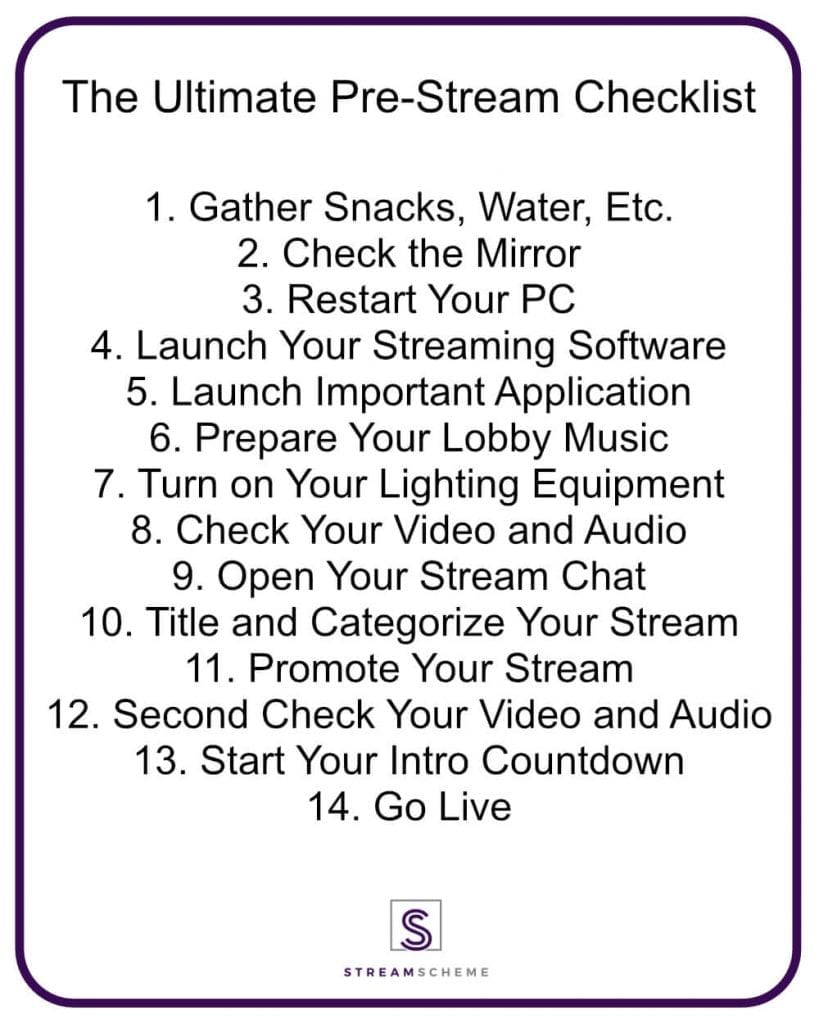 What To Do at the End of Your Twitch Stream
You want to end every stream on a high note so that people are hyped about tuning in the next time you go live. Interact with your viewers through raiding and touching base after the stream. Spend time looking into your stream's metrics to find valuable information that can make your next stream better than the last.
1. Thank Your Viewers for Watching

As you begin to wrap up your stream, spend a few minutes chatting with your viewers to connect with them. Make sure that they know that you value their participation in your broadcast. Make shoutouts to people in your chat who have helped you in some way, whether it is through gift subscriptions or helping you develop content.

2. Set Up a Twitch Raid

Tell your viewers that you are going to set up a raid and look for a streamer in your genre. Twitch raids are a great way for you to create hype with your community and possibly set up a connection with another streamer. Talk to your viewers about whom you want to follow and take suggestions if you have nobody particular in mind.

3. Turn off Your Webcam and Streaming Software

Turn off any unnecessary equipment and make sure that you aren't still live. There have been a few instances where people have remained live after their stream, occasionally picking up unwanted content that has resulted in a ban. Check your channel and make sure that your Twitch offline banner is posted.

4. Save Your Stream on Your Platform and Download It

Make sure that you save your stream as a VOD so that your viewers can review it or watch it if they missed it live. If you plan to make a compilation video for YouTube, you should also save a copy to an external hard drive. Alternatively, you can upload your Twitch VOD to YouTube on a private channel.

5. Finish the Stream Raid

After you've raided the channel, spend 10-15 minutes with your viewers on the new channel, creating hype and supporting the streamer. If you wish, you can join your viewers in a voice chat on your Discord server to discuss the new channel and what they like about it. Keep things positive.

When you are ready to log off Twitch, wish the broadcaster luck and say goodbye to your viewers.

6. Spend Time with Viewers in Discord

Thank your viewers in your Discord for your channel and ask for any feedback about your stream. If you feel comfortable talking with them in voice coms, it is a great way to build community. Have a channel where they can post their favorite clips from your stream.

7. Post on Your Social Media with a Clip from Your Stream

Select a good clip from your stream and post it to social media, with a thank you for the followers who stopped by to view the stream. Mention who you raided and call out to their socials as well. This will give both you and the other broadcaster additional exposure. You can also mention any streamers who raided you and thank their communities for checking out your content.

8. Talk with Your Stream Moderators

Check in with your stream moderators and ask them if there were any issues with the stream. Take any feedback they have to offer and thank them for their hard work. Add any chat commands to your chatbot or make rules as necessary.

9. Check Your Stats on Twitch Metrics or SullyGnome

Check your after-stream metrics to see your stream statistics. How many viewers stopped by? How many followers and subscribers did you gain? What were you streaming when you had the most viewers? Was there a specific area where many people logged off? What content generated the most feedback in your chat? When were people the most hyped?

Take notes on the essential events of your broadcasts and consider ideas on how you can improve your next stream based on that information. The more you can glean through this information over time, the better content you'll be able to produce to grow your community.

10. Update Your Stream Schedule in Your Profile

If you don't have a static stream schedule, make sure to add the time that you plan to stream next somewhere in your profile. This information will give your regular viewers the chance to set aside time to watch your broadcast.

11. Make Plans to Edit a Highlight Reel for YouTube

While it is still fresh in your mind, go through your stream footage to keep track of the sections that would make a good compilation video for YouTube. Write down the information for your future reference or to pass along to your editor.

12. Clean Up Your Area and Double-Check that Your Equipment is Off

Clean up the area around you to make sure that everything is fresh when you return for your next stream. If you noticed any equipment adjustments that needed to be made, make them now.

Again, check to make sure that your equipment and software are off before you return to your normal day-to-day activities.
Printable Post-Stream Checklist
As promised, here is a printable post-stream checklist. We hope it helps with the organization of your channel.
Conclusion
To produce good content, you have to both be prepared and do your homework after each stream. Any work you do outside of actually streaming can all be beneficial to the overall health of your channel.