Tfue started streaming on Twitch in 2014 when he was 16-years-old. On April 30, 2018, he joined the team FaZe Clan with whom he has had some controversy over the years. Tfue is a very popular streamer on Twitch and frequently plays Fortnite Battle Royale, H1Z1, and other battle royale games.
Tfue's Setup, Gaming PC, and Gear
List of Tfue's PC setup, streaming equipment, and gaming gear: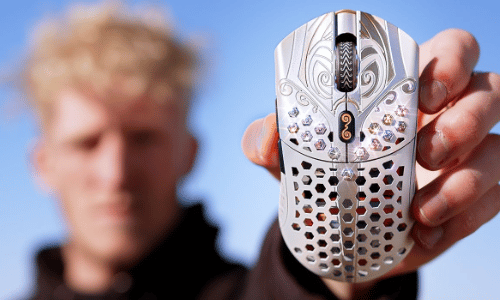 Tfue's Mouse – Finalmouse Legendary Diamond Edition Silver
Tfue has one of the most valuable gaming mice in existence: the Finalmouse Legendary Diamond Edition.
Only 50 of these were made, as they are laden with diamonds. Featuring the stylistic Finalmouse Hex design, this extremely lightweight and durable mouse better last a lifetime, given its $100,000 price tag.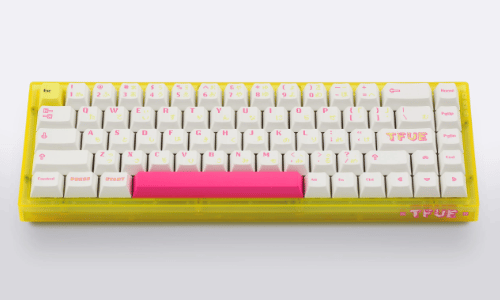 Tfue's Keyboard – Novelkeys NK65 Tfue Edition
Tfue uses his signature edition NK65 keyboards. This keyboard comes in the Standard 65% layout. Made with an injection molded polycarbonate case and an aluminum case, this keyboard is extremely durable.
This keyboard is perfect for gaming with a set slope of 8 degrees, a silicone damping pad, and plate mount stabilizers.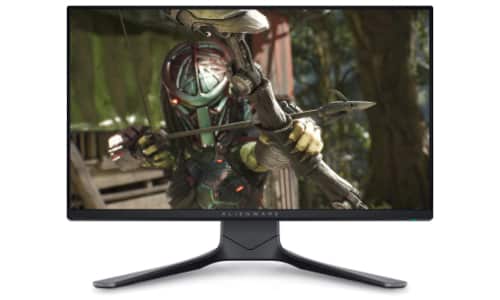 Tfue's Monitor – Alienware AW2521H
Tfue has an Alienware AW2521H monitor. Offering 1080p resolution, 360 Hz refresh rate, and IPS technology, this monitor ensures you get the best visuals and view from any angle.
Adjustable stand and swivel allow for customization to keep you comfortable during those long gaming sessions.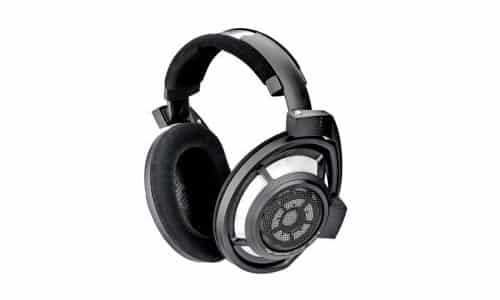 Tfue's Headset – Sennheiser HD 800 S Headset
TFue uses the Sennheiser HD 800 S Headset. The HD 800 S are wired headphones precision-built in Germany from the finest materials and components.
The unique ear cup design directs sound waves to the ear at a slight angle to create an impressively natural and spatial listening experience. They are also an ultra-comfy fit ideal for long gaming and stream sessions. Here are a few extra features:
Lightweight design – without the cable, the headset weighs 11.6 ounces (330 grams)
Vibration dampening chassis
40mm voice coil for consistency and shape
2 different cables
USB manual with frequency response plot
Deluxe storage box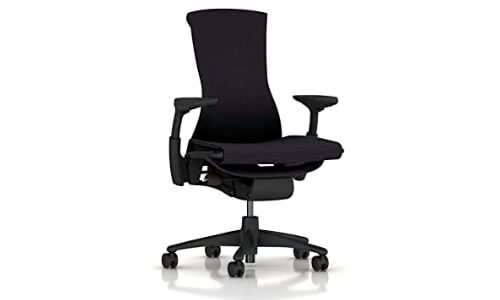 Tfue's Chair – Herman Miller Embody Chair
Tfue uses the Herman Miller Embody chair. The chair comes with six ergonomic functions that allow you to properly maintain your posture while you work or play at your computer.
It helps keep your blood and oxygen stimulated, allowing you to relax while maintaining your focus. The Herman Miller Embody chair comes with a 12-year warranty. Here are a few of the Herman Miller's best features:
Customizable positioning – you can adjust the seat depth and adjust the arms to find the most comfortable position for you.
4 Different layers of support – while they are each created individually, they all work together with your shape, which allows you to stay comfortable and cool with the in-designed airflow.
Designed for people who work and play for long hours at a time, the chair comes with a spine and flexible ribs to align with your natural body shape.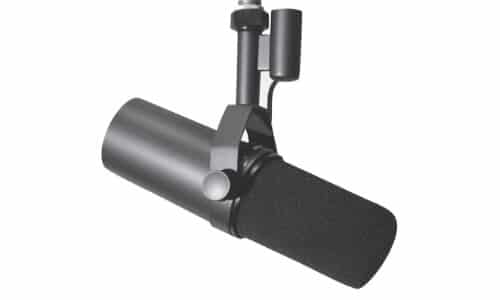 Tfue's Microphone – Shure SM7B
Tfue's voice is picked up with the Shure SM7B cardioid dynamic microphone. The mic is used by many of the top streamers as well as by thousands of other streamers on Twitch and YouTube.
It has a pop filter that eliminates many backgrounds and breathing sounds, a bass roll-off, and an improved rejection of electromagnetic humming.
It uses yoke mounting with a captive stand that gives you full control of how it is positioned in front of you. Some of the features include the following:
Design and build quality – the SM7B is constructed of metal and is both heavy and durable. The company designed it to last for years, making it a timeless piece in any studio.
EQ Frequencies – you can manually change the frequencies to meet your specific needs and to produce crisp sound for your audience.
2 Windscreens – you will receive two different styles of windscreens. Try both and use the one that fits your style best.
Learn more with our full review: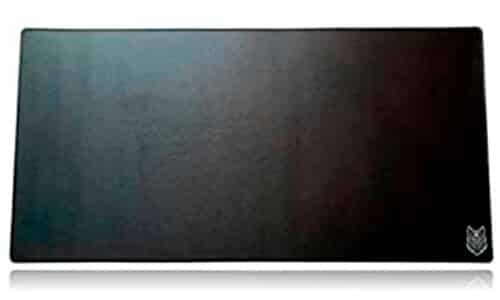 Tfue's Mousepad – SoloQ Extended Mega Size
Tfue uses the SoloQ Extended Mega Size gaming mouse pad. The mousepad's size is 48" x 24", allowing you to move your mouse wherever you want and also place your keyboard on top of it. The fat rubber base ensures that the mousepad won't move while your game and the sleek design ensures accuracy.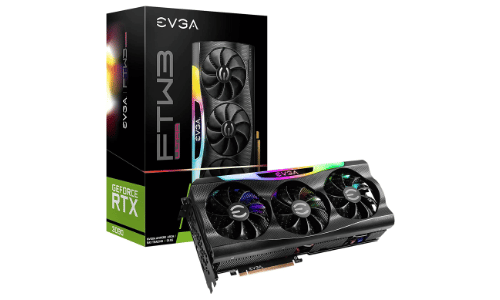 Tfue's GPU – EVGA GeForce RTX 3090 FTW3
Tfue has a GeForce RTX 3090 graphics card on her PC. Sporting 24 GB of dedicated RAM, this GPU offers cutting-edge, hyper-realistic graphics. With triple HDB fans and 9 iCX3 thermal sensors, your graphics card will always be at optimal temperature.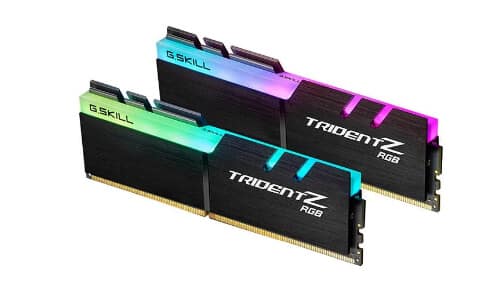 Tfue's RAM – G.SKILL TridentZ RGB Series 32GB
Tfue uses the G.SKILL TridentZ RGB Series 32GB. These two modules will give your computer a total of 32GB of RAM, allowing you to run multiple computer programs simultaneously without lag.
They are perfect for playing games that require high performance. This RAM offers the following features:
RGB LEDs – If you have a clear case, you'll love the addition of color this RAM will provide.
Finished aluminum heat spreaders – designed to efficiently dispense the heat to keep your memory going strong while remaining modern and sleek
Screened ICs and custom 10-layer PCH for maximum signal stability that has been tested across many different motherboards.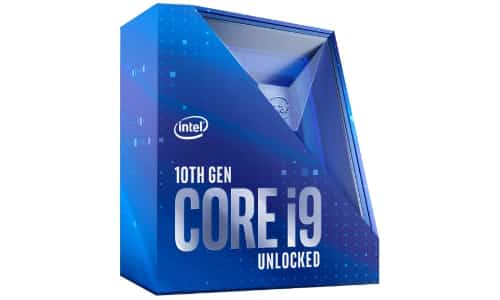 Tfue's CPU – Intel Core i9-10900K
Tfue's CPU is the Intel Core i9-10900K. This is one of the fastest gaming processors on the market. Offering 10 cores and 20 threads, you can take your gameplay to the next level. Works in Intel 400 series chipset motherboards.
It also comes with the following:
Intel optane memory support
Intel Turbo Boost Max technology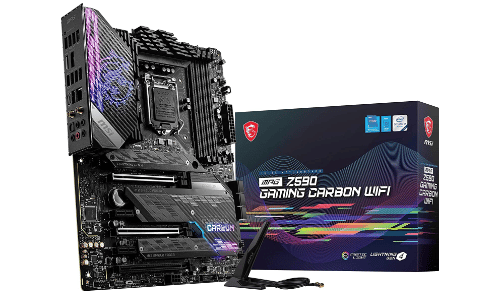 Tfue's Motherboard – MSI MPG Z590 Gaming Carbon WiFi
Tfue has an MSI MPG Z590 motherboard on their PC. This motherboard supports 10th and 11th Gen Intel Core, Pentium, and Celeron processors.
Built for an incredibly fast gameplay experience, the Premium Thermal Solution heatsink will keep your rig cool during those long gaming sessions.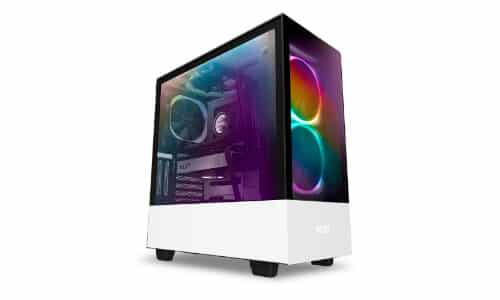 Tfue's Case – NZXT H510 Elite
Tfue uses the NZXT H510 Elite as his computer case. This case has USE 3.1 Gen 2 connectors on the front panel to make it easy to connect smartphones, storage, or plug in your headset or other accessories. Aer RGB fans work hard to keep all your components cool through their airflow while creating an aesthetic look for your gaming room.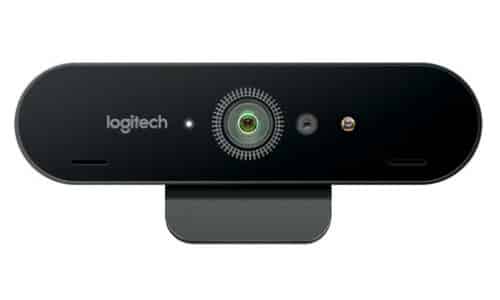 Tfue's Webcam – Logitech BRIO
When steaming, Tfue uses the Logitech BRIO as his webcam. The BRIO is one of the best webcams on the market. It offers HDR 4K imaging that will deliver high-quality visuals to your community. It also uses RightLight 3 technology, an auto-lighting feature that will adjust the contrast in the lighting that surrounds you, reducing any glare. The BRIO offers the following benefits:
Streaming capabilities in 720p, 1080p, and 4K.
Ability to stream 1080p at 60 FPS unlike many other webcams.
Digital zoom and 90° FoV camera (65° and 78° are crops of the 90°)
Optional background removal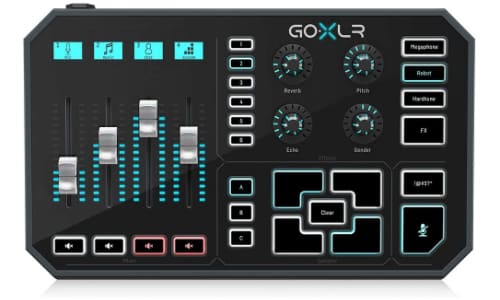 Tfue's Mixer – GoXLR
Tfue uses the GoXLR for his mixer. The GoXLR is a multi-channel mixer that allows you to easily control the sound for your stream's audio. More than a mixer, the GoXLR was created with streamers in mind. It allows you to record samples that you can use to entertain your viewers. The mixer also allows you to distort your voice or add effects that can keep your audience laughing.
Other Streamer's Equipment and Gear
Now that you know more about the Tfue Gaming PC specs and dual PC setup, you can learn about the streaming setup of other famous streamers. Check out the following articles if you want to learn more about streaming gear: