Symfuhny's PC Setup and Gear
Here is a list of Symfuhny's PC setup and Gear:
Symfuhny's Mouse – FinalMouse Ultralight 2 Cape Town
Symfuhny uses the FinalMouse Ultralight 2 Cape Town. FinalMouse creates mice in limited numbers and they tend to sell out quickly, so to get your hands on one, you may have to pay more than the manufacturer's price. The Ultralight 2 comes with a smaller composite bases that comes with the "Infinity skin" that made FinalMouse famous. It has master precision and gamers swear by its power to increase their gameplay.
Symfuhny's Keyboard – Ducky One 2 Mini RGB
Symfuhny uses the Ducky One 2 Mini RGB keyboard while he is gaming. Many gamers find that using a smaller board with just a few keys is more efficient and lightweight, allowing them to just use the keys necessary for the game. The Ducky One 2 Mini has 61 keys and comes at 60% of the size of a traditional keyboard. It comes in a black and white shell that is stylish and modern and has PBT seamless double-shot keycaps.
Symfuhny's Monitor – BenQ ZOWIE XL2546
Symfuhny uses the BenQ ZOWIE XL2546 monitor which has a refresh rate of 240 Hz that makes for a seamless gaming experience. It has a 1ms Response Time to eliminate lag to improve the gaming experience. The monitor also has Dynamic Accuracy technology that provides good clarity. Here are a few additional features that come included with the monitor:
A removable shield that helps block out other distractions
Multiple connectivity options: Dual-Link DVI-D, HDMI, DisplayPort, Headphone/Microphone Jack input
VESA Compatibility – tilt, swivel, full height adjustment
3-Year manufacturer limited warranty
Symfuhny's Headset – Sennheiser HD 700
Symfuhny's uses the Sennheiser HD 700 as their headset. The headset's drivers deliver high sound pressure at a flat frequency response. The ventilated magnet system will keep things sounding crisp and clear as it will minimize the air turbulence. The headset allows you to hear everything that is going on in-game or while listening to your music.
Symfuhny's Chair – Herman Miller Embody
Symfuhny uses the Herman Miller Embody chair. The chair comes with six ergonomic functions that allow you to properly maintain your posture while you work or play at your computer. It helps you to keep your blood and oxygen stimulated, allowing you to relax while maintaining your focus. The Herman Miller Embody chair comes with a 12-year warranty. Here are a few of Herman Miller's best features:
Customizable positioning – you can adjust the seat depth and adjust the arms to find the most comfortable position for you.
4 Different layers of support – while they are each created individually, they all work together with your shape that allow you to stay comfortable and cool with the in-designed airflow.
Designed for people who work and play for long hours at a time, the chair comes with a spine and flexible ribs to align with your natural body shape.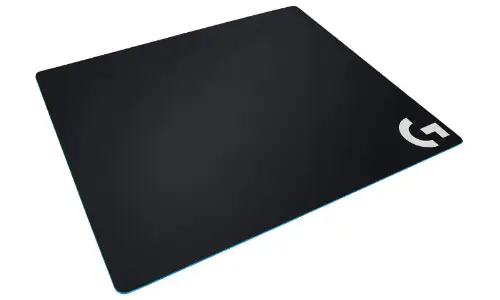 Symfuhny's Mousepad – Logitech G640
Symfuhny uses the Logitech G640 mousepad. It has a moderate surface friction that allows the mouse to move quickly and stop suddenly. The rubber surface keeps it flexible and ensures that the mouse doesn't bunch up and compromise the mouse movement. The material is soft to maximize comfort.
Symfuhny's Microphone – Shure SM7B
Symfuhny' voice is picked up with the Shure SM7B cardioid dynamic microphone. The mic is used by many of the top streamers as well as by thousands of other streamers on Twitch and YouTube. It has a pop filter that eliminated many backgrounds and breathing sounds, a bass roll-off, and improved rejection of electromagnetic humming. It uses yoke mounting with a captive stand that gives you full control of how it is positioned in front of you. Some of the features include the following:
Design and build quality – the SM7B is constructed of metal and both heavy and durable. The company designed it to last for years, making it a timeless piece in any studio.
EQ Frequencies – you can manually change the frequencies to meet your specific needs and to produce crisp sound for your audience.
2 Windscreens – you will receive two different styles of windscreens. Try both and use the one that fits your style best.
Learn more with our full review:
Symfuhny's CPU – Intel Core i9-10900K
Symfuhny uses the Intel Core i9-10900K desktop processor. The CPU has 10 cores and 20 threads. It goes up to 5.3 Ghz unlocked and is compatible with Intel 400 series motherboards. It comes with controls that give you more performance when overclocking. It also comes with the following:
Intel optane memory support
Intel Turbo Boost Max technology
Symfuhny's RAM – G.SKILL TridentZ RGB Series 32GB
Symfuhny uses the G.SKILL TridentZ RGB Series 32GB. These two modules will give your computer a total of 32GB of RAM, allowing you to run multiple computer programs at the same time without lag. They are perfect for playing games that require a high performance. This RAM offers the following features:
RGB LEDs – If you have a clear case, you'll love the addition of color this RAM will provide.
Finished aluminum heat spreaders – designed to efficiently dispense the heat to keep your memory going strong while remaining modern and sleek
Screened ICs and custom 10-layer PCH for maximum signal stability that has been tested across many different motherboards.
Symfuhny's GPU – NVIDIA GeForce RTX 3090
Symfuhny uses the NVIDIA GeForce RTX 3090 for his graphics card. It comes with DLSS AI Acceleration that will ensure that your image quality is superb due to the boosted frame rates. The Ray tracing will increase the visual elements of your gaming experience, creating richer textures to make graphics more realistic and immersive. The NVIDIA GeForce RTX 3090 will also allow you to game in up to 8K resolution.
Symfuhny's Motherboard – Asus ROG Strix Z390-E Gaming Motherboard
Symfuhny uses the Asus ROG Strix Z390-E Gaming Motherboard. The motherboard was designed to maximize connectivity and speed and is better for stable overclocking. Overclocking works on prediction and thermal telemetry with cooling. It is easy to install with its pre-mounted I/O shield. Some of its features include:
Maximized connectivity and speed
ASUS optimum II to allow better DRAM overclocking stability
Component longevity with safe Slot, ESD guards and DRAM
Symfuhny's Case – Corsair Crystal 570X RGB
Symfuhny uses the Corsair Crystal 570X RGB for his case. This steel case comes with 4 tempered glass panels and RGB LED fans that will add color and light to your room. There is room for 6 case fans if you need to keep your components cool. There is a lot of room for expansion and easy cable management.
Symfuhny's Webcam – Logitech C920
When steaming, Symfuhny uses the Logitech HD C920 as his webcam. These webcams will stream and record premium quality video, taking your content to the next level. The camera has light correction and auto-focus to make sure that you look good in all lighting. And if you are concerned about people spying on you, you can always use the shutter to block out the feed when you aren't online.
Other Streamer's Equipment and Gear