And this never-ending debate makes it all the more confusing for people who haven't tried the two. So which streaming software should you use, Streamlabs or OBS Studio?
In truth, when comparing Streamlabs vs. OBS Studio and answering the question of which best streaming software for Twitch depends on your experience level and personal preference. Streamlabs is an improved version of OBS Studio with a much better user experience and a large array of inbuilt tools and resources. Meanwhile, OBS Studio is considered as a sort of like the basis of much modern streaming software today.
To help you choose which streaming software you should spend time and effort learning, we put together this post to highlight the pros and cons of each. In other words, we will help you determine which is perfect for you.
With that in mind, let's get this topic rolling.
Key Takeaway:
If you're a beginner who wants to start streaming immediately without the hassle of setting up everything, we recommend you try Streamlabs Desktop. It has all the features you need to start streaming immediately. However, if you want to have more control over your stream, OBS Studio might be a better option in the long run. OBS Studio gets constant updates and is arguably more stable.
OBS is also more popular among streamers and is the choice of many professionals. But this doesn't mean that you should skip Streamlabs Desktop right away, especially if you're looking for an all-in-one streaming solution that includes encoding, recording, and editing.
OBS vs. Streamlabs – Where Should You Start?
If you're a beginner, then Streamlabs is a great place to start, as long as you remember it can be a bit intensive for your computer. As you grow, you may need more flexibility or a custom solution, and moving to OBS Studio becomes more viable.
Looking for other software options? Check out these other comparison articles:
Overview of Streamlabs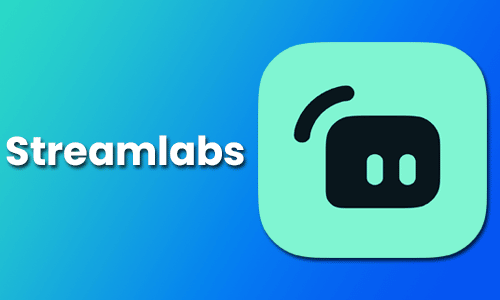 Streamlabs started as a fork of OBS, which is an open-source software launched in 2012. Streamlabs used OBS as a base for its streaming software and was even called Streamlabs OBS when it was first introduced, probably as a reference to its origin.
However, that didn't sit well with many people, including OBS. It also caused a lot of confusion for users. Later on, it was renamed to Streamlabs Desktop to distinguish it from the actual OBS.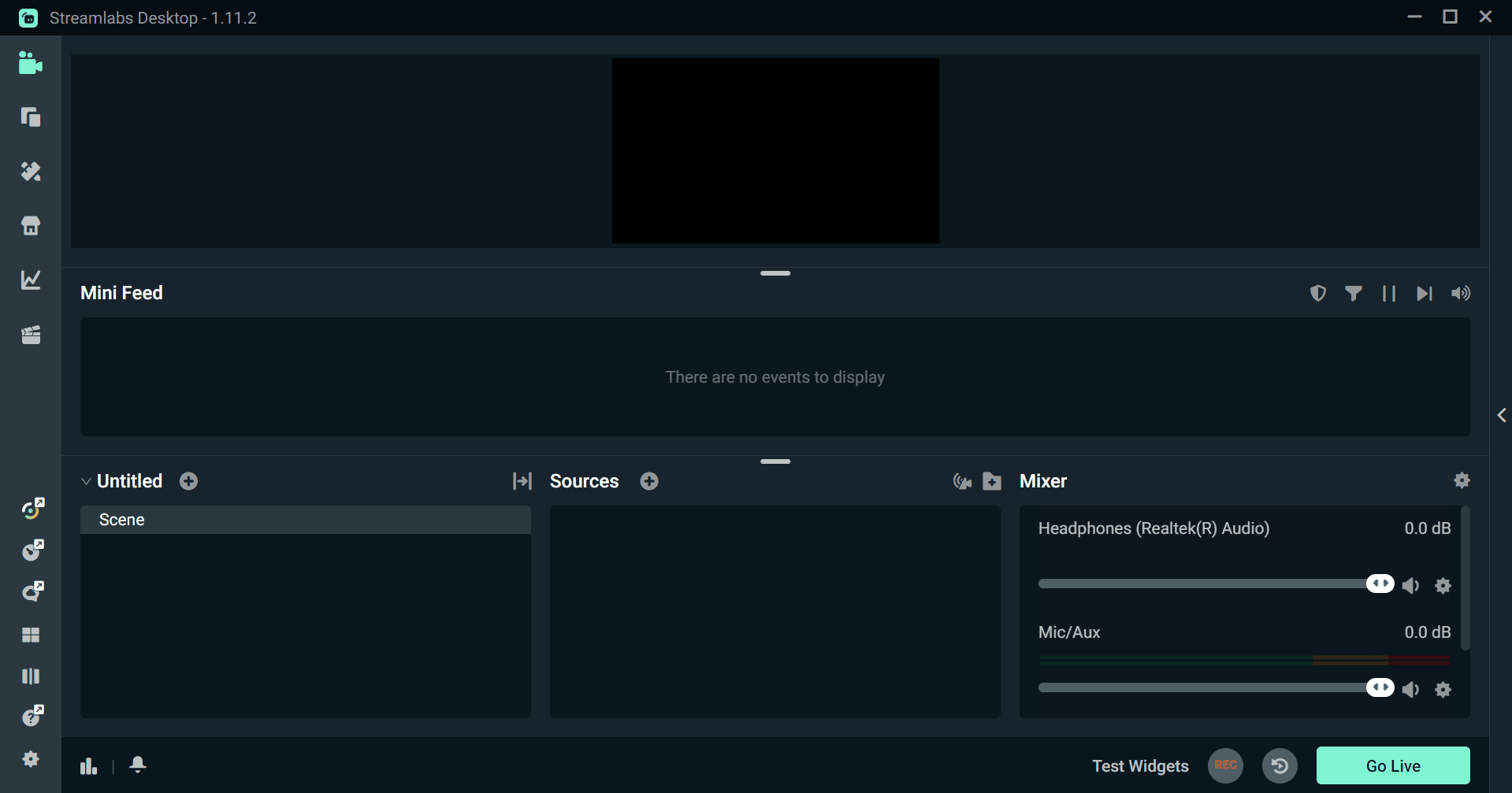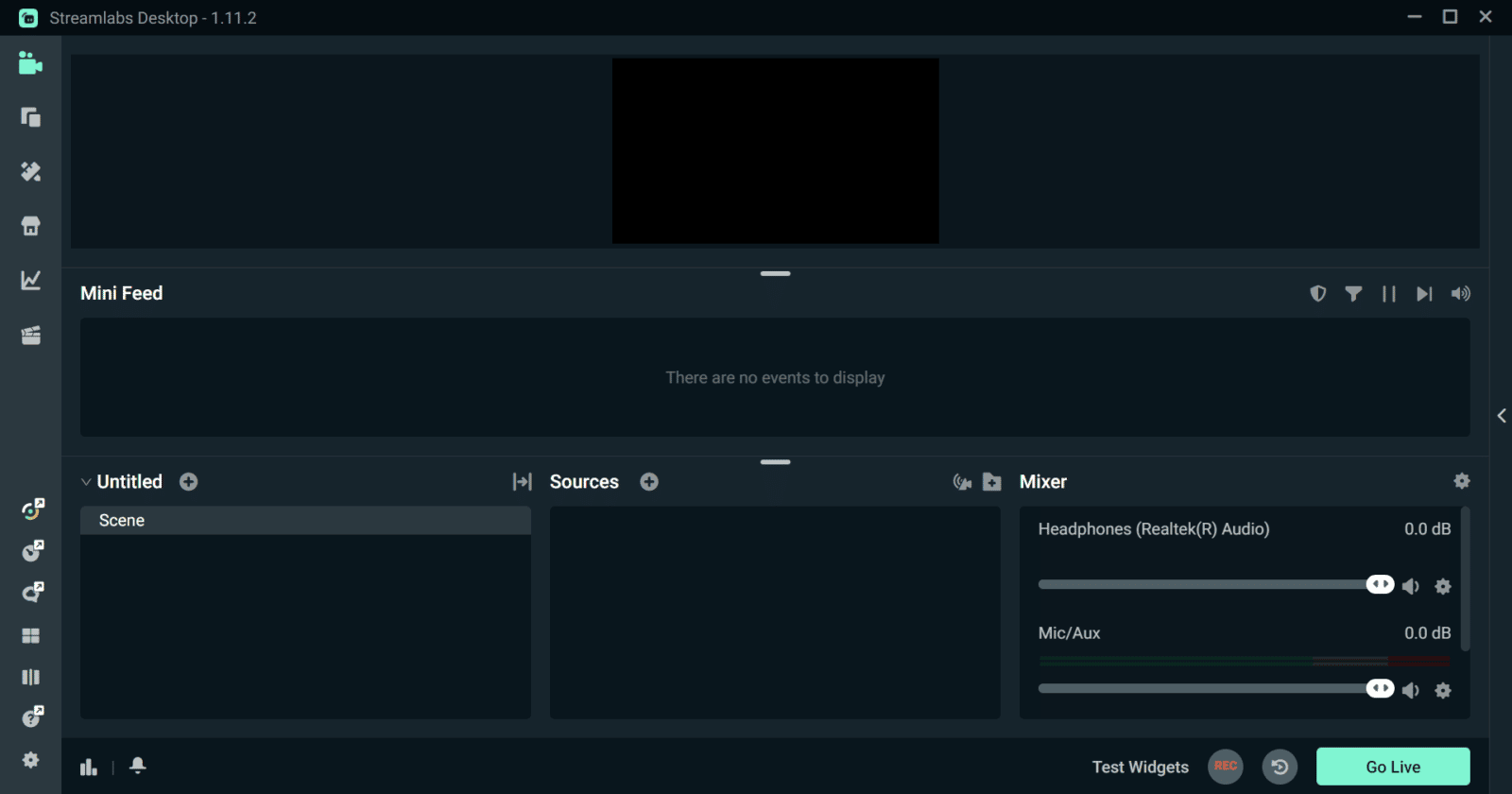 Since it originated from OBS, Streamlabs Desktop has all its core functions, plus a few more features of its own. However, with more features comes more CPU usage. As much as Streamlabs seems great for beginners since it's very user-friendly, it can be quite heavy on the CPU, particularly for lower-end PCs.
Pros
Here are some of the reasons why using Streamlabs might be a good idea:
User Friendly

As I mentioned previously, Streamlabs is very user-friendly. Even absolute beginners will have little problem finding their way around Streamlabs. You literally don't need to install new plugins since almost everything you need to produce a decent live stream is already included in Streamlabs.

Installing overlays, alerts, and other necessities for your live streaming is also easy, thanks to the software being directly integrated with Streamlabs.

Cloud-Based

Another great thing about Streamlabs is that all your stream setup is saved in the cloud. No need for you to build everything up from scratch if you switch to a new computer because you can easily get your streaming setup directly from the cloud.

All your scenes and settings are also saved on the cloud, so if you switch to a different computer, the latest changes made while connected to the internet should also be saved.

Multi-Stream Functionality

If you're seeking to broadcast your game on multiple platforms (Twitch, YouTube Gaming, Facebook LIVE, or others), Streamlabs will help you set that up easily. You can simultaneously stream on multiple websites.

With the shifting landscape of live streaming, this helps future-proof by allowing streamers to grow on multiple platforms simultaneously.

Remember that this feature is only available to Streamlabs Desktop Ultra users (formerly Streamlabs Prime), and as you would've guessed, it's a paid plan. Also, if you're a Twitch partner or affiliate, you aren't allowed to stream your game simultaneously on their direct competitors, like YouTube and Facebook.

Easy Access to Tools and Widgets

Wondering where other streamers got their flashy alert box, animated overlays, and tip jars that you always see during their live streams? Well, if they are using OBS, they might need to install a third-party plugin to achieve that. However, with Streamlabs, it will be easy to pull off since these tools are already built-in into their software.

To enjoy some of their tools and widgets, you must create a Streamlabs account or connect an existing streaming account. However, there are free integrated themes you can import on Streamlabs, including our very own, which you can get from our Discord server.

Packed With Features

Streamlabs have other neat features which can help make setting up and running live streams easier. It has a built-in overlay importer/exporter for designers, includes an event queue, built-in PayPal donations, easy widget setup, a really nice user interface for transitions, and Selective Recording feature.

Streamlabs comes with the Streamlabs Cloudbot, which gives you access to moderation tools, chat commands, polls, and betting features for your community.

Test Widget

Streamlabs also allows you to test widgets before you go live. This way, you can see to it that everything goes perfectly while you live stream. The test widget button is located at the bottom-right-hand part of the screen, just next to the recording button.

24/7 Support Team from Streamlabs

Like all software and applications, Streamlabs Desktop experience hiccups every now and then. If you are struggling to resolve a problem with the software, you can contact the Streamlabs support team. They are available 24/7, ready to assist if you ever encounter an issue with the application.
Cons
Now, as for why you should probably look for another streaming software other than Streamlabs, here they are:
More Resource Intensive

Unfortunately, with great features comes great CPU usage. Because Streamlabs brings many additional features to the table compared to the bare-bones structure of OBS, it can be more intensive for your computer. Some of those features aren't even necessary, and you might prefer OBS with all the core features, plus install only the important plugins later.

For powerful PCs, this is hardly a problem. However, if you have a lower-end PC, you might notice issues running the software. Streamlabs recommends you have a PC with at least an Intel® Core™ i5 or higher (11th or 12th gen) or AMD Ryzen 5000 series to run the software smoothly.

Some Features Are Locked Behind a Paywall

Even though you can download the main software for free, you must subscribe to a paid plan to access some cooler plugins and resources. Streamlabs Ultra is their paid subscription plan. It allows you to use the premium features and tools of Streamlabs, plus a few other perks. Formerly called Streamlabs Prime, Ultra costs $19 per month.

Delayed Updates

Because Streamlabs is based on OBS Studio, if any updates and fixes are made to the latter, Streamlabs will get the same update much later. For example, OBS 28.1.2 was released on November 5, 2022, while Streamlabs only announced the merging on the 23rd.

Not Much Flexibility

Streamlabs isn't also much flexible and customizable compared to OBS Studio. For example, if there are any other plugins you want to install, you can't do that on Streamlabs. Moreover, if you prefer using StreamElements stream alerts to Streamlabs, you might want to opt for OBS instead, as it gives you more freedom when it comes to customization.
Overview of OBS Studio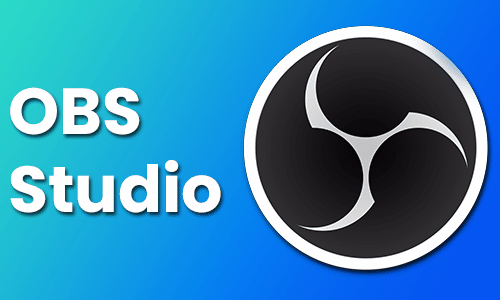 Open Broadcaster Software, or OBS Studio, is a free-to-download streaming application that has been the professional standard for a long time. As the core software, it's streamlined and flexible for whatever you need. Initially released in September 2012, has been developed by the community ever since.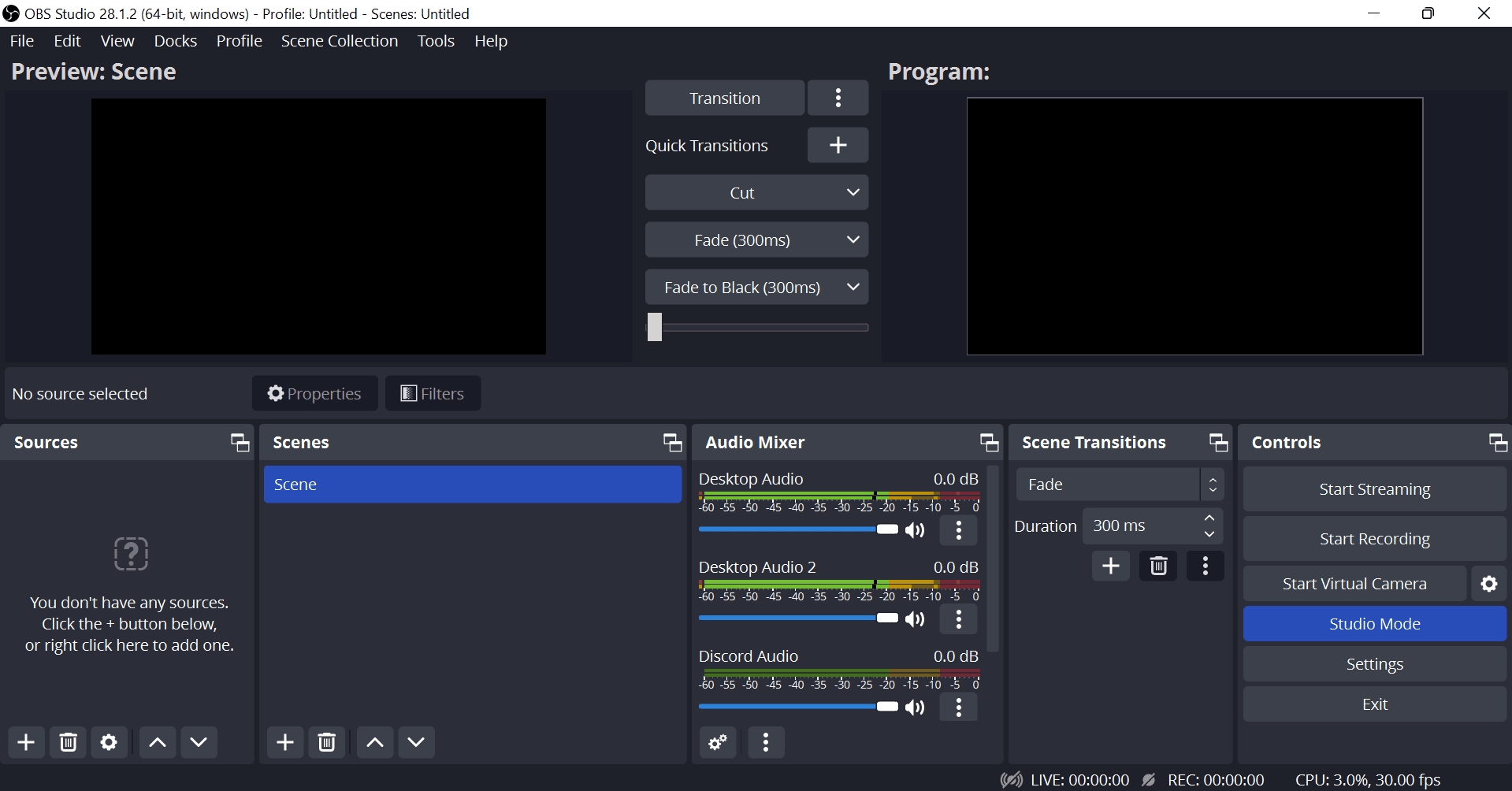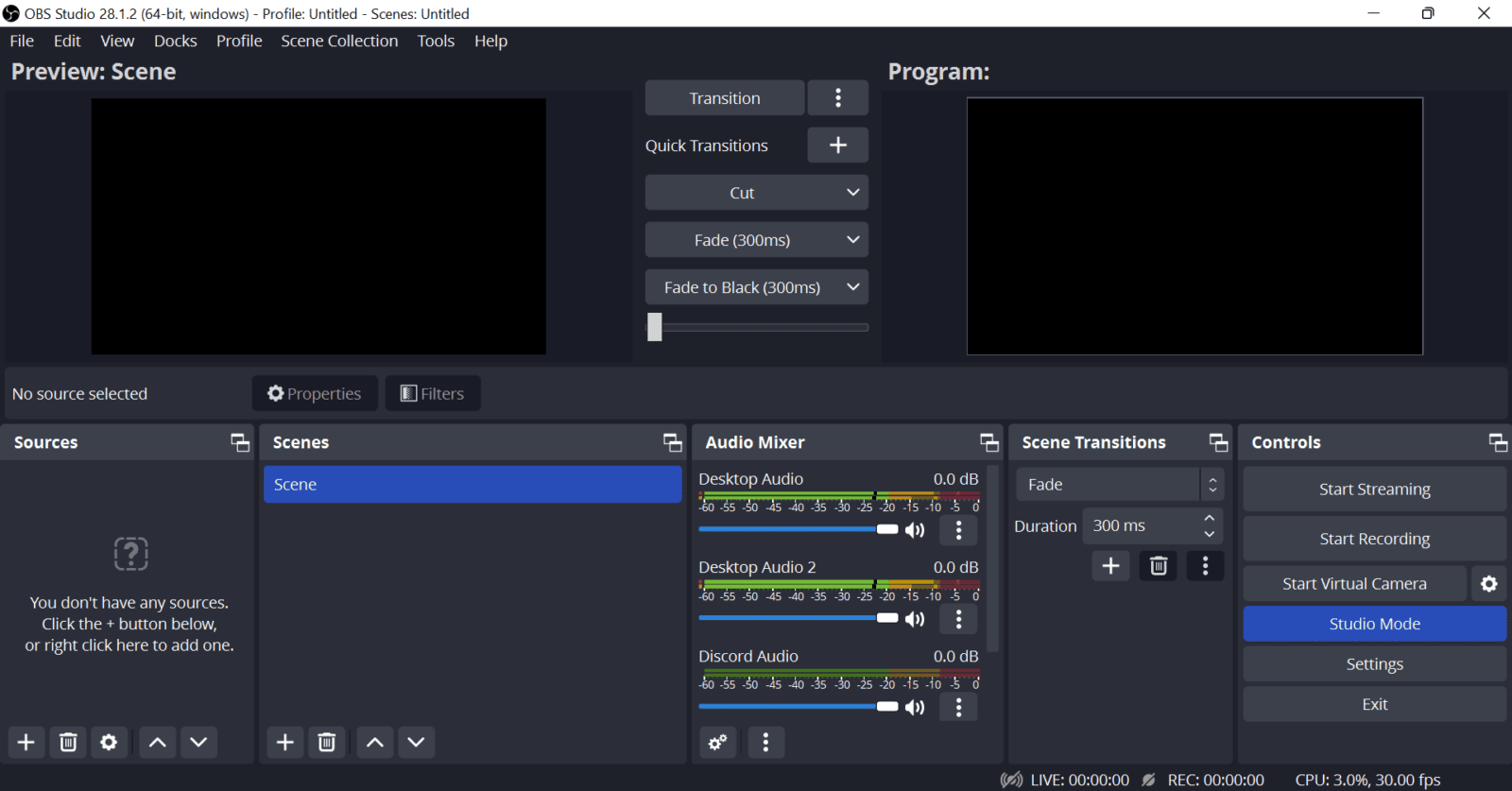 OBS works on Windows 8 (and later), macOS 10. 13 (and later), and Linux. It immediately became popular due to its being free and the customizable functionality of the software. Over time, many plugins have been released, allowing streamers to create new ways to interact with their audience.
Pros
Here are some of the reasons why many still prefer OBS and why you should consider using it, too:
Fully Customizable and Flexible

As an open-source freeware, one of the main advantages of OBS Studio over other streaming and recording applications is that it can be customized exactly according to your preferences.

Developers within the OBS Community have created various plugins to help you create the perfect stream, including tools that add countdown timers, subtitles, and others. You can find resources from their website's forum page, as well as from other sources. Just be careful about downloading unrecognized files from suspicious websites, though.

Besides plugins, you can also add scripts, themes, and other tools to OBS now. They also introduced the dock feature, which allows you to rearrange the app's layout. You can also export videos into multiple formats.

Frequent Updates

OBS gets frequent updates from its developers, so bugs from the previous versions are continuously being discovered and fixed, making it more stable than Streamlabs. This is one of the biggest greatest advantages of OBS over Streamlabs. It's also the first in line to get improvements whenever updates are made.

Also, the community is always looking for ways to improve the core OBS software. For instance, the CTRL + Z (Undo) and CTRL + Y (Redo) functions are only previously available for Streamlabs. Now, you can do it on OBS Studio, too.

They have also included a feature allowing streamers to enter their stream key or connect their Twitch account to stream.

100% Free

This one's pretty self-explanatory. You can download OBS for free, and unless you paid for a specific plugin, using the software and upgrading has absolutely no cost.

Doesn't Consume Much CPU

Because it doesn't take too much CPU, OBS generally performs better than Streamlabs and consistently across many devices. Even if you're streaming on a not-so-powerful PC, you can expect to have a good-quality stream as long as you meet the other requirements to do so, like a stable internet speed for streaming.

Often the Better Choice in the Long Run

If you're looking to stream full-time for years and years to come, investing time and effort in learning how to use OBS Studio will be worth it. OBS Studio might not have all the fancy features Streamlabs has, but it can have all the features you actually need. Plus, it can be customized further to suit your streaming style and preferences.
Cons
Below are some of the reasons that might make you think twice about using OBS as your streaming software:
Not-So-Friendly for Beginners

While the customization features of OBS are undoubtedly great, beginners might have difficulty learning the ropes of this software. Yes, OBS is incredibly customizable and flexible–that is if you know how to.

OBS is notorious for not being user-friendly. You need StreamElements or Streamlabs alerts to add alerts for your stream and other plugins for various features. Twitch alert is a very important aspect to channel growth as it helps celebrate your viewers.

Therefore, if you want amazing overlays and alerts, plus other neat features for your live stream, you may have to wade through several tutorials and trial-and-errors to get the hang of it.

Plugins Can Be Quite Complicated to Use

Another caveat of OBS is that the plugins that will make your live streaming easier can be hard to find and install. Fortunately, there are plenty of guides and tutorials to help you know exactly which plugins you need.
Frequently Asked Questions
What is Broadcasting Software?

Broadcasting software is third-party software from a platform that allows streamers to set up how their stream will look and function. The software manages the visual and audio aspects and uses plugins and bots for extra functionality. Software like OBS and Streamlabs are frequently used on Twitch, YouTube Gaming, and Facebook Gaming.

Many broadcasting software also allows you to screen capture any window on your computer screen, play a pre-recorded video during live stream, and more.

What's Better? Streamlabs or OBS Studio

The answer to what the best broadcasting software is isn't cut and dry. If you're a beginner, then Streamlabs. Once you become an expert or as you grow, needing more flexibility or a custom solution for your streaming, then moving to OBS is potential. 

Does Streamlabs use more CPU than OBS?

Yes, Streamlabs uses more CPU than OBS as a fresh install. That said, OBS is more bare-bones from installation, and how CPU-intensive it is depends on what plugins are added. If you have a more powerful PC, you won't probably notice any difference in CPU usage. However, OBS might be the better option for live streaming if you're streaming on a budget.

Is OBS Fully Free?

Open Broadcaster Software is free to use. Several plugins are paid for, but they are not required. Plugins that are paid generally come with support, whereas free ones do not. If you can work things out on your own, you can use OBS without spending a cent. 

Is OBS Studio Easy to Use?

OBS has a learning curve that is difficult for beginners to understand without tutorials or help from another streamer. Once you understand how it works and which plugin you need, the program becomes much easier and adaptable to your particular style.

What is Streamlabs?

Streamlabs is essentially a skin for OBS designed to make going live easier and more friendly for streamers. Still, taking it a step further, they've included other features so that you don't need to set up multiple different software and accounts as you do with OBS.

How Much Does Streamlabs Cost?

Streamlabs is completely free to use, but you can subscribe to their premium program Streamlabs Ultra for more tools, resources, and other perks.

Is Streamlabs Easy to Use?

Streamlabs is the all-around best place for a beginner to start, as it is quick and easy to get set up. All you need to do is import your Twitch overlays and your webcam feed, add your alerts, and adjust some settings and you will be ready to go live. Check out our step-by-step guide on how to stream on Twitch for more information. Typically, streamers can get their software set up in less than an hour.

Can You Stream to Multiple Platforms With Streamlabs?

Yes, it is built-in. Using a single widget, you can multi-stream to Twitch, Facebook Gaming, YouTube, and even custom streaming servers. Before taking advantage of this feature, you will need to link your various streaming accounts to Streamlabs. Once set up, you can determine the alerts on each platform.
Conclusion
As the one who will be using the software, knowing which works best for your streaming setup and personal preference is still the most important thing rather than what others are telling you. At the end of the day, the name of the software you use doesn't matter as long as the audience can watch your streams in good quality.