We reviewed the top current options for everything you might need and talked to several streamers to see what they like best. Using this list of helpful tools will give you a big leg up on the competition and improve your channel, music, and organization.
Best Streaming Programs & Extensions
For streaming:
For channel growth and maintenance:
Popular Broadcasting Software for Streaming Platforms
The best streaming software takes your video feed and transcodes it to a streaming format. A good encoding software will allow you to pull from several feeds in order to make a professional quality broadcast. You can add overlays, transitions, and special effects to make unique content that will attract an audience.
Fun Fact:
In a survey of 228 new, intermediate, and partnered Twitch streamers, we found that 63% of people used Streamlabs OBS as their go-to broadcasting software.
Unlike the other categories on this list, you must have broadcasting software in order to stream. There are several to choose from that range in quality, difficulty, and price. Most are updated and improved frequently as demand grows and competition becomes more fierce. While there are several programs to choose from, here are three of our favorites: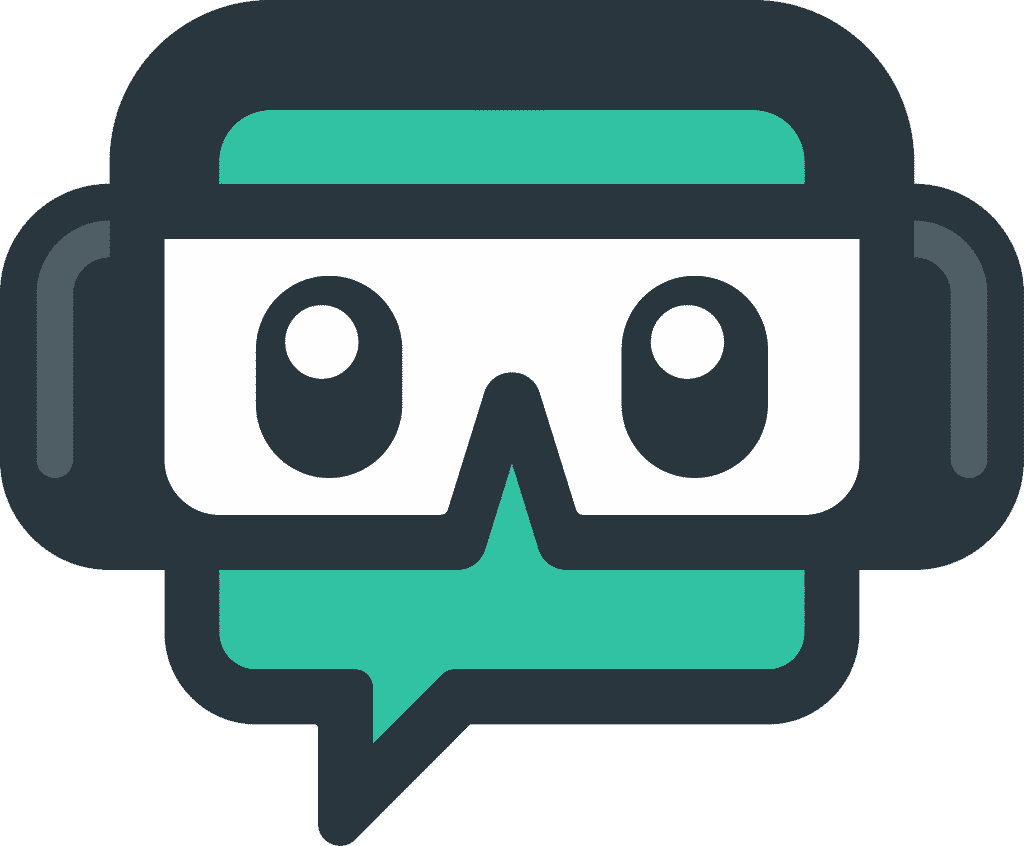 Streamlabs OBS – Most Popular Option
Streamlabs OBS (SLOBS) is a less complicated version of OBS. It is also free and has a clean interface where most features are available in one window. SLOBS does use more CPU than OBS and hasn't always been as reliable as the Classic OBS, but it is always improving.
OBS – The Standard Option
OBS is open-sourced and as many streamers use it, there are a lot of available tutorials on how to use it. It is reliable and rarely has any issues. It is very customizable and many widgets and add-ons have been created for it.
XSplit – The Professional Option
XSplit has great production tools that are easy to use. It also uses a lot of CPU. It also comes with a VCam feature that makes it so you don't have to have a green screen. While this is a premium software, there is a free version you can try. The price is currently $199 for a lifelong membership, but there are also monthly and quarterly subscriptions available.
Twitch Studio – The Integrated Option
Twitch has released the beta version of Twitch Studio for their in-build broadcasting software. Select applicants are chosen to try it out. It is currently only available to PC users who are willing to test the software and submit feedback.
Alert Systems for Twitch, Mixer, and Facebook Gaming
A stream alert system creates pop-ups on your screen whenever one of your viewers follows, subscribed, donates or interacts with you in a special way. You are able to set up custom graphics, animations, videos, or sounds to appear on your stream during these interactions. For many, you can set custom prices for specific reactions.
Alert systems are a great way for you to see and acknowledge your viewers and most people enjoy seeing their names show up on your screen. As an added bonus, other viewers may remember to support you when they see the alert for someone else.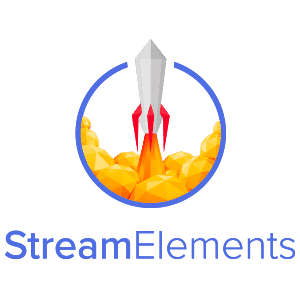 Streamlabs
StreamLabs is a highly customizable alert system that integrates with multiple streaming software. You can set it up so that either still or animations play when viewers interact with your channel.
Muxy
Muxy offers instantaneous alerts that allow you to connect with your viewers when they subscribe or donate. With great customer support, they are an excellent choice for beginner streamers.
StreamElements
StreamElements offers fully customizable alerts, including custom CSS. Broadcasters can create many different alerts to keep things unique. It also keeps track of some of your analytics.
Best Chatbots for Streaming Platforms
A stream chatbot is a tool that streamers use to moderate their chats. They can operate as a moderator and censor swear word, racial slurs, and other terms you wish to avoid in your chat. This is especially helpful as a new streamer as you probably won't have human mods right away. It can periodically update your viewers with facts about you, your channel, or your content. You can set up commands for your viewers to use to interact with you or each other during your stream.
Many chatbots will also save your text and other statistics about the viewers in your stream so that you can review it later and take note of your regulars. Some integrate with specific games or themes to bring a new richness to your broadcast. With a little CSS, the customization and options are almost endless!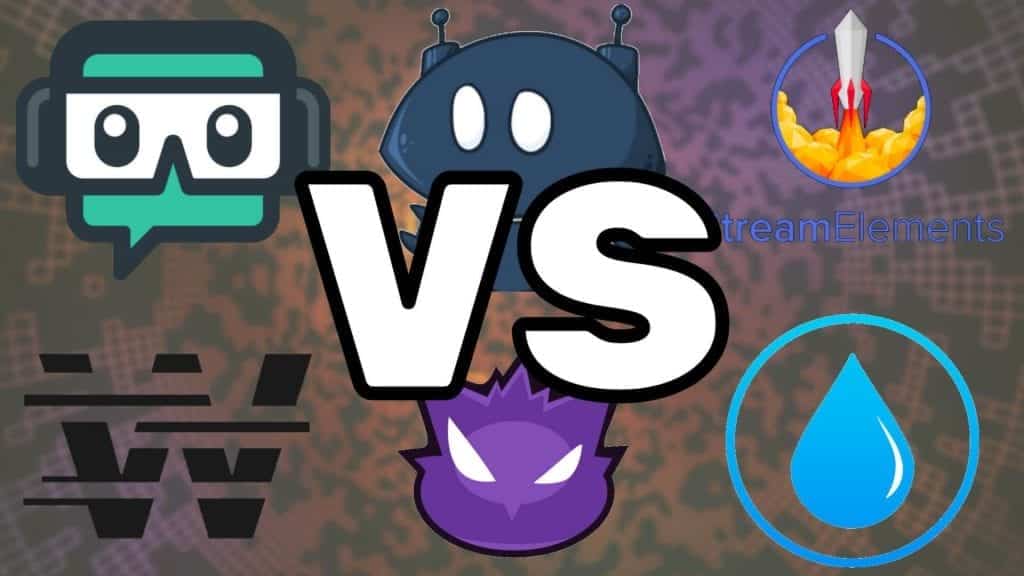 Nightbot
Nightbot is the most commonly used chatbot. You can set up basic commands for your viewers to use and program statements for it to say periodically throughout your stream. It is cloud-hosted so you don't need to download anything.
Moobot
Moobot is a great chatbot for beginners who struggle with the lingo associated with the industry. It is highly trusted, has an easy-to-use interface, and comes packed with features to share with your viewers.
Streamlabs Chatbot
Formerly known as Ankhbot, Streamlabs Chatbot interlinks well with OBS. It offers a few unique features for your viewers, such as the ability to save your quotes for later viewing. You can also host polls or let your viewers build up loyalty points by interacting with your stream.
Best Twitch Extensions
It is essential that you entertain and interact with your viewers in order to grow or monetize your channel. One way to do this is by engaging with them through interactive software. Whether it is through playing games with them, having them play side games with other viewers while you stream, or having them set up challenges for you during your game-play, their interaction can lead to a very successful broadcast.
Here are a few great games and extensions we found that will allow your followers to interact with you: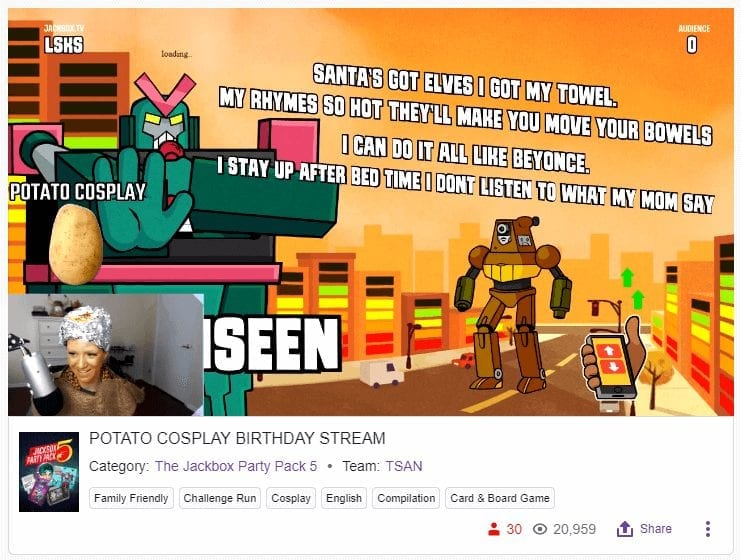 Jackbox Games
Jackbox Games has created a variety of party games that you can play with your viewers. Most can be played with up to 8 players and there are several genres available with new games created frequently.
StreamLegends
StreamLegends is a viewer interactive game that they can play while you stream. Your entire community is turned into a guild and each player can work together to build a town.
DragonPets
DragonPets allows you and your followers to create unique dragons on your channel. Your viewers can trade bits for the opportunity to breed a new dragon and have their name featured. You can also integrate a picture of your dragon on your stream. Bits earned are shared with the developer.
Crowd Control
Crowd Control allows viewers to interact with you through sending you help or challenges in your game if they pay bits. There are over a dozen supported games and you can set the prices for each feature. You do share the bits you earn with the developer.
Boss Battles
Boss Battles is a game that allows viewers to battle each other with bits in order to become the next boss. Each bit does one damage and whoever deals the final blow becomes the next to defeat.
Popular Widgets, Plugins, and Extras for Twitch
In addition to interactive widgets for your viewers, there are many other extensions that can make things easier for you or bring value to your channel. While you shouldn't ever overdo it with your special extras (some could potentially slow down your stream or make your channel look cluttered), carefully selecting a few that would go well with your brand can elevate the experience for your followers.
Here are a few that could work for any channel:
Restream
Restream allows you to broadcast to multiple platforms at once. While we don't recommend this due to the fact that it is difficult to manage your community if they are spread out over platforms, there may be times where this would be beneficial to you.
Amazon Blacksmith
Amazon Blacksmith is an extension for your profile that displays products sold by Amazon. You dictate which items are displayed and you receive a commission off of anything purchased by your viewers.
Auto-Translate Twitch Extension
Auto-Translate is an extension that will translate your words into the viewer's language of choice. The viewer pays 100 bits (which is split between you and the developer) to receive the translation of your channel for one day.
BTTV (BetterTTV)
BetterTTV gives you many new emotes that you can use when typing to your viewers or on other channels.
Suggestion Box
Suggestion Box is a place where your viewers can leave valuable feedback about your stream or give you ideas for future broadcasts. They are allowed to comment once per day.
Visual Arts Software
There are many aspects to running a successful stream channel and not all will be directly related to your broadcasts. High-quality visual arts will set you apart from the average streamer and solidify your brand. Designing your own graphics from scratch will take time and a lot of creativity and many streamers outsource this work to a company like Fiverr.
You can utilize graphics in many ways on your channel. In addition to your logo and banner, you can create starting soon, intermission, and offline screens. You can use motion graphics to change scenes, customize alerts, or as an intro. Similar graphics should be used across your social media platforms as well.
If you want to try editing or design work yourself, the following list contains some programs you can use. Most listed will be able to do either.
Video Editing/Motion Graphics Software
Two good ways to promote your channel is through uploading unique content to YouTube and having visual graphics related to your stream. If you plan to create these yourself, you will need to have editing and/or motion graphics software.
There is generally a steep learning curve to create content that will attract an audience on YouTube. If you have never edited a video, we recommend that you either outsource your editing work or spend time watching tutorials and research trending ideas. Streams need to either be educational and/or entertaining to really reach new viewers, so take your time on the ideation for each episode.
Motion graphics should both stand out and represent your brand. You can use animations for your intros, outros, scene changes, sub alerts, and anything that you think would set your channel apart.
HitFilm Express
HitFilm Express is a great editing software for beginners. In addition to editing, HitFilm Express offers 2D/3D compositing, as well as over 400 presets and effects all free. More than 4 million people use the software and many produce helpful tutorials on how to use the software.
Davinci Resolve
Davinci Resolve is free editing software that allows you to easily edit several aspects of your video. In fact, you and a friend could both be editing a different part of the file at the same time! It also has 250+ built-in tools that allow you to create visual effects that you can use in your stream.
Renderforest
Renderforest is an easy way to create motion graphics for your brand. With many templates to choose from, chances are that you will be able to turn your creative ideas into a reality and add a little flair to your channel.
Adobe Premiere Pro / Adobe After Effects
The Adobe Suite allows you to seamlessly work with a variety of mediums. Adobe Premiere Pro is a professional-grade software that allows you to create outstanding videos. Adobe After Effects gives you the opportunity to create cinema-level motion graphics that you can use for your channel. The software can be used for a monthly fee either individually or bundled with the rest of the Adobe Suite.
Image Design Software for Your Twitch Graphics
From logos to Twitch panels to emotes, there are several ways you will need to incorporate unique images into your channel. It is important to have consistent branding across all of these graphics and if you are hesitant about reaching out to a designer, you can design them yourself.
Using vector images allows you to reuse common themes in a variety of sizes. It is important to always plan for the future and you don't know where your brand might take you. Vector images can be blown up to any size without losing quality and you can export these files to any format required by the streaming platform.
There is a learning curve with vector design, but there are also many tutorials on YouTube or skill-learning websites to help you get started. If you are creative and interested in trying your hand at creating your own graphics, here are a few programs you can use:
Inkscape
Inkscape is free software that allows you to create vector images. It has several features including object creation and manipulation, text support, and rendering. You can also export your design in a variety of file formats.
Affinity Designer
Affinity Designer is a professional software with a wide array of tools that you can use to make high-quality images. Though there is a learning curve, there are several online tutorials available and the opportunities are endless. It is very similar to Adobe Illustrator but can be purchased for a one-time fee instead of a monthly subscription.
Adobe Illustrator
As with other Adobe products, Adobe Illustrator is the industry leader. It has been around for over a decade and is frequently updated. With customizable toolbars, freeform gradients, and a variety of other options, you can potentially design all of the graphics you need for your channel. You can subscribe to the program on a monthly basis or bundle it with other Adobe products.
Audio Software
Sound is just as important as visuals on your broadcasts. Your voice quality should be clear with no feedback. You need the means to communicate with collaborators or subscribers who join you in your stream. Playing music and sound effects add background entertainment to your channel. There are several options available to perfect the audio on your channel.
Popular Audio Software for Streaming
Your audio quality is critical to the growth of your channel. If you sound too far away, have feedback, or your sound lags, people will be put off by your broadcast and find a different streamer to watch. Fortunately, there are several programs that will help you balance your sound, route different audio sources, or let your viewers control sound-bytes that play on your channel.
Here are a few programs you can look into:
Voicemeeter Banana
Voicemeeter Banana is free software allows you to mix and manage your audio sources so that you have great sound quality during your stream. It is available to Windows users and is relatively easy to use.
Audio Router
Audio Router – Audio router allows you to simultaneously direct several audio sources on your computer to different devices. You can listen to one source on your headphones while playing a totally different thing for your audience. It is free and very easy to use.
SoundAlerts Widget
SoundAlerts Widget is an extension allows your viewers to pay bits to play specific sounds on your stream. You can set prices to your own sounds or available clips uploaded by other users. Bit revenue is split between the streamer and the widget developer.
Best Music for Your Twitch Channel
Having lobby music for your stream is an excellent way to help hold a viewer's interest when things are slow. Playing copyrighted music could result in having portions of your stream muted or cause problems with your account's monetization or your MODs being muted. If you are a new streamer, you typically don't have to worry as much until you start earning on your channel. It is always good to get into the practice of finding good, free music.
Sometimes your music can set the tone for your channel. Play music that appeals to your target audience. It boosts the appeal of your channel and retains viewers.
Several platforms provide music for streamers for attribution or a small fee. Here are a few for you to peruse:
Pretzel
Pretzel offers a constantly updated catalog of music that you can play throughout your stream without worrying about copyright infringement. You can either download the player or play music directly from the browser.
Incompetech
Incompetech offers a wide variety of genres from which you can download music to play on your stream or YouTube videos. You can use the songs for free with attribution.
Monstercat
For $5 per month, you can use Monstercat's music on your live-stream (you can also use it for free on non-monetized channels). This service is available to streamers on Twitch, YouTube, and Mixer. To hear what their music sounds like, you can visit their own Twitch channel.
Communicate with Other Streamers or Viewers
Whether it be to collaborate with other streamers or to include your viewers in your gameplay, you need to have a voice communication program that people can use wherever they are in the world. Use one that gives you customization where you can connect with your followers in a variety of ways. If set up correctly, this can become the centralized hub for your community.

Discord
We recommend that you use Discord as it is the standard communication app used by the majority of streamers. This way, you can easily collaborate with other broadcasters without having to use multiple sources of communication. You can make your servers with both text and voice chats and create rolls for the members of your stream Discord community to give access to specific channels within your server.
Teamspeak
Teamspeak offers military-grade security as you and your friends converse. Their software is very low latency and offers 3D surround sound. They also have advanced system controls and allow you to run your own personal server.
Managerial Software
As a one-man-show, you will need to wear several hats. In addition to producing quality content, you need to manage your channel like a business. Here are a few different kinds of software that can help.
Check Your Grammar
A big part of growing your stream is through promotion. Having good spelling and grammar will help you get your message out to potential viewers. Spelling and grammar are also important when communicating with potential sponsors or other streamers. While this skillset is often looked over when starting a broadcasting channel, using a grammar checking app can help you put your best foot forward.
Grammarly
Grammarly is an application that double-checks your written words for you. It works on a variety of programs to check both your spelling and grammar. The app is designed to elevate your work with their suggestions to allow you to put your best foot forward. It is free to use, but you can get fuller features with their premium package.
Ginger Software
Ginger Software also checks your work for spelling and grammar errors, allowing you to write confidently. Their premium package allows you to translate your work into over 50 different languages and gives you ideas for your sentence structure.
Budget for Your Channel
Especially at first, streaming may bring in more expenses than income. It is important that you keep track of your finances and remember to prioritize your bills, grocery expenses, your new streaming expenses, as well as some fun. As you begin to generate revenue, you can create spending goals to help build up your channel to create a better experience for both you and your viewers.
Buddi
Buddi is a free open-sourced software that allows you to keep track of your budget and finances. It is available in multiple languages and there are tutorials on their developer's website on how to use it. It can run on Windows, Mac, and Linux.
YNAB (You Need A Budget)
YNAB (You Need A Budget) is an easy-to-use well-rounded budgeting software. You can manage your finances at home on your computer or on the go from your mobile device. Many people have gotten out of debt and have begun to save money by following YNAB's four methodical rules. You can trial it for 34 days for free. Pricing to use this system is $84 per year (about $7 per month) and comes with a money-back guarantee.
Accounting Software for Streamers
As a freelancer, you will need to keep track of your business income and expenses. This can seem daunting, but there is automated software that can help you keep track of your cash flow so that you are prepared when tax season comes around.
Wave
Wave is free accounting software that allows you to manage your books and cash flow, allowing you to be ready for tax time. It allows you to connect multiple banks and credit card companies and tracks your income and expenses for you. You can also scan your receipts and save them with the program.
Quickbooks
Quickbooks is a simple way to manage all the financial aspects of your stream channel. It keeps track of your income and expenses and you can see the variations from month to month. With automated features available, you can use your time to focus on building your brand and following. There are several plans available for different monthly subscriptions.
For More Information:
Your software will go hand-in-hand with your streaming equipment.