Wilbur Soot is a British YouTuber, Twitch streamer, and music artist. Best known as one of the major players in the Twitch star-studded Minecraft server, Dream SMP, Wilbur is also an extremely talented individual who dons many hats wherever his creativity takes him.
Suffice to say, Wilbur is popular on every platform he is in. Although the man himself mostly attributed his fame to luck, one will realize after knowing how much time he had spent all his life on his creative pursuits that he had so much passion for being an artist.
In this post, we will be looking into the life and career of Wilbur Soot, credited as one of the writers of the L'Manberg series of arcs (which is arguably one of the best arcs in DSMP), former SootHouse member and co-founder, and now as the lead singer and guitarist of the band Lovejoy. We will also talk about Wilbur Soot's net worth and other interesting facts about the English content creator.
Who is Wilbursoot?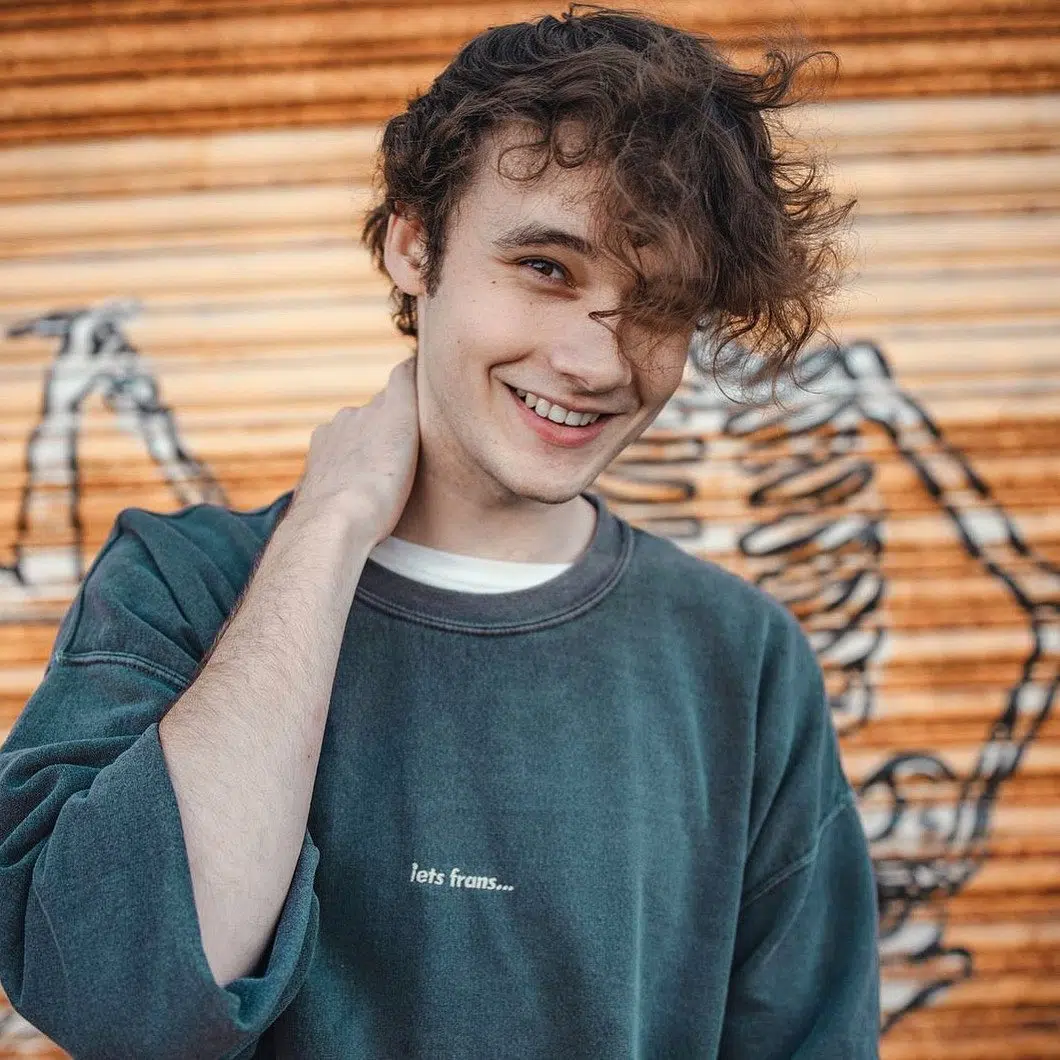 Wilbur Soot is a popular content creator from England, United Kingdom, who posts gaming content, challenges, and songs he wrote and sang himself on his YouTube channel. Moreover, Wilbur Soot is also one of the most-followed personalities on Twitch. He is also a certified songwriter as well as the guitarist and vocalist of the band Lovejoy.
Aside from music, he is perhaps best known as one of the main streamers on Dream SMP, a Minecraft server populated by famous Minecraft players, including TommyInnit and Fundy, who are also his friends. He is also a member of the SleepyBois.Inc, along with Ph1lza, Technoblade, and TommyInnit.
He was also in the SootHouse, a YouTube channel, which was one of the earliest Reddit-reading style channels on the platform.
Early Content Creation Days
Even as a young child, Wilbur seemed to have it in him to show his creativity and artistic skills on the internet. His first YouTube channel, which is still viewable, was created back in 2008, with a friend named Ben. They named this channel "settings66", with videos ranging from gaming commentary to everyday vlogs.
Wilbur created several more channels after this, including Wilbur Music. He also mentioned he had joined a band once but later on left. Throughout the 2010s decade, Wilbur has partnered with other individual creators or joined in groups to make content on YouTube.
One of the most notable is Minecraft and Donus. He managed this channel with a girl named Sophie, and like the title implies, they upload Minecraft videos together. The channel stopped releasing videos in 2013. This might be the first instance wherein Wilbur created content specifically about Minecraft, which he would come back to later on in his life.
SootHouse
One of the first defining eras of Wilbur's career was when he formed the YouTube channel "SootHouse" along with 6 other guys and 1 girl, all coming from the United Kingdom. SootHouse helped popularize the "Reddit-reading" style of YouTube videos, wherein, as the name suggests, they read posts from Reddit and react to them. Their first video was Bulgarian Real Estate, where the hosts, including Wilbur, reacted to websites they found on the internet that sells really cheap houses in Eastern Europe.
In SootHouse, Wilbur acted as the frontman and main editor of the channel. He is defined by the white color code, which shows up whenever he participates in the commentary.
The channel ran from 2017 to 2019, ending with an indefinite hiatus. A few of the SootHouse members continued on their individual YouTube channels, including Wilbur. Soon, Wilbur Soot reentered gaming content creation as Minecraft became popular again.
Minecraft Resurgence Era and Wilbur's Rise to Fame
During 2019, when Minecraft had a renaissance on the internet, Wilbur Soot was among the YouTubers-slash-Twitch streamers who became massively popular. The same year, he created his main YouTube channel, Wilbur Soot, where he posted Minecraft-related content focusing on the SMPs he joined.
In total, he joined four survival multiplayer Minecraft (SMP) servers:
SMPLive
SMPEarth
Dream SMP
SMP Origins
As soon as he started streaming and creating videos on Minecraft in 2019, Wilbur's followers grew until they reached millions both on Twitch and YouTube. Wilbur also started the YouTube Minecraft video format "Minecraft, but…", which was adapted by other content creators as well.
From then on until today, he continued creating content with his other famous YouTubers, particularly with the other members of SMPEarth and Dream SMP.
In the Dream SMP server, Wilbur founded the nation "L'Manberg" after breaking away from Dream's overarching rule. This became the start of how Wilbur became one of the main writers of the server's lore and also helped direct the course of the story.
He also joined MC Championships several times, with two team overall wins so far.
Music Career
Wilbur Soot is also a well-known singer-songwriter. After releasing a number of hit songs (including I'm In Love With an E-Girl, Internet Ruined Me, and Your New Boyfriend), he formed the band Lovejoy, with guitarist Joe Goldsmith, and then later on invited Ash Kabosu to become their bassist and Mark Boardman as their drummer.
Lovejoy currently has 1.33 million subscribers on their YouTube channel.
Privacy and Personal Life
Wilbur is very private about his life. Little is known about him or his family. Even his birthday is disputed by his fans as he is known to jokingly give a different answer every time he is asked.
What is Wilbur Soot age?
Although it's most likely true that he was born in 1996, so Wilbur Soot's age is 26 as of February 2023.
Does Wilbur Soot Have A GF?
He also doesn't talk much about his family or his love life. Therefore, his relationship status is unknown.
Where did Wilbur Soot go to college?
Gold graduated with a degree in Editing and Post Production as to where he got his degree, sources vary, including Ravensbourne University London and Sussex Downs College.
What is Wilbur Soot Height?
Wilbur Soot's height is estimated to be around 6'6″ or 198 cm.
Controversies
Almost all internet personalities have had their share of controversies, and Wilbur Soot is no exception. One of the controversies he had to face was when people pointed out offensive lyrics in some of his earliest songs, particularly The Nice Guy Ballad. Wilbur has since then changed the song lyrics and also eventually deleted it from his channel. He also apologized for the incident.
He also got caught in the Slazo drama because of his association with him. Wilbur distanced himself from the issue as he didn't like following drama.
Wilbur Soot Now
Wilbur still continues to work on his career, although he seems to be focusing more on his music than his game live streams. He mostly streams in the "Just Chatting" category on his Twitch channel as of February 2023.
He also has co-written a book with TommyInnit titled TommyInnit Says… The Quote Book. The duo planned to donate all the proceeds from the book to the Sarcoma Foundation of America in honor of the late streamer and their dear friend Technoblade after the latter lost his life to cancer.
Games that Wilbursoot Plays
Here are some of the games that Wilbur Soot plays:
Minecraft
GeoGuessr
Among Us
Phasmophobia
Rust
RimWorld
Rocket League
Wilbursoot Net Worth – How They Made Money
Wilbur Soot has multiple income streams. He creates content on his YouTube channel, as well as streams on Twitch. Moreover, he has a popular Spotify page for himself and his band.
His estimated net worth is around $2 million.
How Much Does Wilbur Soot Earn From Twitch?
Like all Twitch partners, Wilbur Soot can make money on Twitch in three ways: ad revenue, donation, bits, and subs. Since he has been streaming irregularly during the past few months, we can't give a proper estimate for his earnings through ads, donations, and bits. But we may be able to make a fair guess of his earnings from subscriptions.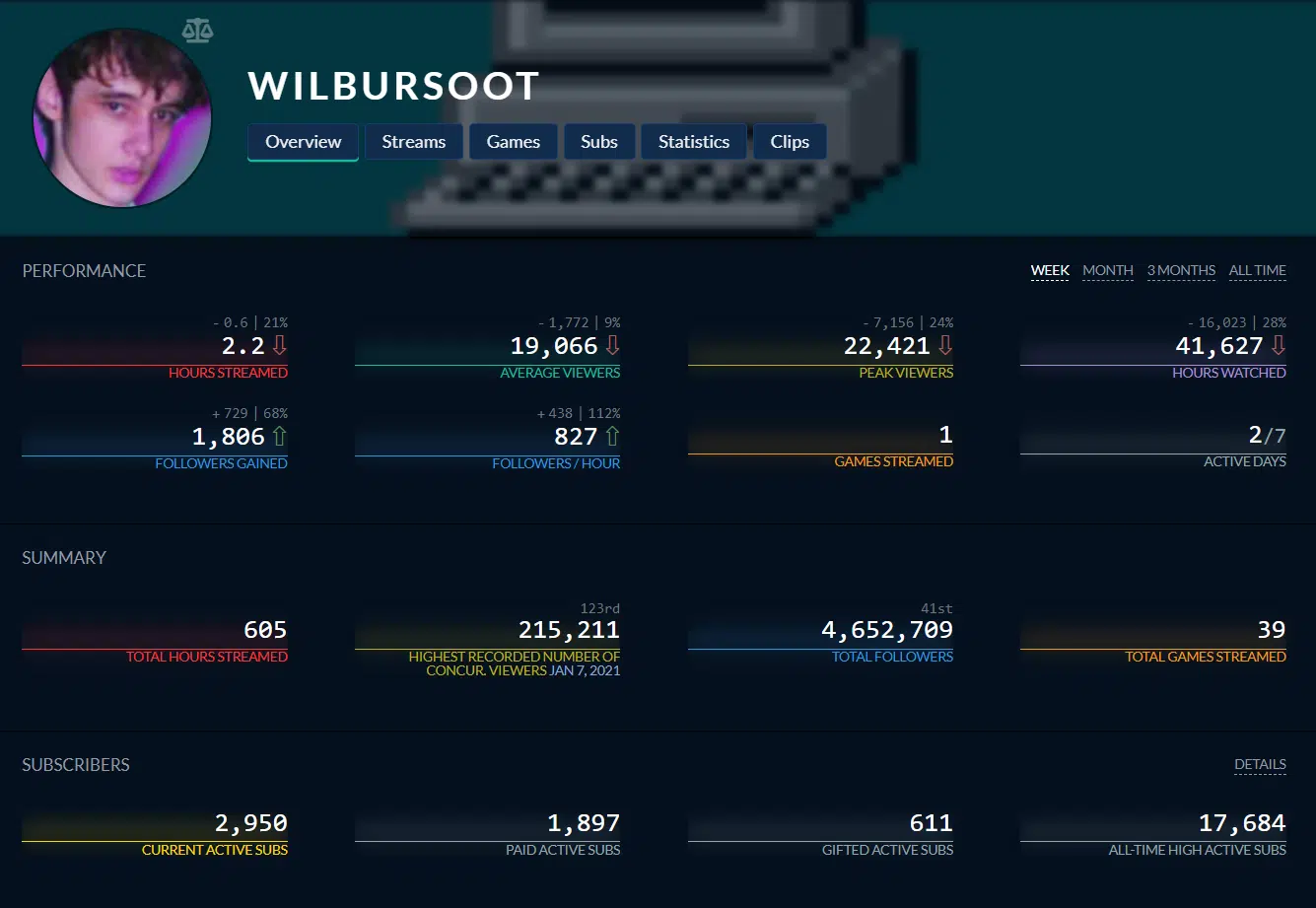 According to TwitchTracker, Wilbur currently has 2,950 active subs, which means his Twitch channel could be earning $14,720.5, assuming that all of his subscribers are on Tier 1. Twitch streamers usually take 50% of that, but bigger partners like Wilbur could negotiate for a 70/30 split, which means he pockets $10,304.35. And this is still a minimum since some of his subscribers may be paying on Tier 2 and Tier 3, which costs $9.99 and $24.99, respectively.
In the Twitch leak that was released in 2021, Wilbur reportedly earned $553,463.86 from August 2019 to October 2021.
How Much Does Wilbursoot Earn From YouTube?
Wilbur has several YouTube channels. However, since most of them are inactive, we will be only focusing on his main YouTube channel and Lovejoy's.
According to Social Blade, his Wilbur Soot channel, where he posts gaming videos and his most popular songs as a solo artist, earns between $724 to $11.6k per month or $8.7k to $139.1k per year.
Meanwhile, the Lovejoy YouTube channel earns between $924 to $14.8k per month or $11.1k to $177.3k per year.
Spotify
Wilbur also has a Spotify profile. He has more than 1.6 million monthly listeners, and each of his songs has been streamed tens of millions of times.
Through the Royalties Calculator from Music Gateway, we can guess how much he earns from music streaming platforms like Spotify. For instance, his hit song Your New Boyfriend now has 183,543,289 streams. Using the calculator, he earns an estimated $734,173.16 in royalties from it alone. Note that this doesn't include his other songs, and this is only an estimate. His actual earnings on Spotify and similar streaming platforms could still be higher or lower.
Who Sponsors Wilbursoot?
As of the moment, there are no available details on his social media accounts if Wilbur Soot has partnered with any brand to sponsor him. However, with his and now his band's popularity, it may not be long before brands back him up.
Conclusion
Wilbur Soot is no doubt one of the most talented streamers to have come up in the past several years. He dons many hats: gamer, entertainer, writer with remarkable storytelling skills (which is evident in his role in the DSMP lore and his music videos), editor, and singer-songwriter. However, despite his success and fame, he is still very much connected to his friends and fans.