Will Gold, popularly known as Wilbur Soot, is a British social media personality, singer, and well-known YouTuber and Twitch streamer. He is famous for his Minecraft gameplay and is frequently seen playing alongside other prominent Minecraft content creators.
Here's more information about Wilbur Soot and how he earns his money.
Who Is Wilbursoot?
On September 14, 1996, Wilbur Soot was born to a middle-class Christian family in England, United Kingdom. Soot is of British nationality and of White Caucasian descent. He has a special condition called Hypoguesia, a disorder in which he cannot taste things correctly. Among his favorite animals are the cat, orca, and killer whale.
Wilbur received his early education at a local Suffolk school and graduated from Sussex Down's College in Lewes, England. Since he was a young, he has always been interested in gaming, and he has always wanted to be a gamer.
Wilbursoot YouTube Career
Wilbur created his first channel, 'Settings666,' when he was eleven. He is currently active in his "Wilbur Soot" YouTube channel, where he posts videos of his Twitch stream clips and highlights. He also has a channel called "Wilbur Music," where he occasionally posts song covers and mini-performances of his music.
He rose to prominence in 2017 after accumulating a lot of followers on his comedy YouTube channel, "SootHouse," which has over 1 million subscribers. In 2020, he joined Dream SMP, a Minecraft server run by Dream, an American YouTuber. He founded the nation of L'Manberg and later rose to the position of lead writer. Wilbursoot has also participated in several Minecraft tournaments, including Minecraft Monday and the MC Championships. He also took part in the BlockChamps chess tournament, which WFM Alexandra Botez and Andrea hosted.
Wilbursoot Twitch Career
Wilbursoot rose to prominence in 2017, particularly when he began focusing more on his Twitch channel. Wilbur Soot launched his Twitch channel on December 9, 2017. He's a well-known Minecraft Twitch streamer who streams his adventures on the Dream SMP server. He frequently dabbles in other games and has played Among Us and Rust.
Wilbur Soot was the main influencer for the episode of the internet game program "Love or Host" (way back when it was known as The Rajjchelor). He befriended Nikita Niki "Nihachu," with whom he remains friends today. He currently has over 4.4 million followers on his Twitch channel.
Wilbursoot Music Career
Wilbur Soot released his first song, "The 'Nice Guy' Ballad," in January 2018. He not only sings, but he also plays the majority of the instruments in his music, including the guitar, drums, and piano. With the release of his single "Your New Boyfriend" in 2020, he began to gain mainstream success. It peaked at #65 on the UK Singles Chart and #10 on the UK Indie Chart. During the week of December 26, 2020, he was on Billboard's Emerging Artists Chart.
Games That Wilbursoot Plays
Wilbur Soot primarily streams Minecraft, but he also streams other games such as:
Among Us
Rust
Just Chatting
GeoGuessr
Tetris
Spore
Wilbursoot Net Worth – How They Made Money
As of March 2022, Wilbur Soot's net worth is estimated to be $1,000,000. Wilbur Soot has numerous income sources as an online content creator, streamer, uploading on social media accounts like Instagram and Twitter, and by selling his own items and producing and releasing his own music.
Twitch
Twitch has contributed a lot to Wilbursoot estimated net worth. He makes money as a Twitch Partner from subscribers, advertisements, and donations.
Subs – Wilbur Soot qualifies for the Twitch 70/30 split based on his monthly subscriber count. This means he earns $3.50 per tier 1 Twitch subscriber.
Wilbursoot makes money from advertisements that appear on his stream. His cost per 1000 views is estimated to be around $2.
Donations – Wilbur Soot accepts fan donations as well. He gets Twitch Bits and has an external tip jar.
YouTube
Wilbur Soot has 6.2 million subscribers on his YouTube channel, where he uploads about once a month but receives millions of views on each video.
You can earn money on YouTube by displaying advertisements in your videos. YouTube pays between $1-$3 per 1000 views in the gaming category, depending on the viewer's age and location.
Merch
Wilbur soot has his own merch store, which he sells on the FreshMerchCo website.
Sponsorships
Wilbur soot is known for doing sponsored videos regularly. Sponsored videos are a popular way for YouTubers to supplement their income in addition to ad revenue.
How Much Does Wilbursoot Earn From Twitch?
Wilbursoot makes approximately $47,124.98 per month from Twitch. This is broken down as follows: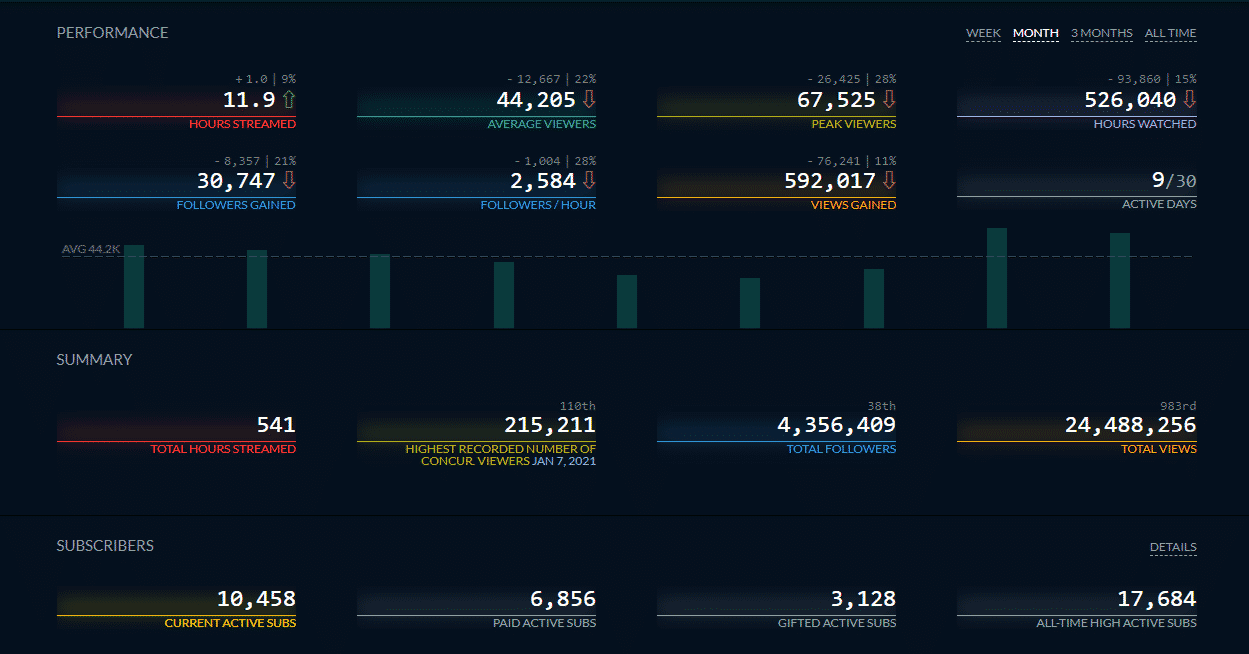 Subscriptions – According to Twitchtracker, Wilbur Soot has 10,458 active subscribers as of February 2022. Assuming a 70/30 split with Twitch, this means Wilbursoot makes approximately $3.50 x 10,458 = $36,603 per month from Twitch subs.
Ads – Wilbursoot streamed for 11.9 hours last month, with an average viewership of 44,205. If he runs an ad twice an hour at a CPM of $10, Wilbursoot makes 23.8 x 10 x 44.21 = $10,521.98 per month from advertisements.
Donations and Bits – Donations and bits are more difficult to calculate because we don't have any estimated numbers to work with. Unfortunately, Wilbur soot's top ten donations aren't even visible on stream, so we don't have any information to help us estimate. Based on his viewership and frequency of streaming, he is likely to earn an estimated extra $1,000 or more per month from donations.
How Much Does Wilbursoot Earn From YouTube?
Most of Wilbur Soot net worth is due to his work on YouTube. According to Socialblade, he received 7,044,290 views last month. We can estimate his YouTube revenue if we break this down.
Wilbur Soot also has a YouTube music channel that earns money through Adsense revenue. According to Socialblade, he receives approximately 196,184 views last month.
The CPM for music on YouTube appears to be around $6.
196,184 views/1000 = 196.18
196.18 x $6 CPM = $1,177.08 per month from YouTube Adsense.
Wilbursoot earns around $15,265.66 per month from the platform.
How Much Does Wilbursoot Earn From Music?
Wilbur Soot has music on Spotify, and his music has received over 523,876,216 plays or streams to date.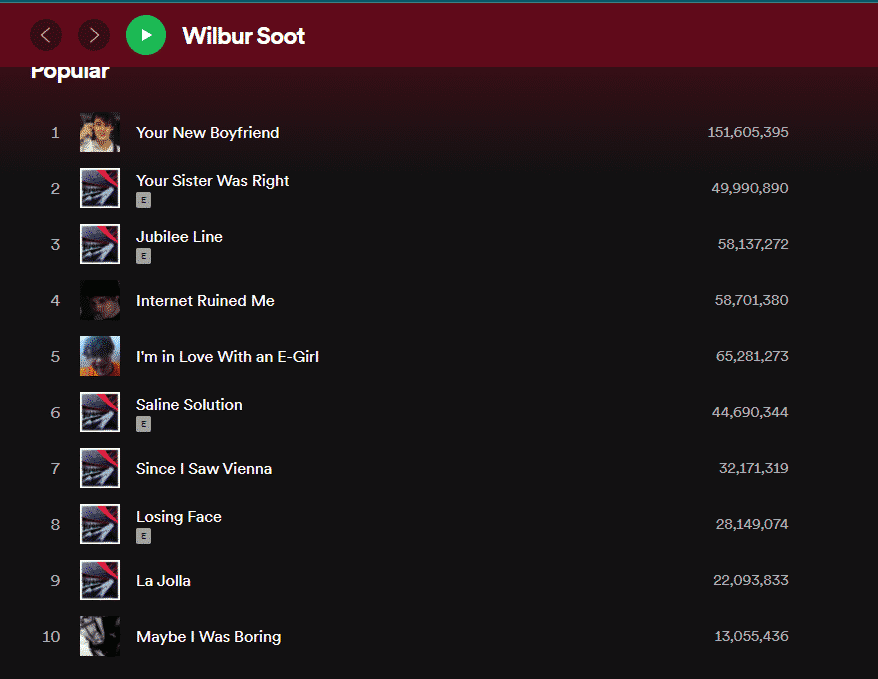 We can estimate that 523,876,216 replays Wilbur Soot earn approximately $2,095,504.86 through Spotify using a music royalty calculator.
It's tough to say how much he earns each month because monthly statistics are hard to obtain, so we'll simply divide the amount by 12 to get a ballpark figure. This equates to about $174,625.40 in monthly earnings from his music.
How Much Does Wilbursoot Earn From Merch?
Wilbur Soot has his own merch store on the Freshmerch.fm website. It's difficult to estimate how much earnings he makes from merch because there's no way to track how many visitors or sales he has. However, we can estimate that merch brings in around $5,000 per month for a content creator of his size.
Who Sponsors Wilbursoot?
Wilbursoot has numerous sponsors in the past, namely:
ASUS
miHoYo (for Genshin Impact)
State of Survival
Knockout City
Dell
Epic Games
Core
He does the majority of his sponsorships through his YouTube channel.
Conclusion
Wilbursoot, a young man in his twenties, is still on the rise despite having millions of fans worldwide. Wilbur Soot's music career is only getting started, and he has a large fan base across practically all social media platforms. We're looking forward to seeing where his career leads him!