How much money Valkyrae makes a year? You might be wondering how this famous Twitch streamer and YouTube content creator became one of the most popular streamers online. What's more, she is now the co-owner of a competitive sports team in such a short time. Find out more interesting things about Valkyrae, net worth, facts, and stats below.
Who is Valkyrae?
Valkyrae is one of the most popular female faces in Twitch and YouTube.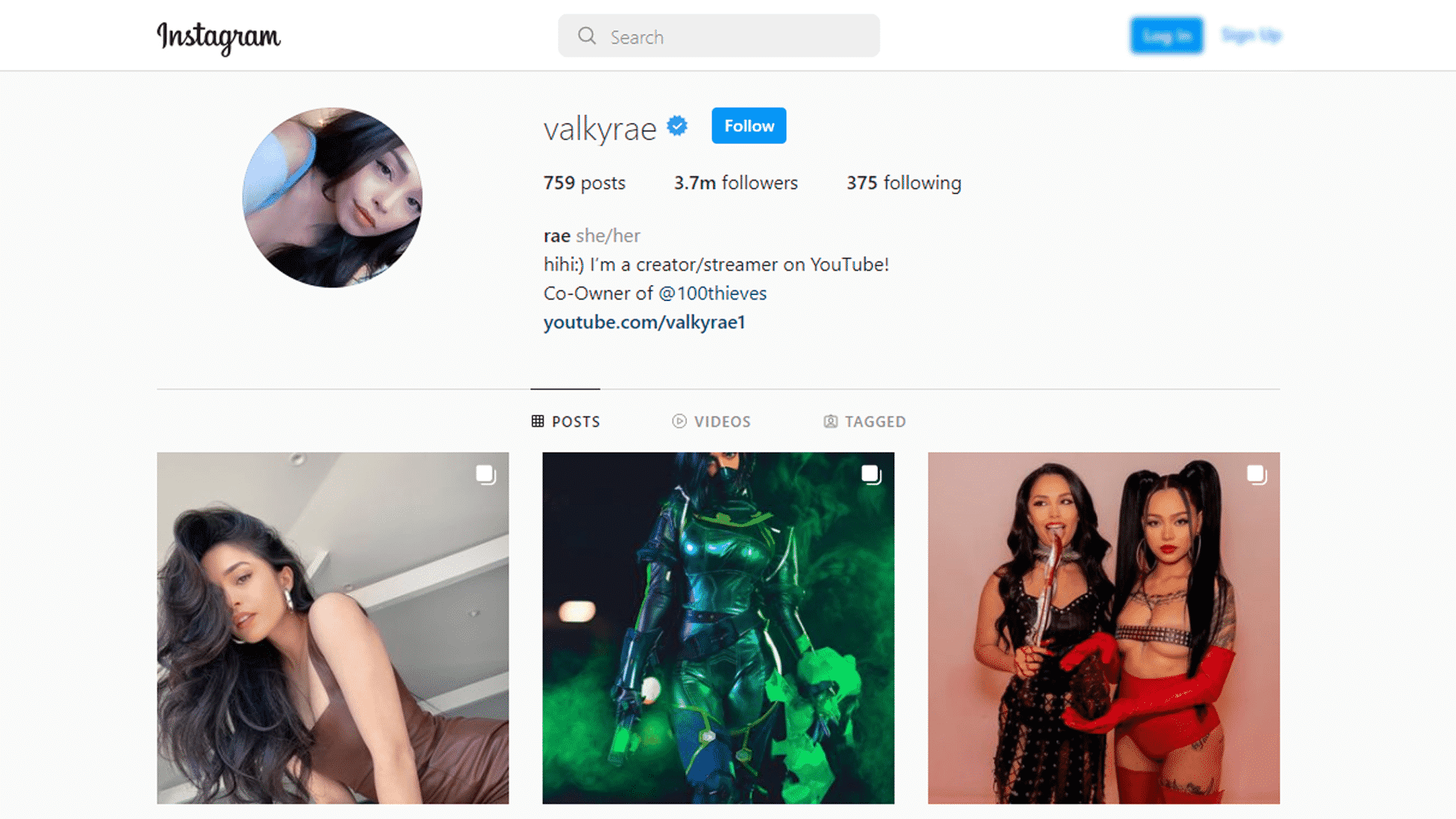 Early Life
Rachel Marie Hofstetter, aka Valkyrae, was born on January 8, 1992 at Washington, USA. She is of German-Spanish-Filipino-Caucasian descent. She went to a community college in Washington where she graduated with an Associate in Arts degree. She was able to pay off her mom's debts when she became a full time Twitch streamer.
Hobbies & Interests
When she is not around her computer playing games, Valkyrae loves to watch anime.
Love & Other Things
Valkyrae used to date Sonii (real name: Michael Sherman) in 2016. Their relationship lasted about four years and came to a sudden end in 2020.
Streaming Career
Valkyrae became the most watched female Twitch streamer in 2020 when she doubled Pokimane's average views. Shortly after that, she switched to YouTube Gaming after signing an exclusive contract with them.
Games that Valkyrae Plays
One of the most acknowledged female gamers, Valkyrae stands on par with other popular streamers such as Pokimane, Sykkuno, Corpse Husband, and many more. She became widely known in the industry by streaming popular games such as:
Among Us
Fortnite Battle Royale; and
VALORANT
She has also played other games like The Walking Dead and BloodBorne.
Game Award
Valkyrae won the Content of the Year Award in the 2020 Game Awards, beating Pokimane and Alanah Pearce in the same category.
Valkyrae Net Worth – How They Made Money
Valkyrae makes income through content creation, merch sales, YouTube live streams and other sources like donations, and sponsorship deals. With her Twitch and YouTube Channel income combined, she makes around $200,000 monthly collectively.
How Much Does Valkyrae Earn From Twitch?
Valkyrae was active on Twitch from 2016 through 2020 before shifting to YouTube. Her total earnings from Twitch in 2020 was roughly at $450,000 (besides donations and sponsorships).
Valkyrae Twitch Tracker Stats (2016-2020)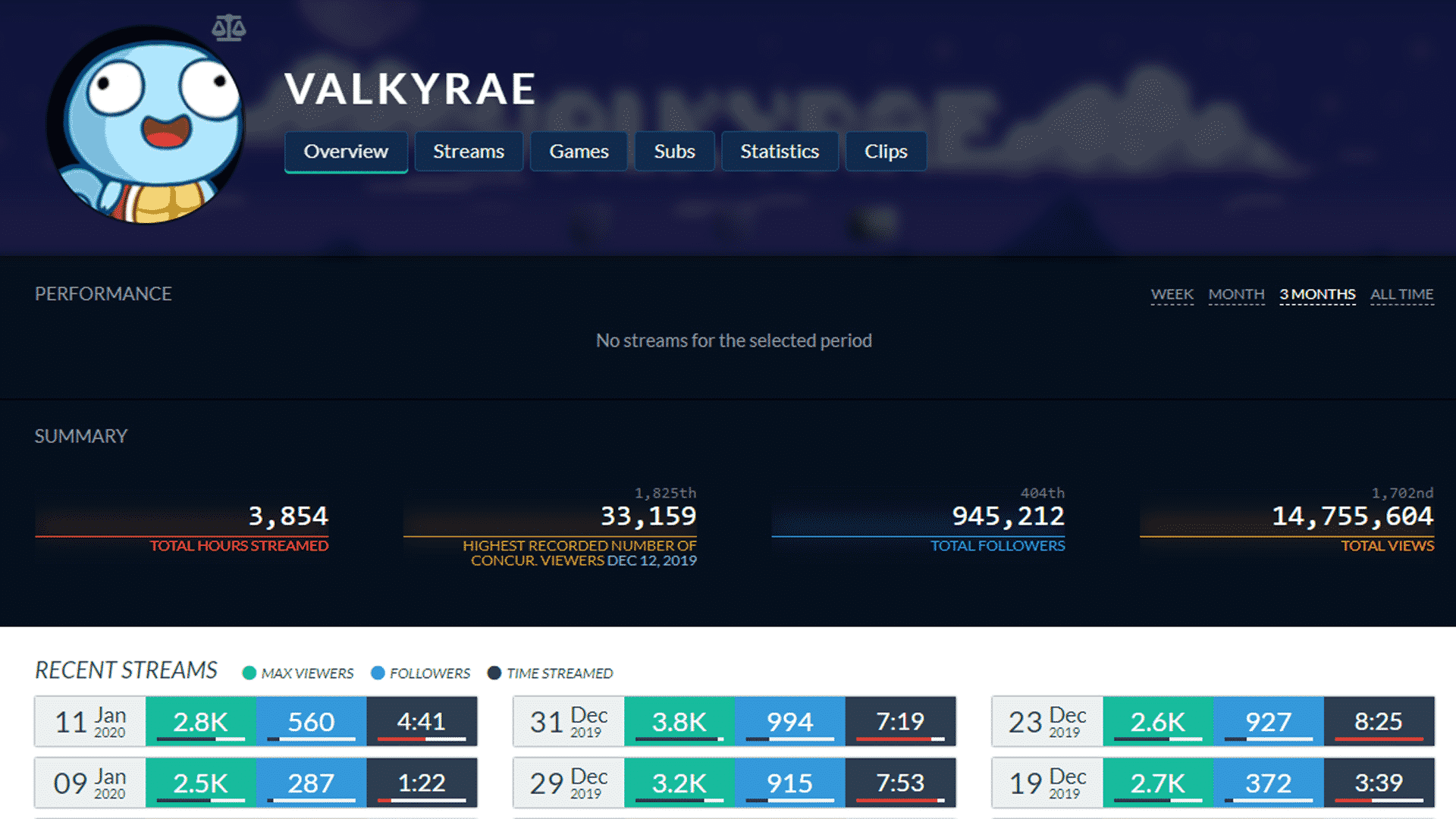 How Much Does Valkyrae Earn From YouTube?
Most of Valkyrae's revenue comes from uploading gaming videos and stream highlights at her YouTube channel. Some of the contents she makes are about Fortnite Battle Royale, Leage of Legends, Valorant, and Among Us. In fact, she earns more in YouTube than in Twitch.
In 2020, Valkyrae's YouTube account became one of the fastest growing channels. She was even dubbed "Queen of YouTube" in the same year.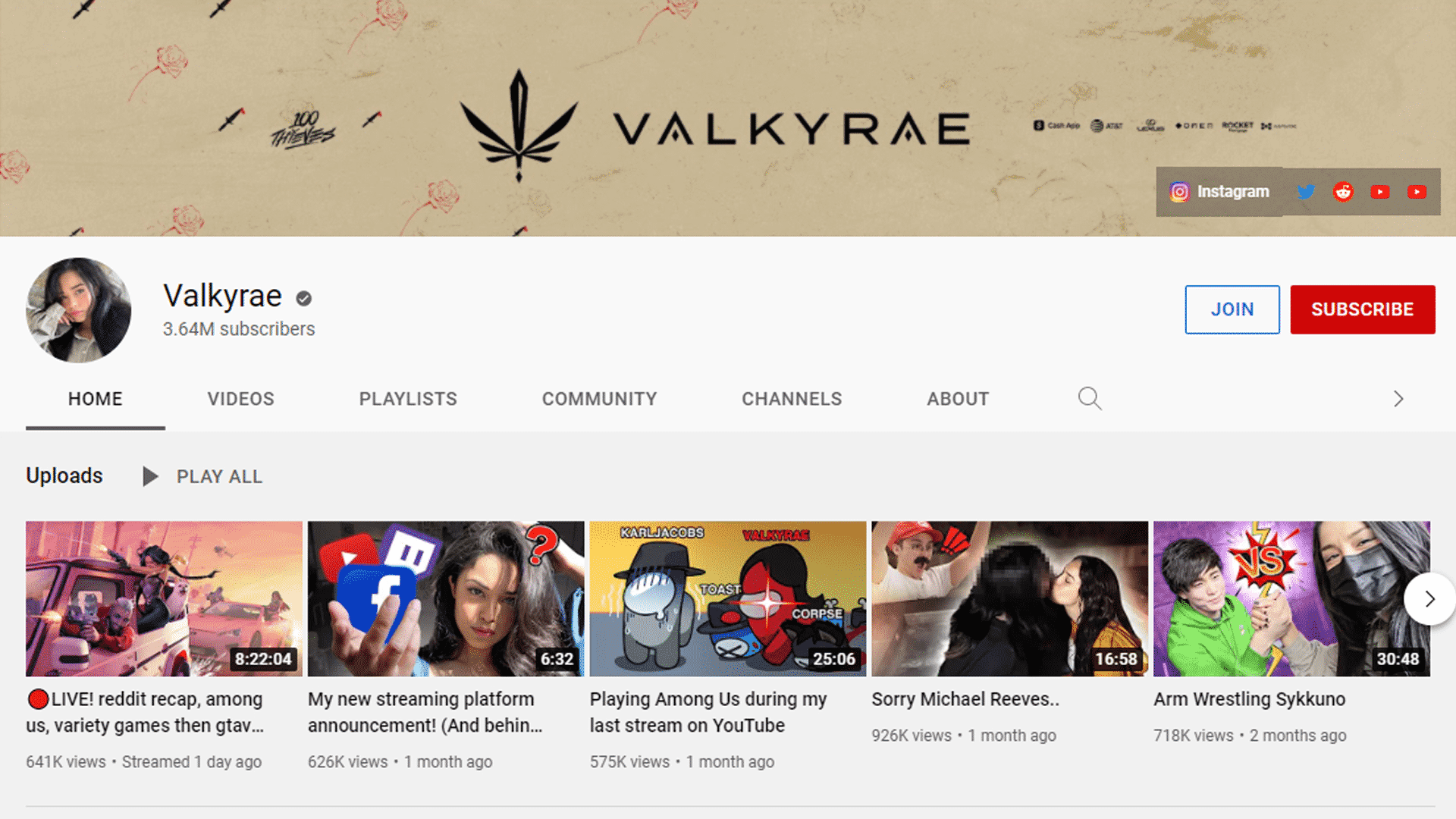 Estimated Net Worth in YouTube Channel Leakage
Valkyrae's exclusive contract with YouTube is a major source of income for her. And during one of her streams in the channel, Valkyrae accidentally leaked her overwhelming YouTube revenue information that says she's earned $172,908 in just 28 days.
As of date, she earns a stable $170,000 in YouTube, besides sponsorships and donations.
Who Sponsors Valkyrae?
Aside from live streams, Valkyrae also earns through sponsorships. Revenues earned through these deals are not disclosed so there's no way of knowing them.
For her streaming setup, Valkyrae uses mostly HyperX peripherals. She loves using them especially when playing with FPS games that require on-point smoothness and accuracy. She also uses Mavix Gaming Chairs for ergonomic and comfortability while playing games.
Although not an official sponsorship deal, Valkyrae advertised Urban Outfitters on one of her Twitter posts in 2020.
Valkyrae is the first female content creator of 100Thieves sports team, who also became a co-owner later. Apart from creating content, she has also appeared in multiple music video projects from popular artists such as Bella Poarch.
Conclusion
It took 4-6 years before Valkyrae rose to stardom. Her success in the industry shows that one's hardwork will really come into fruition one day. It doesn't matter if you're male or female to make a career out of streaming, it's the heart and the passion that really counts.