The online world is ever-changing, and with the advent of social media, there are now more ways than ever to make a name for yourself. For better or worse, Tyler1 is one of the most famous gamers on Twitch, and his net worth reflects that. Perhaps, as a fan of the popular League of Legends streamer, you're wondering about Tyler1. His net worth, streaming career, and how he's made his money. Stay tuned, because we're about to take a look at all that and more.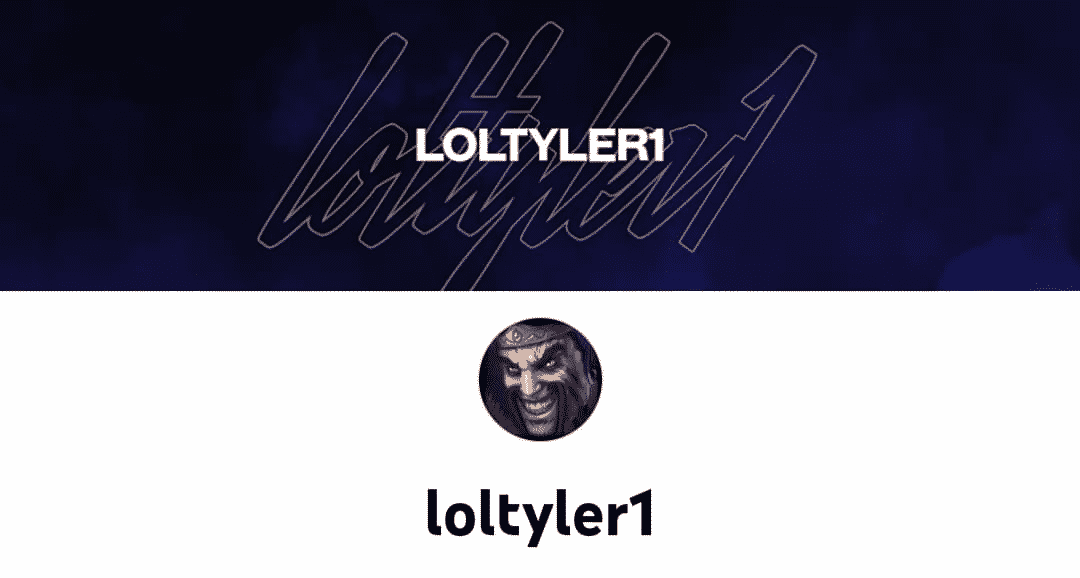 Who is Tyler1?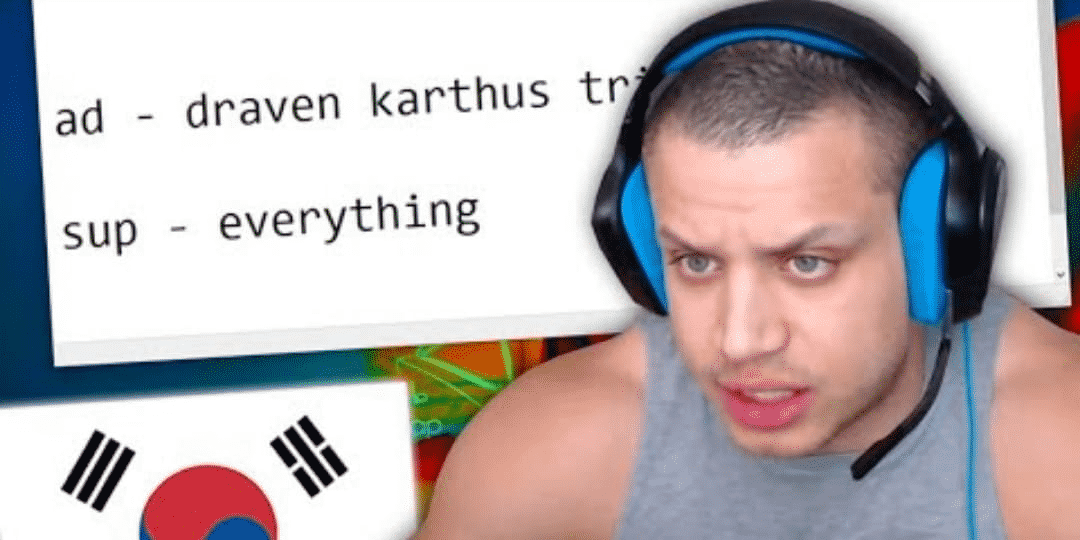 Tyler1 is an American YouTuber, Twitch streamer, and Internet personality who has an estimated net worth of $2 million. Tyler was studying computer science at Central Methodist University before being completely carried away by the world of online gaming. After discovering his outstanding gaming abilities and has gone on to become one of today's most well-known game developers.
Early Life
Tyler1 was born on March 7, 1995, in Missouri. His real name is Tyler Stevenage but he is better known by his online alias, Tyler1. As a child, Tyler loved playing video games and was especially fond of the first-person shooter (FPS) genre. It was during his teenage years that Tyler's passion for gaming really took off. Tyler1 has completed his high school diploma at Mark Twain Senior School.
Back then, he became a part of the university's football team while studying computer science at Central Methodist University but had to leave the sport after sustaining a serious concussion. This is when he decided to focus all his attention on gaming.
Career Overview 
Tyler1 is a professional gamer and streamer who first gained popularity in 2016 for his live streams while playing League of Legends. Being an entertaining streamers with a unique playstyle, he quickly attracted a large following, and he soon became one of the most popular gamers on Twitch.
However, around 2016, Riot Games stated that he was no longer allowed to have a League of Legends account due to a record of account bans involving verbal harassment and abuse. Following this, he took a break from Twitch for around eight months.
In early 2017, he returned to streaming and quickly regained his large following. He now streams a variety of games, including Player Unknown's Battleground, and has over 3 million followers on Twitch. In addition to his gaming career, Tyler1 has also participated in various charity events and has his own line of merchandise.
Youtube and Charity work
In addition to his career as a streamer, Tyler1 is also a popular YouTuber. He started his YouTube channel in 2012 but didn't start uploading videos until 2016. His channel currently has over 2 million subscribers and hundreds of millions of views.
Most of his videos consist of highlights from his live streams, as well as gaming tips and tricks. He also occasionally posts vlogs documenting his life outside of gaming.
In addition to his work in the gaming industry, Tyler1 is also known for his charity work. He has participated in various fundraising events and has donated to various charities.
Games that Tyler1 Plays
Tyler1 gained popularity through his live streams as a legends player, but now he plays a variety of games. Some of the games that he has played on his Twitch channel are:
Player Unknown's Battleground
Fortnite, Apex Legends
Call of Duty: Warzone
World of Warcraft
Hearthstone
Tyler1 Net Worth – How They Made Money
Tyler is among the popular streamers in the gaming industry, and his fame is increasing every day through his funny clips, and memes. In addition to being an entertaining and passionate streamer, Tyler1 also provides his audience with excellent content and is continually growing his brand. Tyler1 is believed to have a net worth of $2 million dollars. In addition to his YouTube channel, Tyler makes money via Twitch subscribers and income as well as donations and bits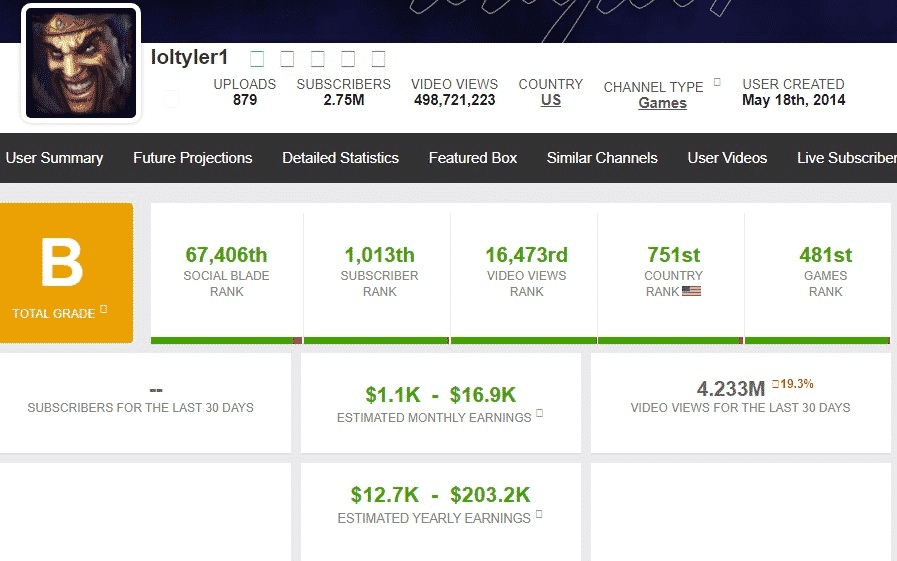 As per Social Blade, Tyler1 generates up to 288 thousand dollars in advertising revenues annually. According to Twitch Tracker, he also has a total of 13.9 thousand subscribers based on Twitch, which is a huge figure. From all these subscriptions, Tyler1 may expect to earn a range of 150 thousand dollars annually earnings from Twitch, on average. Besides that, he has an official merchandising site from which he might be able to generate a substantial income.
How Much Does Tyler1 Earn From Twitch?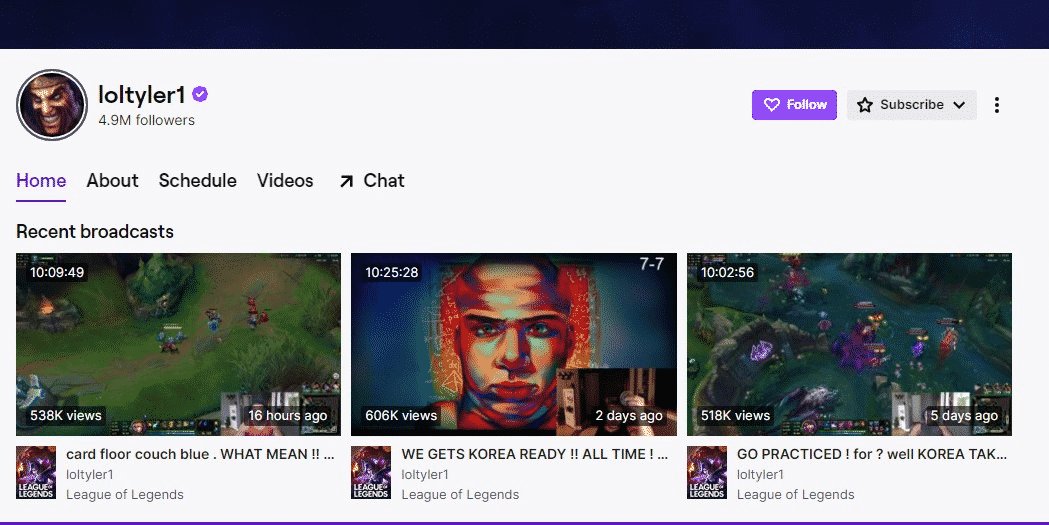 Tyler1, also known as loltyler1, begins game streaming on Twitch on November 17, 2016, mostly League of Legends. Since then, his account has amassed a total of 36,67 thousand followers.
Twitch streamers make money through Twitch subscriptions, and Tyler has 4.9M current active subscribers. To subscribe on Twitch, one must spend 4.99 dollars, and to subscribe at tier 2 one must pay a max of 9.99 dollars per person, as per subscriber information. So on average, the estimated revenue from Twitch would be around 500 thousand dollars annually.
Twitch is a great platform to make a living as a full-time streamer. And Tyler has made a name for himself as one of the most popular Leagues of Legends streamers. So it's no wonder why he is earning a lot from the platform.
How Much Does Tyler1 Earn From YouTube?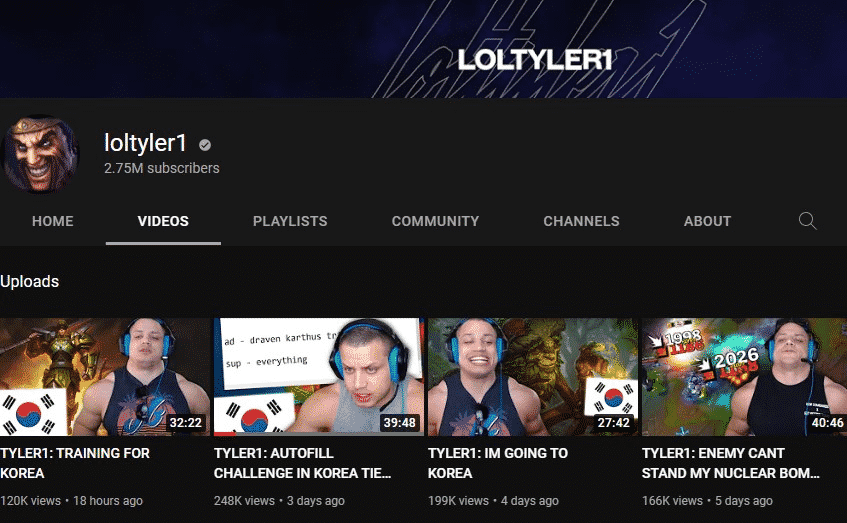 On May 18, 2014, Tyler1 created a YouTube account and began his game streaming on Youtube as loltyler1. As of April 2022, the channel has over 2.75 million subscribers and more than 455.87 million views. His potential income per year would be 288 thousand dollars.
Additionally, Tyler1 is getting an estimated 150 thousand dollars per day, which is worth an estimated 500 dollars in ad revenue. Moreover, Tyler1 generates an estimated 150 thousands of dollars each day in advertising revenues, which is equivalent to around 500 dollars in advertising revenue.
Since Youtube is a platform that pays its partners based on ad revenues, this number is only an estimate of his daily earnings from the platform.
How Much Does Tyler Earn From Merchandise?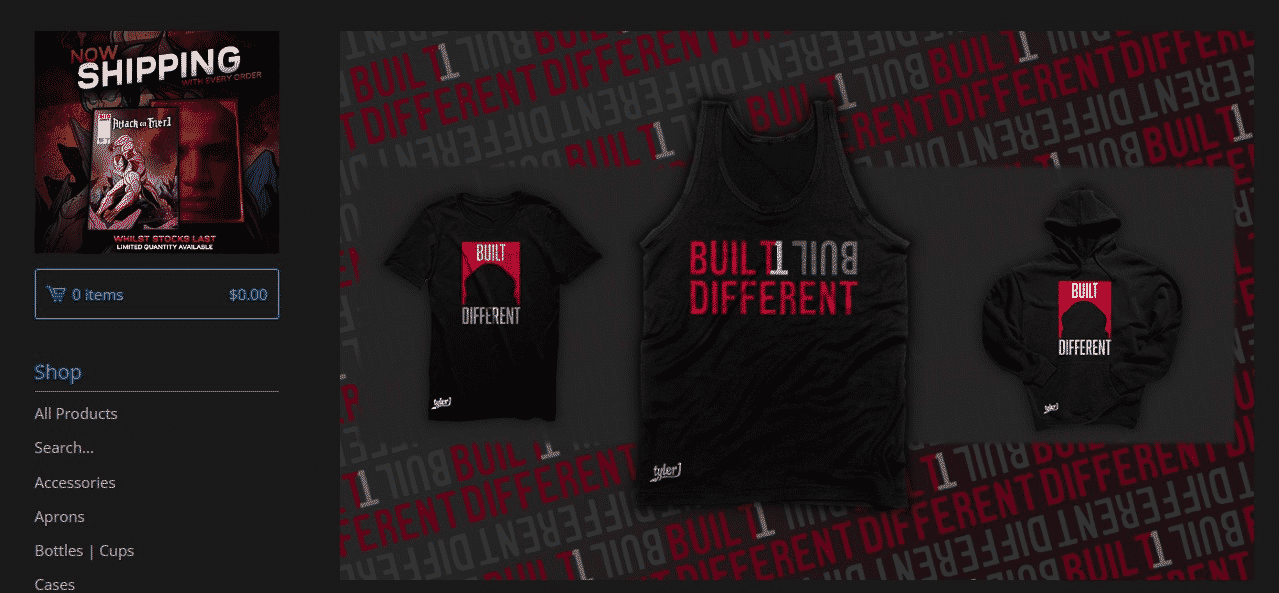 It is not only his talent in games that makes him famous and earn money but also his line of merchandise. He has an official website called "loltyler1" which provides a range of products such as T-shirts, hoodies, hats, and even mugs with Tyler1's face on it. The merch is a combination of his design and the company's design. As he is continuing to grow his brand, the merchandise revenue is expected to grow as well.
His product range has a starting price of 9.99 dollars. If we assume that he sells around 10 merch items per day, he would be able to generate a revenue of approximately 3000 dollars per month. This would give him an annual earning potential of 36 thousand dollars from his merchandise sales. Since Tyler's target market is mostly his followers on social media, the merchandise sales could potentially generate much higher revenue.
Who Sponsors Tyler1?
Throughout his career, Tyler1 has been offered several sponsorships and endorsement contracts. However, the majority of them have been kept hidden by the streamer. The only sponsorship that is known is with the chair company, DXRacer. He has also partnered with a few gaming companies such as Razer and Logitech. Nike has also been rumored to be one of his sponsors.
His partnership with these companies has helped him to grow his brand and expand his reach to more people.
Conclusion
Despite being banned many times for his toxic behavior, Tyler Steinkamp is still regarded as one of the most entertaining streamers, and people love to watch him play. He has a huge fan base that supports him, and this has helped him to earn a lot of money.
He has come a long way from his humble beginnings, and it is safe to say that he has made a name for himself in the streaming world. His net worth is expected to grow even more in the future as he continues to stream and release new merchandise.