Tyler 'TrainwrecksTV' is a very famous Twitch streamer who is known for his 'Just Chatting' and Slots streams. He is also gaining a lot of attention on the internet right now for his big-time money giveaways on his Twitch channel. Being famous for giving away a lot of free money, people are wondering how rich Tyler Niknam really is.
Find out just how much TrainwrecksTV makes, his personal life, streaming career, controversies, latest news, dating relationship, and more in this article.
Who is TrainwrecksTV?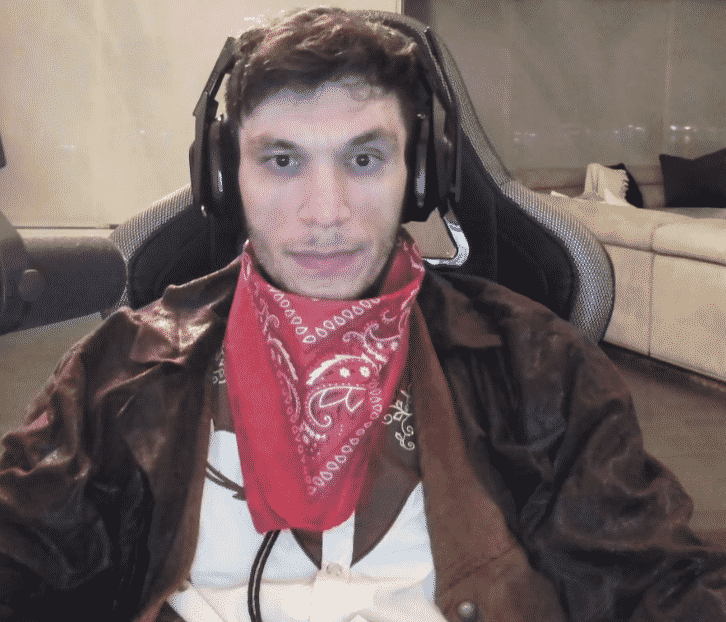 Personal Life
Tyler Faraz Niknam, AKA TrainwrecksTV, was born on December 20, 1990. He is an American streamer with Iranian descent. TrainwrecksTV is an only child who grew up in Scottsdale, Arizona. He finished his college at the Arizona State University with degrees in Bachelor of Arts in Analytic Philosophy, and a Bachelor of Science in Biochemistry.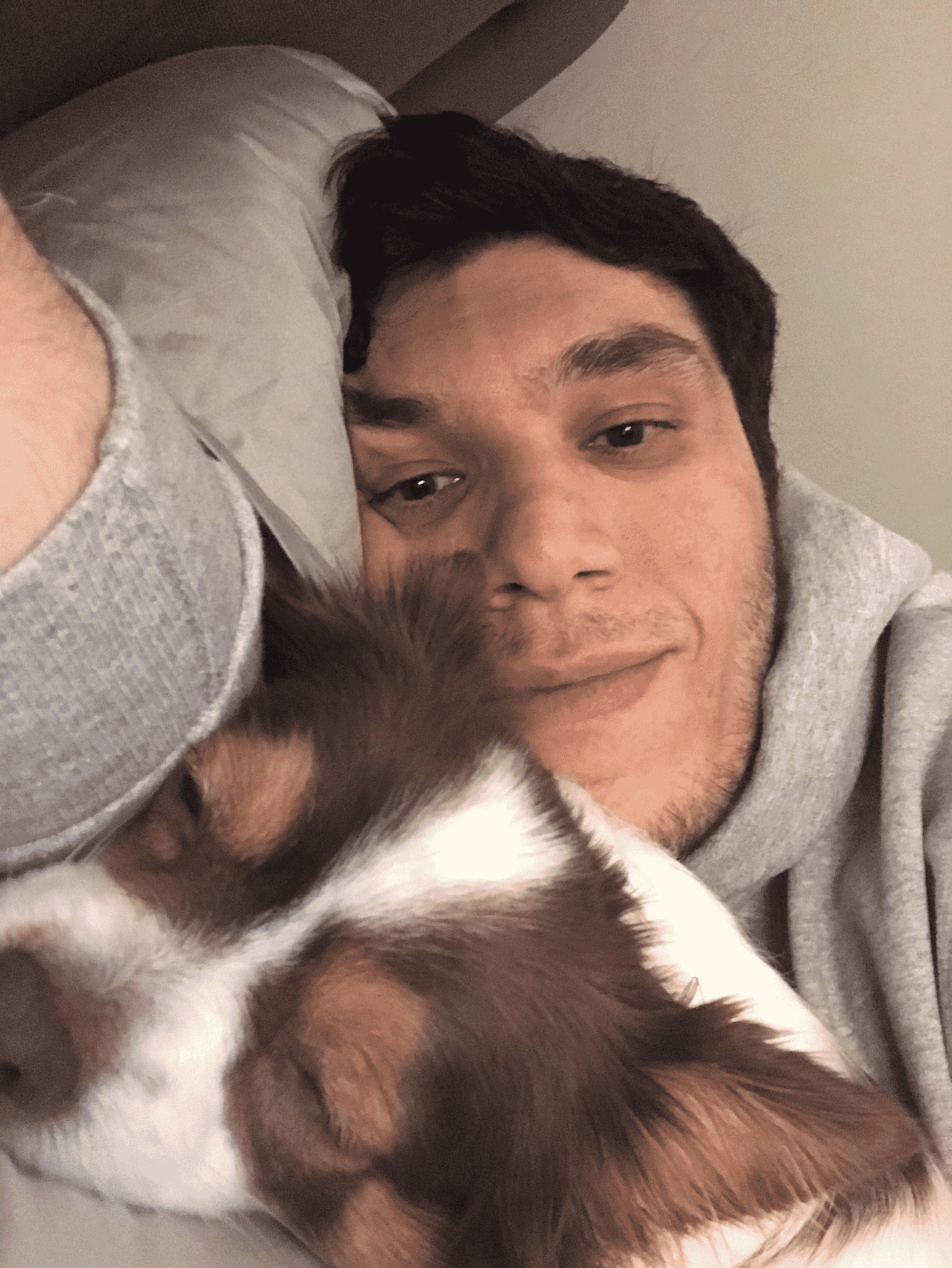 Streaming Career
Tyler Niknam began streaming on Twitch in 2015. He mostly does 'Just Chatting' and outdoor IRL streams with other famous Twitch streamers like xQc, NICKMERCS, and Asmongold.
TrainwrecksTV started his Scuffed Podcast in August 2018. This became a great hangout place for many Twitch streamers who did collaborations with Tyler until date.
Gambling Streams
TrainwrecksTV is not proud of his Casino streaming on Twitch. In fact, his Slot streaming has made a lot of noise on the internet, and gambling websites have been reaching out to him for sponsorships and promo ads.
TrainwrecksTV pointed out that he only gambles with his own money and that he is not promoting gambling just for the fun of it, but also for the reality of how much money you can actually lose in just a couple of minutes because of betting on bad stakes.
Charity Works
Despite the personality he showcases on-stream, TrainwrecksTV is a renowned philanthropist. Just recently, he's given away more than half a million dollars after streaming for hours. He regularly posts his updates on Twitter to reach out to his fans and followers for his giveaways.
He's also made a lot of collaborations with other streamers to generate funds for charity.
In the News
Despite being controversial for his aggressive character on-stream, and beyond his now-solved issues regarding his temporary ban for making sexist comments and misogynistic rant against female streamers on Twitch, TrainwrecksTV made the list of Most Watched English-speaking Twitch Streamers from the first quarter of 2022. He stands in Top 2 next to xQc (1st place) and before Asmongold who is in third place.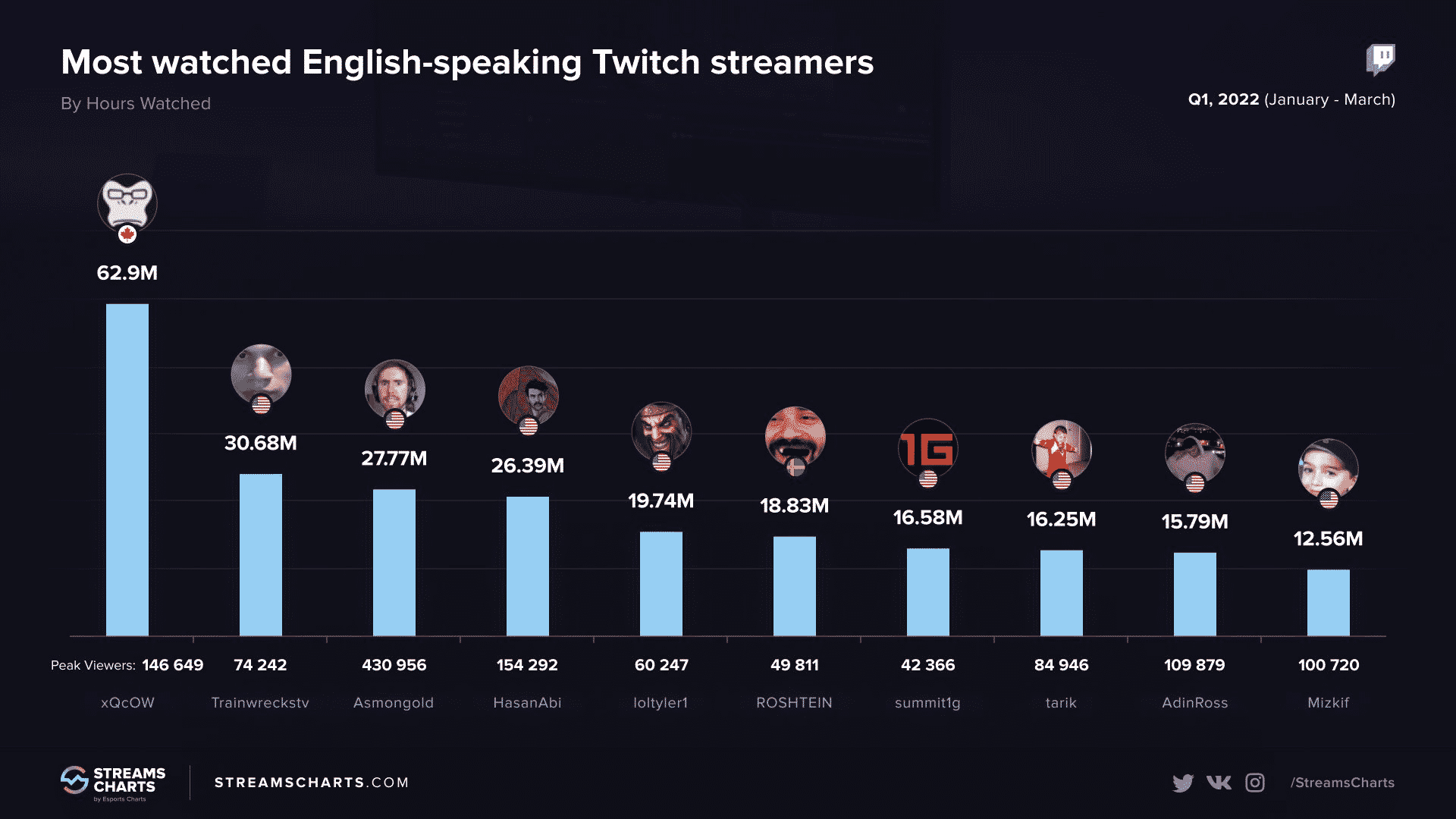 TrainwrecksTV is happy with this result seeing both of his close friends in the industry xQc and Asmongold being inside the Top 3 spots with him.
Games that TrainwrecksTV Plays
TrainwrecksTV has featured games and various categories in his streams. Some of them include:
Just Chatting
Slots
Among Us
World of Warcraft
IRL Streams
Apex Legends
Call of Duty: Warzone
Counter-Strike: Global Offensive
TrainwrecksTV Net Worth – How They Made Money
Streamers like TrainwrecksTV earn through different modes like livestreaming, gaming, paid subscriptions, tips and donations, sponsorships, exclusive contracts, promotions, brand deals, external donations, and other various income sources.
How Much Money TrainwrecksTV Makes From Twitch?
TrainwrecksTV earns through ads viewed during live streams, active Twitch subscribers, donations, and sponsorships. Apart from that, TrainwrecksTV has an exclusive contract with Twitch which restricts him from streaming on other platforms.
With more than 20,000 active paid subscriptions, he should be making around $77,000 monthly or $840,000 annually. In addition to that, his income in ads would also accumulate up to $6,400 a month; and donations via StreamLabs Prime and tips from Twitch Cheering would be at least $4,000 on average.
TrainwrecksTV Twitch Channel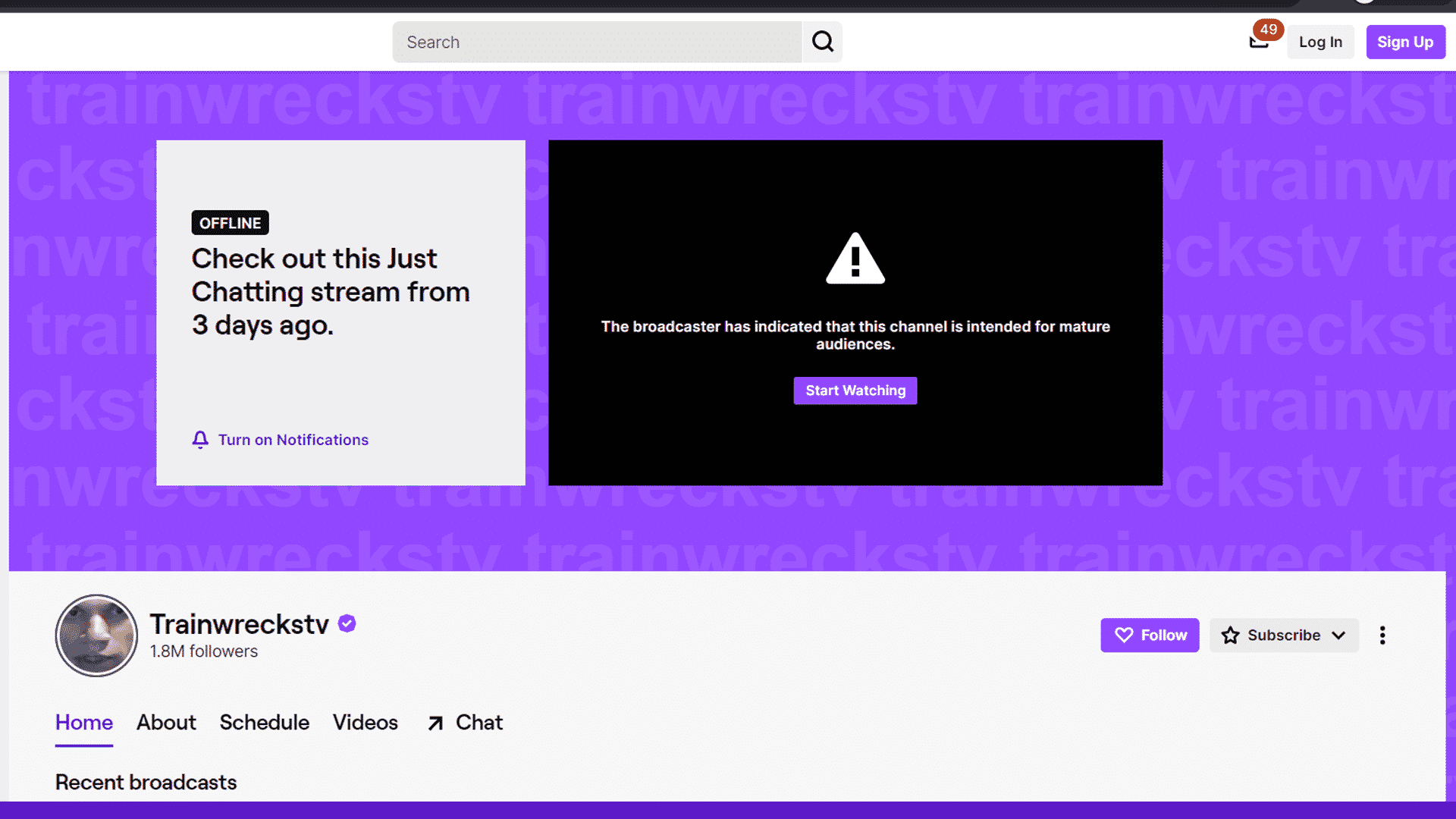 TrainwrecksTV Twitch Tracker Stats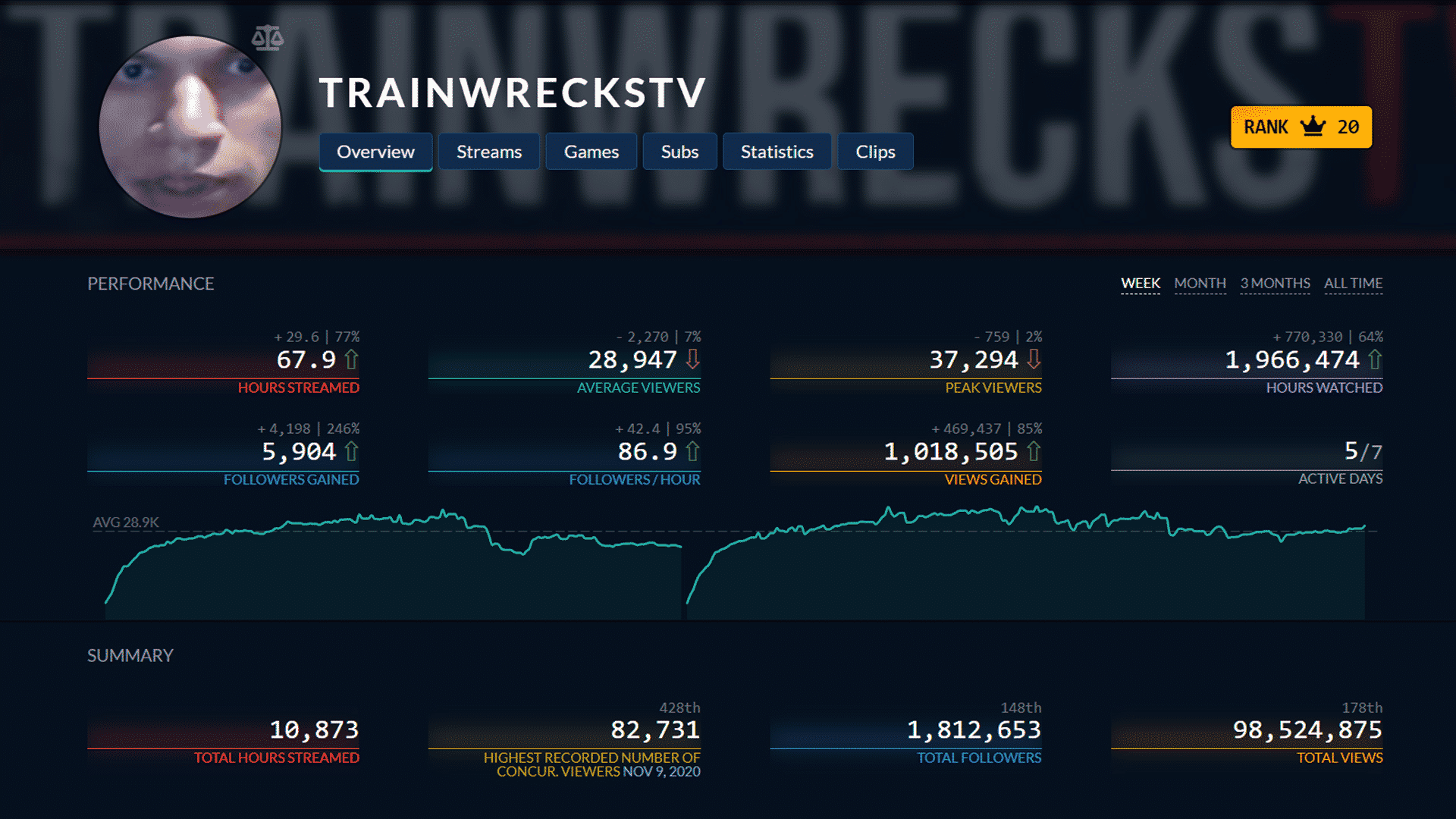 How Much Does TrainwrecksTV Earn From YouTube?
TrainwrecksTV has had more than 27,645,184 total views since joining YouTube in 2015. He uploads stream highlights and other IRL vlog-type videos on his YouTube channel and earns mainly through ads viewed by people streaming his videos online. He should be making a YouTube revenue of $4,000-$6,000 a month as per advertisements.
TrainwrecksTV YouTube Channel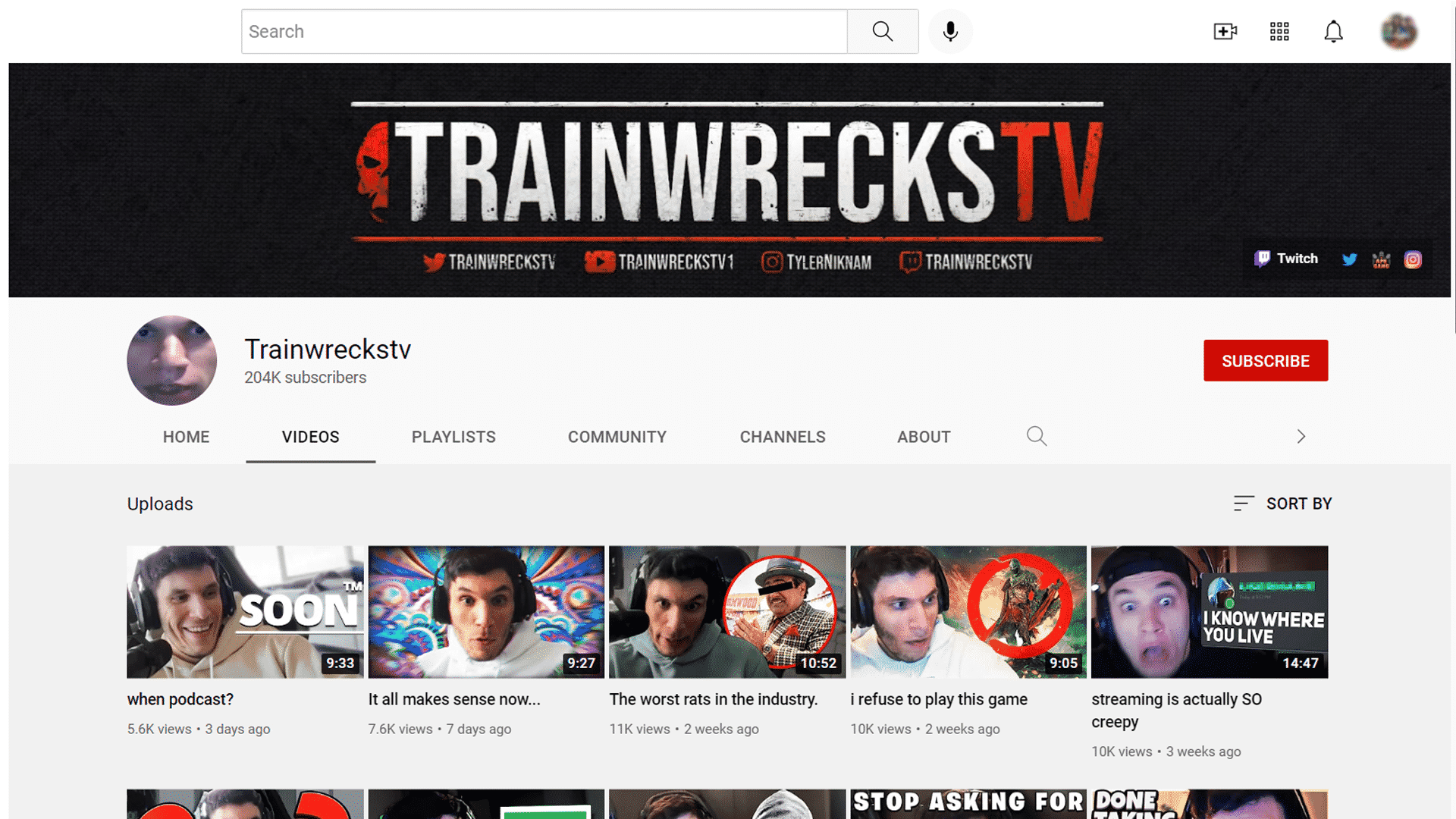 With his Twitch and YouTube earnings combined, TrainwrecksTV should be making around $93,400 monthly or $1.12 million annually.
Moreover, the estimate above does not include sponsorship income, monthly fee for exclusivity of streaming on Twitch, and merch sales.
Merch: TrainwrecksTV
Tyler has merch sales exclusively available at ShopTrainwrecksTV.com, which is also his personal merch store.
Who Sponsors TrainwrecksTV?
TrainwrecksTV have quite a few big-time sponsors on his side, apart from non-disclosed gambling sites that support him behind. Here are some of them:
G Fuel
CashApp
Respawn Entertainment
Square
FAQs About TrainwrecksTV
What is TrainwrecksTV's net worth in 2022?
Given his history with online gambling streams, Tyler Niknam's estimated net worth should be around the $15 million mark. You can give or take another $10 million to his net worth considering the high stakes of money TrainwrecksTV puts into gambling; and how much he wins or loses in the games he plays. For example, at one point, his biggest win was a whopping $14 million on one of his streams but then also lost around 30% of his crypto at another point.
Who is TrainwrecksTV dating now?
Tyler is still dating Kayla, AKA FelisseTV, who is also a popular Twitch streamer.
What happened between Twitch streamers, TrainwrecksTV and Ethan Klein?
Tyler and Ethan got into a heated debate about gambling. Prior to that incident, Ethan also attacked TrainwrecksTV with bias and unsubstantiated claims. Apparently, drama king Ethan Klein attacked and insulted other streamers too.
How did TrainwrecksTV suddenly become famous?
TrainwrecksTV had 1,500 average viewers before he started streaming gambling on Twitch. With gambling becoming a trend around that time, he suddenly hit more than 5,000 average viewership in just a month. Now, TrainwrecksTV has more than 25,000 monthly average views with his Just Chatting and Slots streams combined.
Apart from that, he is also known for his popular Scuffed Podcast. Some of the most popular streamers he has invited in his podcast include xQc, NICKMERCS, Tfue, Pokimane, Moe_tv, Mia Malkova, and many more.
Conclusion
Tyler 'TrainwrecksTV' Niknam has been soaring in popularity because of his charity works despite his aggressive and misogynistic persona on-stream (which doesn't really have to be his real identity but his character on-cam).
His gambling habits may not be a good example to follow, but how he gives back to the people with his hundred thousand and million-dollar giveaways create a wholesome view of what kind of a person he wants to be remembered as. True success is measured not only by how much wealth you accumulate but also by how much you give back, being truly grateful for what you have.