It's quite common to hear a twenty or thirty-something streamer who became wildly successful in their field. Some took years in the making. However, as for others, they seemed to reach that coveted million subscribers in just one night.
So, how about a video game streamer who became super popular before he was eighteen? Pretty impressive, right? Well, that's how it was for Thomas Simons, also known as TommyInnit, who became a famous streamer on Twitch and YouTube within a span of a few years, and while he was still a teenager.
You might be wondering, how much does he earn from his Twitch and YouTube channels? Does he have other sources of income? In this article, we'll briefly discuss TommyInnit's net worth in 2022.
Who is Tommyinnit?
TommyInnit is a popular YouTuber and Twitch streamer. He usually creates and uploads Minecraft-related videos to his numerous YouTube channels, as well as live streams various games on Twitch, most notably PUBG, Five Nights at Freddy's, and Fortnite. With 7 million followers, he's currently the most followed Minecraft streamer on Twitch.
Early Beginnings and Rise to Fame
Before Simons became known as Tommyinnit, he was creating content for Channelnutpig, the first YouTube channel he made back in 2013. His early videos mostly consisted of video challenges and videos featuring some games. He later made most of the videos private and turned his focus instead on TommyInnit, a YouTube channel he made in 2015.
For years, Simons hadn't uploaded anything on TommyInnit until he started playing and creating content for Minecraft. What brought him to fame were the Hypixel Skyblock-related videos, which quickly gained him thousands of followers.
He subsequently joined the Minecraft server Dream SMP in July 2020, run by a YouTuber of the same name. He and other fellow YouTubers upload SMP earth videos, which became a hit with many Minecraft fans.
Nowadays, Simons not only upload videos and live-stream games such as Minecraft, but he also does content featuring him and his friends (Tubbo, Wilbur Soot, etc) doing challenges.
Personal Life
Simos is private about his life, but he shares a little about his life behind the camera from time to time. In an interview with Anthony Padilla, for example, he recounts that school bullying made him stop working on his first channel, Channelnutpig. He also says that his parent has always been supportive of his career.
Games that Tommyinnit Plays
TommyInnit is most known for his Minecraft videos which he uploads on his gaming channel both on YouTube and Twitch. The majority of his content is Minecraft-related, which probably made him the top streamer in the Minecraft category of the Twitch platform. He also plays other games as well, including:
PUBG
Fortnite
Among Us
Five Nights at Freddy's: Security Breach
Tomodachi Life
Spooky's Jump Scare Mansion
…and a lot of other games
Tommyinnit Net Worth – How They Made Money
Now, to the question about Tommyinnit net worth: how much money does he make, and where does his revenue come from?
As you may have already known, most of his income is generated from his YouTube and Twitch channels. Besides that, TommyInnit also has a merch shop. We'll briefly discuss each below.
How Much Does Tommyinnit Earn From Twitch?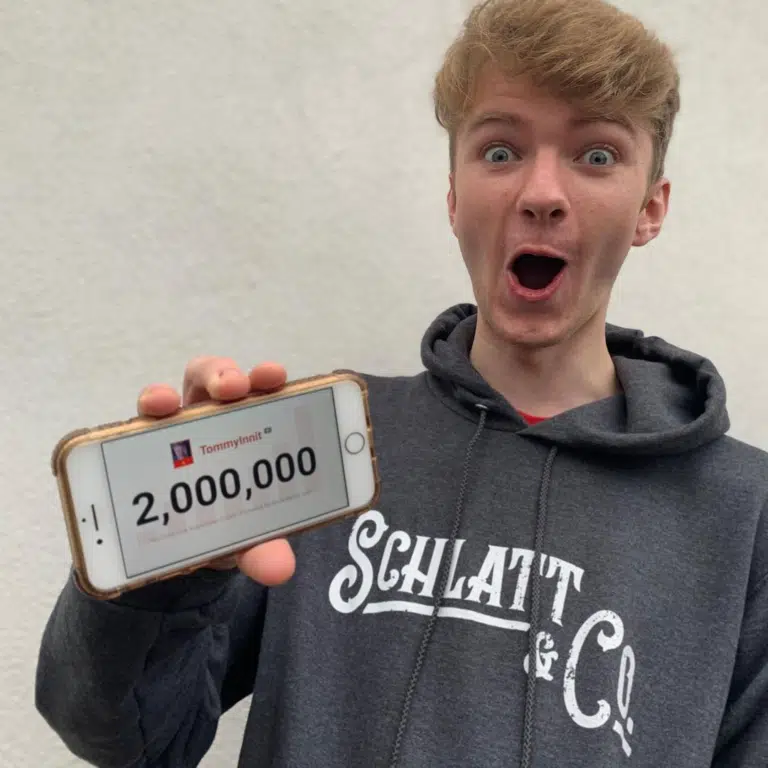 Top Twitch streamers can earn as much as $3,500 per 40 hours of gameplay. With 5.9 followers on Twitch, it's not surprising that Simons may be earning thousands of dollars every month. There is also revenue he earns from the ads featured on his videos. With such a large fanbase, we can assume he consistently earns money through all his subscribers who watch videos.
How Much Does Tommyinnit Earn From YouTube?
Even though TommyInnit's channel doesn't seem to have a Join button or membership feature like other popular YouTube channels, the earnings he gets from YouTube advertising revenue alone is still a large contributor to his income. A monetized YouTube channel usually earns $3 to $5 per 1,000 views. However, most (if not all) of his videos have over 1 million views, with some as high as 20 to 30 million. With that in mind, he may be earning more than $15,000 per video.
Merch Store
TommyInnit also has an online store where he sells merch for his fans, such as backpacks, hoodies, t-shirts, figures, and toys. He promotes his merch on his YouTube and Twitch channels, his Instagram, and Twitter account.
Who Sponsors Tommyinnit?
TommyInnit has collaborated with a lot of famous YouTubers in his videos, including:
Dream
Ninja
Wilbur Soot
Technoblade
Tubbo
Sidemen
Conclusion
Even as a teenager, TommyInnit became one of the most recognized streamers in the Minecraft world. His content and live stream are absolutely fun to watch. With such a massive following, it makes anyone wonder how much he earns from his content and live-stram. Our estimated net worth of TommyInnit is around $2 million. However, that can go higher soon, with TommyInnit's popularity and fanbase still growing steadily.