YouTube star and internet sensation David "TheGrefg" Martinez has been a house name in the gaming industry. During his debut, he became insanely popular doing commentaries on games and even gained notoriety with it. Holding the most concurrent peak views in Twitch, defeating Ninja Blevins' record, David "TheGrefg" Canovas is surely phenomenal. Find out more about TheGrefg's net worth in the article below.
Quick Overview
Who is TheGrefg?
Biography – TheGrefg
TheGrefg is an international Spanish gamer who has made quite a name for himself in the gaming industry. When he started as a streamer, he was doing Call of Duty mostly. With it, he gained notoriety for his commentaries on Call of Duty. His streaming attitude and candidness is what made him appeal to the masses.
He's also made collaborations with other famous game streamers like Kontrol Freek, G Fuel, and Burn Controllers Spain.
Games that TheGrefg Plays
David "TheGrefg", being the famous Spanish gamer that he is, streams different kinds of online games on Twitch and posts highlights on YouTube. Here are some of the games he plays:
Call of Duty: WarZone
Fortnite Battle Royale
Just Chatting
MineCraft
VALORANT
Clash Royale
In 2021, TheGrefg also rocked the world when he began playing Fortnite. He was even given the "Guinness World Record for Most Concurrent Views for a Twitch Stream by an Individual" with a record-breaking 2,468,668 peak viewers during the revelation of his own skin icon in Fortnite.
TheGrefg Net Worth – How They Made Money
Just like pro players and streamers, TheGrefg also earns through gaming, live streaming, ads, tournaments, and subscriptions.
How Much Does TheGrefg Earn From Twitch?
With 9.6 million followers and over 10,000 Twitch subscribers, TheGrefg likely earns around $30,000-$35,000 monthly. He has also earned from prize money winnings on tournaments.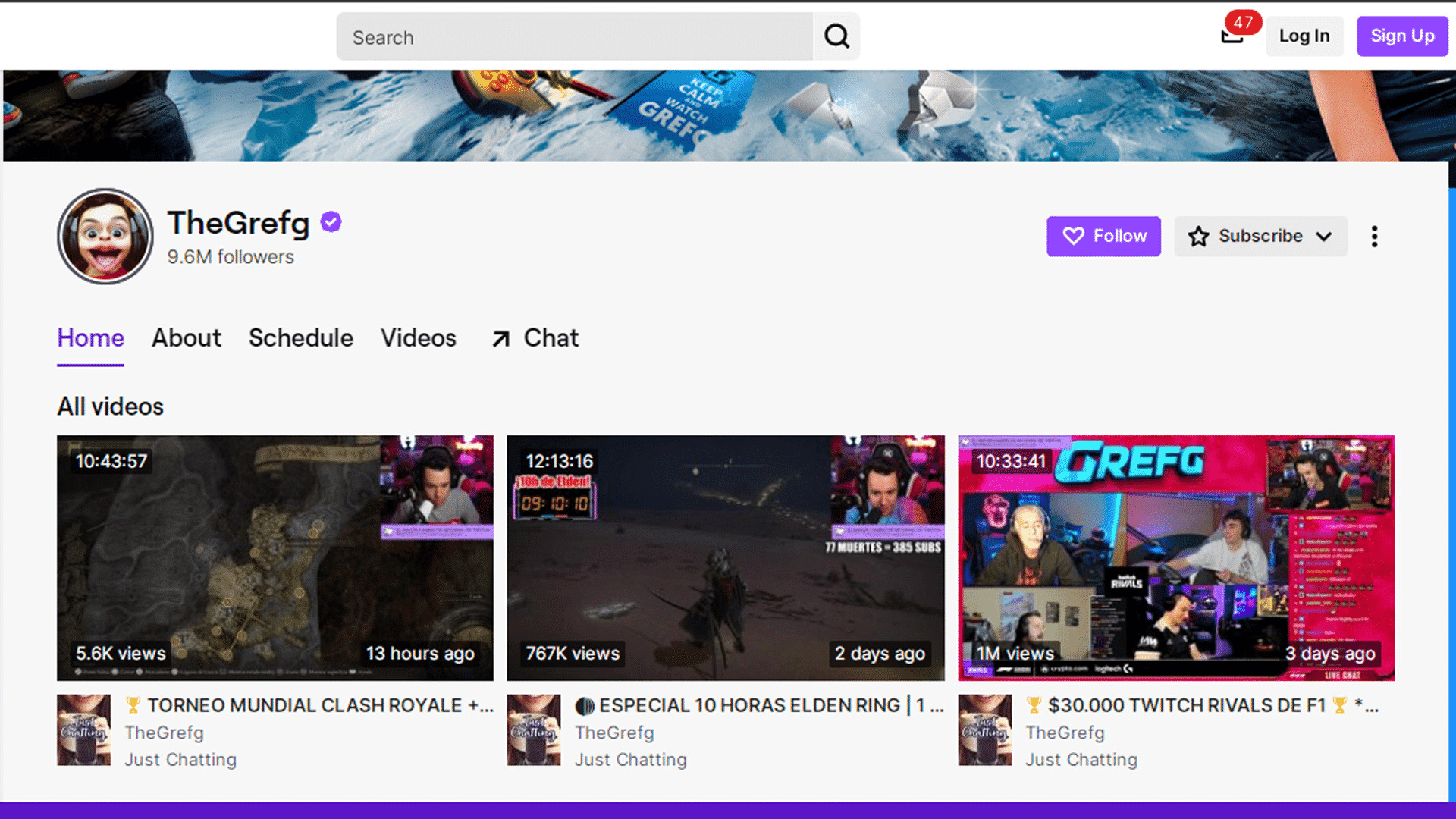 TheGrefg TwitchTracker Stats
How Much Does TheGrefg Earn From YouTube?
TheGrefg is probably the most popular YouTube star in Spain that is a pro Fornite player. His YouTube channel is by far gaining 17.5 million subscribers and 5,893,413,305 views. That gives him at least a million average of views per month. With that kind of traffic, TheGrefg should be earning over $50,000 every month in ads alone.
TheGrefg YouTube Channel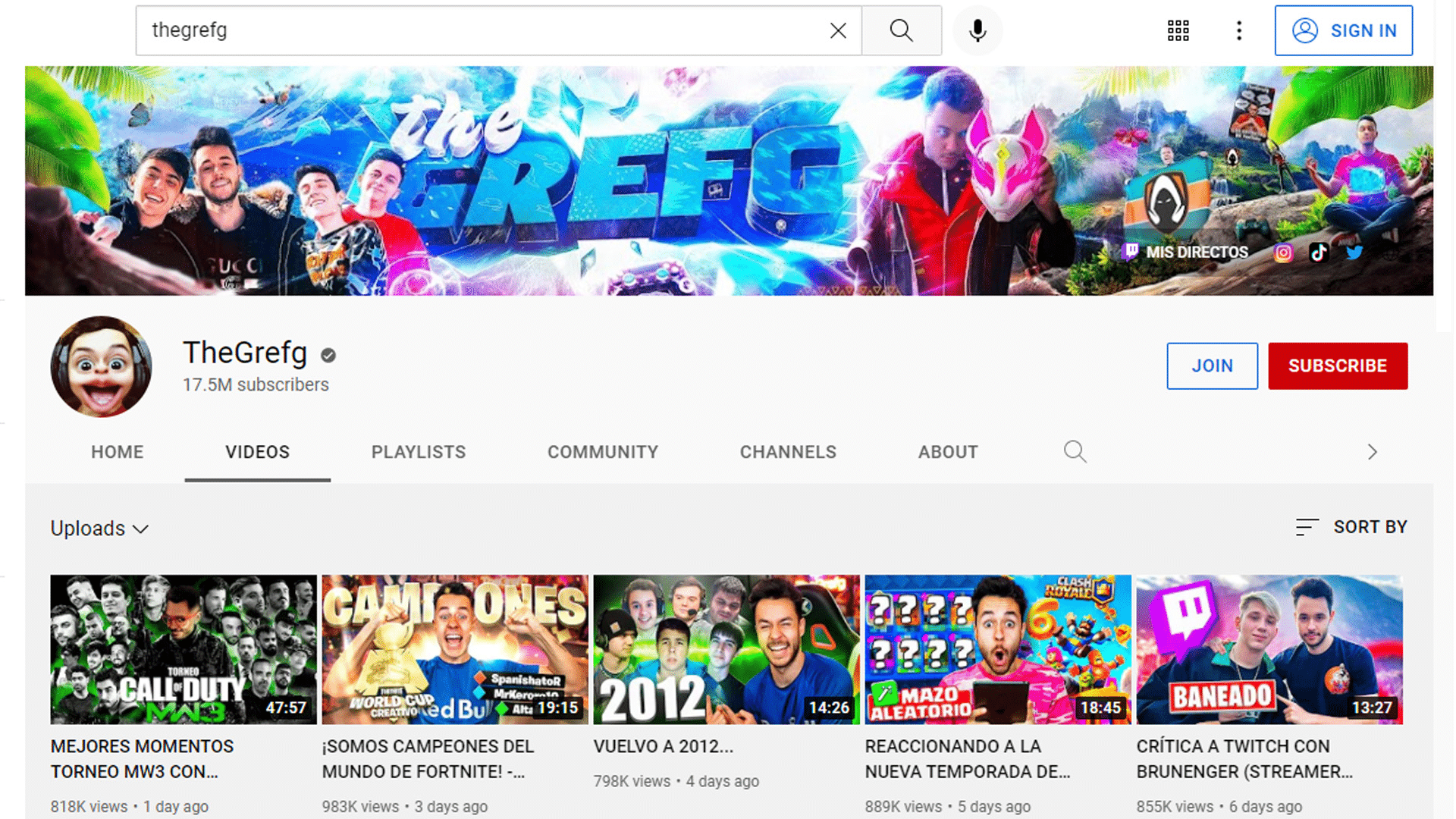 David created his YouTube channel in 2012. His first video appropriately titled "EL PRIMER VIDEO DE MI CANAL.", which was uploaded 10 years ago, has made quite a lot of impression given that it has 3.7 million views. With his current track record, he might be the richest YouTube star in Spain. Some of the most popular videos he has on his channel include the Geometry Dash series.
Who Sponsors TheGrefg?
Although not all sponsorships have been disclosed, he became a part of the Red Bull Athletes in 2021.
FAQs About TheGrefg
What is TheGrefg's net worth in 2022?
As of 2021, David Martinez's net worth is estimated to be around $13 million and is projected to still rise. He should be closing in to $15-20 million.
Who is TheGrefg dating right now?
TheGrefg's marital status is currently unknown. He dated Gemma Gallardo for a long time but the relationship is apparently over. However, David's recent posts says otherwise. Who knows, maybe they would decide to get married in the near future.
Conclusion
The network of streamers is growing globally, and daily. If you are aiming to be a famous streamer one day just like David "TheGrefg" Cánovas, just be yourself, and don't be afraid to aim for the world!