A very well-known Twitch streamer and Fortnite pro player, Tfue is both a famous and infamous internet personality. His gaming career is indeed a roller coaster ride throughout. Tfue's net worth was roughly at $4-6 million in 2020. Two years later, how much do you think has become of Tfue's estimated net worth?
Who is TFue?
Early Life
Tfue's real name is Turner Ellis Tenney. He was born on January 2, 1998, at Indian Rocks Beach, Florida USA. He is one of the popular streamers playing Fortnite Battle Royale.
Streaming Career
Before his meteoric rise to popularity, Turner Tenney, started with H1Z1 and Destiny 2. In 2017, he signed with Denial Esports mostly playing H1Z1. Later on, Tfue joined 'Rogue' to play on their PUBG roster. He also streamed Call of Duty on Twitch.
In 2018, Tfue joined FaZe Clan with other members like Cloakzy, but this time, for Fortnite (just a little after its launching in 2017). His time with FaZe (playing Fortnite) was how he got widely recognized in the gaming world. Although controversies arose in the latter part of his contract, Tfue was already soaring up high being the talented gamer that he is.
As of now, Tfue is not a part of any Esport clan or organization as he likes to be 'himself' playing what he loves without being limited or controlled by a legal entity. He still continues to stream on Twitch and has an average of 9,069 viewers per live stream.
Gaming Career Setbacks
In 2018, shortly after his rocket launching in Fortnite, Tfue's account received a permanent ban from Epic Games because he was allegedly selling accounts and rare skins that are against Epic Games' Terms & Conditions. In the same year also, he was accused of misbehavior when he got involved with a scene of racial slur towards a smaller streamer.
In 2019, the Tfue vs FaZe Clan dispute happened. The legal battle lasted for 15 months before the legal proceedings were settled. However, fans still continue to support him despite the negative feedback, and still gained a lot of subscribers along the way.
In 2020, his long-running dispute with FaZe Clan was finally settled.
Games that TFue Plays
Other than Fortnite, popular streamer Tfue also plays other battle royale games such as:
Fortnite Battle Royale (Epic Games)
Apex Legends
PlayerUnknown's Battlegrounds
Call of Duty: Warzone
H1Z1
Destiny 2
Gaming, Championships, and Awards
Tfue is a world-renown pro player who's been a constant and formidable contender in many Fortnite tournaments. One of his most significant wins is the 2018 Fortnite Fall Skirmish Grand Finals wherein Tfue became a world champion in both Solo and Duo categories.
He is also dubbed as one of best players in Fortnite alongside Tyler 'Ninja' Blevins.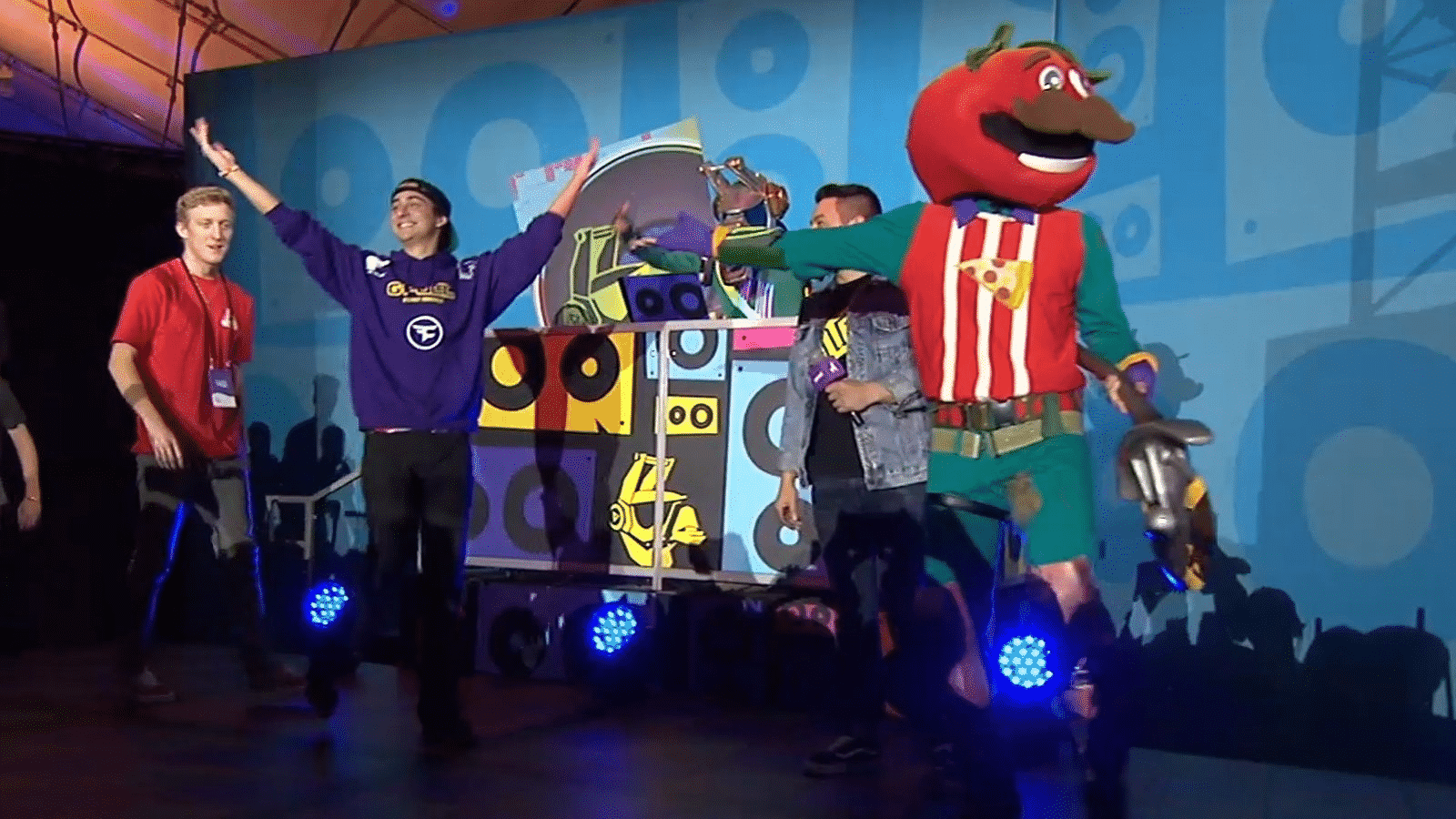 Tfue is also active on many social media accounts including Twitter, TikTok, and Instagram with millions of followers on each account.
TFue Net Worth – How They Made Money
Turner Tennery, just like most streamers, also generates income through subscriptions, ads view, paid promos, exclusive contracts, sponsorship deals, and other sources.
How Much Money Does TFue Earn From Twitch?
As a top-tier Twitch partner with more than 10 million followers and thousands of Twitch subscriptions, it's no wonder that Tfue's net worth would really hit the charts.
Tfue Twitch Channel
On his Purple Platform channel, Tfue has more than 10,000 subscribers who also donate regularly on his Twitch account. It's likely that he would earn $30,000 on subscriptions alone.
Tfue live streams on Twitch. One of his streams reached a peak of 316,000 concurrent views in October 2019 (doing Fortnite Chapter 2) which made it his most-watched stream.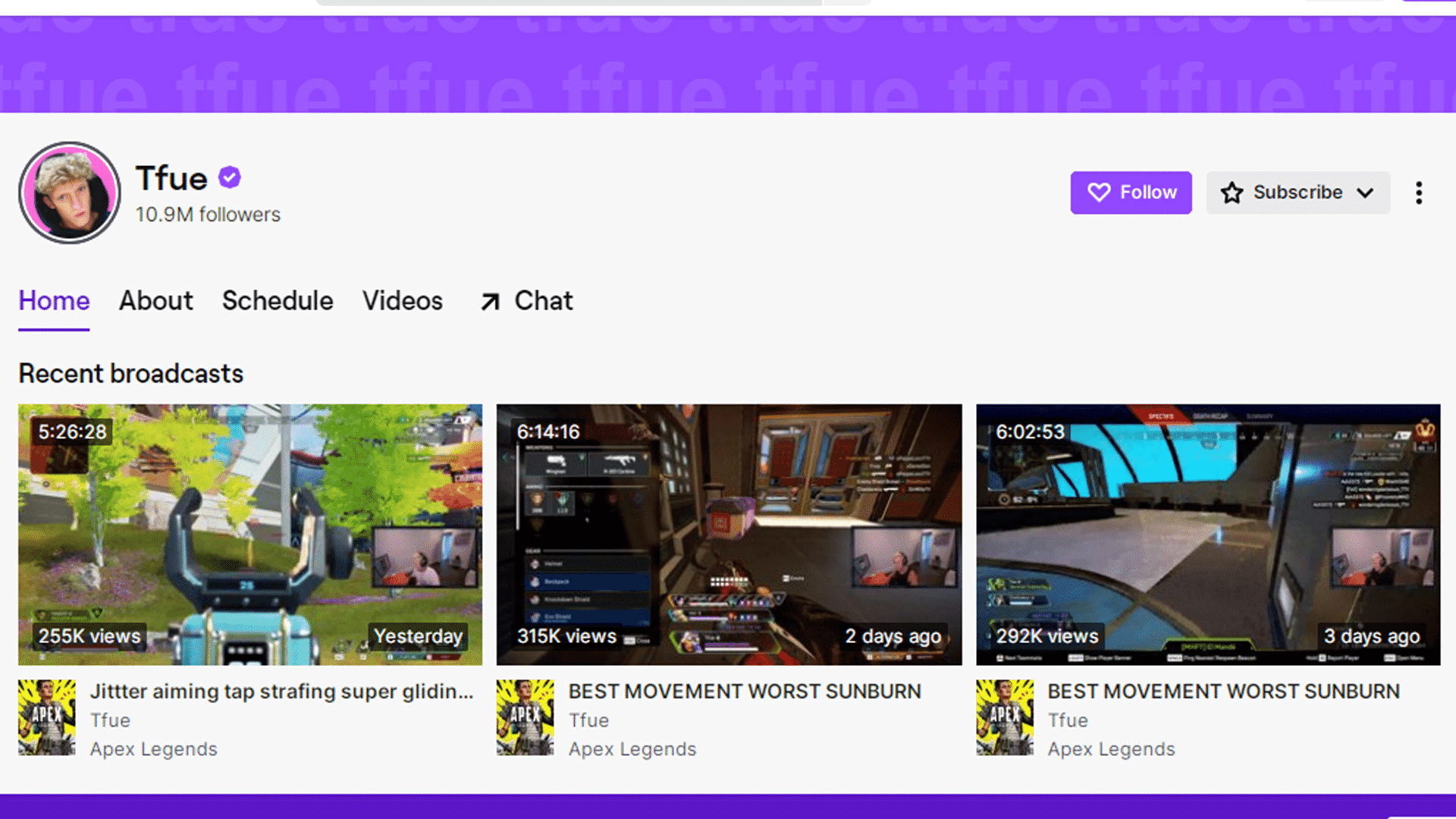 Tfue TwitchTracker Stats
Here's what Twitch star Tfue's tracker stats look like: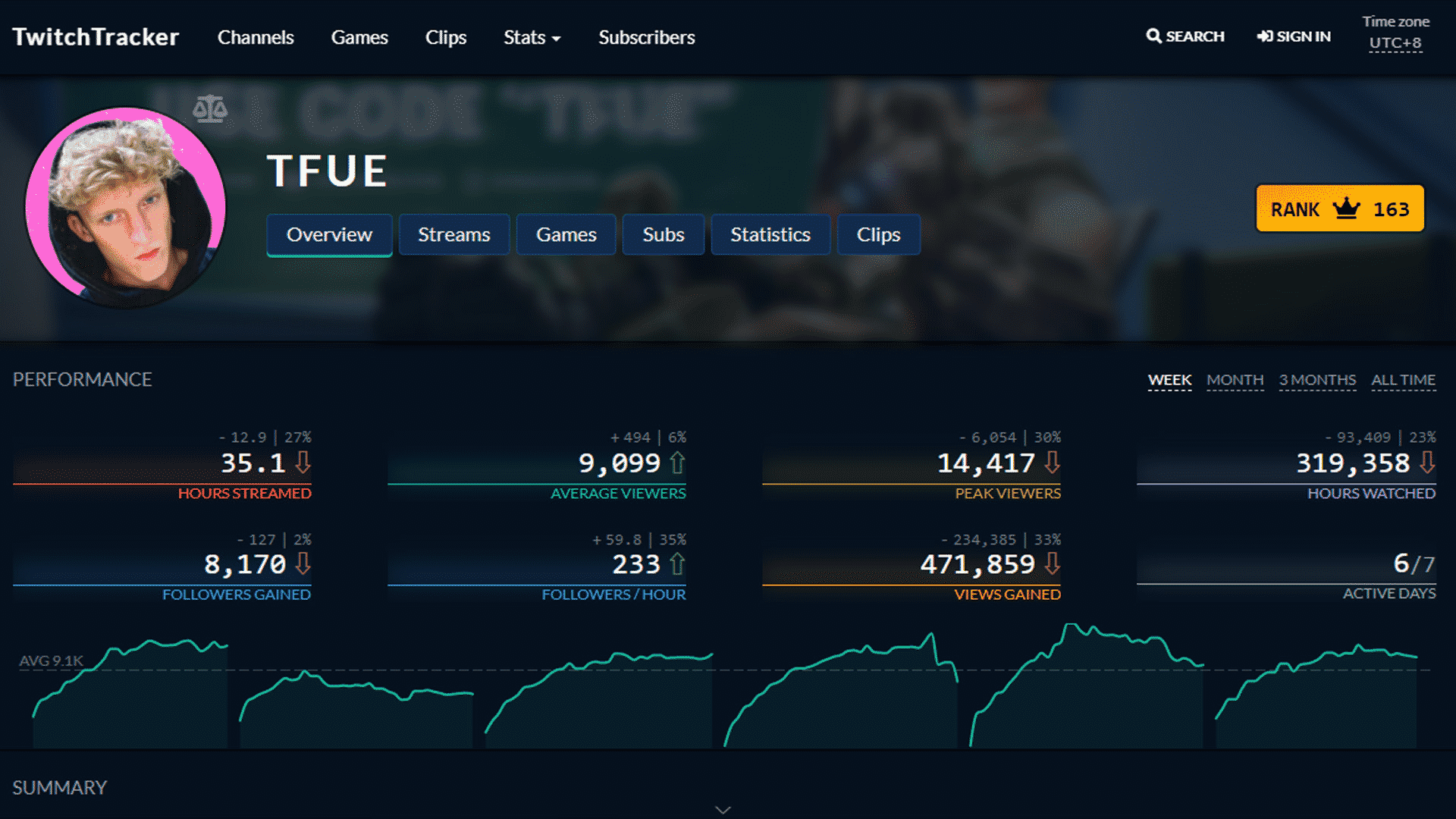 How Much Earnings Does TFue Make From YouTube?
Tfue's YouTube revenue comprises paid ads promotion, views, and subscriptions. His YouTube account has an overwhelming total of 1,447,916,994 views (at the time of writing).
Tfue's YouTube Channel
Having close to 12 million subscribers, with ads view reaching around a million average per month, it's likely that Tfue earns about $40,000-$60,000 on YouTube ad revenue.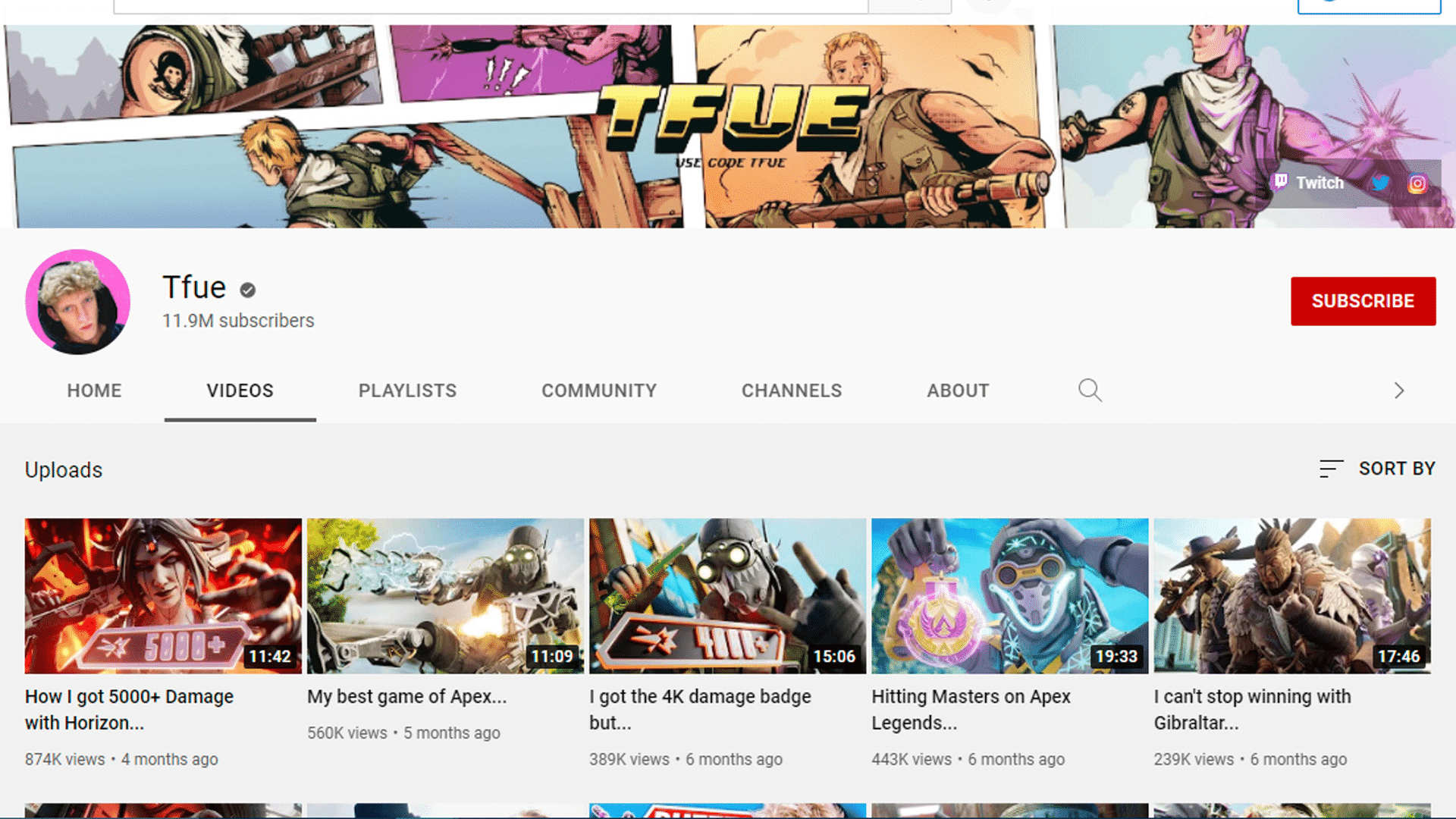 With YouTube and Twitch earnings combined, the revenues Tfue makes every month, aside from merch sales, donations, and other sources of income should be around $500,000.
Fortnite Earnings
Since his debut in 2017, Tfue has earned more than $700,000 from winning different kinds of Fortnite tournaments. In fact, Fortnite was Tfue's golden ticket to getting famous, rich, and recognized. In 2018, he won two titles in the Fortnite Fall Skirmish Grand Finals: Solo, and Duo, alongside Dennis 'Cloakzy' Lepore. He also placed 67th in the Solo category during the 2019 Fortnite World Cup, earning $50,000 prize money.
Tfue Own Merch
Tfue has his own Faze Merch Store at an Etsy platform.
Who Sponsors TFue?
Tfue doesn't have many specific brand deals and sponsorships. This was mainly because his former contract with FaZe clan allegedly prevented him from accepting such offers.
A little later after his contract with FaZe ended, Tfue was offered a $140,000 sponsorship deal which he declined for unknown reasons.
On a different note, Tfue is a top-tier partner of Twitch. So, even without major sponsorships, he can still get by just fine.
FAQs About Tfue
What is Tfue's Gaming setup?
From a high-end widescreen monitor to a custom-built gaming keyboard and a pro gaming mouse, Tfue's setup is said to cost over $20,000. Specifically:
Monitor: ASUS ROG Swift PG258Q
Keyboard: Taeha Type Custom Keycult No.1
Mouse: Logitech G Pro
Webcam: Logitech Brio
Headset: Sennheiser HD 800 S
Microphone: Shure SM7B
Gaming chair: Maxnomic Commander S
Like any top-tier gamer, Tfue doesn't hesitate to spend money for his setup. In fact, the custom-built luxurious Taeha Type keyboard he owns is worth $3,500.
Since Tfue likes to stay ahead of the game, his setup most likely changes indefinitely according to what the market offers.
Who is Tfue's Girlfriend?
Tfue dated Corinna Kopf but the relationship ended in 2020.
In the same year, Tfue introduced his 'new assistant' Katie Dillenbeck on his vlog. Although just a rumor, many think they are dating each other.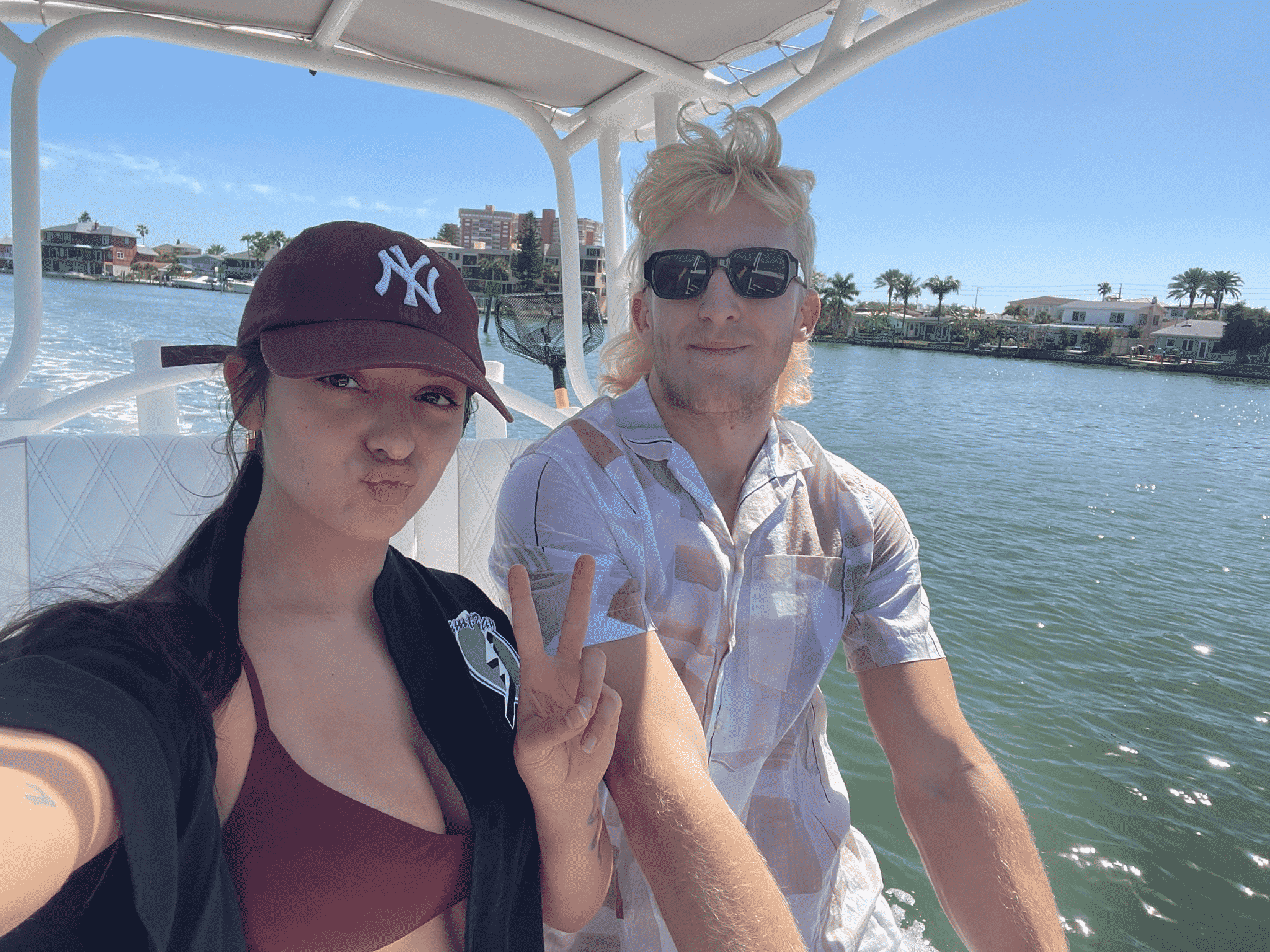 Conclusion
Controversies aside, Tfue's success in the gaming industry has undoubtedly inspired a lot and many still look up to him as a professional gamer. Life always has its shares of ups and downs. Your passion, drive, and attitude are necessary in living the dream and staying afloat. Just like Turner Tenney, setbacks are inevitable. What's important is the lesson you learn and the chance you gain to grow just a little bit more.