Tyson 'TenZ' Ngo is a famous professional VALORANT player, Twitch streamer, and YouTuber. TenZ has been around for quite some time and has already created a name for himself. Being a successful Counter-Strike Global Offensive pro player and retiring with flying colors, he is now ready to take a new path with new goals now that he signed with a new eSports team, a new family to bond with, and a new game banner to lift high.
Find out about TenZ: net worth, age, height, early life, dating relationship, gaming and streaming career, and more in this article.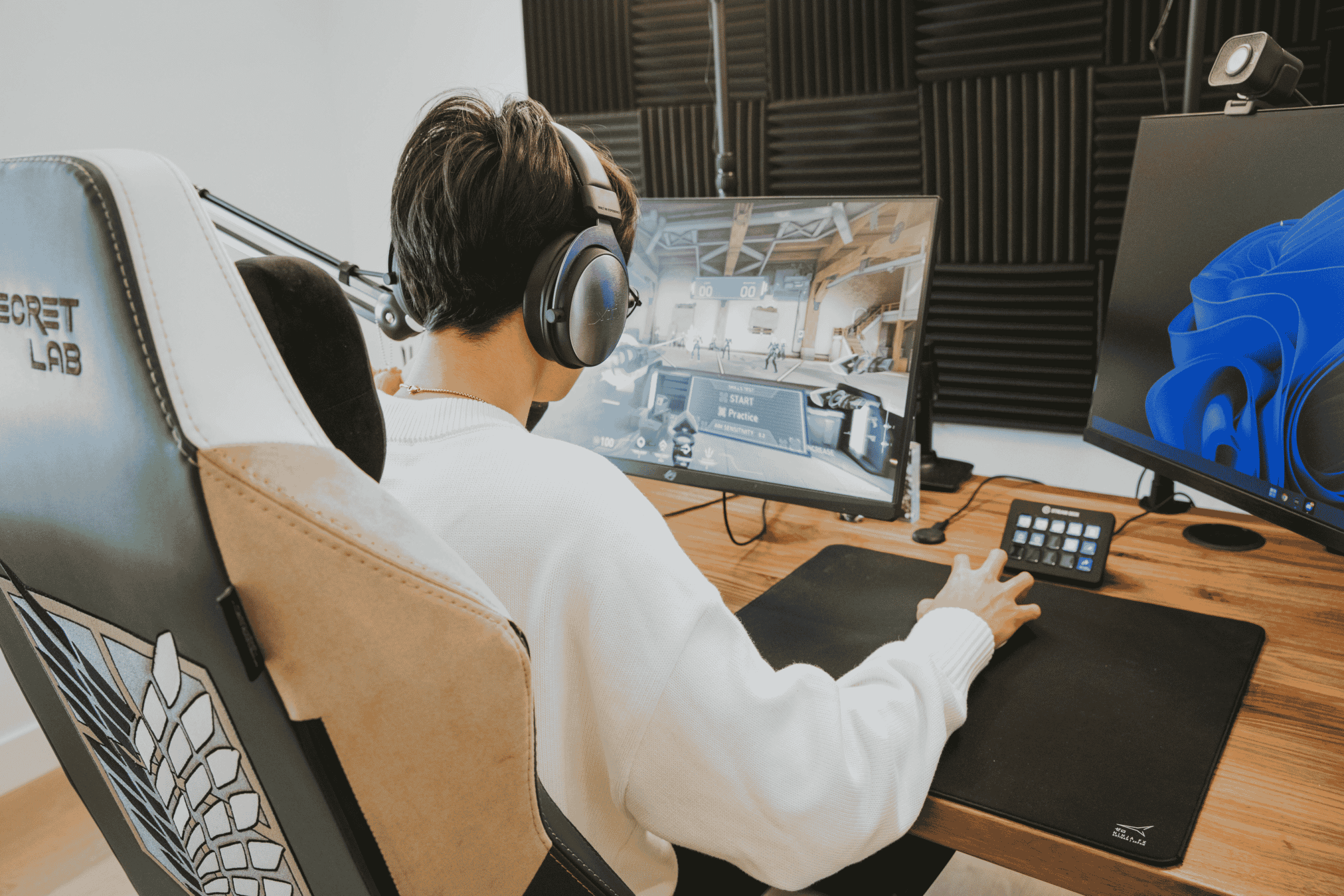 Who is TenZ?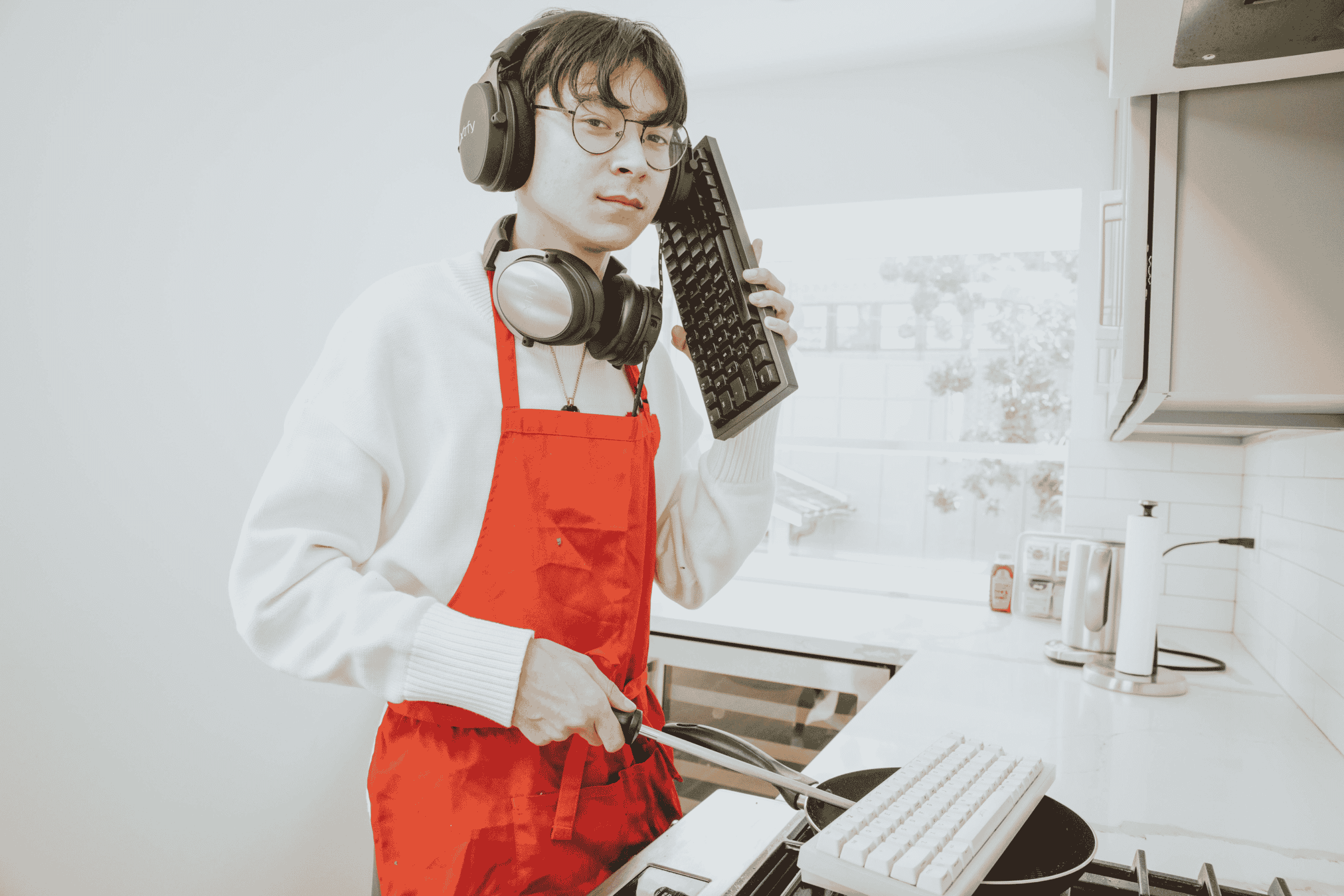 Early Life
Tyson "TenZ" Ngo was born in Nanaimo, Canada on May 05, 2001. He is of Vietnamese descent. TenZ is a passionate gamer through and through. He started playing Counter-Strike at just the age of 3. He became an eSports athlete later on at the age of 15.
Tyson is also active on social media. You can reach him through the following links:
Streaming Career
TenZ started streaming on Twitch in 2016. He live streams and uploads videos online. He is both a streamer and content creator on Twitch and YouTube. Fans can view his stream in real-time or watch highlights through his YouTube channel.
TenZ also streams some of his matches on eSports tournaments like Counter-Strike Global Offensive and VALORANT.
Gaming Career
TenZ has a three-year CSGO career and retired from competitive CSGO. His last CSGO professional game was in 2021 before becoming a professional VALORANT player. Although CSGO is a competitive game, most decorated pro players (like TenZ, for instance) have been switching from one game to another to continuously challenge themselves or stay up-to-date with recently trending eSports games.
TenZ used to play with Cloud 9, but he's currently signed with eSports Team Sentinels.
Tyson 'TenZ', a pro gamer to watch out for, is ready to rock the VALORANT community with his unique gameplay and seasoned FPS skillset from CSGO.
In mid-2021, TenZ became the first North American ever to reach the most-coveted Radiant Rank (or VALORANT in the beta stage back in the day) and did it quickly after being introduced in regional ranked matchmaking.
Games that TenZ Plays
TenZ streams and plays a lot of online games. Here's a list of the games he mostly plays and streams around Twitch:
VALORANT
Counter-Strike Global Offensive
League of Legends
Overwatch and Overwatch 2
Sekiro: Shadows Die Twice
Apex Legends
Genshin Impact
osu!
Elden Ring
Halo
Fortnite
TenZ's Net Worth – How They Made Money
Like any other online streamer, TenZ can generate income through live streaming, ads viewed per stream, sponsorship deals, donations and tips, affiliate marketing, tournaments, and/or becoming one of the Twitch partners amongst thousands of Twitch streamers worldwide.
Here's a little rundown of TenZ's net worth based on some of his sources of income.
How Much Money TenZ Makes From Twitch?
TenZ earns from Twitch through streaming, advertisements, donations, tips, and subscriptions. In terms of subscriptions, TenZ would earn higher from his top-tiered subscribers compared to his regular subscribers. He has an average of 4,500+ active subscribers (with the highest peak at 11,181). Since he is considered a Twitch partner, TenZ earns up to $3.50 per regular subscriber.
TenZ should be making around $15,750 from subscription income monthly. He's got more than 30,000 average viewers per stream, and Twitch partners earn from $10 to $20 per 1,000 views, so he should be making around $4,000 to $12,000 a month. TenZ is expected to earn anywhere between $19,000 to $28,000 monthly from his Twitch channel. That's $228,000-$336,000 annually.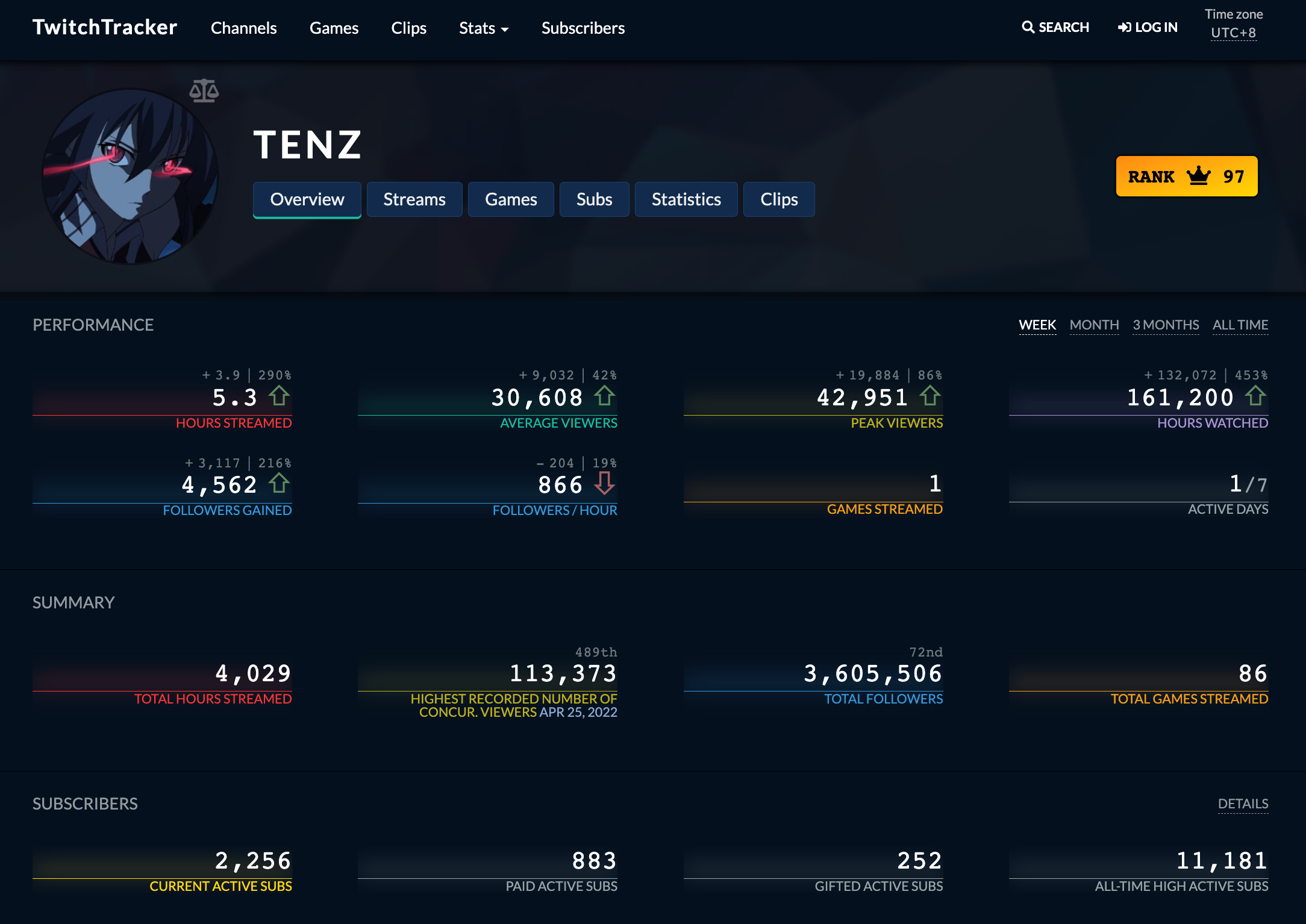 How Much Does TenZ Earn From YouTube?
TenZ generates income from YouTube mainly through ads viewed in his videos. He has 1.45 million subscribers on his YT channel, with more than 140,992,165 views in total. He posts new videos at least thrice per week, averaging 400,000 views or up to 9 million views monthly.
Considering a $3 CPM (per 1000 views), TenZ should be making around $27,000 monthly.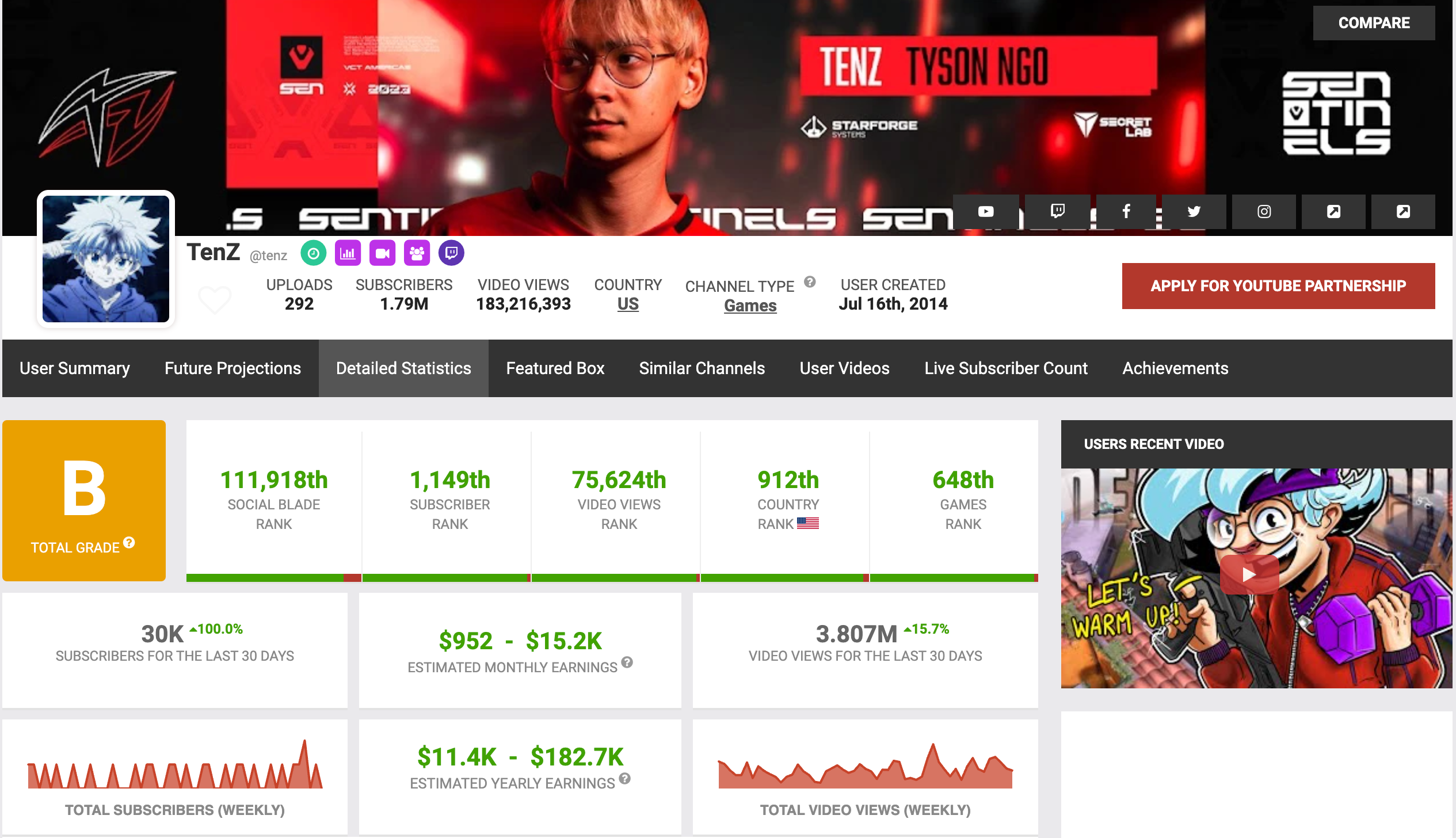 With his Twitch and YouTube earnings combined, TenZ should generate around $46,750 to $54,750 monthly, or approximately $561,000 to $657,000 annually.
The estimate above does not include other income sources like a monthly salary from Sentinels (around $27,000 monthly), external donations and sponsorships (from Streamlabs), prize winnings from VALORANT tournaments, and commission on affiliates (like Amazon, etc.) as well as his Tyson Ngo esports earnings.
TenZ Merch
TenZ has available merch on Sentinels official store link and some Redbubble and TeeSpring shops online.
Who Sponsors TenZ?
Here's a list of active TenZ sponsorships:
G Fuel (eSports energy drink)
Xtryfy (gaming peripherals)
Secret Lab (gaming chair)
AimLab (ultimate FPS trainer)
FAQs About TenZ
What is TenZ ad revenue in 2023?
TenZ's ad revenue should be around $322,000 to $468,000 from his Twitch and YouTube ads combined.
What is TenZ estimated net worth in 2023?
Tyson 'TenZ' Ngo, being the consistent player he is wherever you put him, should be hitting the $3 million mark by the end of 2023.
Does TenZ take part in competitive VALORANT?
Yes. And he is still active until now.
Who is TenZ dating right now?
Tyson is currently dating Kyedae, a content creator from 100 Thieves and a Twitch streamer with more than 1.6 million followers.
Conclusion
Tyson's career is still booming despite the years he has been active in gaming. Some players (professional or not) would slowly take a downtrend in their career the longer they stay in a specific league. In this regard, TenZ is clever to switch games, allowing a new generation of CSGO players to bloom while giving himself a new career path to tread in VALORANT.