Symfuhny's real name is Mason Lanier. He is a Warzone streamer and is one of the best in the game. Mason's estimated net worth is $1 million. In this article, we'll learn how much money Symfuhny makes on his Twitch and YouTube channels.
Who is Symfuhny?
Mason Lanier is the person behind the beloved streamer, Symfuhny. He's a huge fan of FPS and battle royale games. Before becoming a Warzone gamer, he was first recognized for his skill when he played the H1Z1 and Fortnite game.
Mason was able to start his Esports career competing in H1Z1 leagues. He then moved on to play Fortnite professionally and is now focused on Call of Duty: Warzone. His skills earned him a contract with NRG Esports, an Esports organization. He signed with this org in 2019 but left after a little over a year.
Today, he is said to live in the 100 Thieves content creator house with his girlfriend. However, he is not a player or a content creator for the said organization.
Symfuhny's Girlfriend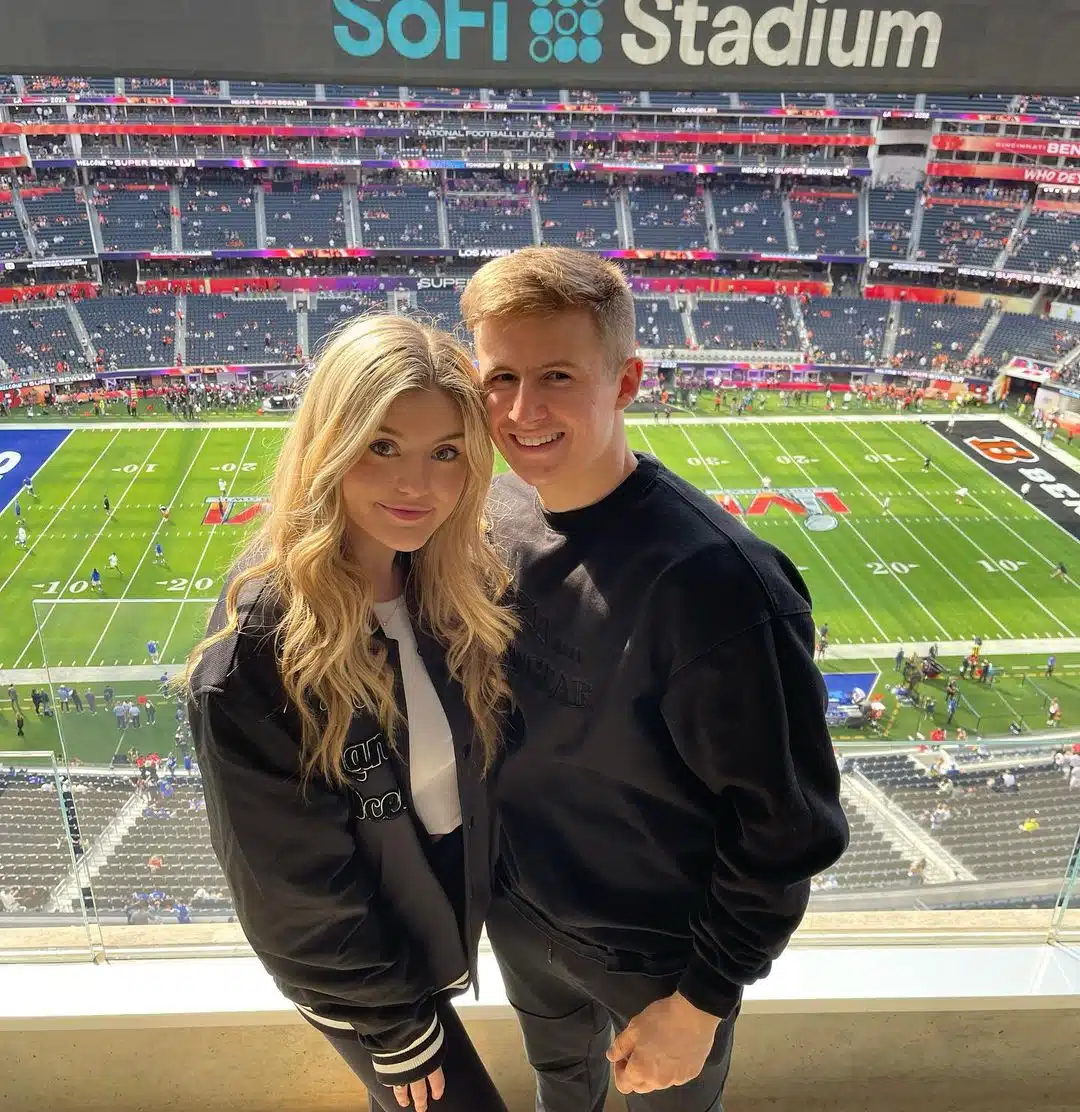 Mason has a girlfriend, and both of them are Twitch streamers. Her name is Brooke Ashley Bond, and she is known as BrookeAB on the Twitch platform and other social media networks. She's one of the many content creators and streamers of 100Thieves.
Games that Symfuhny Plays
Symfuhny is popular for his first-person shooting streams. You'll see him playing these games on this channel:
Call of Duty: Warzone
Fortnite
H1Z1: Battle Royale
Call of Duty: Modern Warfare II
Apex Legends
Call of Duty: Vanguard
Valorant
Grand Theft Auto V
Social Media Presence
You can follow Symfuhny on the following social networks to stay updated with his life, content, and streaming schedule.
Mason is very active on Twitter and Instagram. This makes him a rising star in the world of social media. You will mostly find him tweeting about his favorite brands that are either gaming gear or food related.
Symfuhny Net Worth – How They Made Money
Twitch and YouTube are his main income sources.
He earns from his monthly subscribers, donations, and ad revenue on Twitch. On YouTube, he earns from ads alone.
How Much Does Symfuhny Earn From Twitch?
According to TwitchTracker, Symfuhny currently has 4,000 active subscribers. However, he averages around 7,000 per month. Successful Twitch streamers like Symfuhny usually have Tier 1 subscribers. This would mean that Symfuhny makes $3.5 per sub. Mason's Twitch account can earn $14,000 to $24,000 monthly on subs.
As for ad revenue, Symfuhny earns $2 per 1000 views. He has an average of 2 million views per month. So, the money Symfuhny makes on Twitch ads is $4,000 monthly.
Lastly, we have donations. Now, this will fluctuate every month. A Twitch streamer like Symfuhny can make at least $1,000 and, at most, $5,000.
How Much Does Symfuhny Earn From YouTube?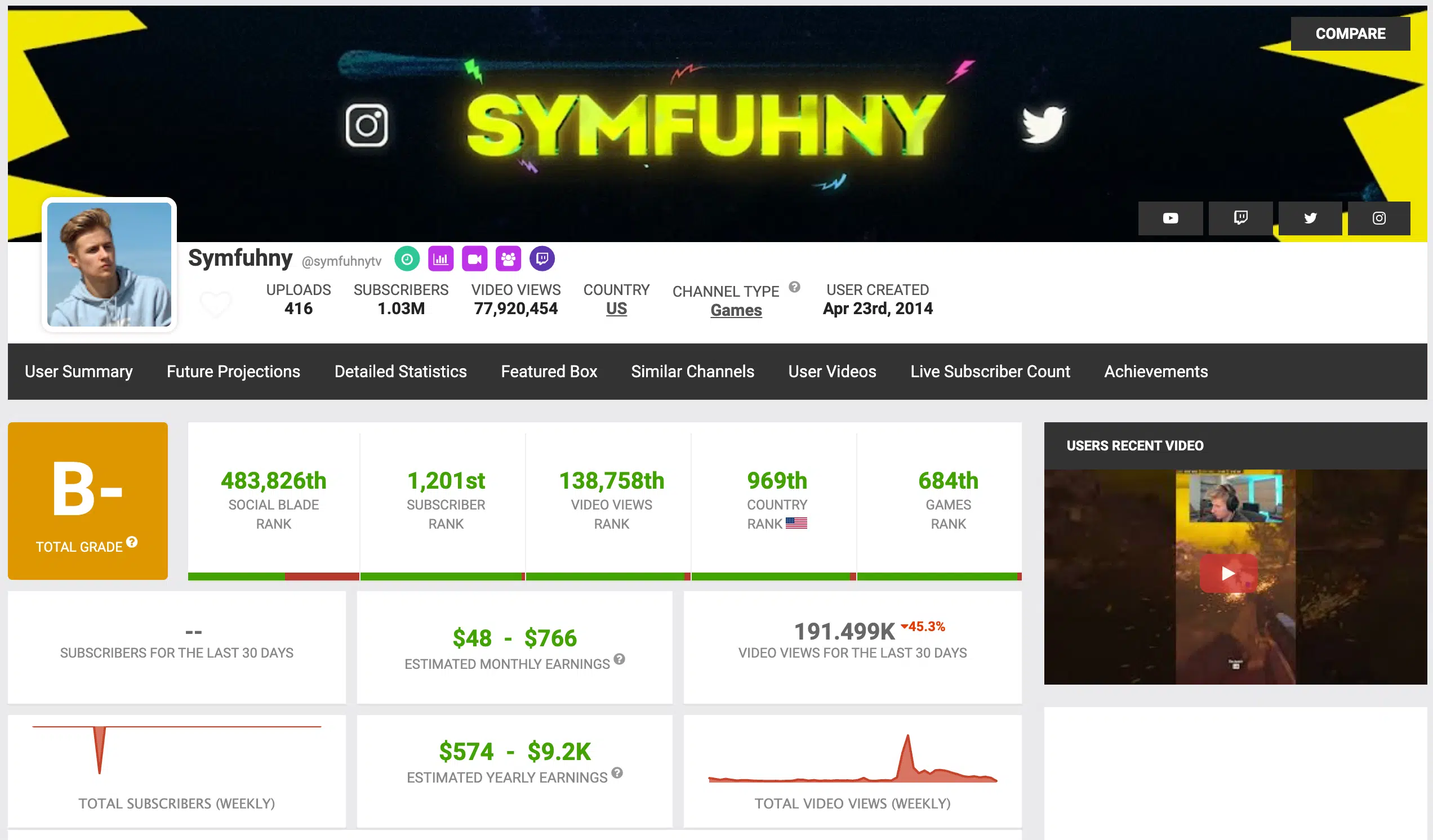 Mason's YouTube channel earns through ads. YouTubers earn $3 per 1000 views. Symfuhny's channel has an average of 2 million viewers monthly. This would make him a YouTube revenue of $6,000 per month.
How Much Does Symfuhny Earn from Tournaments?
Symfuhny has participated in and won many tournaments and has brought home a hefty amount of prize money throughout his Esports career. He has competed in Fortnite and Warzone tournaments, as these are his strengths. His total Esports earnings is estimated to be over a quarter of a million dollars.
How Much Does Symfuhny Earn from His Merch?
Symfuhny sells his official merch on Bonfire. Unfortunately, his total earnings from his merch are unknown.
Who Sponsors Symfuhny?
Similar to other popular streamers, Symfuhny also works with brands for sponsorships and deals. Here are a couple of brands he has worked with in the past:
HelloFresh. This online brand specializes in meal preps and meal kits that can be delivered right to your doorstep.
Reese's. This is the brand famous for its Reese's Cup.
LG UltraGear. LG has released UltraGear, which is its own line of high-end computer monitor screens made for gamers.
Factor Meals. This is a meal delivery service that concentrates on giving its customers healthy and well-balanced meals.
AimLabs. This brand provides a platform for gamers to improve their first and third-person shooting skills.
Herman Miller Gaming. Herman Miller is one of the top manufacturers of high-quality ergonomic chairs. They've recently ventured into producing gaming chairs and have since released a gaming chair with Logitech.
Pringles. Pringles is a popular potato chip snack.
Matrix Keyboards. This is a newly founded gaming brand that currently focuses on producing quality keyboards and keycaps for gamers and streamers.
In addition, Symfuhny also has an Amazon page where you can find all of his favorite gaming gear. He earns a percentage for each person that purchases items through his affiliate link.
Conclusion
Mason Lanier is a talented gamer and an influential content creator. His videos have gained thousands of views, and his channels have grown to millions of followers. Catch his live stream on Twitch today!