Thomas a.k.a. Sykkuno, is a well-known YouTube personality and Twitch streamer from the United States. He gained popularity via streaming online games like Minecraft, Among Us, Valorant, GTA, and others.
Here's more about Sykkuno and how he generates revenue:
Who Is Sykkuno?
Sykkuno is a streamer and YouTube content creator who only began broadcasting regularly in April of 2019. Despite his recent entry into streaming, Sykkuno has gained a combined 6.6 million followers on YouTube and Twitch as of February 2022.
Sykkuno's central claim to fame appears to be Among Us and Minecraft, though he also streams a wide range of games and Just Chatting. He has recently streamed a lot of Halo Infinite, Prop Night, and Grand Theft Auto V.
Sykkuno was born in Los Angeles, California, on June 4, 1991. His mother and father are of Chinese and Vietnamese descent, significantly influencing his upbringing.
Following high school, he went to university, where he earned a bachelor's degree in mathematics and a master's degree in statistics. Aside from pursuing a career in his field of study, he was interested in the idea of making money through gaming.
He chose the practical route, accepting a job as a software developer right out of university.
Sykkuno YouTube Career
Sykkuno launched his YouTube account in 2012. He used to post commentary videos while playing League of Legends. During this time, he only posted once a week on his YouTube channel and never showed his face. He also didn't work with anyone else.
His YouTube channel was originally called "Sykku," but it was renamed "Sykkuno" in 2012.
Sykkuno became famous on Twitch and YouTube in 2020, thanks to his Among Us streams and YouTube videos. This was also a great opportunity for his OfflineTV pals and friends like Corpse Husband and Valkyrae to blow up through the popular social deduction game.
Sykkuno Twitch Career
Sykkuno started live streaming on Twitch in 2019. As his Twitch audience increased significantly, Sykkuno flipped the script and became a Twitch streamer first and a YouTuber second, publishing highlights on YouTube rather than commentaries.
This was a strategic aspect of his massive online success because he targeted people with the same content across many platforms.
Thomas was distinct from his fellow YouTube and Twitch gamers in that he refused to display his face. He spoke into the microphone during his live stream, adding to the mystery. However, in 2020, he decided to include his face in all his videos.
On May 12, 2020, Rajjpatel (now Austin), a Twitch streamer, hosted a show. He invited Sykkuno to participate in the show together with gamer Jadeyanh. The show's concept was similar to that of the popular Bachelor and Bachelorette, in which contestants socialize to find a love interest or a host. The show was won by Sykkuno, who was the final runner-up.
Shortly later, on May 27, 2020, Thomas was stunned to get his own Rajjchellor show titled "Sykkuno Rajjchellor."
Games That Sykkuno Plays
Sykkuno plays various popular games, including:
 League of Legends
Animal Crossing: New Horizons
Among Us
Valorant
Minecraft
Phasmophobia
Rust and Raft
Dead by Daylight
GTA V
Sykkuno Net Worth – How They Made Money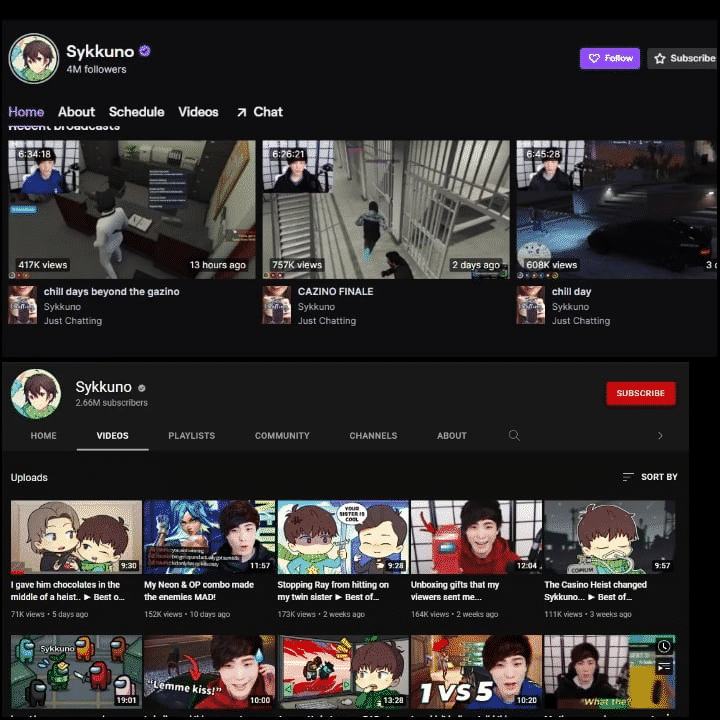 Sykkuno has earned a substantial income, with an estimated net worth of $1.2 million. Sykkuno is a top-tier Twitch streamer who gets to keep 70% of his subscriber base.
Top-tier subscriptions are worth approximately $3.50 per month, compared to 50% for regular subscribers; nevertheless, it is unclear how much money Sykkuno makes via bit donations or adverts because Twitch's information is not disclosed. However, it is estimated that for every 1000 viewers who see commercials, the average streamer can earn $20.
By posting highlights from his Twitch streams to YouTube, Sykkuno earns money through Youtube advertisements. Sykkuno has over 2.66 million subscribers on the platform, and each of his videos averages around 500,000 views. Like other YouTubers, Sykkuno keeps 55% of the money made from ads on his videos.
Just like other Twitch streamers, Sykkuno also earns money through sponsorships. Though it seems he doesn't do sponsored videos on Twitch or YouTube, he does have one known sponsor: Mavix Gaming chairs. It's unclear how much he earns from this.
How Much Does Sykkuno Earn From Twitch?
Sykkuno earns roughly $125,083.50 per month from his Twitch account alone. This is divided down as follows: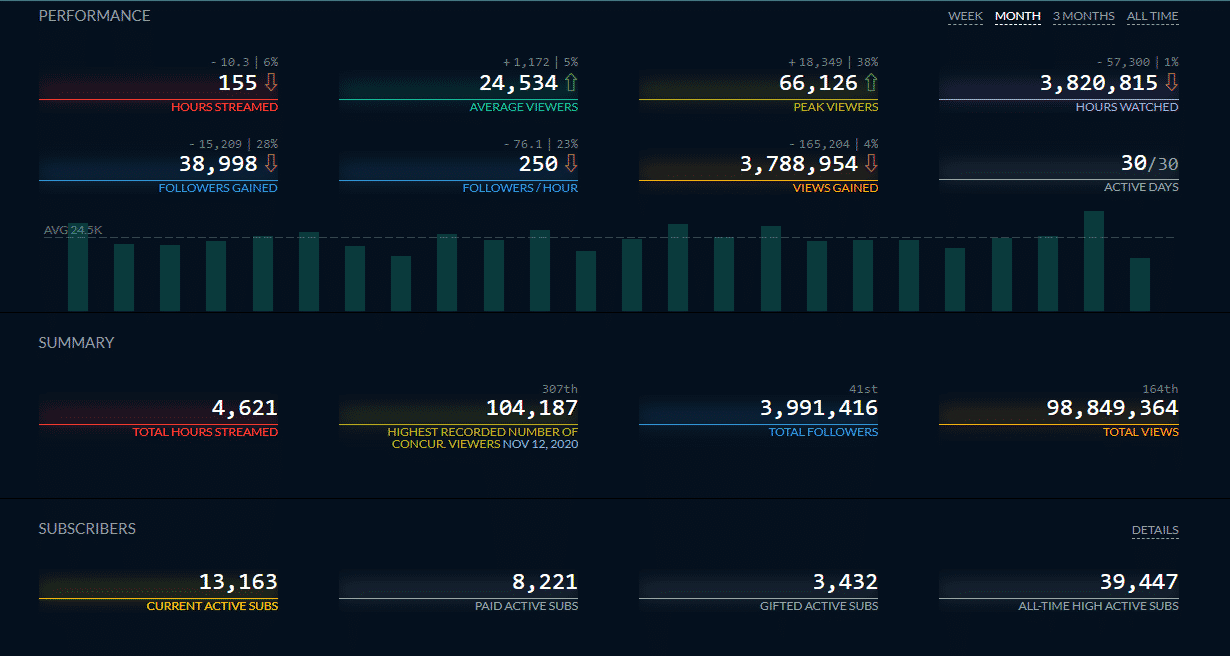 Subs: Sykkuno has 13,163 active subscribers as of February 2022, according to Twitchtracker. Assuming a 70/30 split with Twitch, this means he earns around $3.50 x 13,163 = $ 46,070.50 each month from Twitch subs.
Ads: Sykkuno streamed for approximately 155 hours last month with an average viewership of 24,534 viewers. If he runs an ad twice an hour at a $10 CPM, he will make 300 x 10 x 24.534 = $73,602 per month from ads.
Donations and Bits: Donations and bits are more difficult to compute since we don't have any actual figures to work with. Based on his audience, he is likely to earn an additional $3,000 – $5,000 or more in contributions each month.
How Much Does Sykkuno Earn From YouTube?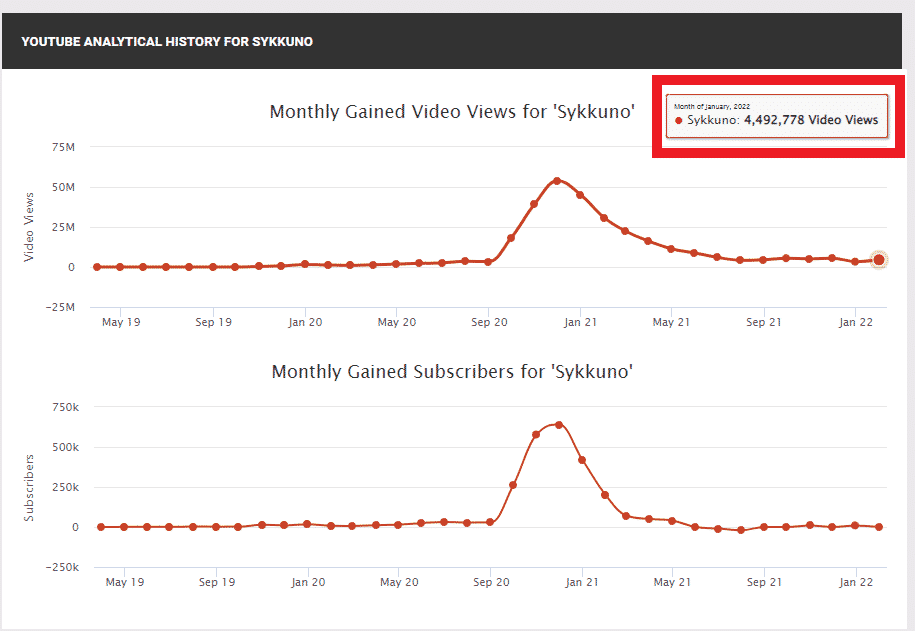 Sykkuno mainly earns money on YouTube from Ad revenue. According to Socialblade, he had 4,492,778 views last month. We can estimate his Youtube revenue if we split this down.
4,492,778 views/1000 = 4,492.78
4,492.78 x $2 CPM = $ 8,985.56 monthly income from Youtube Adsense.
Who Sponsors Sykkuno?
Sykkuno appears to have a wide range of brand affiliations and arrangements. Among them is:
NordVPN – A VPN for speed and online privacy.
GFuel – A gaming and esports energy drink.
Elgato – a game capture device that records your streams and games.
Mavix Gaming Chairs – a gaming chair company.
CyberPower PC – a computer company that specializes in computer gaming PCs.
Conclusion
Sykkuno has been around for a long time, creating content. However, with the help of OfflineTV, he began streaming regularly, and his popularity has skyrocketed since then. We're thrilled to see where his content takes him next!