American Twitch streamer Chance 'Sodapoppin' Morris, one of the most famous Twitch streamers in the gaming industry to stream World of Warcraft for years. His consistency and passion for gaming, coupled with his fun personality, is what makes Sodapoppin shine in the industry. Find out about Sodapoppin: net worth, personal life, merch sales, streaming career, and more in this article.
Who is Sodapoppin?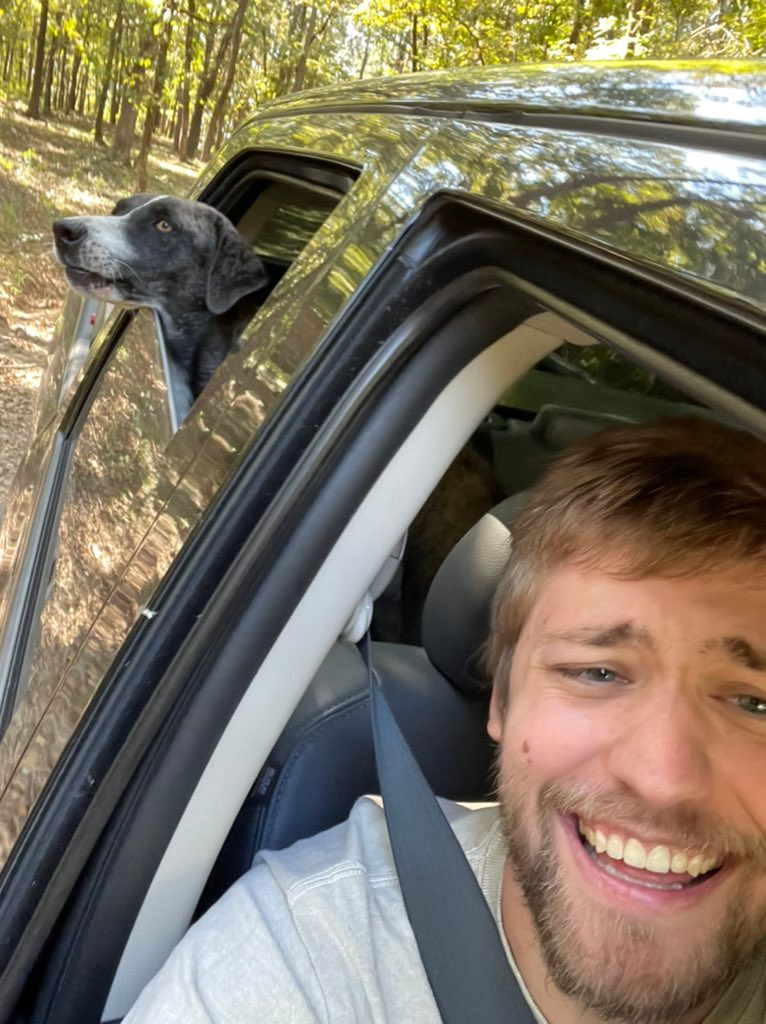 Chance Morris (AKA Sodapoppin) is one of the earliest streamers on Twitch with a United States nationality, and his Twitch channel boasts of more than 337 million total views. Sodapoppin has been and continues to be the famous internet personality that he is right now.
Personal Life
Sodapoppin has a very long real name of Thomas Jefferson Chance Morris IV. He was born on February 14, 1994 at Austin, Texas USA. He started to develop his love for games at a very young age, and his passion for it is still very evident until today.
Sodapoppin has two dogs: Buddy, a German Shepherd; and Kevin, a Golden Retriever-Border Collie mixed breed. He also has a cat named 'Finn'.
Sodapoppin joined Twitch in 2011 but really began streaming in 2012. For a time in his streaming career, Sodapoppin promoted casino sites and online gambling, which was uniquely done for a Twitch streamer of his caliber.
Professional Life
Sodapoppin was basically known for being a World of Warcraft player. He was also one of the early Twitch partners since launching in 2011 that focused on Warcraft as his gaming content back then. Now, Sodapoppin streams more than one game and loves to goof around on-stream.
Becoming a Famous American Twitch Streamer
Sodapoppin started streaming games on XFire before switching to a full-time streaming career on Twitch platform. He is mostly known for streaming and playing World of Warcraft then and now. Apart from that, Sodapoppin also streams other games (both old ones and new ones) which makes him more likable because he also showcases old games that have been popular before powerhouse battle royale games like Fortnite even existed.
Sodapoppin does not limit himself when it comes to streaming. In fact, there was a time when he also advertised casino websites and streamed online gambling in 2015. Part of this was in-game skin betting which was a popular trend back then.
Additionally, before IRL streams became a thing on the Purple Platform, Sodapoppin was already streaming some of his real-life travels and daily life happenings on Twitch. In many of his streams, you would see Sodapoppin just goofing around and having fun with his friends and other streamer buddies, like xQc, his housemate.
Northern Gaming
Before Norther Gaming came to existence, Sodapoppin had already been streaming with popular streamers like xQc, Tyler1, and Zack 'Asmongold'.
Chance 'Sodapoppin' Morris formed and co-owned Northern Gaming in 2017. This venture became very successful, and their roster has won multiple tournaments in such a short time that it eventually led to attracting the giant eSports organization, NRG Esports.
Later that year, in August 2017, Northern Gaming was purchased by NRG ESports which is co-owned by Alex Rodriguez and NBA Champion Shaquille O'Neal.
Joining the OTK Family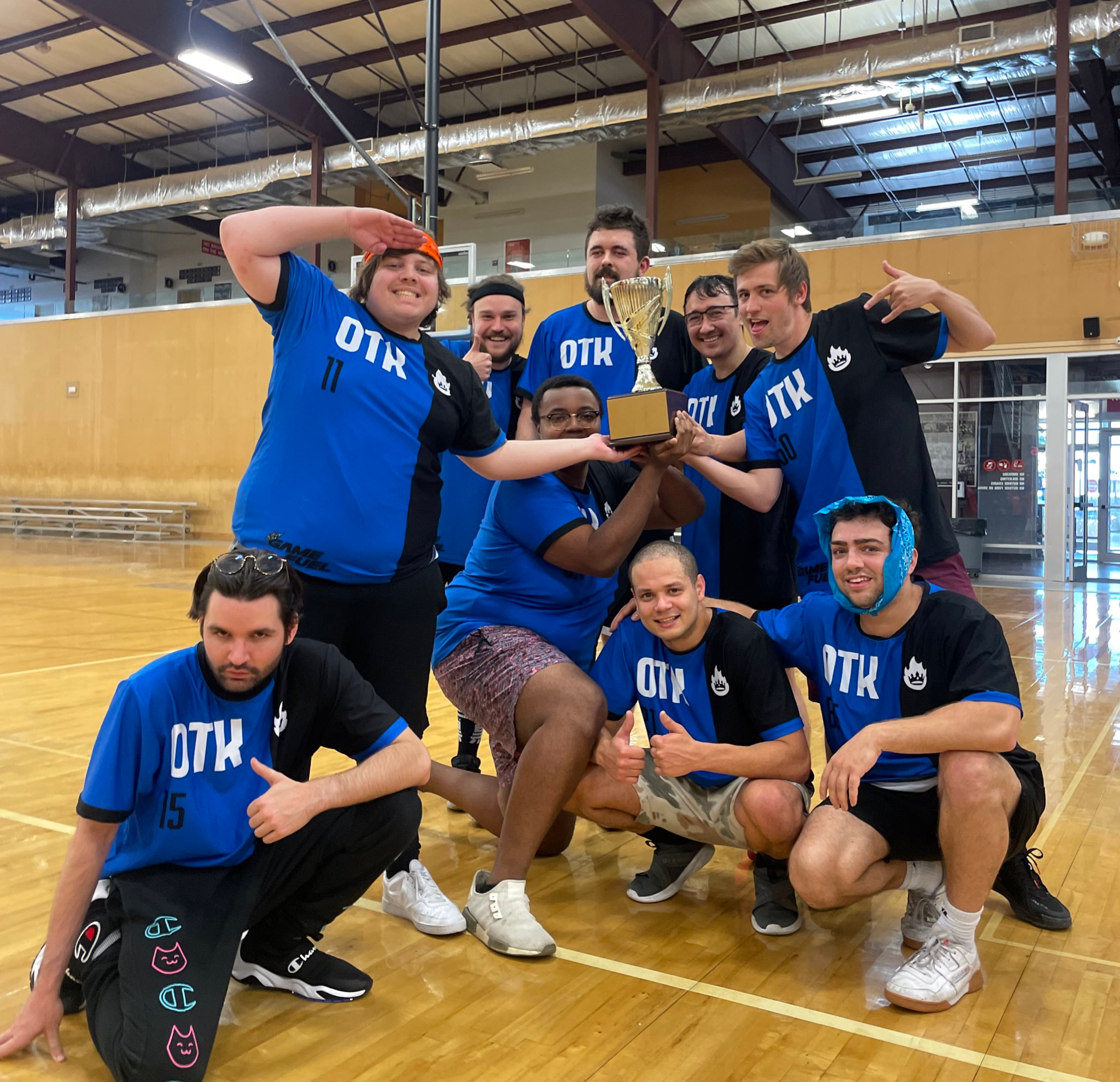 Sodapoppin has been collaborating with other popular Twitch streamers under One True King (OTK) like Mizkif, and other WoW players like him: Esfand and Zack 'Asmongold'. They've been really good friends on-stream and off-stream.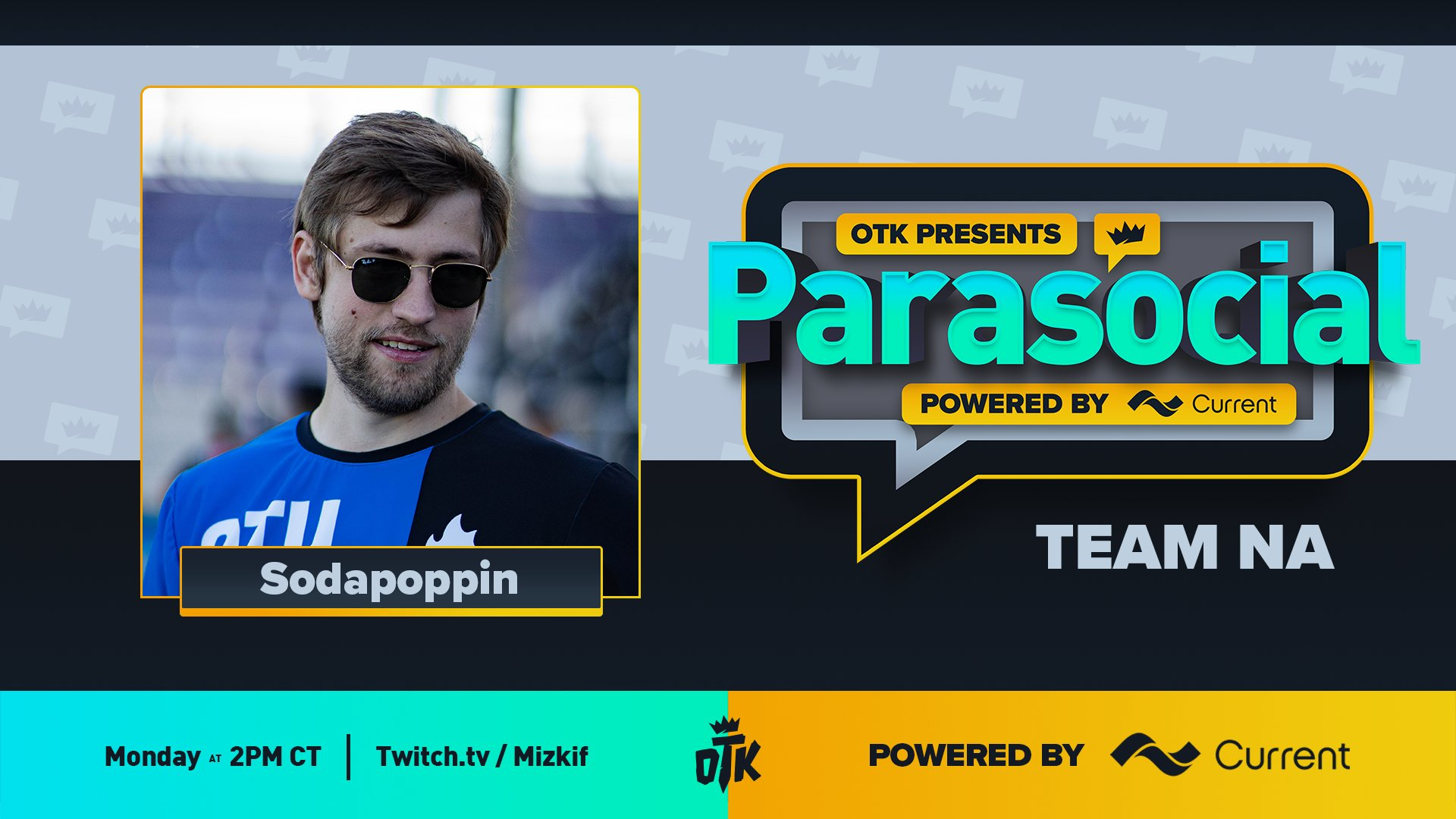 It was also in this collaboration with OTK's Parasocial event, that Sodapoppin got to know Veibae and made friends with her throughout.
Games that Sodapoppin Plays
Although primarily known as a WoW player, Sodapoppin also plays other games online with different varieties ranging from FPS to battle royale games. Here are some of the most streamed games of Sodapoppin in his Twitch channel:
World of Warcraft
Dead by Daylight
Grand Theft Auto V
Overwatch
Warcraft III
Sodapoppin Net Worth – How They Made Money
Streamers like Sodapoppin earn through the internet by streaming games online, and from ad engagement from viewers, paid subscriptions, donations, merch, sponsorships, and other exclusive brand deals.
How Much Money Sodapoppin Makes From Twitch?
With his growing 3.2 million followers on Twitch, Sodapoppin generates income through ads viewed during live streams, donations and tips via Twitch bits and Stream Elements tip jar, paid subscriptions, and through Twitch's newest Cheering feature. This feature allows the streamer to earn extra cash through 'fan cheers'. Sodapoppin earns bigger with a higher cheering bit pledged; like the dancing purple diamond (100 bits), which is equivalent to $1.40 per cheer.
With his Twitch community ever-growing, with more than 10,000 active subscribers and averaging to 19,500 views per live streaming, Sodapoppin earns around $45,000-60,000 in Twitch monthly.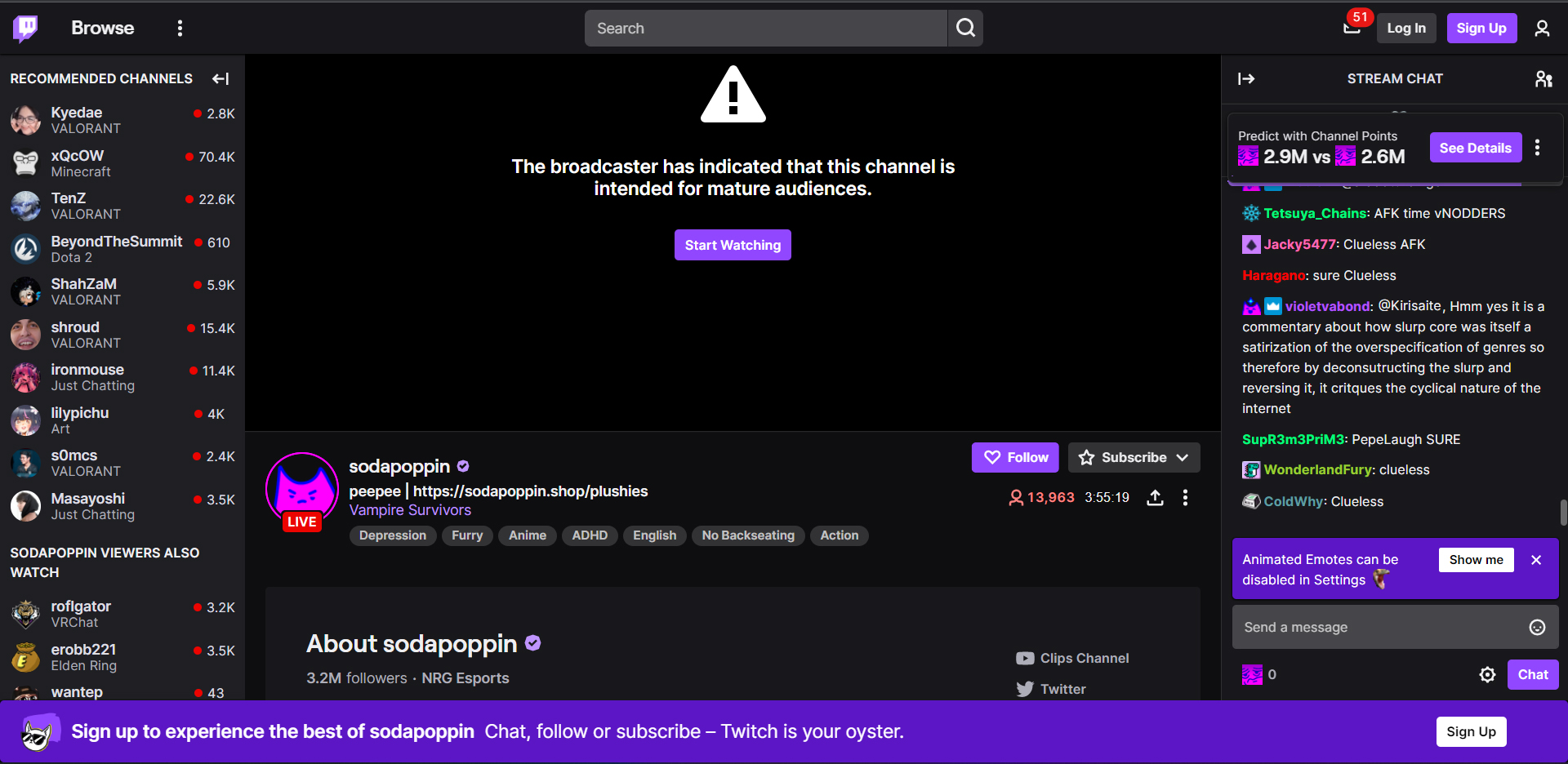 Sodapoppin Twitch Tracker Stats
How Much Money does Sodapoppin Earn From YouTube?
Streamers also earn through posting YouTube videos gaming content like gameplays, walkthrough, stream highlights. Each video would generate income through paid advertisements. With more than a million subscribers and 429,448,186 views, Sodapoppin should generate ad revenue ranging from $4,500-5,000 per month.
Sodapoppin also has about two other YouTube channels called 'Nmplol' and 'Sodapoppin Clips'.
With his Twitch and YouTube earnings combined, Sodapoppin should be making approximately $50,000 to $65,000 per month.
The estimated net worth calculated above does not include merch sales, brand sponsorships, and his monthly fee with NRG ESports.
Sodapoppin Merch
Chance Morris has quite a lot of merch available online on multiple sites. He has his own Sodapoppin Shop, SodaMerch, and SodapoppinMerch which is a fan-based merch sales. Some of his merch is also available in TeeSpring and in selective stores on Amazon.
Who Sponsors Sodapoppin?
One of Sodapoppin's major sponsors is G Fuel from Mountain Dew.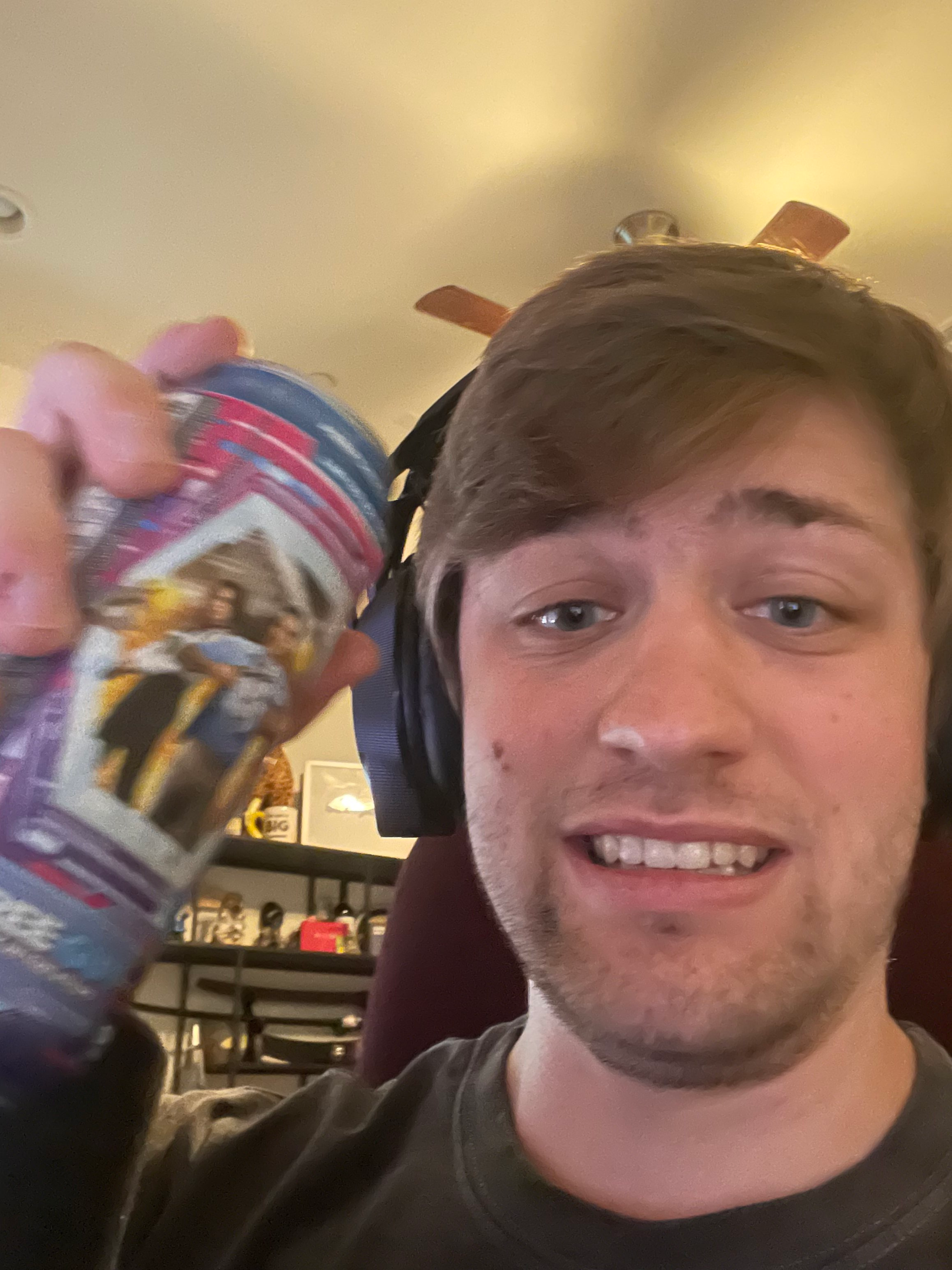 Apart from that, he also has other brand deals and sponsorships with the following (then and now):
Apex Legends (promotional) – sponsored streaming on channel
The Game Awards (sponsored streaming) – made possible by Bacardi
Displate – Art, posters, and print ads
FAQs About Sodapoppin
What is Sodapoppin net worth in 2022?
Being one of the most famous Twitch streamers online, many can't help but ask 'How much money does Sodapoppin make?'. With his more than a million followers and subscribers online, his estimated net worth should be reaching the 10 million dollar mark by the end of 2022.
Who is Sodapoppin's girlfriend?
Sodapoppin has dated Lea May Currier (AKA LegendaryLea) until 2019. Their relationship ended and turned sour. In recent news, Sodapoppin has confirmed relationship with Veibae since late 2021 and the two are rumored to be getting married soon.
Conclusion
Being a streamer is a fun thing to do, and becoming full time is another. You will need to have the right amount of drive and dedication to the craft. In order to be successful in the industry, you have to be consistent, full of energy, and must always be on-the-go. Sodapoppin displays all those characteristics no wonder he is such a famous internet personality today. For aspiring small streamers, one like Sodapoppin is a good streamer to look up to in terms of being fun and dedicated: providing a light but quality kind of entertainment.