Jay Won is a former competitive Overwatch player alongside popular Overwatch players Daniel "dafran" Francesca and Jeff "emongg" Anderson. His days playing Overwatch Pro ended when he switched to VALORANT gaming in 2020.
Find out more about Sinatraa: net worth, dating history, controversy, gaming and streaming career, and more in this article.

Who is Sinatraa?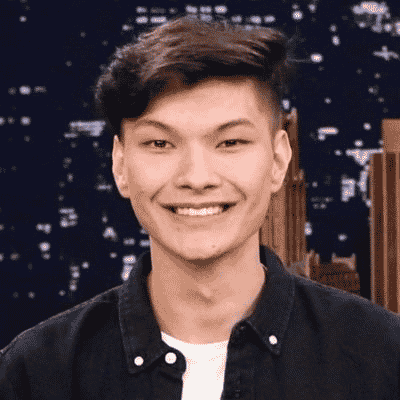 Personal Life
Jay 'Sinatraa' Won was born on March 18, 2000 in Shoreline, Washington USA. He started playing professional Overwatch in 2016 under Selfless Gaming. From then on, he's had his ups and downs in both his streaming and gaming careers from 2016 through 2021.
Streaming Career
Sinatraa started streaming on Twitch in October 2016. He was mostly streaming Overwatch for many years before switching to VALORANT. Now, his streaming percentage in Twitch is 50.8% VALORANT game and 38.8% Overwatch.
Gaming Career
When Sinatraa started playing pro, Won represented Selfless Gaming House for an Overwatch League debut in 2016.
In 2017, he was in a tug-of-war with two eSports giants, NRG Esports and Cloud9. After the bidding war, Won signed with NRG Esports team, San Francisco Shock–with at least $12,500 monthly salary regardless of his performance. This signing reunited Won to his former Selfless Gaming Coach, Brad Rajani, who was then the NRG Esports OWL Team head coach.
Team USA Arose Victorious on Overwatch League: Jay 'Sinatraa' Won Played Exceptionally
In 2018, after a disappointing showing during the 2018 OWWC when they lost to Team United Kingdom in the Quarterfinals, Won and his team came back to the 2019 Overwatch World Cup and swept the group stages and beating rivals South Korea with 12-0 map records.
With their rising momentum, Team USA faced Team China and later received gold medal in the Grand Finals match of the Overwatch World Cup. Having a dominant run in the entire season playoffs until finals, Won was awarded with most valuable player for his exceptional gameplay.
After San Francisco Shock won the Grand Finals, Jay Won placed Number 1 in player rankings.
According to esportsearnings, Jay Won has accumulated a total of $195,869.31 prize money from 31 tournaments combined.
Switching Careers
In April 2020, Won officially announced his retirement from Overwatch after stating he's 'lost passion' in playing the game's competitive mode and wanted to switch careers.
Later that year, Won joined Sentinels VALORANT team.
Game Awards
Overwatch League MVP in the 2019 Overwatch League Grand Finals
2019 OWWC Team USA MVP
Games that Sinatraa Plays
Known for his Overwatch and VALORANT gaming, Sinatraa also plays and streams other apps and games on Twitch. Here's a list of the following:
VALORANT
Overwatch
Apex Legends
PUBG: Battlegrounds
Counter-Striker Global Offensive
Grand Theft Auto V
Call of Duty: Warzone
Sinatraa is also available on social media with the following accounts:
Sinatraa Net Worth – How They Made Money
Sinatraa earns through live streams, ads viewed on stream and posted videos, paid subscriptions, donations, sponsorships and affiliate marketing, exclusive contracts, eSports tournaments, and other external incomes like merch.
How Much Money Sinatraa Makes From Twitch?
Sinatraa's income on Twitch is mainly based on paid subscriptions and ads, followed by donations through Streamlabs tip jar, affiliate links, and exclusive Twitch partnership. Although his subs count isn't currently tracked by TwitchTracker, his subs can be estimated around 4,000 on average. With this figure, he should be making around $10,000 monthly (keeping 50% of subs paid on Twitch). His Twitch ad revenue would be approximately $1,540 up to $3,080 monthly by virtue of average views per stream.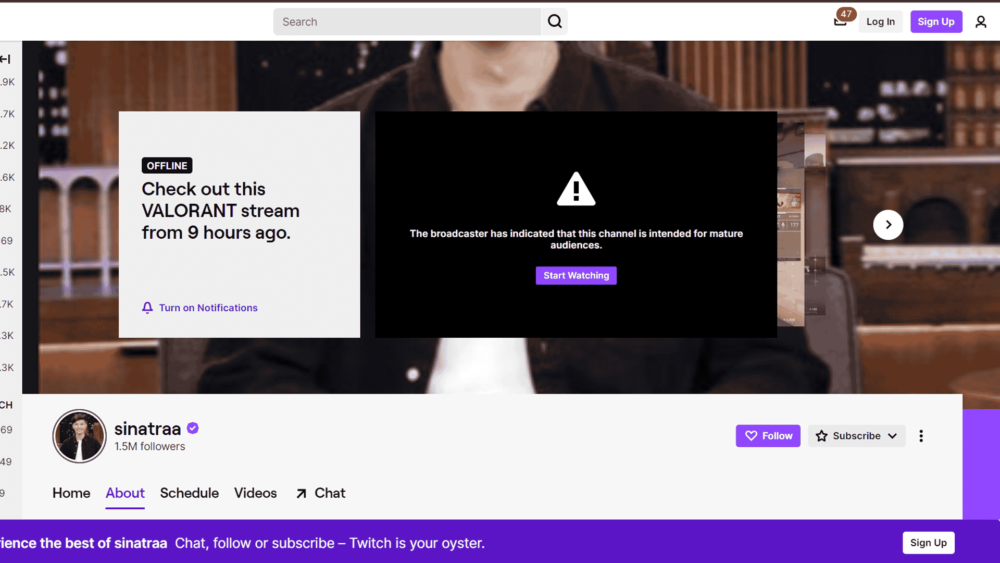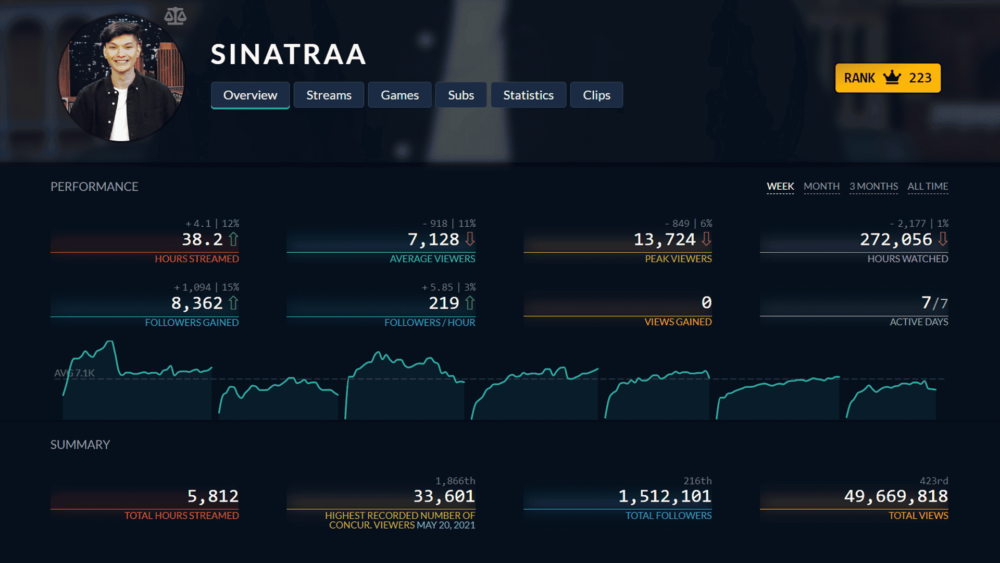 How Much Does Sinatraa Earn From YouTube?
Sinatraa makes money from his YouTube channel mainly through ads viewed on his videos. His YT subscribers has reached to 407K with more than 55,528,212 total views over the years. He has an average 925,470 views per month and makes around $925 to $3700 ad revenue a month.
With his Twitch and YouTube earnings combined, Sinatraa should be making around $12,465 to $16,780 monthly or $149,580 up to $201,360 annually.
The estimate given above does not include his monthly salary at Sentinels, or his tournament earnings, as well as other external income sources from other affiliations.
Sinatraa Merch
Sinatraa has merch available on TeeSpring and his Space Sinatraa collection on DotEXE.
Who Sponsors Sinatraa?
Like any other Pro player Twitch streamer, Sinatraa also enjoys sponsorships and affiliate commission-based income. Some of the brands connected to him include:
Gorilla Mind
NordVPN
YoungLA
FAQs About Sinatraa
What is Sinatraa's estimated net worth in 2022?
Given his history of controversies back in May 2021, Sinatraa might be seeing some downtrend in his career and overall earnings. Should he fail to make a comeback, he might be facing a couple of hundreds of thousands loss to his net worth.
Comeback aside, Sinatraa's net worth would be looking at $800K to $1 million by the end of 2022.
Who is Sinatraa girlfriend?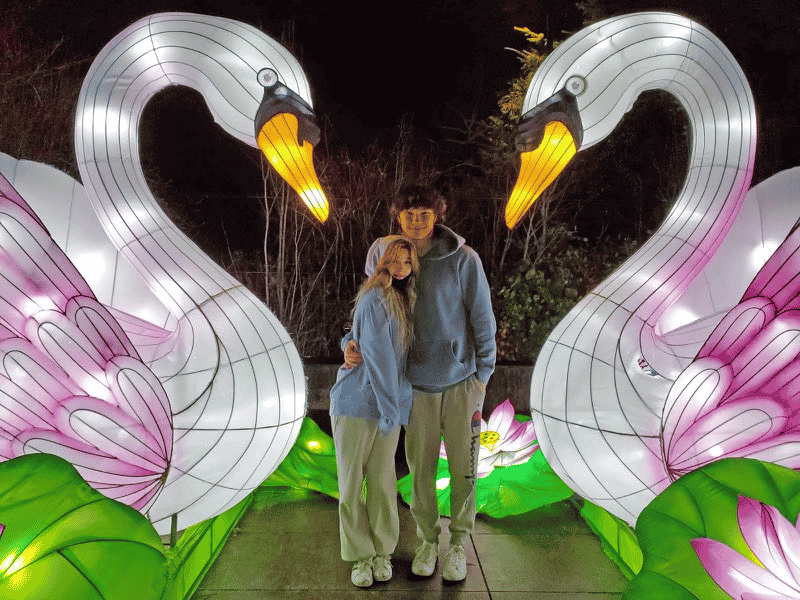 Sinatraa is currently dating Emmyuh who is also a Twitch streamer and VALORANT player. They recently celebrated their anniversary.
Recent News
Jay Won has been SUSPENDED from VALORANT because of sexual assault allegations and controversy with his ex-girlfriend Cle0h. His refusal to cooperate made him look more guilty in the eyes of the netizens and administrators alike, and he's been stripped down of his position in the Sentinels roster in May 2021 when he was deemed to serve a 6-month suspension for non-compliance with then ongoing investigation.
Because it was during then ongoing World cup competition, Won was replaced by TenZ in the Sentinels roster (where TenZ was able to retain the position afterwards).
After serving his suspension, Sinatraa was demoted to Content Creator in the Sentinels Team.
Conclusion
Sinatraa's professional playing career has had its glory for more than two years but his sucesses in the competitive eSports scene went sideways when he was allegedly involved in sexual assaults and mental abuse in 2021. This was the beginning of his career's downtrend and he suffered loss along the way. Whether proven guilty or otherwise, an accusation like that can really affect one's career. If you're an aspiring pro player or streamer, and looking for a long stay in the industry, make sure to steer clear away from potential controversies especially when it's looking bad like sexual assaults or mental abuse.