The Minecraft resurgence in the past couple of years gave way to a new generation of internet stars. One of them is RanbooLive, or Ranboo, who became immensely popular on Twitch. He shot up to worldwide fame in just a few months after he started posting Minecraft-related content in the latter part of the 2020s, making him the fastest rising social media star on the popular streaming content in recent years.
He's also part of the Minecraft Server Dream SMP and one of its most important players. If you're wondering how much his net worth is, what made Ranboolive famous, and all other details about his personal life, we'll discuss that and more in this article.
Who is RanbooLive?
RanbooLive is a Twitch streamer who became famous for posting Minecraft-related content on the platform. Aside from Twitch, he also has a YouTube channel and a number of social media accounts on Twitter and TikTok.
Known for his humorous, warm, and genuine personality, Ranboo has amassed millions of followers on all the platforms he's on. In fact, he even had his own holiday named after him, National Ranboo Day, which his fans celebrate every November 26th. His reason? He thought Thanksgiving was a little too boring, so he declared a holiday for himself.
Ranboo is easily recognizable with his iconic black and white face mask and dark sunglasses. Known for being enigmatic and quite private about his personal life, little is known about him and none of his fans even know his real name or his face. However, since he made an eye reveal last year, he's now usually seen on his Twitch streams, YouTube, and TikTok IRL videos without his sunglasses on.
YouTube and Twitch Career
Ranboo started streaming around 2020. Like many Twitch streamers and content creators of the time, he was particularly drawn to Minecraft. Nobody expected that Minecraft would make a grand comeback in the recent years after staying lowkey in the middle of the 2010's decade. However, with the rising of Dream SMP players and other popular streamers, Minecraft made it to the spotlight again.
Before this time, though, Ranboo was already doing streams as early as 2015 when he was about 12 years old. He recounted in his January 2022 interview with Anthony Padilla that he had 2 viewers by then, which is a far cry from the tens of thousands of concurrent viewers he has right now.
Perhaps the pivotal moment of his career was when he became part of the Dream SMP server. He wasn't a member by then, but his tweet "Reasons I should be added to the Dream SMP" and his declaration that he should be the president of L'Manberg, caught the attention of Dream and a number of other members on the server. He was invited to Dream SMP and became one of the players on the server to this day.
He played alongside famous Twitch streamers, including Tommyinnit, Tubbo, Dream, Punz, Ph1lza, Fundy, and more.
Personal Life
As previously mentioned in this article, Ranboo is very private about his personal life. Not much is known about his family or life outside of his career. He did mention though, that his parents are extremely supportive of him even when he chose to do what he loves instead of going after a regular job.
Yet, even for someone as popular as Ranboo, things should go smoothly and there's nothing he should be worrying about, right? However, this is not the case.
Why does Ranboo hide his face?
When he rose to fame a couple of years back, people have been wondering why the YouTuber and Twitch streamer Ranboo always hide his face. Aside from protecting his anonymity, he struggles with facial dysmorphia, a mental condition wherein a person has a warped sense of his face.
Thankfully, though, recently Ranboo has been gaining enough confidence to show himself to the world. At the time of this writing, Ranboo is now frequently seen on his content without his sunglasses on, since doing an eye reveal last November 2021. Fans went crazy over this eye reveal video, and many have commented how proud they are of him to finally do so.
Who is Ranboo currently dating?
Aside from his face, fans are also curious about Ranboo's dating life. The 18-year-old hasn't revealed anything about his relationship status as of the time of this writing yet. Although he has been frequently seen with other streamers such as Tubbo and Aimsey on a number of his Instagram posts and videos, he's most likely just friends with them. As of the moment, we can assume Ranboo is currently single until he confirms otherwise.
RanbooLive Now
Ranboo is going ahead in his streaming career with full speed these days. In fact, he may be planning to move to the United Kingdom to meet with his fellow content creators who live in the country. Besides streaming, Ranboo is also doing charity live streams to help other people in need.
Games that RanbooLive Plays
Besides Minecraft, Ranboo plays a number of other video games, including:
Phasmophobia
Super Mario Party
Five Nights at Freddy's: Security Breach
Undertale
Fortnite
Resident Evil 2
Skywars
RanbooLive Net Worth – How They Made Money
Ranboo primarily makes money from his Twitch channel. However, he also has other sources of income streams, including his YouTube channel earnings, merch, and brand partnerships.
RanbooLive's net worth is estimated to be $2 to $2.5 million.
How Much Does RanbooLive Earn From Twitch?
Twitch streamers generally earn money in three ways: bits, subscriptions, and ads.
Although we can't give an estimate of how much Ranboo earns from ads, from subscriptions alone, he may be earning at least $75k per month. However, since he's a top-tier Twitch partner, that number could go up to $105k per month. And yet, that is still the minimum amount he earns from subscription because we've only taken into account his current active subscribers which is around 29,000 while assuming all of them subscribe at Tier 1. His Twitch channel's Tier 2 and Tier 3 membership costs $9.99 and $24.99 respectively. In this case, he is surely earning more from subscriptions.
Aside from his main channel, Ranboo also has an alt Twitch channel called ranboobutnot. It has around 804k followers and also has a subscription tier.
Aside from ads and member subscriptions, Ranboo also receives bits from his fans. He also has an external tip jar on Streamlabs where his fans can give him further financial support.
How Much Does RanbooLive Earn From YouTube?
According to Social Blade, Ranboo earns $235 to $3.8k per month or $2.8k to $45.2k per year on his main YouTube channel.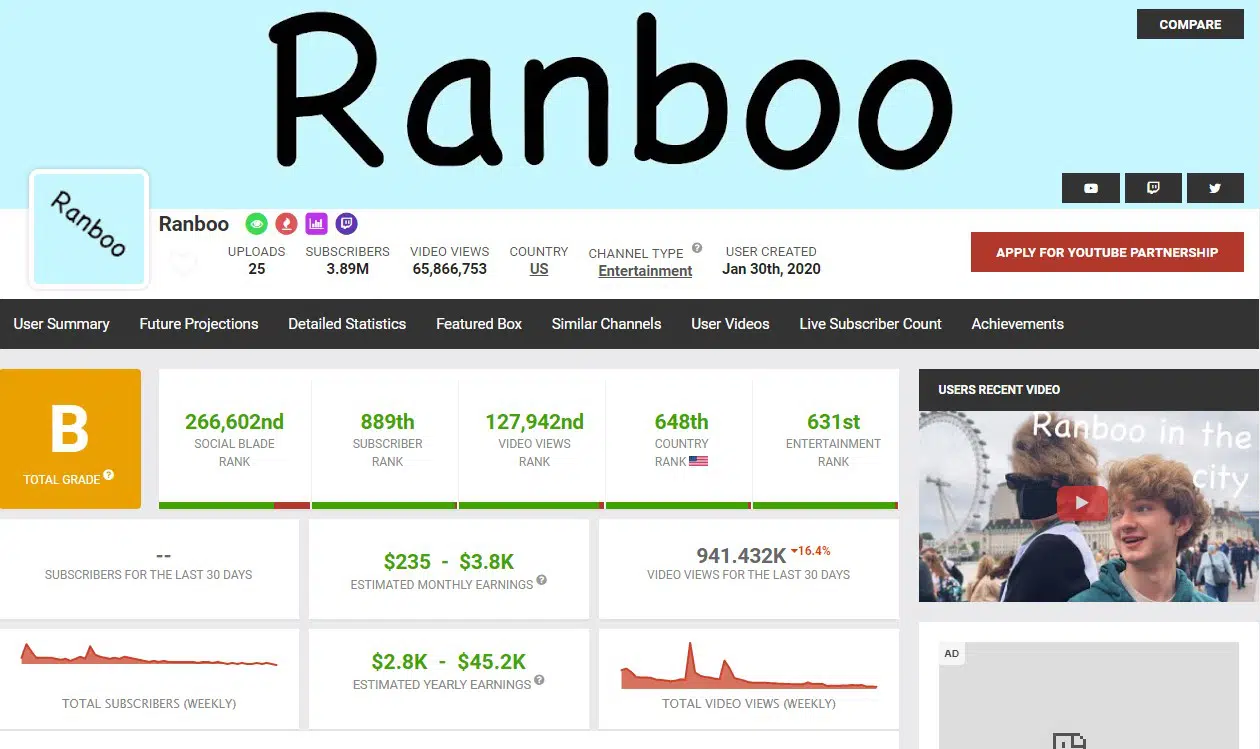 Ranboo has announced in 2021 that he will create a second YouTube channel, now named RanbooPlaysStuff. However, he hasn't uploaded anything yet on this channel.
Merch
Ranboo also sells a wide variety of merch across different stores and platforms. His items for sale include shirts, phone cases, posters, pillows, hoodies, and even Christmas snow globes. Although there's no telling how much he earns exactly from his merch, with such a dedicated fanbase and consistent branding (i.e., the black and white colors and crown), Ranboo is surely earning a decent income from it.
Who Sponsors RanbooLive?
There's not much info about the brands that sponsor Ranbo. However, he has partnered with some notable organizations and companies, including:
YouTooz – Ranboo sells some of his merch on the platform, including his very own toy figures.
Misfits Gaming – The eSports team has recently partnered with RanbooLive and Tubbo.
Conclusion
Ranboo has certainly captured the hearts of his fans around the world, many of which call him "King Ranboo". Besides that, he has met tons of streamers and content creators who became his friends.
Perhaps the takeaway in Ranboo's story is to be brave and confident. Like many of us, Ranboo faced many insecurities and uncertainties, yet he found the courage to face them. A lot of his fans are proud of him for finally taking his sunglasses off, which shows that he's becoming more comfortable showing his face. Of course, battling your fears isn't an easy task, yet Ranboo has proved that anyone can do it, one step at a time.