QuarterJade's net worth is becoming a hot topic recently. This popular Twitch Star is somehow making a noise in the gaming industry. Find out more about QuarterJade, boyfriend, body measurements, career, net worth, and many more!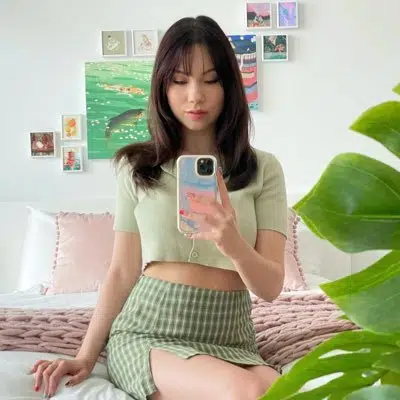 Who is QuarterJade?
QuarterJade is a popular female streamer. She may not be the most popular Twitch star but she's certainly making a name for herself in the gaming world. In just five years, she's able to create a successful streaming career and continues to do so.
Early Life
Jodi "QuarterJade" Lee was born on August 25, 1997. She is of half-Norwegian, half-Chinese descent who currently lives in LA. QuarterJade's age was only 19 when she began live streaming games on the Twitch platform. She studied Biology in college in preparation for pursuing a medical degree before she became a famous Twitch streamer.
Streaming Career
QuarterJade joined Twitch late in 2017. One can consider her story as a rags-to-riches example from having less than 1,000 views for over a year to suddenly becoming a social media star with massive popularity in the Twitch platform in just a couple of years. She surpassed the 1,000 average views per Twitch stream in 2019 and the 5,000 markers by the end of 2020.
Today, she is dubbed as one of the most successful female streamers alongside Pokimane, LilyPichu, and Valkyrae. With a trending and increasing network, QuarterJade might have what it takes to become the next richest Twitch Star.
QuarterJade also posts videos on her YouTube channel sporadically.
Hobbies & Other Things
QuarterJade is a self-proclaimed fitness freak. She loves to monitor her body and stay fit. She is also active in many social media platforms including Twitch, YouTube, Twitter, Discord, Reddit, and TikTok. She's also got an Instagram account with a decent fan base of 520K followers. With her fast-growing network, QuarterJade is indeed becoming a social media personality to be reckoned with.
Games that QuarterJade Plays
QuarterJade started out as a female streamer with PUBG. Then, she ventured into other online games as time went by. She also gained a lot of new friends in the gaming industry whom she was able to stream with. Here's a list of games that QuarterJade streams on her Twitch Channel:
VALORANT
League of Legends
Just Chatting
PUBG: Battlegrounds
Among Us
MineCraft
Call of Duty: Warzone
Apex Legends
On her recent streams, QuarterJade admitted she's becoming addicted to VALORANT.
QuarterJade Net Worth – How They Made Money
Just like other streamers, QuarterJade also earns through gaming, Twitch streaming, subscriptions, advertisements, and other external donations. Her sudden rise to stardom in the Purple Platform has her become the next Twitch star to watch out for.
How Much Money QuarterJade Makes From Twitch?
QuarterJade streamed her first video to her Twitch channel in October 2017. Even as a female gamer, she was able to garner more than 5,000 concurrent viewers in just a couple of years.
QuarterJade Twitch Channel
With an increasing flow of views, QuarterJade makes roughly around $17,000-$25,000 (subjectively) monthly income via Twitch streaming.
QuarterJade Twitch Tracker Stats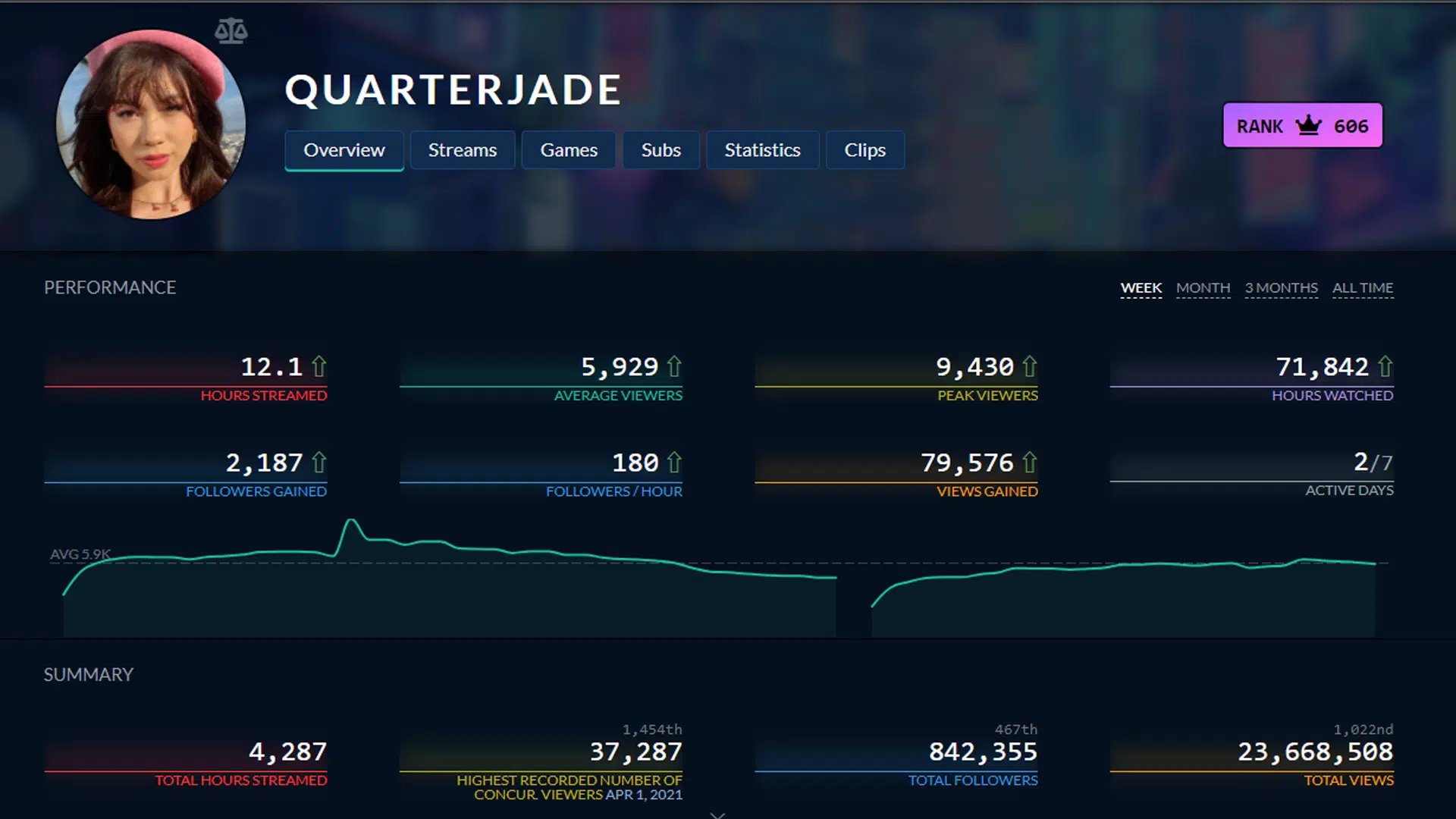 How Much Money QuarterJade Makes From YouTube?
Jodi Lee is also available on YouTube. She uses the platform to feature her gaming playthroughs, stream highlights, and other vlog content. She earns through views and advertisements.
QuarterJade's first video on her YouTube Channel was from March 2018 while playing PUBG. Over the years, her YouTube channel gained quite the popularity with more than 371K subscribers and over 42.4 million total views up to date. Her YouTube earnings can be estimated at around $12,000-$17,000 monthly with these figures.
With Twitch and YouTube combined, QuarterJade earns around $30,000-$35,000 a month.
Own Merch
Since Jodi gained fame and popularity, she recently announced on her Twitter account that she now has her own merch available at the QuarterJade Store.
Who Sponsors QuarterJade?
With the utilization of affiliate marketing, QuarterJade also earns through the Amazon Associates program. It's a commission-based income by clicking her affiliated links and purchasing products through the Amazon portal.
In some recent news, QuarterJade also signed with Offline TV as one of their newest members together with fellow streamers, Masayoshi and Sydeon.
FAQs About QuarterJade
What is QuarterJade's net worth in 2022?
It's still too early to get an accurate estimate on how much QuarterJade makes for the incoming years. However, based on how her channel is growing right now, it might be possible for her to reach the $0.5 million mark in less than 5 years. She would, most probably, make around $300-350K in 2022.
Who is QuarterJade dating now?
John "Masayoshi" Cable is also a famous streamer that runs his own commentary platform.
She has been romantically involved with Masayoshi after her previous dating history with Lannimal "Lan". QuarterJade previously said that she was never a huge fan of esports but became interested through the influence of her ex-boyfriend, Lan.
QuarterJade Height, Age, Body Measurements, Appearance, and Cup size?
Born on August 25, 1997, Jodi is now 24 years old. She has blonde hair, beautiful dark brown eyes, and her body measurements are at 33-26-38; her cup size is 32C. Jodi stands at 5 ft and 5 in.
QuarterJade net worth in five years?
QuarterJade started in 2017 with a little net worth of $30,000. In 2021, her net worth skyrocketed to $250,000. With a trend like this, it won't be surprised if she gets to $500,000 in no time.
Conclusion
Don't worry if you're still new in the gaming industry. Just like Jodi, it's still not too late to get the spotlight. Continue to work hard and, maybe one day, QuarterJade's success story might become the previous article, and yours the next.