Ph1lza, or Philza, is a famous YouTube star, Twitch streamer, and content creator. He mostly streams hardcore Minecraft world playthroughs on his YouTube channel and Twitch. Best known for his five-year-long run of playing Minecraft in hardcore mode and then dying due to a baby zombie, Ph1lza is now one of the biggest streamers both on Twitch and YouTube.
His fans aren't only captivated by his superb gaming skills and the majestic and breathtaking worlds he created on Minecraft. Add to that he is also one of the main players of Dream SMP server (a.k.a., the multiplayer Minecraft server of some of the biggest Twitch streamers). Ph1lza is indeed a star in the world of gaming.
He is even dubbed the "King of Minecraft Hardcore" by some.
Which makes anyone wonder: how much is Philza's net worth? And how much does he earn from his channels?
In this post, you will find out how much Philza's net worth and his career, plus other fun little tidbits you might want to know about this British content creator.
Who is Philza?
Ph1lza is a Twitch streamer and YouTube content creator. He skyrocketed into fame after the abrupt end of the 5-year run playthrough of his second Minecraft Hardcore Mode series, where he was put to perma death by a baby zombie. Currently, he is among the biggest Twitch streamers and part of the Dream SMP server.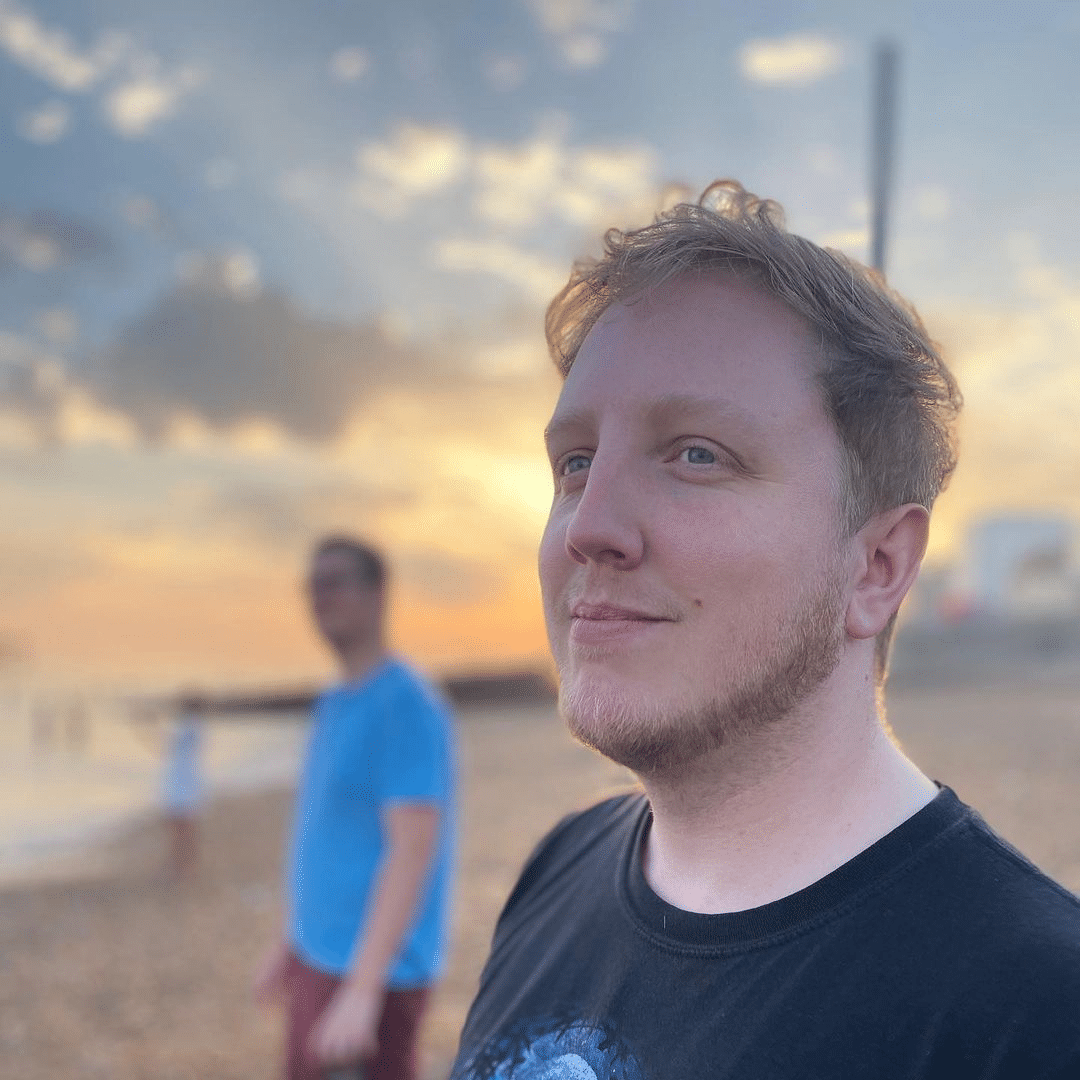 He is also one of the Sleepybois, Inc, which also features other famous YouTubers including TommyInnit, TechnoBlade, and Wilbur Soot. His canonical role in this content creator group eventually earned him the nickname "Dadza." Soon this nickname and his father figure role in the group spread over the fandom, and he has been called as such despite only being in his mid-30s. His wife, Kristin, also got affectionately called "Mumza" by the members and their community.
His friends and fans often make age jokes about him, particularly TommyInnit. A running gag about Ph1lza is that he is so old he practically invented Minecraft.
Early Years
As a child, Ph1lza was frequently bullied by other children. In his interview with Anthony Padilla, he recalled how some kids would push him to the ground and pull his hair. This, in turn, made him a little bit reluctant to make new friends, so he turned to video games.
According to Ph1lza, he gravitated towards playing video games because he liked the sense of control and self-mastery it brings. Although he used to be a great risk-taker as a kid, he soon realized he wasn't invincible.
These early realizations perhaps shaped him into becoming careful and diligent as he grew older, qualities that have probably helped him survive in the longest runs of Minecraft Hardcore playthroughs in history.
Minecraft Hardcore Series
Ph1lza's YouTube channel was created in 2006, and his earliest YouTube clip was "Ph1LzA Montage 4 PREVIEW". During the first few years of his content creation on YouTube, he made montages of various video games until he started uploading Minecraft Hardcore in 2012.
He was already a video game streamer even when Twitch was still Justin.tv. Many of his videos on YouTube are clips from his Twitch streams, which he continues to do today, in addition to uploading YouTube-exclusive content like vlogs.
Among all the modes of Minecraft, Phil only plays the hardcore mode, in which if the player dies even once, he cannot respawn, and that world will be gone forever. According to him, playing in hardcore mode makes everything even more "significant," as he knew he could lose everything in one moment.
When Philza streamed and played his first Minecraft Hardcore mode, he only lasted for a day, attributing his death in-game to "being unprepared" for the night. Then, he started a series of Minecraft Hardcore mode which lasted for over a year and only got shut down after his hard drive crashed. After which, he decided to return to Minecraft and started playing another Hardcore Mode series.
This time, though, Phil made it to 5 years. He was killed by a spider, assisted by a baby zombie and a skeleton.
Rapid Rise to Fame
This moment catapulted him into fame in leaps and bounds that he never expected. The thought of being killed by a baby zombie after many years of carefully navigating around a world full of more dangerous monsters and even defeating some of its biggest bosses was too funny and tragic to many.
The clip went viral, and before Philza knew it, he became the subject of many hilarious memes. He even made it to national television after being interviewed by the BBC and featured on Minecraft's official YouTube channel.

After that, Philza created a montage of his 5-year Minecraft Hardcore Mode series, which currently has 31 million views.
Whereas he only had a few thousand subscribers on YouTube and Twitch at that time, this event which he first considered to be a "failure," gained him more and more fans until he became one of the biggest Minecraft streamers in the world.
Ph1lza Now
When he became big on YouTube and Twitch, Ph1lza couldn't believe how much money he was earning. However, he initially hesitated to leave his day job as he knew streaming isn't stable. But after seeing that his earnings were enough to sustain them, he quit his job to stream full-time.
As soon as his success became apparent, Ph1lza started to help out his mother even more. He even paid their home's mortgage as a Christmas gift to his mother and kept it secret for a while to surprise her.
Through streaming, Ph1lza also met some good friends, notably TommyInnit, TechnoBlade, and Wilbur Soot. Together, these four created the Sleepybois.Inc, which would, later on, join the Dream SMP server, too.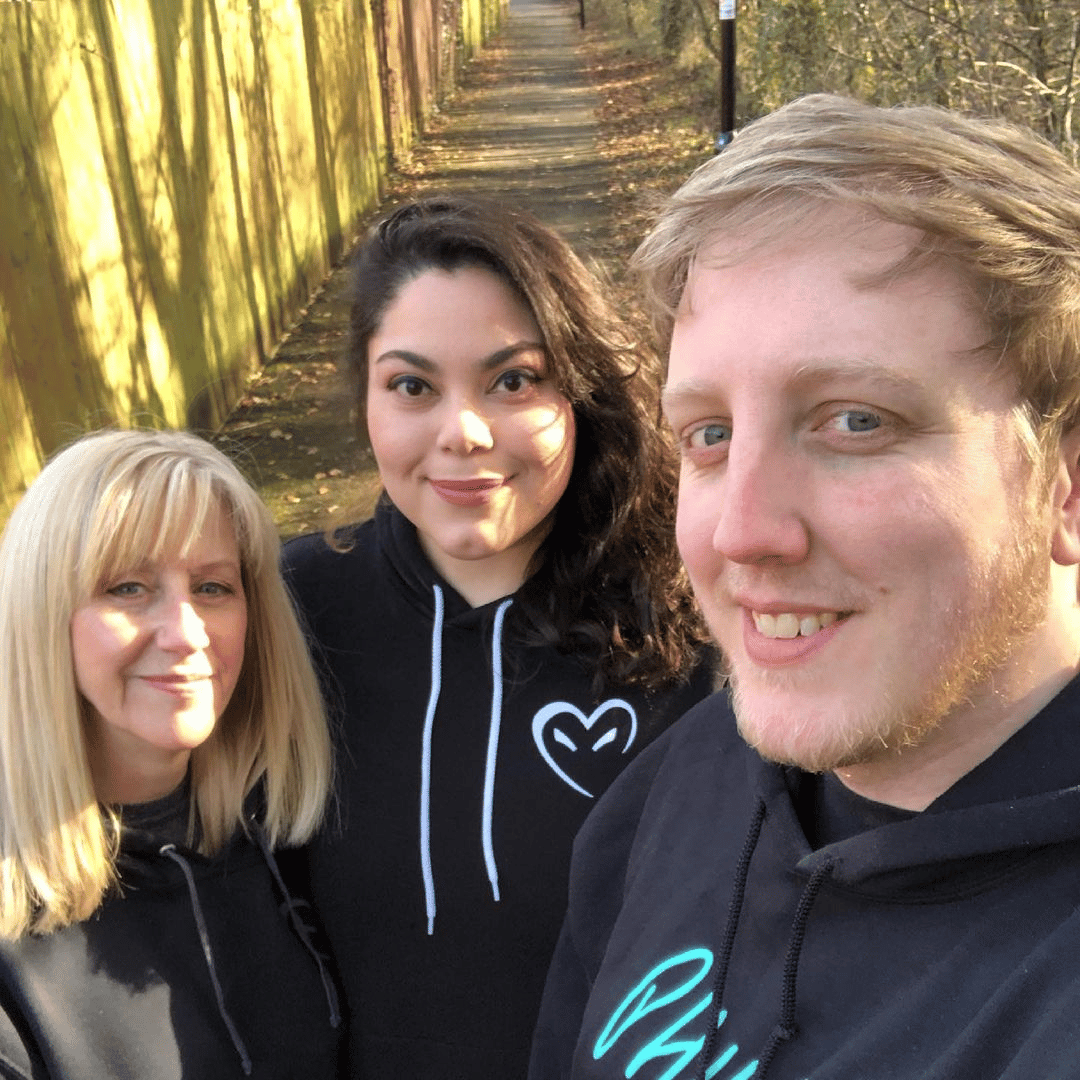 Philza also met his wife, Kristin Rosales, thanks to streaming. The lovely couple has been married since 2020.
The "Dadza" of the Sleepybois.Inc, DSMP, and the Minecraft fandom
We've already mentioned how Ph1lza is considered a father figure in the fandom. When asked about this, Philza is quite surprised that he would be considered a role model when he curses a lot. He even jokingly infers that perhaps he was called as such because he was older than most of the streamers.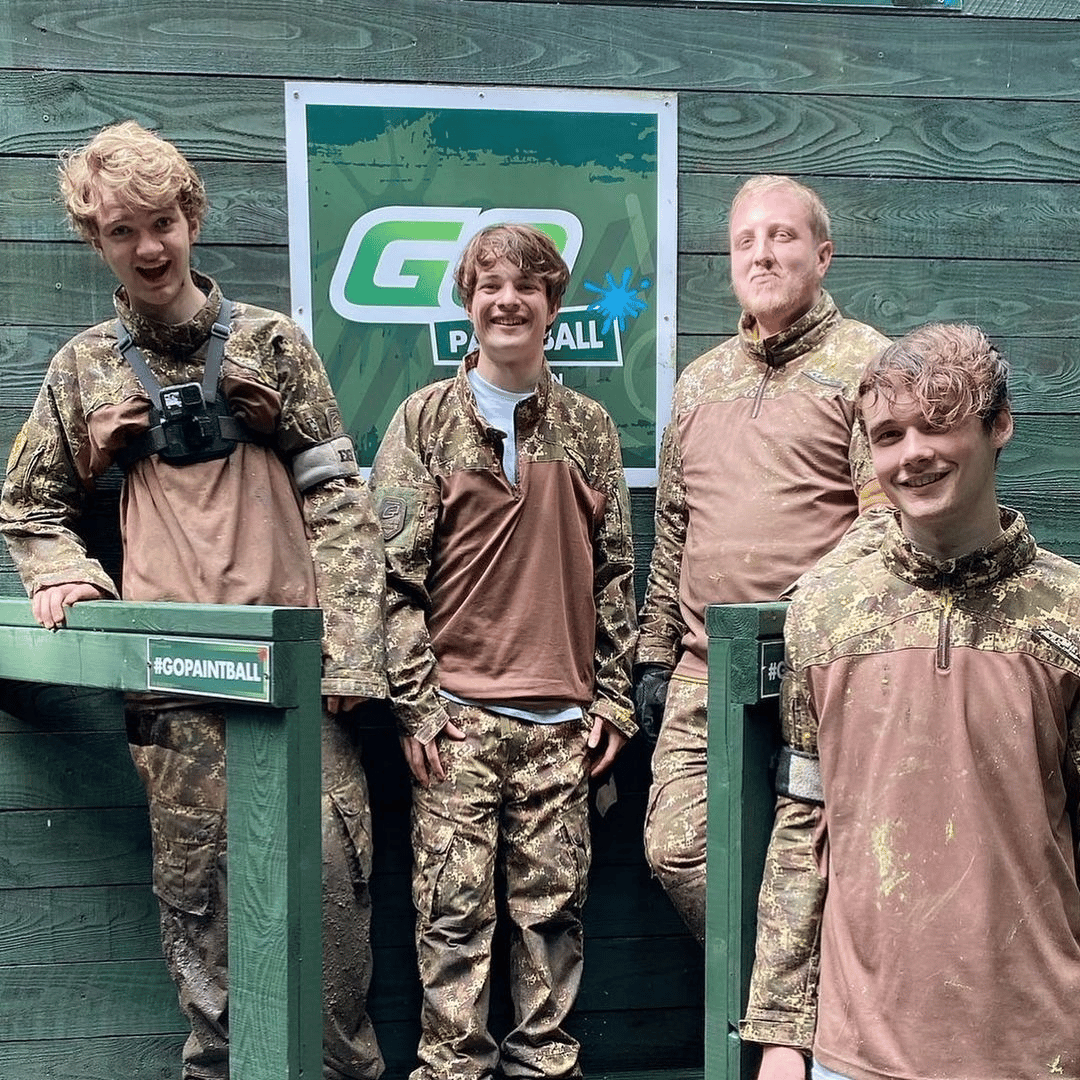 Nonetheless, he was pretty chill about it. He even said in one of his streams that he doesn't mind people calling him "Dadza" and reminds others who don't have a positive father figure role model in their lives that he would be there to help them through, even through online means, before joking that he won't "give them any pocket money, though."
Quick Q&A
Does Philza have a job?
Philza had a day job before at retail, but now he streams full-time on Twitch and YouTube.
How many years old is Philza?
As of February 2022, Philza is 34 years old. In March, he will turn 35.
Does Philza have a kid?
No, Philza doesn't have a kid of his own, although he is regularly referred to as "Dadza" and considered a father figure by his other streamer friends and his fans.
Games that Philza Plays
These are some of the games that Philza plays on his Twitch channels:
Minecraft
Rocket League
The Legend of Zelda: Breath of the Wild
GTA
PUBG
Monster Hunter
Fall Guys
Philza Net Worth – How They Made Money
Philza's main source of income is his YouTube and Twitch revenue. Aside from those, he also has several sponsorships to his name. He's also active on a number of other social networking platforms and is a renowned social media personality.
His estimated net worth is around $5 million. This is just our estimate based on a few factors I will explain below.
How Much Does Philza Earn From Twitch?
Philza is currently very active on Twitch and streams every other day on the platform. As such, we can assume he has quite a stable income flow from Twitch.
Twitch streamers mainly earn through ads, donations and bits, and subscriptions. While we can't say how much Philza earns through ads, we can estimate his minimum earnings on Twitch based on subs and donations.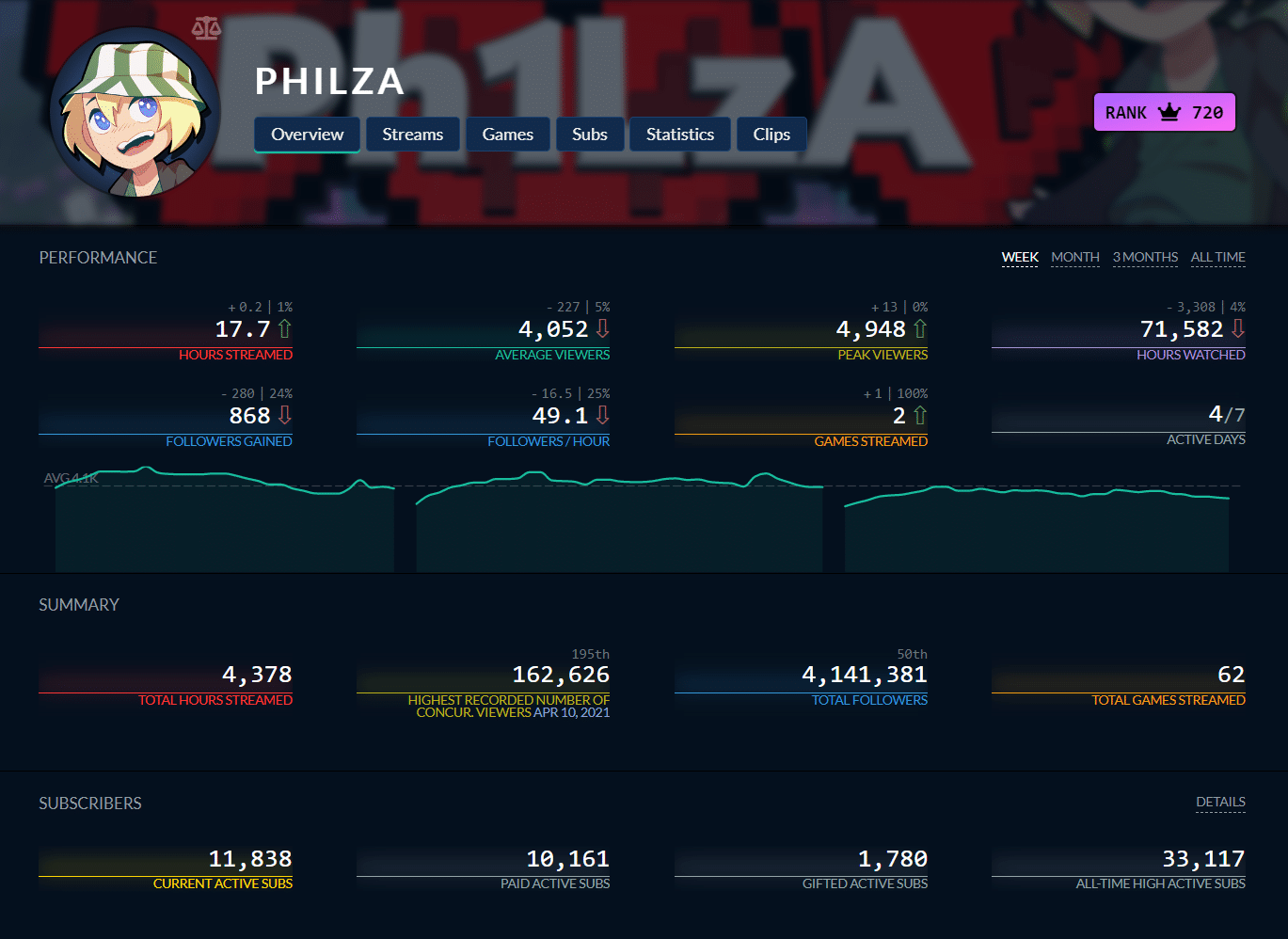 According to TwitchTracker, Philza has 11,838 active subs as of February 2022. Twitch takes half of a channel's earnings and gives the other half to the streamer. However, popular streamers like Philza may negotiate for a 70/30 split, meaning Philza takes home 70% of his channel's earnings. With this in mind, we can assume that Philza earns a minimum of $41,350.134 on subscriptions alone if all of his subscribers pay Tier 1 subscription, which is $4.99.
Of course, he could be earning more on subs since he surely has subscribers who pay Tier 2 and Tier 3, which cost $9.99 and $24.99, respectively.
Ph1lza also has a Streamelements page on his Twitch where his fans can give tips ranging from £5.55 and up. Many of his top donators £10 and above weekly.
With this, we can assume that Philza may earn anywhere from $40,000 to $60,000 on Twitch alone.
In the 2021 Twitch leak, Philza is ranked 47th among the highest-paid Twitch streamers, earning $1,364,215.61 from August 2019 to October 2021.
How Much Does Philza Earn From YouTube?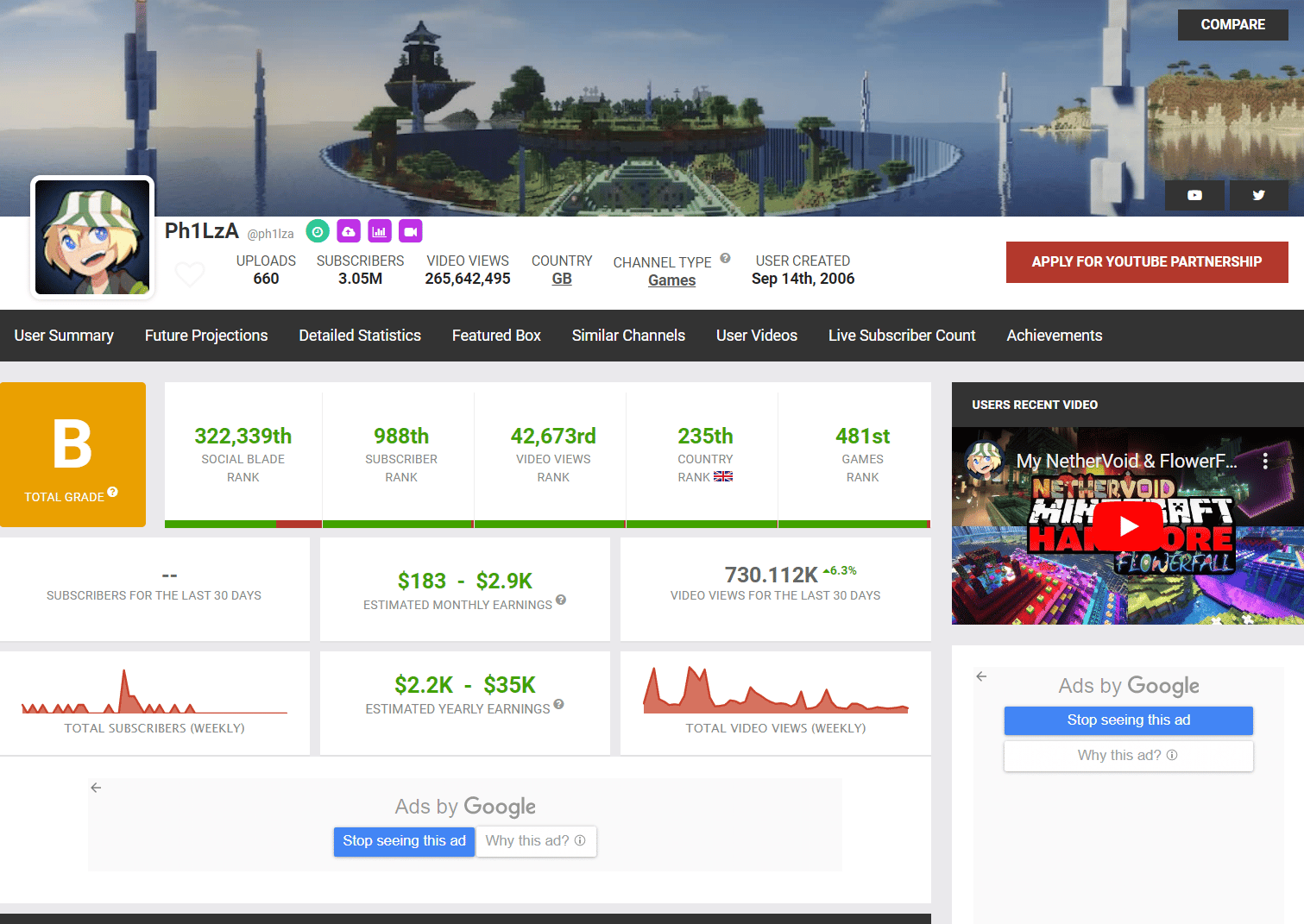 Ph1lza isn't as active on YouTube as on Twitch, but he still earns a decent income from the platform. According to Social Blade, his estimated monthly earnings are from $183 to $2.9k, or $2.2k to $35k annually. This may not include his monthly earnings from channel memberships, which start at $4.99. For YouTube, we're also only considering his main channel, Ph1lza.
His Ph1lzaCLIPS channel earns $154 to $2.5k monthly or $1.8k to $29.6k annually.
He could earn at least $337 to $5.4k monthly or $4k to $64.6 yearly.
Merch and YouTooz
Philza also has a merch store where he sells hoodies, tees, and shirts. Moreover, he has his own YouTooz plush collection.
Who Sponsors Philza?
Philza is also sponsored by brands, notably the following:
GamerSupps – GamerSupps is an energy supplement brand owned by the streamer Schlatt. It's one of the most recent brand partnerships of Philza.
Conclusion
Philza's story is just a testament that not all things we consider to be failures are bad. "Game Overs" doesn't necessarily equate to the end of one's journey, and most often than not, it could be the start of another, much bigger adventure. In Philza's case, the rather hilarious yet tragic perma-death he got due to a baby zombie and the loss of his 5-years of hard work paved the way to his success.
Even though he is one of the most successful and highest-paid streamers worldwide, Philza has continued to keep his feet on the ground. His humility genuinely earned him respect from his adoring fans, friends, family, and the gaming community as a whole.