Melina Goransson is a Twitch streamer and Instagram personality. She loves connecting with her fans on Twitch with her Just Chatting live streams. In addition, she's also growing her YouTube channel, where she posts her vlogs. This Swedish internet celebrity has an estimated net worth of $1 million.
Who is Melina?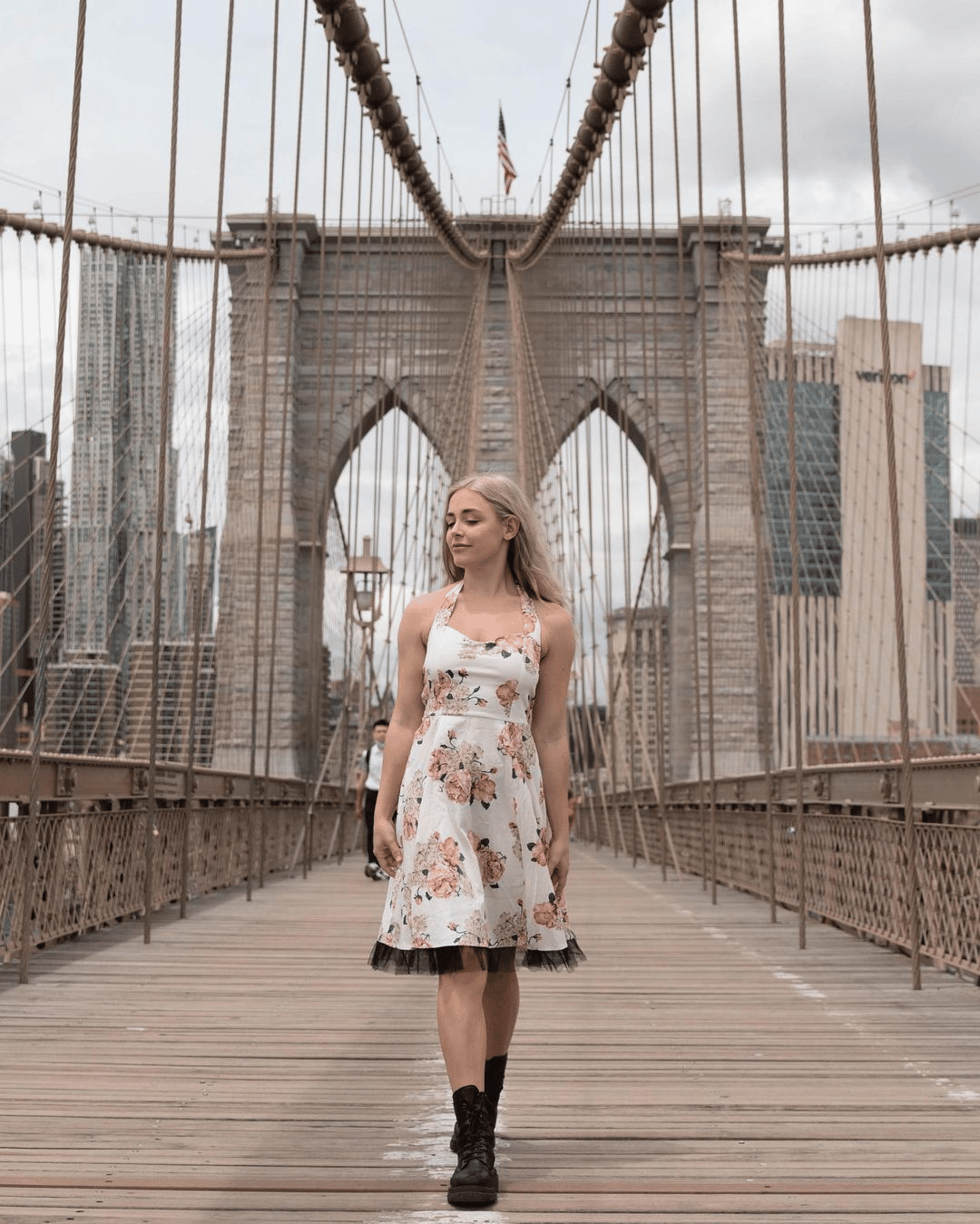 Melina Goransson started her social media journey on Instagram. This Swedish Instagram model is fond of traveling and loves to go on adventures. Her Instagram feed is full of lifestyle photos of her in different places she's been. Today, her main Instagram account has over 290,000 followers.
As an Instagram icon, she takes care of herself and has a well-maintained body. Because of this, many of her fans are curious about her vital stats. Her body measurements are 36-25-44. Furthermore, the blonde streamer stands at 165 cm (5'5″) and weighs 117 pounds (53kg).
Currently, she's a famous streamer with almost 900k followers on Twitch. Melina started streaming in mid-2019. She quickly established her presence on the popular streaming platform and is now beloved by her Twitch community.
Melina Goransson is married to Stephen Kenneth Bonnell II who is also a Twitch streamer. You probably know him as Destiny, his gamer tag. They have been married since 2021, and both continue to pursue their passions as content creators.
Melina's Twitch Content
Melina is well known for her Just Chatting content. She loves engaging and interacting with her fans, who are more than willing to reciprocate the love! Melina also streams IRL content, especially when she's out and about.
Social Media Presence
You can find Melina in the following social media platforms:
She also has 2 other Instagram accounts. One is @littlemelinaart; here, she posts her art. The other is @melly.meel, which appears to be her more private account. Moreover, you can even join her Discord server.
Melina Net Worth – How They Made Money
Melina's estimated net worth was $1 million in 2022. She makes money on Twitch, YouTube, and subscription-based platforms, namely Fansly, Fanhouse, and Patreon.
How Much Does Melina Earn From Twitch?
The bulk of what Melina makes on Twitch comes from subscriptions. On average, she has over 4000 subscribers per month. That would earn her over $14,000 from subs alone.
She also runs ads on her Twitch channel. With almost 4 million views in 4 weeks, she earns almost $8,000 monthly. And, of course, Twitch streamers also earn from donations. Melina can make $1,000 to $5,000 from donations monthly.
How Much Does Melina Earn From YouTube?
Melina's Youtube Channel is yet to take off. But with 42K subscribers, she still makes money on the platform. By running ads, Melina earns an average of $200 monthly.
How Much Does Melina Earn On Other Subscription-Based Platforms?
Melina's source of income is not limited to streaming revenue. As mentioned earlier, Melina has accounts on Fansly, Fanhouse, and Patreon. There are subscription-based platforms where users pay a premium to access content created by different personalities.
Her total income on these platforms is unknown, but here are the price ranges to subscribe to her content:
Fansly – $8 to $200
Fanhouse – $10
Patreon – $15 to $75
How much money she makes per platform would depend on her number of subscribers and the subscription tier they availed.
Who Sponsors Melina?
Melina is sponsored by AAX, which stands for Atom Assets Exchange. She is able to earn from sign-up made through her referral link. Apart from AAX, her other sponsors are unknown. But with her popularity and reach, she probably has several other sponsors.
Conclusion
Melina's career has come a long way since 2012. Today, her earnings come from live streams, pictures, and video content on different platforms. Catch her on Twitch or follow her on her social media accounts.