Karl Jacobs a.k.a. Karljacobs is a popular American social media star who's not only famous on Twitch but also on major social media platforms. His social media accounts are on YouTube, Instagram, Twitter, and TikTok of which he has millions of followers.
He has been known as one of MrBeast's crew members but is now making himself known in the social media world, not as a sidekick but a star that he truly deserves to be.
Excited to know more about Karl? Continue reading as we unfold interesting facts about him. Knowing this information would make his fans and followers feel closer to the internet celebrity who always entertains everyone. Are you one of them?
Who is Karljacobs?
Karl Jacobs is an American YouTuber and Twitch streamer who rose to fame thanks to his candid charms and with the help of MrBeast and Dream SMP.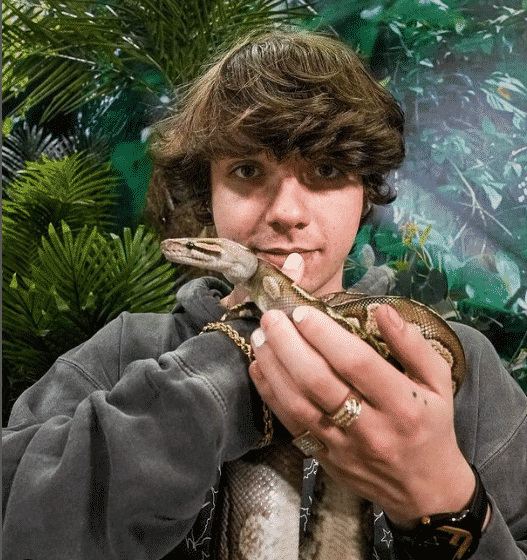 Personal information about Karl Jacobs
Karl Jacobs parents
His parents are very private, therefore there is no available information about his parent.
Karl Jacobs family
Although Karl's family steers away from the peering eyes of the public, he has two siblings: his sister named Corry, and a brother named Sean. There is no additional information about them, although he posted an Instagram photo with his brother Sean.
Before he attended Portland Community College, he lived with his parents and siblings in North Carolina.
Karl Jacobs age
Karl was born on July 19, 1998, so that makes him 23 years old.
Karl Jacobs height and weight
Karl stands at 5'11' in feet and inches; or 1.8 in meters; or 180.3 in centimeters in height and weighs about 120lb, or 55kg
Karl Jacobs educational background
He went to Fort Dorchester High School – a prestigious school in South Carolina, where he finished his high school education. Karl attended Portland Community College while working in Starlite Gaming as a salesman.
Is Karl Jacobs dating anyone?
Karl is currently not dating anyone. He mentioned that he wants to focus on his career this time.
YouTube
Karl Jacobs created his own YouTube channel: Karl in 2020, and has 3.6 million subs as of March 2022. Although he has his channel, Karl still often appears on some videos on Mr Beast's YouTube channel.
Twitch
Karl has been a Twitch streamer since 2017 under the username GamerBoyKarl, but now, he officially streams on his karljacobs Twitch account and became one of the most popular Twitch streamers today.
Trivia
Karl Jacobs has 3.9 million followers on his Instagram account: @karljacobs
Karl Jacobs is a TikTok star with 10.1 million followers and 101.3 million likes on his official TikTok account: @karljacobs
Karl Jacobs has 3.4 million followers on his Twitch account
As a member of the MrBeast crew, he was appointed as the cameraman
When did Karl join MrBeast?
Five weeks before his graduation from college, he dropped out and joined MrBeast (real name: Jimy Donaldson) and became a member of the Dream Team SMP, after one of the members dropped out.
To be able to appear on a MrBeast video as a huge fan was a dream come true for Karl, where he appeared on MrBro's 'Last to Leave Halloween Candy Wins 10,000' challenge (MrBeast's brother). After joining the team, he became a regular on Dream's Minecraft Manhunt videos as a member. However, before all that, he participated in a Minecraft Championship, although unfortunately, he did not win. But on the flip side, it opened an opportunity for him to meeting MrBeast which paved a way for his career.
Games that Karljacobs Plays
Karl Jacobs is an American gamer who mostly plays Minecraft and steams his game on Twitch.
Karljacobs Net Worth – How They Made Money
Karl Jacobs is mostly known as a YouTuber and Twitch streamer. Although he has different sources of income, his primary source of income is the ad revenue on his YouTube channel and streaming on Twitch. Karl still works for MrBeast often appears on his videos. He also has a commission selling his own merch, as well as MrBeast's.
From these sources of income, Karl Jacobs' estimated net worth is $800,000-$1 million.
How Much Does Karljacobs Earn From Twitch?
From streaming on Twitch alone, Karl Jacobs makes an estimated $65,000. Karl Jacobs makes about $60,000 on his monthly subscribers (supposed he makes $3.5 per subscriber). He has an average of 17 thousand subscribers a month. The other $5,000 (from the $60k) is from the advertisement on Twitch when he streams, therefore the $65,000 summation.
How Much Does Karljacobs Earn From YouTube?
According to Social Blade, Karl Jacobs has an average of 7.6 million views per month on his YouTube channel. Assuming a $3 CPM, he makes an estimated $22,000 on YouTube alone on ad revenue.
Does Karljacobs have other sources of income?
Karl Jacobs is still a member of the Dream Team and still works for MrBeast, so he still earns from those. He commissions on MrBeast's merch as well, him being a crew member of MrBeast. He also earns an amount on his other social media accounts.
Collectively, Karl Jacobs' net worth is estimated at around $800,000-$1 million.
Who Sponsors Karljacobs?
For a famous person as Karl Jacobs, for sure he has sponsors and endorsements, although unfortunately there are no available sources for his immediate sponsors.
Conclusion
Karl Jacobs is reaching his dreams in life, and for sure there will be more milestones in his internet career in the future. But for now, we hope you learned a lot about Karl Jacobs from us.