There's no denying that comedy and gaming are among the biggest niches on YouTube. Nowadays, these two categories almost go hand-in-hand and are considered peak entertainment by many. Videos they can watch after a long day of hard work, and videos that teach them something new or interesting about the video games they love are the kind of content that people look for. And people are always hungry for more.
Thus, being great at even one of these niches will probably attract a lot of subscribers to your channel right away, right? Well, how about being brilliant at both? That's what Jacksepticeye became known to be: a master gamer on one side, and a hilarious commentator-slash-vlogger on the other. Who is Jacksepticeye? What was his life like before he became a top YouTuber? And how much is his net worth? We'll answer all of that and more in this article about Jacksepticeye.
Who is JackSepticEye?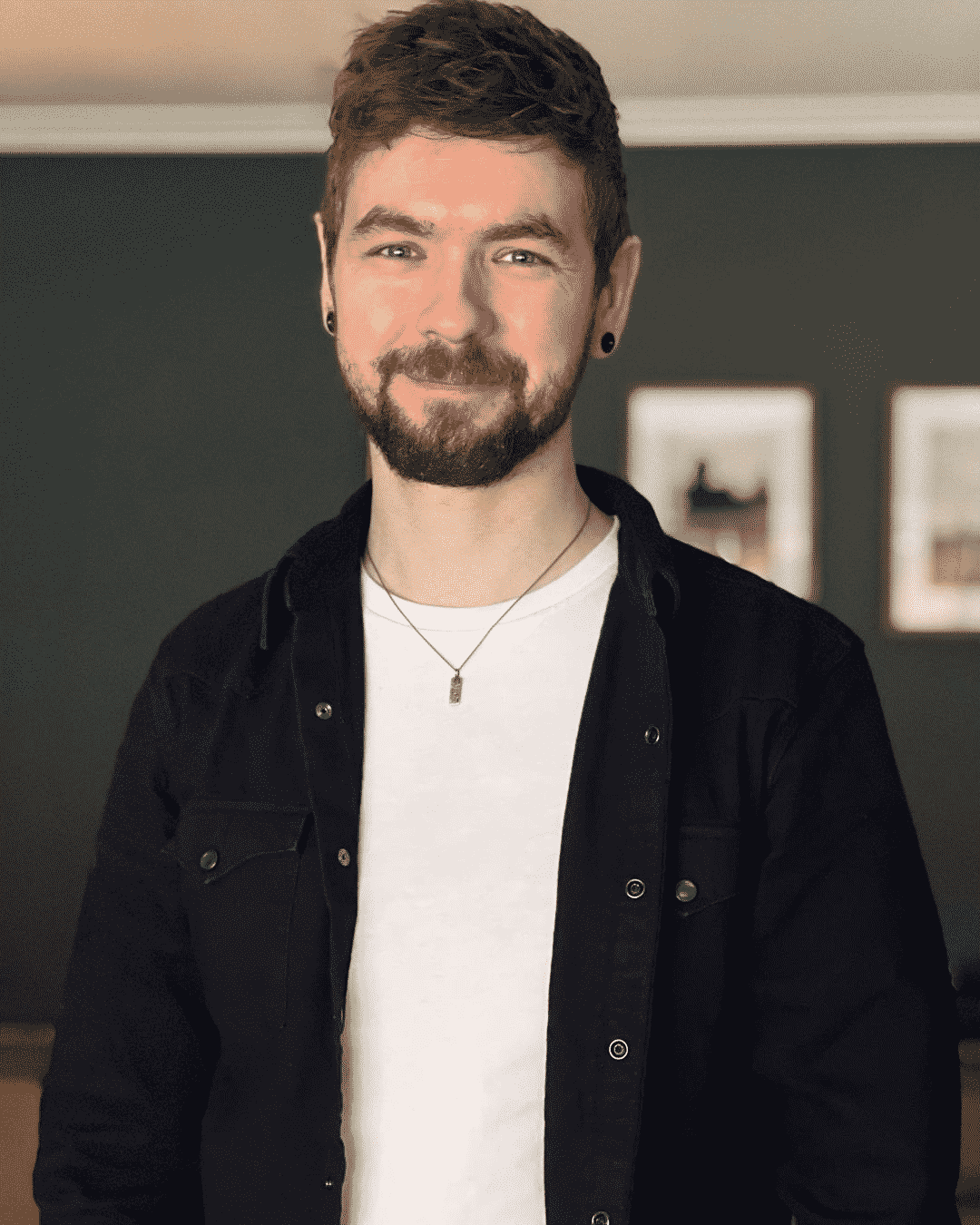 Anyone who's been a fan of YouTube gaming for some time surely has heard or maybe even started following Jacksepticeye. His YouTube channel and name are almost impossible to miss, being one of the most followed gamer-streamer in the world right now with 28.1 million subscribers on YouTube and 2.8 million followers on Twitch.
In fact, he has the most subscribed Irish channel and has been recognized by JCI (Junior Chamber International) Ireland in their 2021 "Ten Outstanding Young Persons" for his Cultural achievement.
His followers love him because he puts a comedic spin on his video game streams and playthroughs. Jack describes himself as the "most energetic video game commentator", and it shows. In every video, Jack would greet his viewers with, "Top of the morning to you, laddies!", an Irish-associated expression that would soon become his famous catchphrase.
But how did Jacksepticeye–well, became the Jacksepticeye people know today?
Family and Early Years
Sean William McLoughlin was born to John and Florrie McLoughlin. He is the youngest of five children. Jack loved to play video games since he was seven–a childhood interest that would, later on, become his career and propelled him to internet stardom.
He recounted he would also watch "Let's play" videos whenever he ran into difficulty while playing games. This would become instrumental for McLoughlin to decide later on, that he too, would want to do something similar.
Later on, he took up sound engineering as a degree at Limerick Institute of Technology, but he later discontinued his study. Although he left Limerick in his third year, he became part of a melodic death metal-influenced metalcore band called Raised to the Ground, during his time in the institute. In 2014, he moved to Athlone, Ireland where he studied hotel management and earned a degree in arts.
Rise to Popularity
Jacksepticeye's YouTube channel was created in 2007. However, it was not until 2012 that he began uploading videos. McLoughlin's interest in gaming, video editing, and arts became instrumental for him to launch his YouTube channel.
Although McLoughlin's YouTube channel had somewhat of a slow start, he is extremely dedicated and persevering in doing what he loved. He would upload two videos a day, which is quite unheard of for other YouTubers, especially for those who are still new to the platform like him at that time. However, it seemed that he really loved and was so devoted to what he does that he kept going on, and finally reached 2,500 subscribers a year later after he started.
However, things changed for Jack when PewDiePie, already an established and quite a well-known YouTube streamer at that time mentioned him in one of his videos somewhere in 2013. His subscribers quickly rose to 14,000 in just four days and continued to grow exponentially since then.
YouTube audiences were charmed by his energetic personality and sense of humor. He usually includes witty comments during his stream, which delighted his followers and made them keep coming back for more. Within a few years, he became one of the top YouTubers in the gaming niche and his alias "Jacksepticeye" became widely recognized on the internet.
How "Jacksepticeye" came to be
According to McLoughlin, his YouTube channel name was actually the moniker people gave him when he got into an accident during a football match. In that particular accident, his eye received a laceration, or what others dubbed as having a "septic eye". Combined with his nickname "Jack", he became known as Jacksepticeye.
Jacksepticeye Now
Sean William McLoughlin enjoys great popularity these days. Since he became a well-known YouTuber, opportunities have come streaming into his way. McLoughlin toured around the world to meet his eager fans. Except for that, he has even appeared in movies and has been featured in several games. He also signed a contract under Disney's Digital Network in 2017.
Despite his massive success, Jacksepticeye wasn't complacent about his popularity and continued to venture into other fields. In 2018, he partnered with Markiplier to found CLOAK, a clothing brand for gamers, and just recently, he launched Top of the Mornin' Coffee.
Jacksepticeye is also known for being a generous philanthropist. Aside from donating part of his revenue to charity, he has raised millions for them.
Jacksepticeye is currently dating Evelien "Gab" Smolders, who's also a well-known YouTuber and video game streamer. The couple has been dating since 2019.
Games that JackSepticEye Plays
Unlike other streamers, Jacksepticeye has a wider portfolio when it comes to the games he plays. In his streams, he has been seen playing anything from simulation games to high-fantasy RPGs, whether it be made by an indie developer or a big-name corporation. However, he is most noted for playing horror games. Some of the video games he played are:
Bloodborne
Subnautica
Shadow of Colossus
Among Us
Uncharted
Totally Accurate Battle Simulator
Game Dev Tycoon
Five Nights at Freddy's
Resident Evil
Minecraft
JackSepticEye Net Worth – How They Made Money
As one of the most prolific YouTubers in history, Jack makes a comfortable living from doing what he loves. In 2019, Forbes named him as one of the highest-earning YouTube and Twitch streamers. They estimated McLoughlin's channel to be at $11 million at that time.
With his Twitch and YouTube career staying strong throughout the years, he also has his business ventures, sponsors, and even movie and game appearances added to his yearly estimated revenue.
At this point, you might be itching to know what is Jacksepticeye's net worth and how much does he now earns annually?
We estimated that Jacksepticeye net worth must be around $25 million.
How Much Does JackSepticEye Earn From Twitch?
Twitch streamers earn from ads on their streams, subscriptions, donations, and sponsorships. Top streamers reportedly earn up to ¢3 per viewer in their live streams.

As for Jacksepticeye, he is likely earning from all those sources. From ads alone, he might have earned $300k to $460k since he started streaming on the platform. He's also getting paid for member subscriptions, which can cost as low as $4.99 per month.
How Much Does JackSepticEye Earn From YouTube?
Jack's largest audience is on YouTube, where he has more than 28 million subscribers as of 2022. His 4,900 videos have accumulated over 15 billion views. Being one of the highest-paid YouTubers in recent years, Jack benefits from YouTube ads and even from YouTube Red subscribers, or what's now known as YouTube Premium.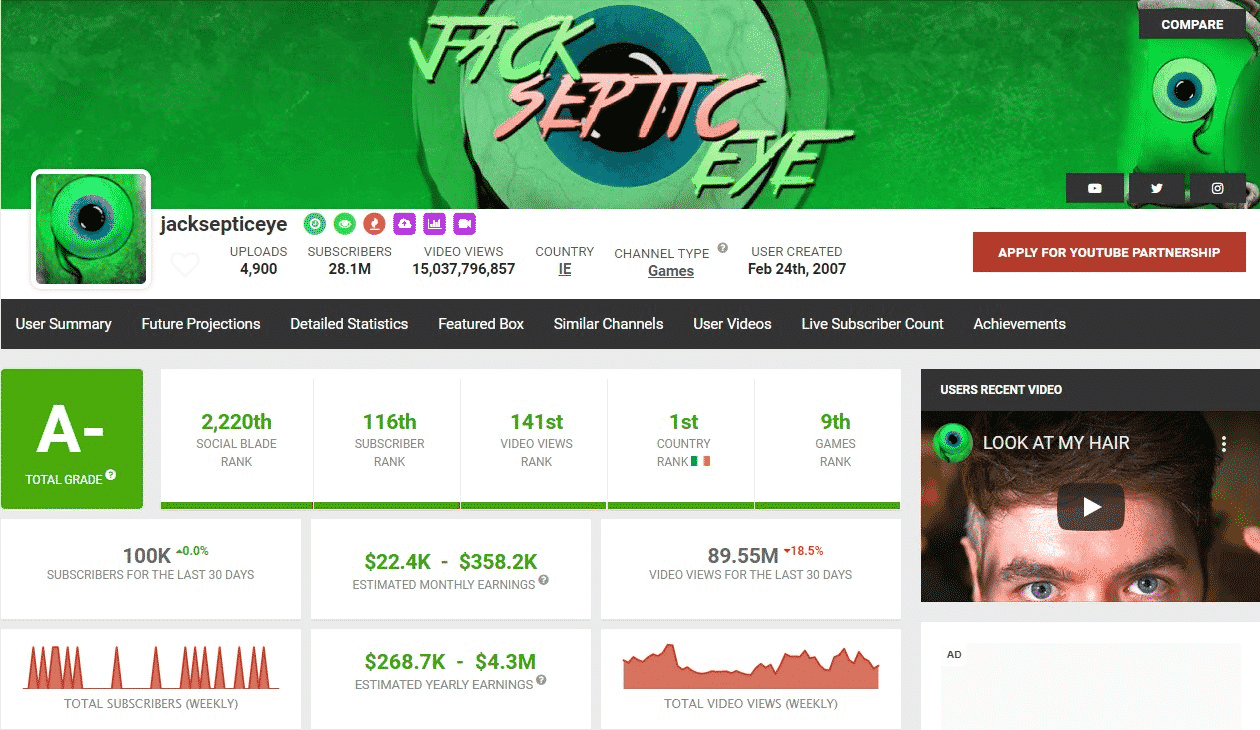 According to this data published by Social Blade, Jacksepticeye is earning $22.4K to $358.2K per month and up to $4.3 million per year.
How Much Does JackSepticEye earn from his various endeavors?
Well, we cannot know for sure how much Jack earns from his various endeavours, but we're sure it now significantly contributes to his estimated net worth.
CLOAK
CLOAK, the clothing line he started with Markiplier in 2018 seems to be booming. Now, they even added Pokimane as one of their partners, so we're quite sure CLOAK will be here for a long time.
Top of the Mornin' Coffee
He also seems to be doing great with the coffee company he launched, Top of the Mornin' Coffee. Always a committed philanthropist, Jacksepticeye made his company Top of the Mornin' Coffee partner with Feya Foundation. It donates one meal to the for every order they get from clients.
Games and Movies
Jack has been featured in several games and even became a playable character in some of them. In the 2021 action-comedy film, Free Guy, Jack had a cameo appearance as himself along with other notable streamers such as Ninja and Pokimane.
Who Sponsors JackSepticEye?
Some of Jacksepticeye's notable partnerships and sponsors are the following:
Brands and Companies
Disney's Digital Network – McLoughlin has signed a contract with them in 2017 and has been with them since then.
Celebrities and Fellow YouTubers
Jacksepticeye is known to have collaborated or worked with the following big-name YouTubers and Hollywood celebrities, including:
PewDiePie
Markiplier
Pokimane
Ryan Reynolds
Tom Holland
Conclusion
Jacksepticeye is a testament that commitment to your craft and perseverance will take you far. He believes that hard work can help you accomplish anything, and it shows in his achievements.
Surely, a guy like him with millions in his net worth would use the money to buy stuff that regular folks couldn't, right? But instead, he gives part of his earnings and service back by raising funds and donating to charity.
His sense of humor and skills might have propelled him to the top. However, what probably made him stay there up until now was his admirable enthusiasm, dedication, and generosity; which are probably the most important things of all.