Some streamers are known for playing a wide variety of games, while others have devoted hundreds of hours mastering the one they love the most. This intense dedication to gaming and creating good content is probably one of the reasons why they became successful. One of the most notable gamers who became famous for playing Minecraft in recent years was GeorgeNotFound or George Henry Davidson in real life.
Who is GeorgeNotFound?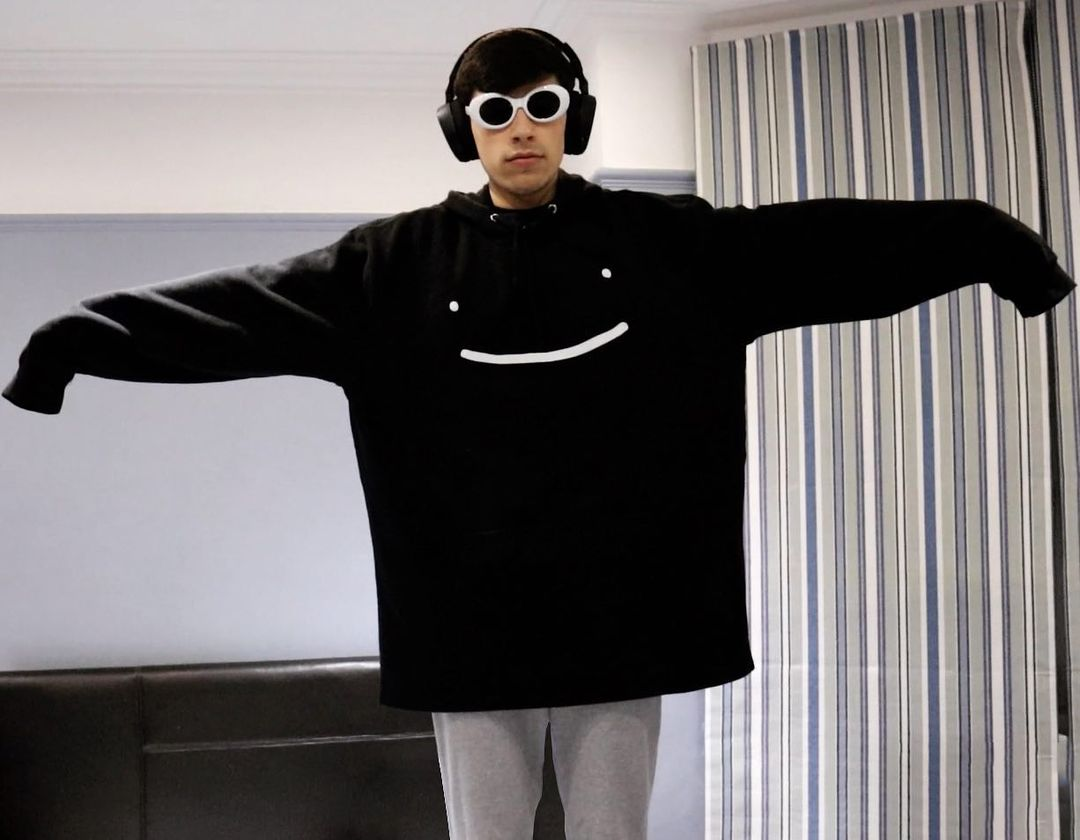 George Davidson, more popularly known as GeorgeNotFound, is one of the most popular Minecraft streamers and YouTubers today, with more than 10.1 million subscribers on YouTube and 4.8 million followers on Twitch. It's quite an impressive number, considering he only started uploading content sometime in 2019.
George is part of the Dream SMP Minecraft server, along with Dream, Sapnap, and BadBoyHalo. GeorgeNotFound's streams and content are mainly Minecraft-related videos. On his main YouTube channel, most of the videos you'll see have titles that usually start with "Minecraft, but…".
Besides GeorgeNotFound, he has several YouTube channels, including GeorgeWasFound, NotGeorgeNotFound, GeorgeNotFound Streams, and GeorgeNotFound Shorts. He also has a vlog channel that he simply called "George". However, there are no videos available to be viewed on this channel at the moment.
Personal Life
Not much is known about GeorgeNotFound's personal life, except that he was born and raised in England, United Kingdom. George doesn't talk much about his family during live streams. But perhaps it's also due to the fact that George is relatively new to fame, and not much information about him has been revealed yet.
Well, unlike other YouTubers, most of his videos were mainly focused on or at least related to gaming. So far, he hasn't uploaded any video that blogs about his personal life. However, with George's YouTube career steadily growing (and he now has a channel specifically dedicated to vlogs), that may change soon and he may start uploading more videos with topics outside gaming.
In one video he uploaded n 2020, George revealed that he is color blind; more specifically, of the Protan type. People with Protan color blindness have difficulty differentiating red and green, as well as their eyes are less sensitive to the color red.
In the said video, Dream was helping George distinguish the colors while playing around in their private server. He also tried wearing color blind glasses, which helped him see more colors vividly. Needless to say, George was amazed to tell colors apart, as he usually had a hard time differentiating colors. It's quite impressive that he's able to play Minecraft so well despite being color blind.
Who is GeorgeNotFound Girlfriend?
Though many fans are curious to know who is George dating now, so far, the streamer has been tight-lipped about this aspect of his life. There are also many speculations and guesswork about George's relationship, but he hasn't confirmed anything yet as of the moment.
Is GeorgeNotFound and Dream Dating?
Many of GeorgeNotFound and Dream's fans ship these two, given how close they are to each other. Although they seem to make jokes about it while streaming, there is no confirmation about their respective relationships. However, George has uploaded a clip of him jokingly "friend-zoning" Dream, to which the latter responded with a rather "violent" reaction. Whether they're just playing around or there was actually some truth in it, only they have the answer to that.
Where does GeorgeNotFound live now?
In early 2022, the Dream Team announced that they will be living together under one roof called the "Dream Team house". Dream, Sapnap, and George plan to live together in this house for the next five years.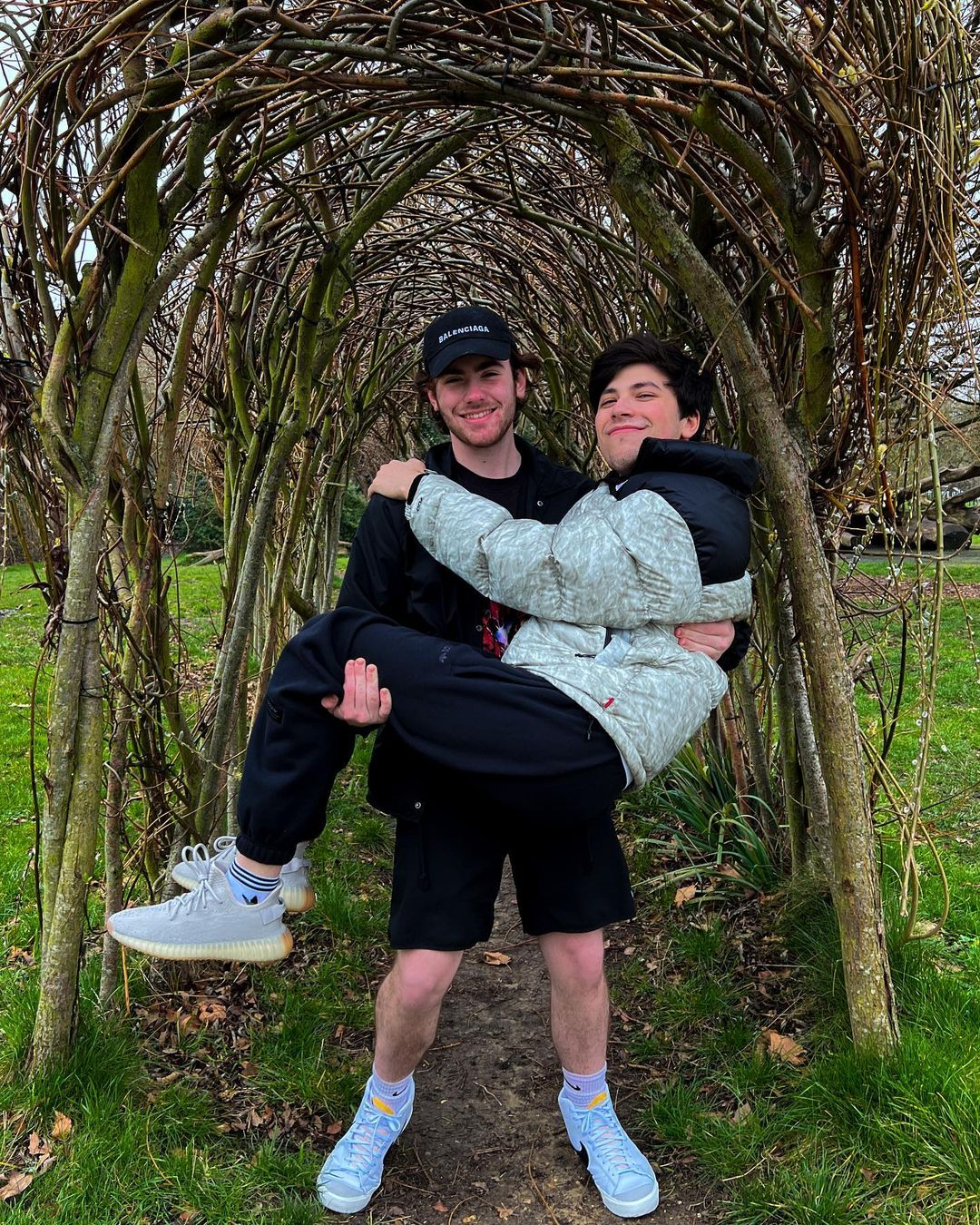 YouTube Career
George was deeply interested in computers and coding, even before his YouTube days. He took up Computer Science in college.
While at the university, he played Minecraft during his spare time and then, later on, became a coder in the MunchyMC Minecraft server. It was on this server where he met Dream, and the two became friends.
Dream would, later on, invite George to the Dream SMP server where he and their other YouTuber friends played Minecraft. Because he was constantly being featured on their channels, he went on to create GeorgeNotFound. Back then, he was a Twitch streamer, and he got the name idea from Dream when the latter told him he couldn't find his username, which was GeorgeeHDPlays. It was inspired by the error page "Error 404 not found", plus his name, hence the GeorgeNotFound username was born.
George is currently one of the most famous Minecraft gamers on Twitch and YouTube. Although he doesn't put up a high volume of content as frequently as other streamers, he produces quality videos every time. In this regard, you could say that he's more interested in quality over quantity.
Games that GeorgeNotFound Plays
George primarily streams Minecraft. However, he has also played other video games, including:
Among Us
The Jackbox Party Pack
Fall Guys: Ultimate Knockout
Phasmophobia
Crab Game
GeorgeNotFound Net Worth – How They Made Money
Now, you may be wondering how much money GeorgeNotFound earns and where does he usually get his revenue? As of the moment, we can assume George's main source of income is his Twitch and YouTube channels. Besides that, he also has a merch store.
As for his estimated net worth, he may be worth at least $2.5 million. Let's break down first how much money GeorgeNotFound gets from his ventures.
How Much Does GeorgeNotFound Earn From Twitch?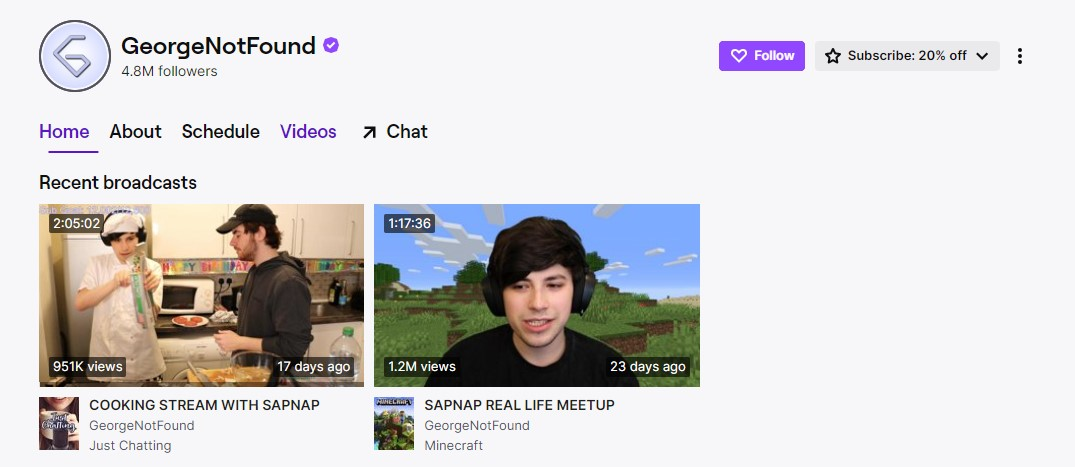 GeorgeNotFound is a popular Twitch streamer and a partner of the platform. That being said, he is likely to earn from ads, donations or bits, and subscriptions.
We can't estimate how much he earns from ads and bits. However, according to Twitchtracker, George has 10,668 active subscriptions as of March 2022. Members pay $4.99 monthly, so in this regard, the channel is earning $53,233. Twitch takes half of that, so George possibly earns $26,617 from the platform alone.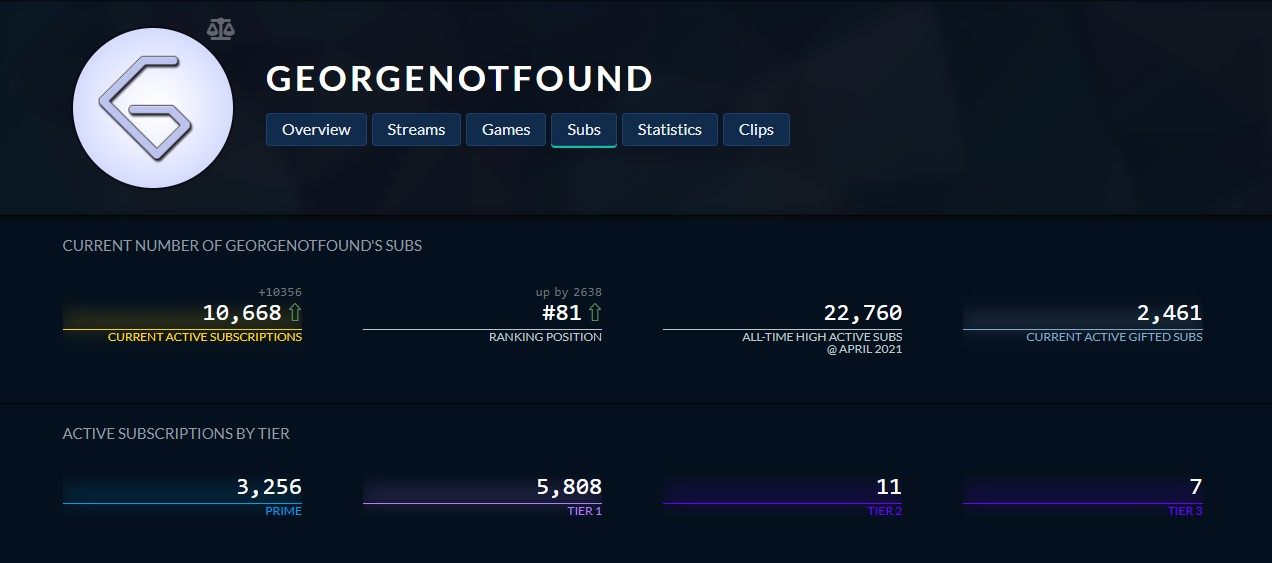 How Much Does GeorgeNotFound Earn From YouTube?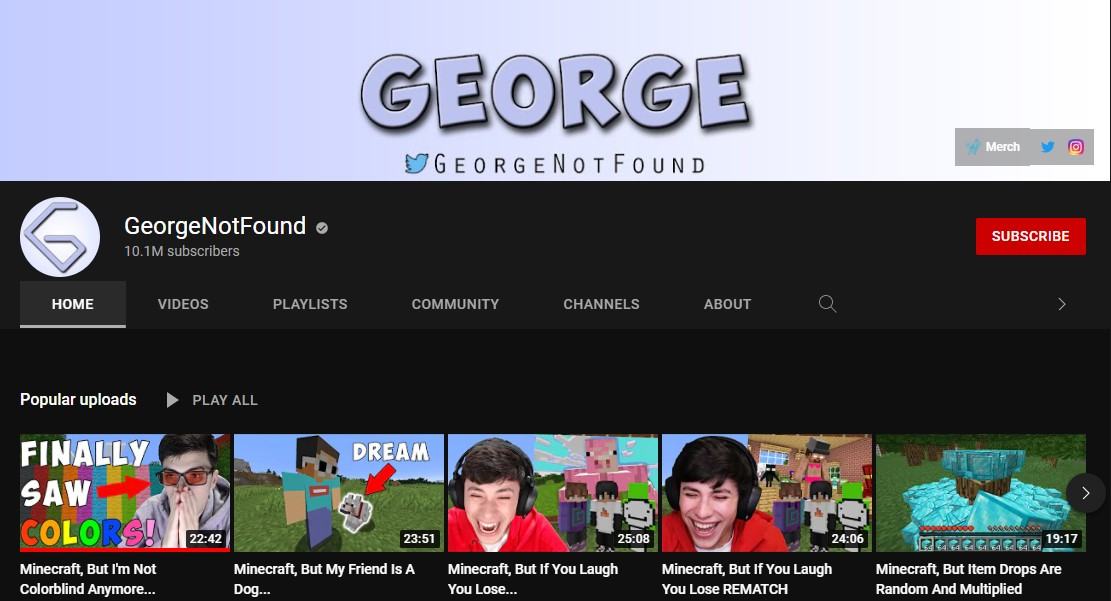 According to Social Blade's data, George's YouTube channel, GeorgeNotFound earns roughly $2.1k to $34.3k per month or $25.7k to $411.1k per year. In addition to his primary YouTube channel, he has other channels as well also that contribute to his overall earnings.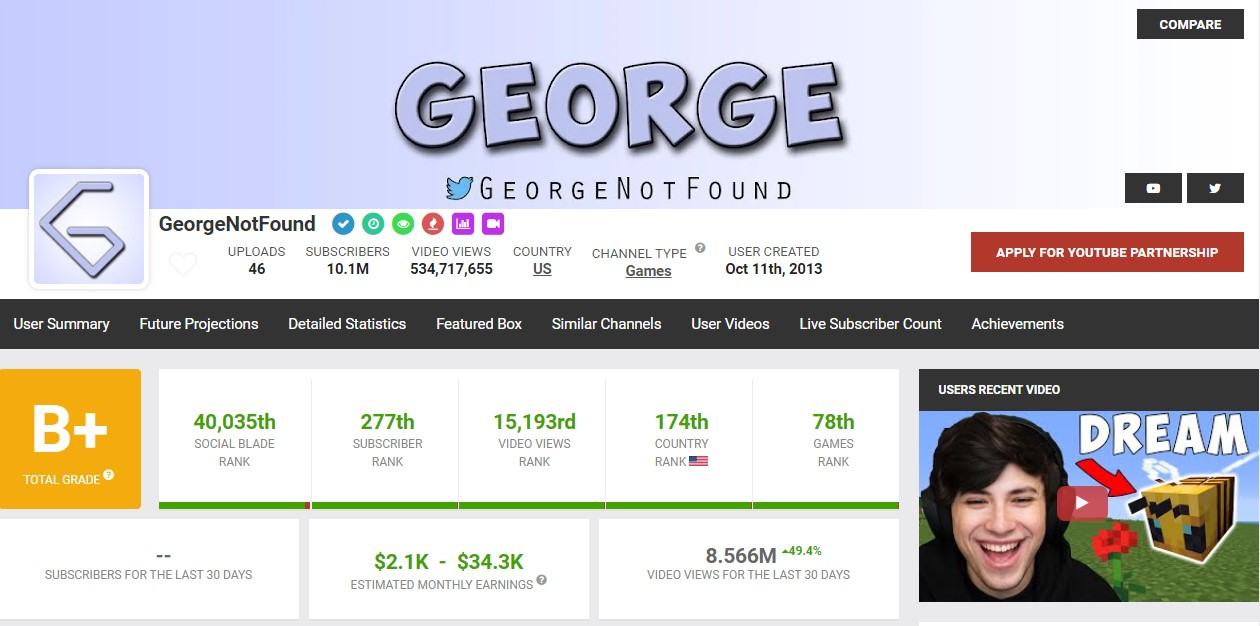 If this is the case, it's possible that GeorgeNotFound's net worth may be greater than $2.5 million. If his career continues to grow as steadily as it had in the past few years, there's no doubt that he will be reaching $5 million or even more soon.
GeorgeNotFound.shop
George has a merch store where he sells hoodies, shirts, headwear, and drinkware. With a massive fanbase that continuously supports him, it's safe to say he earns a decent amount of money from this venture as well.
Who Sponsors GeorgeNotFound?
As of the moment, there's no brand or company that sponsors GeorgeNotfFound. However, with his career on the rise, that may be bound to change soon.
Conclusion
Streaming video games has made many people famous. In GeorgeNotFound's case, not only did he stumbled upon fame and fortune, but he also found great friends along the way. While he is known to dedicate his time and effort to Minecraft, he became successful at it and got recognized as one of the most prominent members of Dream SMP. Perhaps at the end of the day, gaming is, after all, best enjoyed when you have someone to share the laughter, victories, and frustrations with.