Famous American YouTuber and social media influencer, Benjamin Lupo, has made the list of the millionaire-streamers on the internet. His fun and loving personality with his superb gaming skills led him to become a household in the gaming industry. Find out about DrLupo: net worth, age, personal life, streaming career, setup, sponsors, and more in this article.
Who is DrLupo?

Early Life
DrLupo's real name is Benjamin Lupo. He was born on March 20, 1987 at Omaha, Nebraska US. He loves to play video games since young and enjoyed them even until when he grew up. He was a systems engineer at a certain insurance company before he became a full time content creator slash gamer and streamer online.
Gaming Career
Apart from being a popular streamer, DrLupo is also a professional player. Before he started streaming full-time on the Twitch platform, He was captain of the eSports organization called 'Rogue'.
DrLupo is also close friends with famous streamers Tyler 'Ninja' Blevins and TimTheTatman, whom he's had a lot of collaborations with in many of his streams. In fact, one of his most watched YouTube videos is entitled "Fortnite – 'Hi Ninja!' ft. My Son" and has garnered a whopping 16 million views.
Streaming Career
DrLupo began streaming on Twitch in 2013 as a leisure whenever he's bored. When battle royale games like H1Z1 and Fortnite were launched, everything changed for DrLupo. Streaming Fortnite made him a popular Twitch streamer, and his follower count eventually inflated.
In 2019, Benjamin Lupo signed an exclusive contract with Twitch.
In 2021, DrLupo left Twitch to stream exclusively on YouTube Gaming.
Charity Streams
DrLupo does not accept donations for his own benefit. Instead, he redirects all his donations received from followers to St. Jude's Children Research Hospital.
Games that DrLupo Plays
DrLupo started as a Destiny streamer before he switched to battle royale games when he came across H1Z1 and Fortnite. Here are some of the various games DrLupo streams online:
Fortnite Battle Royale
Escape from Tarkov
PUBG
H1Z1
Destiny
World of Warcraft
Apex Legends
Fall Guys
Among Us
Just Chatting
DrLupo Net Worth – How They Made Money
Streamer-gamers earn from monetizing streaming, gaming, sponsorship, donations, merch, and other sources of income such as exclusive contracts from major companies.
How Much Money DrLupo Makes From Twitch?
Before switching to exclusively streaming for YouTube Gaming, DrLupo has earned from the Purple Platform through ads viewed during live streams, paid subscriptions, donations, and the cheering feature on Twitch.
With 4.4 million followers and thousands of subscribers then, DrLupo has been earning around $40,000 monthly on Twitch before he moved to YT Gaming.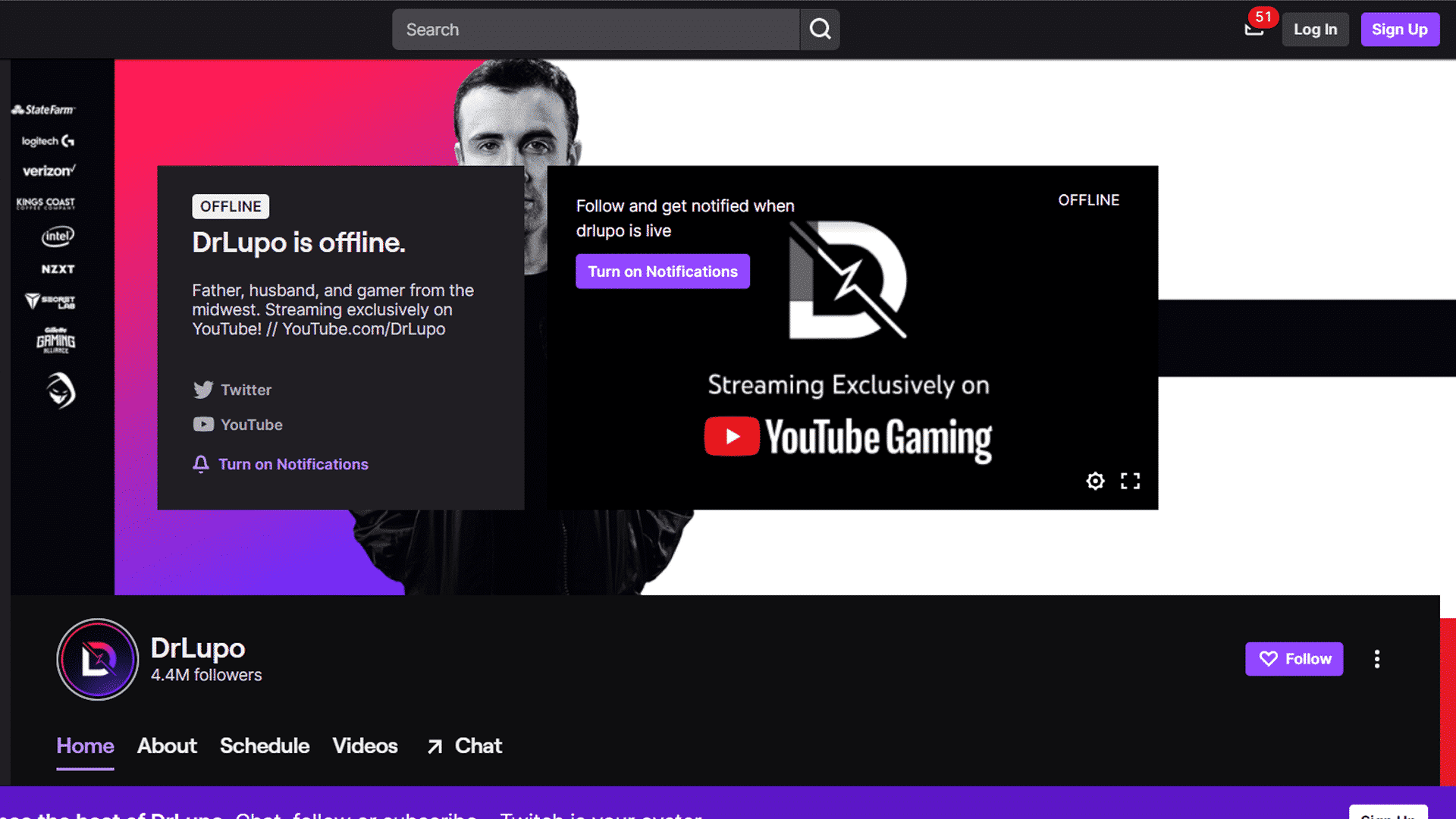 DrLupo Twitch Tracker Stats
How Much Does DrLupo Earn From YouTube?
Streamers earn on YouTube through monetized views, advertisements, and exclusive contracts (if they have) like in DrLupo's case with YouTube Gaming.
His YouTube channel has 1.87 million subscribers with more than one and half a million monthly average views. Apart from his monthly fee from YouTube, DrLupo earns an additional $6,000 from advertisements.
DrLupo YouTube Channel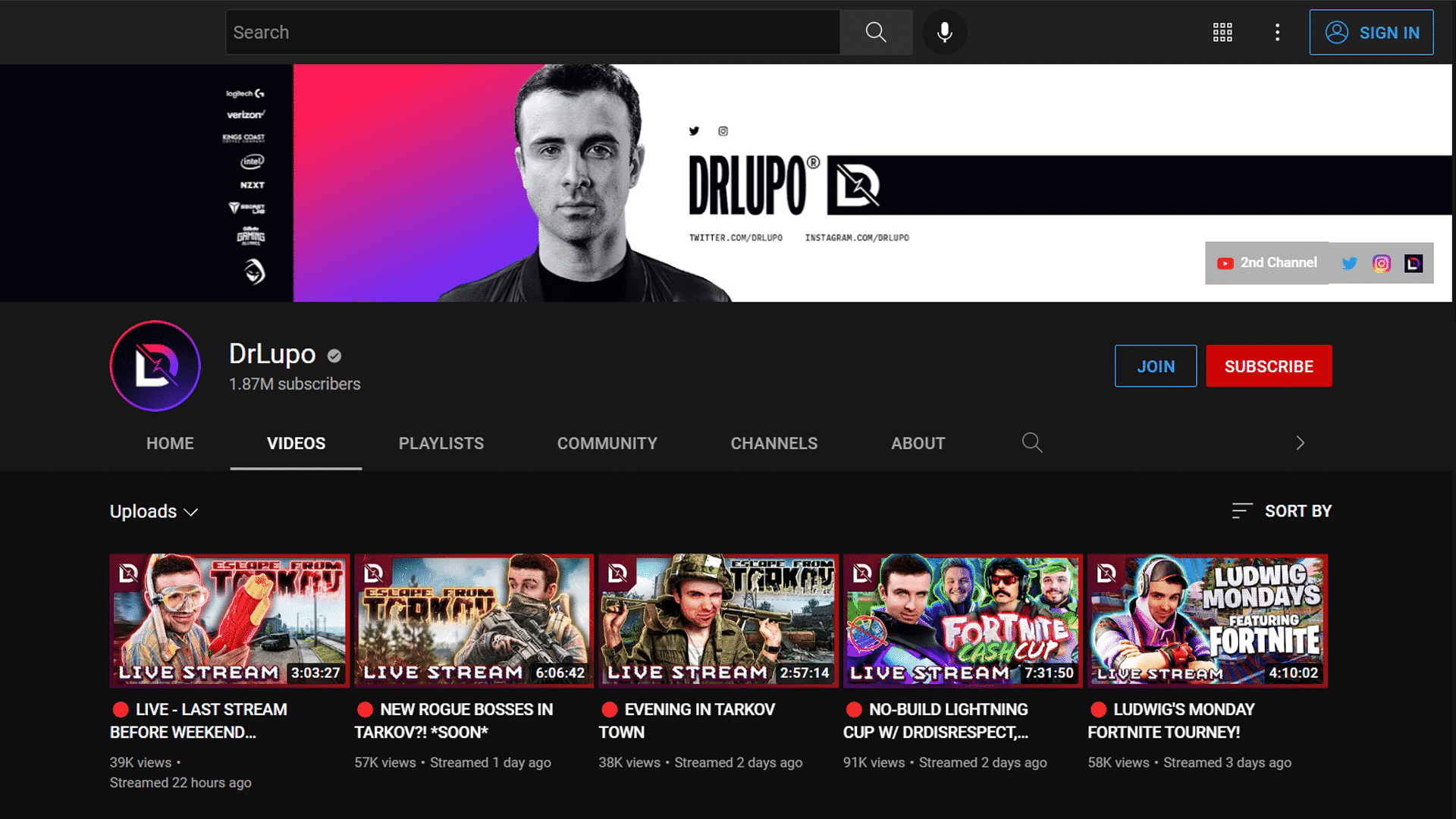 DrLupo Merch
DrLupo has available merch for sale (hoodies, T-shirts, etc.) via Design by Humans online store.
Who Sponsors DrLupo?
DrLupo has got quite a lot of sponsors compared to other popular game streamers online. Although inactive in Twitch, and currently streaming in YouTube Gaming, DrLupo still manages to attract a lot of investors with his unique and genuine personality. Here are some of his sponsors:
LogiTech
Verizon
Kings Coast
Intel
NZXT
Secret Lab
Gillette Gaming
State Farm (2019)
FAQs About Benjamin Lupo
What is DrLupo's net worth in 2022?
DrLupo's estimated net worth should reach the $5 million mark by the end of 2022 considering his growing network of followers and subscribers, as well as his expanding list of sponsors.
Is DrLupo gay?
No. DrLupo is straight. His marital status confirms that.
Who is DrLupo's wife?
DrLupo married his wife, Samantha, in 2010. Together they have a son named Charlie.
What is DrLupo's stream setup?
DrLupo uses the following peripherals in his streaming setup:
Microphone – Blue Spark Blackout SL XLR
Mixer – Peavey PV8USB 8
Webcam – GoPro HERO4 Black
Arm – Blue Compass; and
Chair – SecretLab Titan
Conclusion
DrLupo is of no doubt an inspiration to many streamers online who also want to be able to showcase quality content and good gaming. His career has been and continues to be successful in the long run. If you are an aspiring small streamer, or you'd want to start streaming, DrLupo should give you a good boost for being hardworking, consistent, and charitable.