Bugha is a popular American Fortnite streamer who has placed 1st in multiple Fortnite Tournaments since 2019. He is a promising young professional gamer who has the potential to overtake Ninja in his prime. Many are wondering how much money Bugha makes after winning a world title. Find out about Bugha's net worth, awards, and other things in the article below.
Who is Bugha?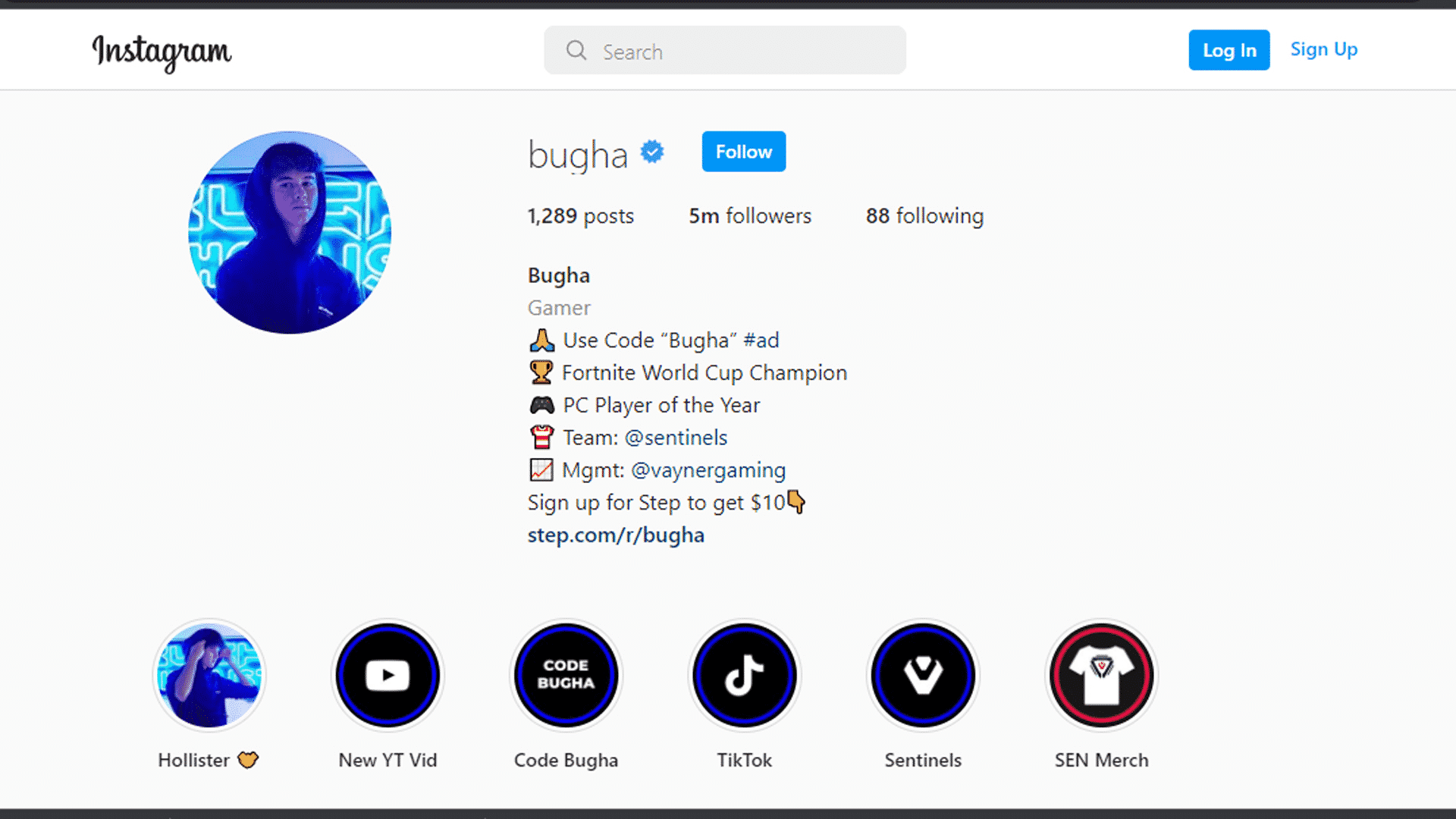 Early Life and Streaming Career
Kyle Giersdorf was born on December 30, 2002, in a small town in Pennsylvania. He grew up in the same neighborhood and lived a normal life. He got his nickname from his grandfather, who called him 'Bugha' when he was still a kid.
He was introduced to Fortnite through his father, who loved to play the 'Save the World' game mode. Later, he became inclined and joined an Esports organization called 'Sentinels.' Presently, he is one of Twitch's most popular streamers and Fortnite Pro Player.
Games that Bugha Plays
Although Bugha is mostly known for being one of the youngest players of Fortnite to play professionally, he also tries other kinds of games online. Here are some of the famous games Bugha streams on Twitch:
Fortnite Battle Royale (Epic games)
VALORANT
Just Chatting
Among Us
Counter-Strike: Global Offensive
Phasmophobia (which he played only recently in 2022)
Game Awards
Bugha also has his share of game awards and nominations. He was nominated "Best in Gaming" during the 2020 Shorty Award.
Best Esports Player 2019
Known for his amazing Fortnite gameplay, Bugha won the Best Player Award during the 2019 Esports Event TheGameAwards presented after winning the world cup that same year.
2019 Fortnite World Cup
The biggest event (by far) that happened to Bugha might be the Fortnite World Cup finals at the Arthur Ashe Tennis Stadium in 2019. It was a series of fortunate events for Bugha when he won the Microsoft Store Fortnite Friday Tournament the weekend before the Fortnite world cup and finally won the Solo Player grand prize at the 2019 Fortnite World Cup Finals.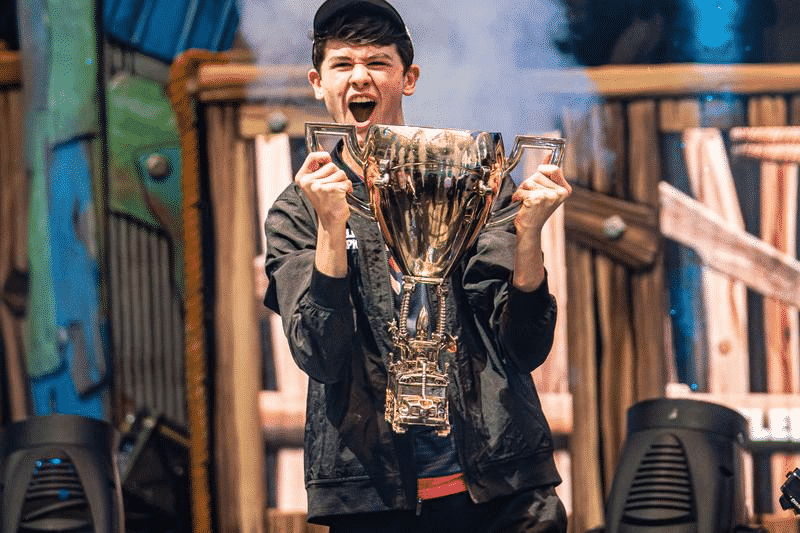 The Fortnite winning prize money Bugha won was an outstanding $3,000,000, making him one of Fortnite's richest players (next to Ninja).
2020 Fortnite Trios Cash Cup
Bugha is just beginning to peak in his career as a Fortnite pro player. He also placed 1st in the Fortnite Trio Cash Cup 2019 and defended the same title in 2020.
Social Media Presence
You can find Bugha on some of the biggest social media platforms today. Follow him on his accounts to stay updated with his life and gaming highlights.
Bugha Net Worth – How They Made Money
Bugha makes much money through game streaming, subscriptions, ad view, donations, and paid promotions through sponsorship deals. He made his millions basically from playing Fortnite, and it was also through it that he landed on many big brand sponsors.
Aside from that, he also receives a monthly fee from Sentinels for playing for their organization.
How Much Money Bugha Makes From Twitch?
Bugha's Twitch Account has him earning $8,000-$10,000 monthly through subscriptions and paid ads. His Sentinel salary is roughly between $5,000-15,000 a month. Aside from his pot of Fortnite winnings and donations, he makes about $13,000-$25,000 in Twitch.
Bugha became one of the most well-known Twitch streamers in the gaming industry since he won the 2019 World Cup. Below is his updated TwitchTracker stats:

How Much Does Bugha Earn From YouTube?
Bugha is also very active on the red platform. He uses his YouTube Account to post highlights and Fortnite gameplay. He uploads more or less four times per week.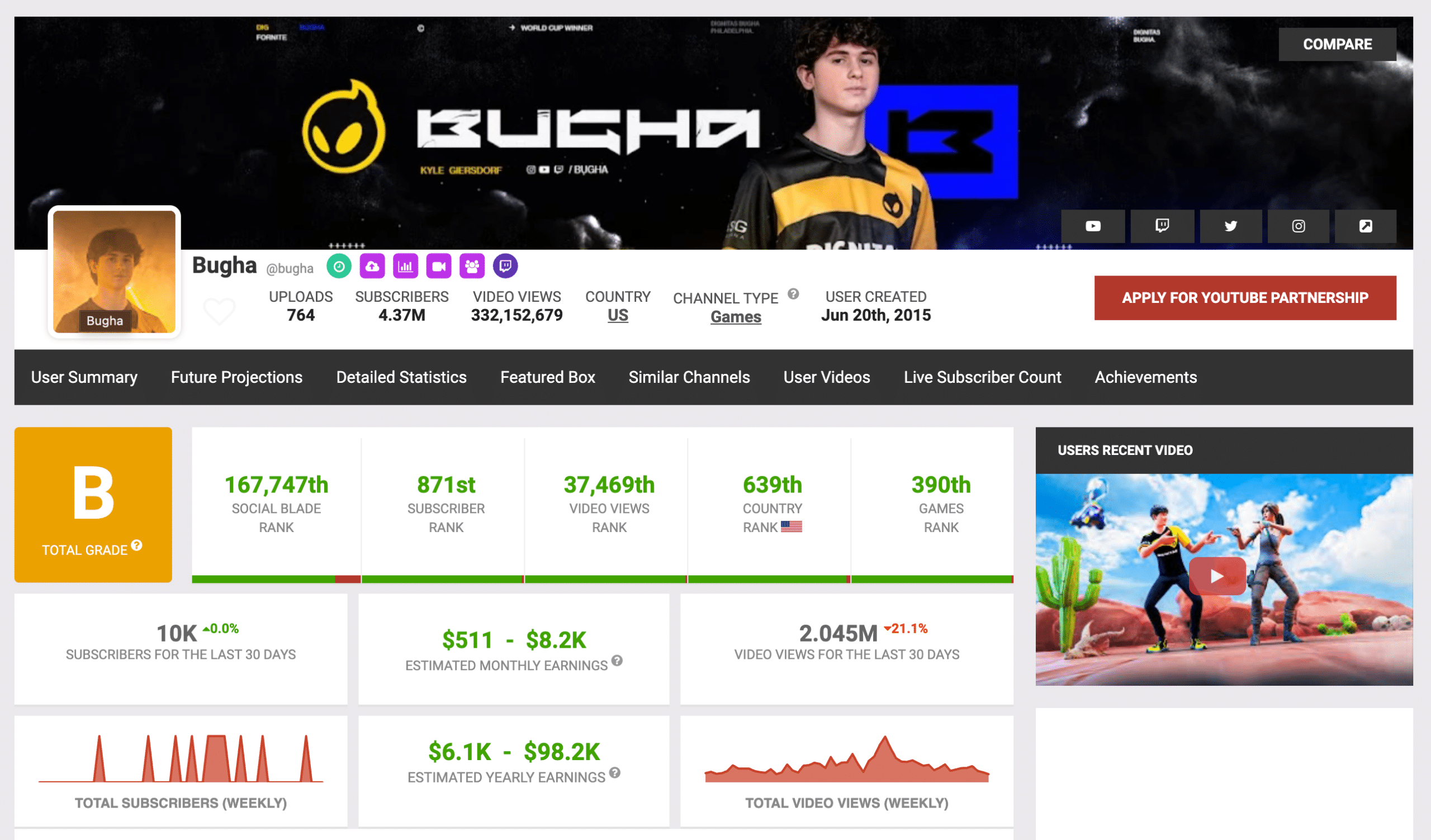 According to SocialBlade, Bugha earns between $6,100-$98,200 annually from his YouTube Channel. With his income from Twitch and YouTube combined, Bugha makes around $16,200-$30,000 monthly.
Merch Sales
Bugha's own merch can be found on The Sentinels Shop and Bughamerch.com. Bugha's merch sales are subjective, so they are not included in the estimation of his net worth.
Who Sponsors Bugha?
Aside from his main income as a Professional Esports player, Bugha also earns through paid promotions from gaming companies. He also makes money in advertisements and product sales from his sponsors like:
ASUS – A computer and electronics company.
Xfinity – A cable internet provider in the US.
Twitch – The most popular streaming platform today. Bugha is a Twitch partner.
HyperX – A company that manufactures gaming peripherals.
FiveBelow – A discount store that sells merchandise.
G Fuel – An energy drink brand for gamers, streamers, and pro-Esports players.
Coinbase – A platform for the exchange of cryptocurrency.
Nissan – An automobile brand.
AMD – A tech company that produces chipset processors and graphic cards.
VeeFriends – Gary Vee's NFT collection.
FAQs About Bugha
What is Bugha's net worth in 2023?
Bugha's estimated net worth in 2023 is estimated to be somewhere between $3 million to 4 million.
Who is Bugha's Girlfriend?
Rumors about Bugha having a girlfriend named 'Angelica' whom he started dating in 2019 but also ended shortly in August 2020. Currently, Bugha is single.
Is Bugha on TikTok?
Yes, Bugha is on TikTok with more than 5.8 million followers.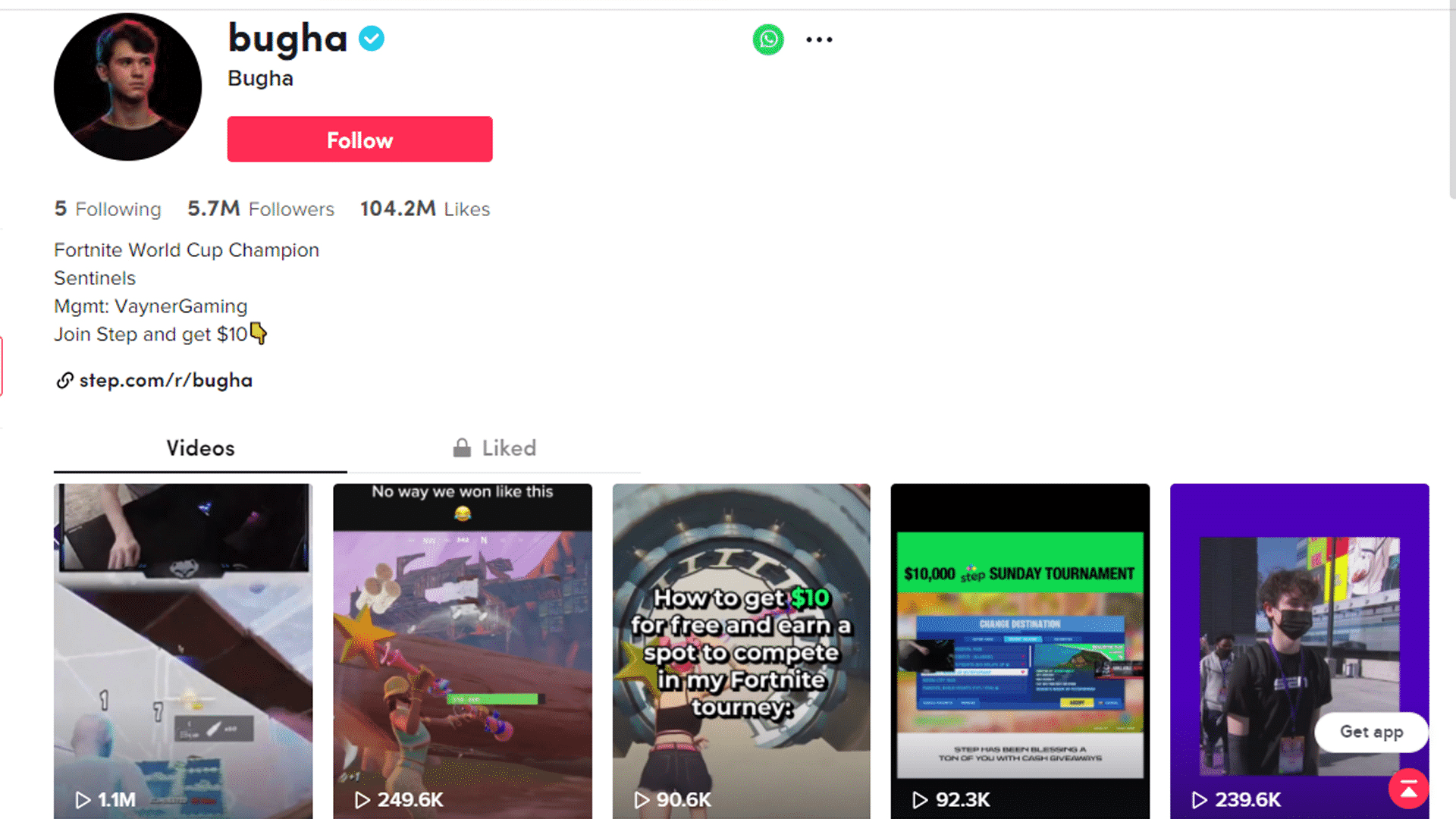 Conclusion
Bugha's success story as a Twitch streamer and a Fortnite World Cup Champion will resound in more years. And we can look forward to him stepping up his game, given his skills and experience after participating in several Fortnite Championship Tournaments.
If you aspire to be a successful gamer and Bugha inspires you, don't stop aiming to be the best. Continue to work hard while remembering, "Today, and it's just a dream; tomorrow might be the next World Cup!"