Benjyfishy is a famous professional Fortnite player and content creator who has amassed a large following on Twitch. He is one of the game's youngest professionals and currently a member of NRG eSports' Fortnite team.
Let's look at how much money Benjyfishy makes and a bit of his career.
Who Is Benjyfishy?
Benjy David Fish, popularly known as Benjyfishy, is a popular gaming YouTuber from United Kingdom. He is a teenager, but he has a large following that most renowned people do not have. He is well-known as one of the best online players of all time. His primary content source is gameplay videos of the popular battle royale game Fortnite. He is also a top Fortnite World Cup player. His career as a professional player has led him to abandon traditional schooling in favor of homeschooling.
Benjyfishy Fortnite Career
Benjyfishy rose to prominence through playing Fortnite, and he is one of the game's youngest competitors, having qualified four times for the Europe area. He has also competed in the Fornite World Cup and is an NRG eSports Fortnite team member. Before joining NRG, he was a member of Clairvoyance eSports (around 2018). In 2020, the management firm "Loaded" announced Benjyfishy's signing in 2020.
Benjyfishy Twitch and YouTube Career
Benjyfishy's Twitch channel debuted on July 23, 2014, and now has over 3.8 million followers. Initially, he had less than ten viewers every stream, but his audience gradually increased after winning a $10,000 tournament. He has primarily streamed Fortnite on Twitch throughout his career.
Furthermore, Benjy David Fish launched his YouTube account a few weeks before his Twitch channel, on July 12, 2014. His channel presently has roughly 1.67 million subscribers. Benjyfishy's YouTube channel is mostly used to share videos, compilations, and highlights from his Twitch live streams.
Games That Benjyfish Plays
Benjyfishy plays the following games:
Fortnite
VALORANT
Rocket League
Benjyfish Net Worth – How They Made Money
Benjyfishy estimated net worth is around $1,000,000. His net worth comes from a variety of sources. In addition to his popular YouTube and Twitch channels, he also makes money through tournament winnings, sponsorships, and donations.
Twitch
Benjy has built up a massive following on Twitch, with over 3.8 million followers. He makes money through donations and subscriptions from his Twitch subscribers and participating in ad revenue-sharing programs with Twitch.
Subscription: On his Twitch channel, Benjyfishy offers two membership options: $4.99 and $9.99. Twitch Subscriptions are divided between the streamer and Twitch. New Twitch streamers are assigned to Tier 1 and earn a 50/50 split, making their subscriptions worth $2.50. We estimate that Benjyfishy keeps $3.50 from every subscriber he gets on Twitch.
Donations: Benjyfishy also accepts donations on his Twitch channel. These can be given in any amount and often come with a message from the donor.
Ad revenue sharing: Twitch offers its partners and affiliates ad revenue sharing. This means that Benjyfishy makes a percentage of the revenue from the ads shown on his channel. We estimate this to be around $2 per 1000 views.
YouTube
Benjyfishy also has a YouTube channel with over 1.7 million subscribers. You may earn money on YouTube by displaying advertising in your videos. YouTube will pay between $1-$4 for every 1000 monetized views in the gaming category.
Aside from advertisements, YouTubers make money via YouTube Red subscribers, who pay a monthly fee to access premium content on YouTube and watch videos without commercials. They are paid according to the time viewers spend watching their videos. The longer their viewers watch their videos, the more money they earn.
Tournament Winnings
Benjyfishy has won several tournaments and competitions, including the Fortnite Winter Royale and online competitions for Apex Legends. Benyfishy has won a large sum of money in several events and additional funds from prize pools.
Sponsorships
Benjyfishy also earns money through sponsorships with companies like Red Bull and Razer. These sponsorships give him a percentage of the revenue from the products that he promotes.
How Much Does Benjyfish Earn From Twitch?
Benjyfishy earns an estimated $7,000 each month via Twitch streaming.
Here's how it all sums up:
Subscribers: According to TwitchTracker, BenjyFishy has 727 active subscribers as of April 2022. Assuming a 70/30 split with Twitch, this means he earns around $3.50 x 727 = $2,544.50 each month from Twitch subs.
Advertisement: Last month, BenjyFishy streamed for 40.1 hours with an average viewership of 5,024 viewers. If he runs an ad twice an hour at a $2 CPM, he will earn 80.20 x 2 x 5.02 = $805.20 a month from ads.
Donations: Donations to a streamer like Benjyfishy can range from $1,000 to $4,000.
How Much Does Benjyfish Earn From YouTube?
BenjyFishy's primary source of income on YouTube is Adsense revenue. According to Socialblade, he received 996,565 views last month. We can estimate his YouTube revenue if we break this down.
996,565 views/1000 = 996.57
996.57 x $2 CPM = $1,993.14 montly from ads.
Earnings From Esports Career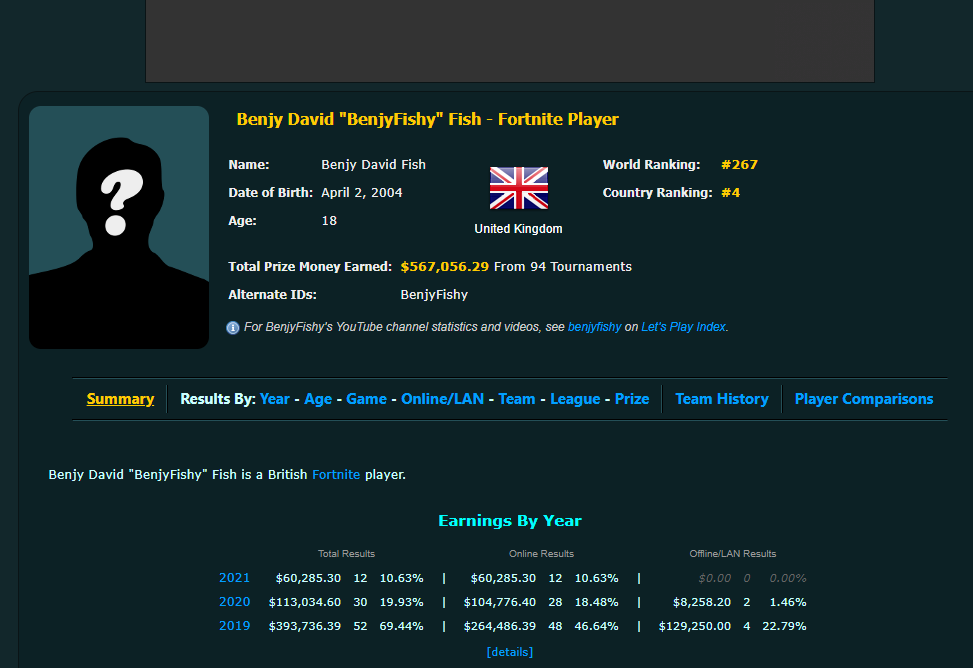 BenjyFishy has earned a sizable income in esports since his debut. According to Esports Earnings, he has earned $567,056.29 from Fortnite tournaments, with 2019 being his best year. This equates to an estimated $20,000 in tournament prize money earnings per month.
Who Sponsors Benjyfish?
Benjyfishy has many sponsorships and brand deals. His sponsors include :
Computer hardware company Razer
Energy drink company G Fuel
Gaming chair company SecretLab
Red Bull
Purple
Hot Pockets
Turtle Beach
Roccat
The General Insurance
Levi's
BenjyFishy's monthly earnings from brand deals are approximately $10,000 for a content creator of his size unless he receives more from NRG.
Conclusion
Despite his young age, Benjyfishy is already one of the most successful gaming influencers in the world. With his continued success and growing fanbase, it seems likely that Benjyfishy net worth will continue to increase in the years to come.
We can expect to see Benjyfishy continue to grow his fanbase and compete at a high level in the ever-expanding world of esports. Whether he will continue to dominate Fortnite or branch out into other games remains to be seen, but one thing is for sure – Benjyfishy is here to stay!