Decades ago, if somebody told you that a person can become extremely popular and rich just by playing games, you would probably scoff at the idea, right? If not, then perhaps you wouldn't still have imagined how far esports has come: from just another source of entertainment to high-stakes competitive games that people around the world would pay to watch. Countless aspiring esports athletes spend hundreds of hours honing their skills to be called pros. And among those who came out on top is Brandon Winn, a.k.a. "Aceu".
Known for being an incredibly skilled FPS video game player, Aceu has participated in and won many tournaments, most notably in Counter-Strike: Global Offensive and Apex Legends. Since his debut as a pro player, he has been earning thousands of dollars in various online gaming competitions he has participated in. And yet, he has retired from professional gaming to become a full-time streamer on Twitch, while uploading his highlight clips on his YouTube channel.
How could a pro player such as Aceu decide to step down from the professional arena to create content instead? And now that he has become a Twitch streamer (and a popular one at that), how much does he earn and what are his plans in the future?
In this article, we'll be discussing how much money Aceu makes and what his estimated net worth is. Ready? Let's dive in.
Who is Aceu?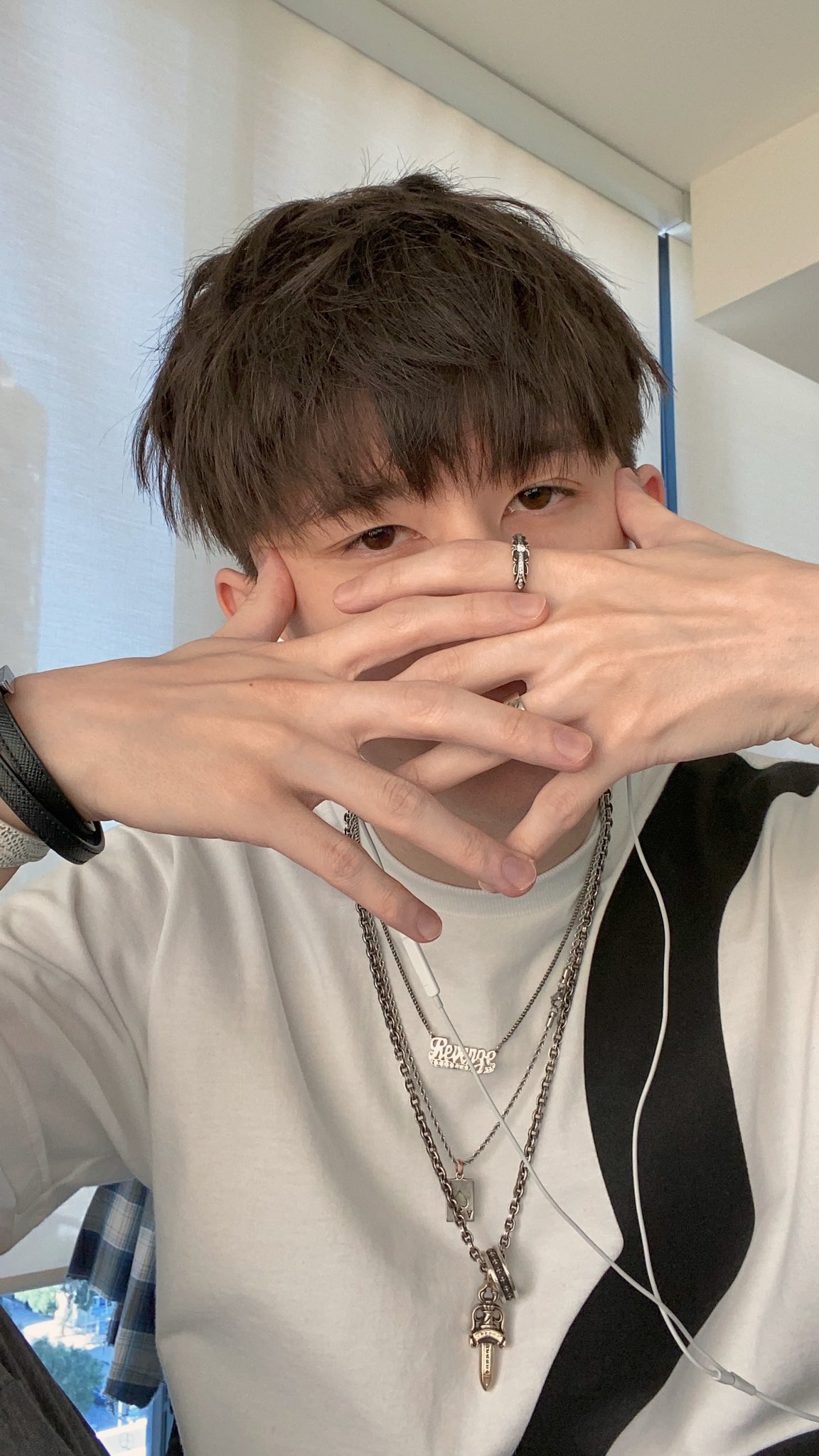 Brandon Winn, also known as "Ace" or "Aceu" (pronounced as ey-su), is a Twitch streamer and a former professional gamer. He used to play for the CS:GO roster of Rise Nation, which is now owned by EUnited. Since 2019, he has signed with NRG Esports. Even though he hasn't played professionally for more than two years now, he is still among the top players of the said organization, especially in Apex Legends, and now, Valorant.
Early Years
Brandon was born in the United States on April 7, 1995. He was of Vietnamese-Caucasian ethnicity. Like many famous internet personalities and streamers, Brandon is very private about his personal life. He doesn't often talk much about his family, probably to protect their privacy. Although, he frequently jokes that Apex Legends and Valorant player Timmy (a.k.a., iiTzTimmy) is his brother, which later on became an inside joke in their respective fandoms.
In one of his interviews, Brandon mentioned that he used to play Quake with his stepfather and friends when he was around eight or nine years old. Although he wasn't that good back then, it still sparked his interest in video games. It's also one of his earliest introductions to PC gaming.
And then in 2013, Brandon got a gaming PC. He played various games, including League of Legends, which was becoming insanely popular at that time.
However, he quickly realized that his heart was set on FPS games, and thus focused on them more. He started playing Counter-Strike: Global Offensive. Later on, he formed a team to participate in an ESCA open qualifier competition.
Pro Career
In 2017, Rise Nation signed him to their CS:GO roster. He got benched later on. However, in his interview, he recounted that even though he only played in the pro league for a few months, he considers it a good time. This made him decide to turn his focus to streaming.
Aceu began playing Apex Legends in 2019, the same year it was released. His insane tactical skills and godlike aim made him one of the best players in Apex Legends. During this time, he was predominantly streaming Apex Legends which skyrocketed his fame.
NRG took him under their wing and he played in their Apex Legends team. Currently, he's still one of their top players, despite formally retiring in 2020.
Career Switch: From Professional Gaming to Full-Time Streaming
During his time as a competitive player in NRG esports, Aceu participated in and won a number of tournaments. However, he decided to step back from competitive Apex Legends in 2020 and switched to Valorant.
He stated in a Q&A video that he somehow had lost interest in Apex Legends. He believed that the tactical shooter aspect of Valorant suited him better; although, he still plays Apex Legends from time to time for NRG.
Aceu Now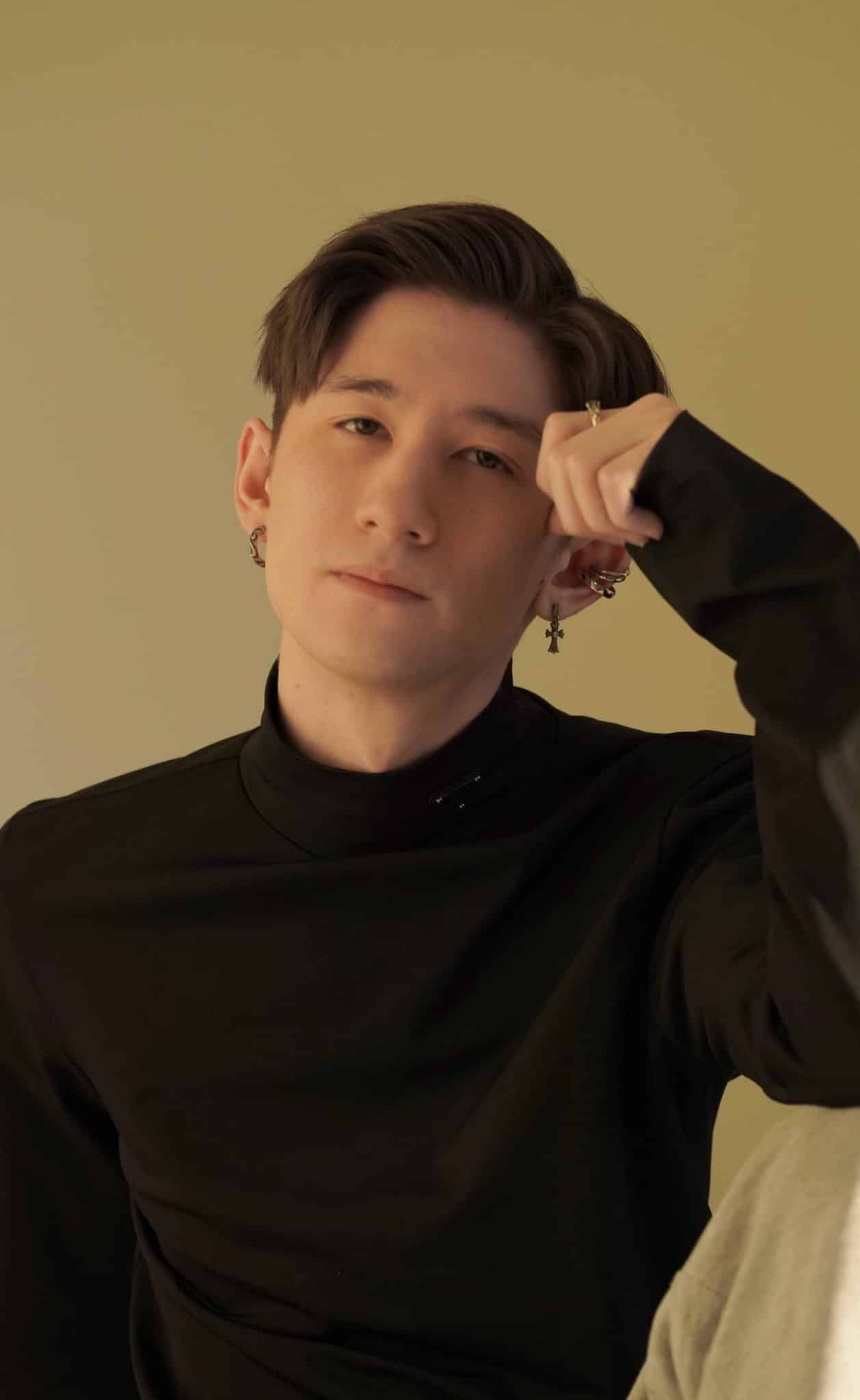 Brandon is now more focused on streaming and content creation. As of May 2022, he has amassed more than 2.5 million followers on Twitch and is still regarded as one of the best players ever in Apex Legends.
He's active on YouTube as well, where not only does he post clips and highlight reels, but also game guides.
Suffice to say, Aceu is not one to deny his fans tips and tricks on how to get better at playing the game. He also makes an effort to connect with his audience, even while he's streaming.
Brandon seems to have a lot more in store for him. He mentioned that he's also planning to start his own fashion brand and that he could see himself selling clothes even when he's 80.
Who is Aceu's Girlfriend?
Aceu is currently dating streamer and content creator Daphne Wai, better known as 39daph.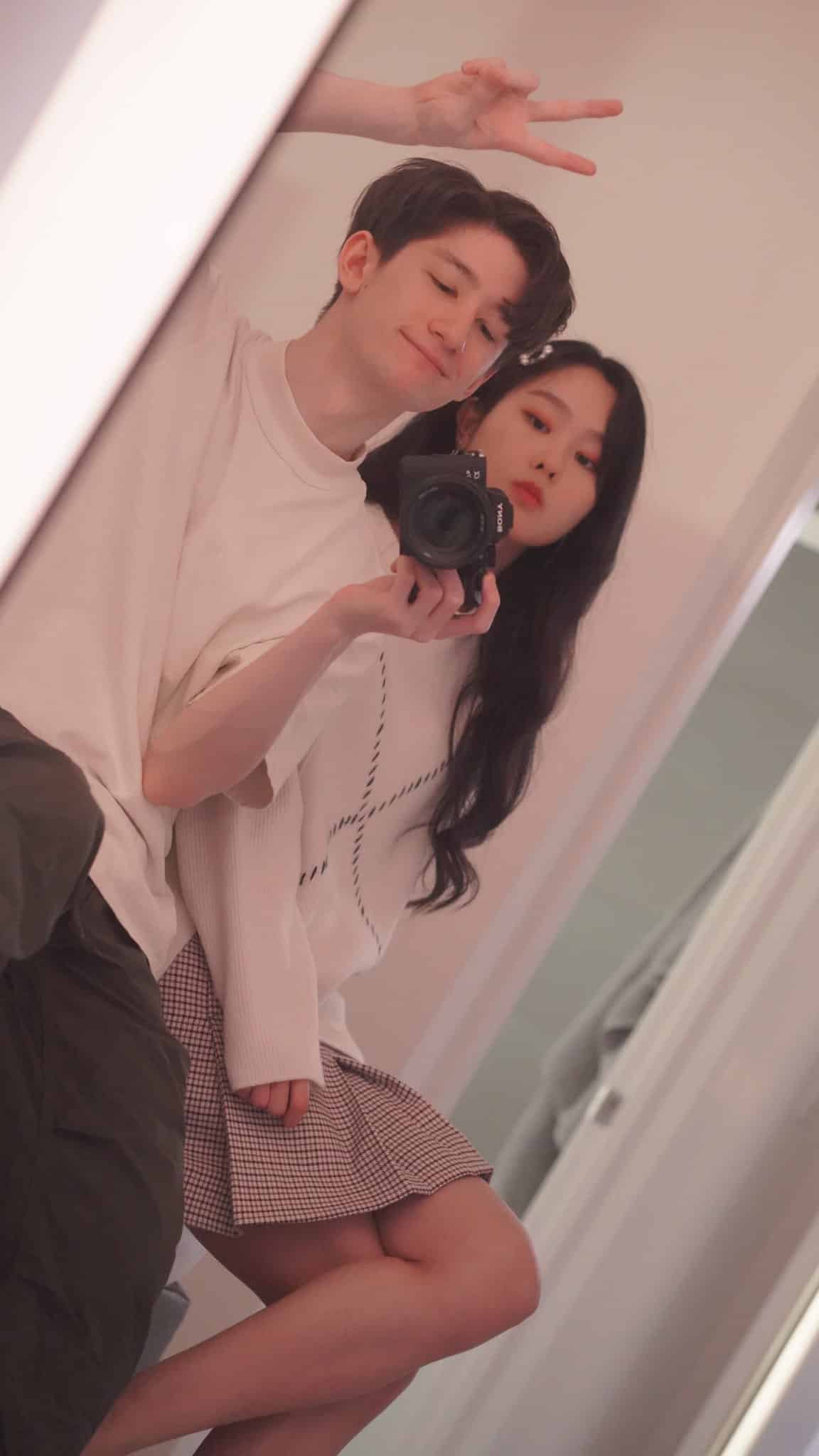 Games that Aceu Plays
These are the games that Aceu plays or has played in the past:
Apex Legends
Valorant
Counter-Strike: Global Offensive
Escape from Tarkov
League of Legends
Elden Ring
Call of Duty: Warzone
Overwatch
Minecraft
Halo
Aceu Net Worth – How They Made Money
As a former pro player, Aceu used to earn money from his winnings in the various tournaments he participated in. But now that he's a content creator with a popular Twitch and YouTube channel, it's safe to assume that most of his income is generated from these two platforms. Therefore, we estimate that NRG Aceu net worth must be at least $1 million, or perhaps even more.
How Much Does Aceu Earn From Twitch?
Twitch streamers usually earn in three ways: through member subscriptions, ad revenue, and donations. We can't give a fair estimate of how much Aceu earns from ad revenue and donations. However, from subscriptions alone, we can estimate that Aceu must be earning $20,202 per month, considering he has 8,097 active subscribers (as of May 2022) and assuming he has a 50/50 split with the platform. But since he's a top streamer, he could be earning as much as $28,282 per month, if they had a 70/30 split.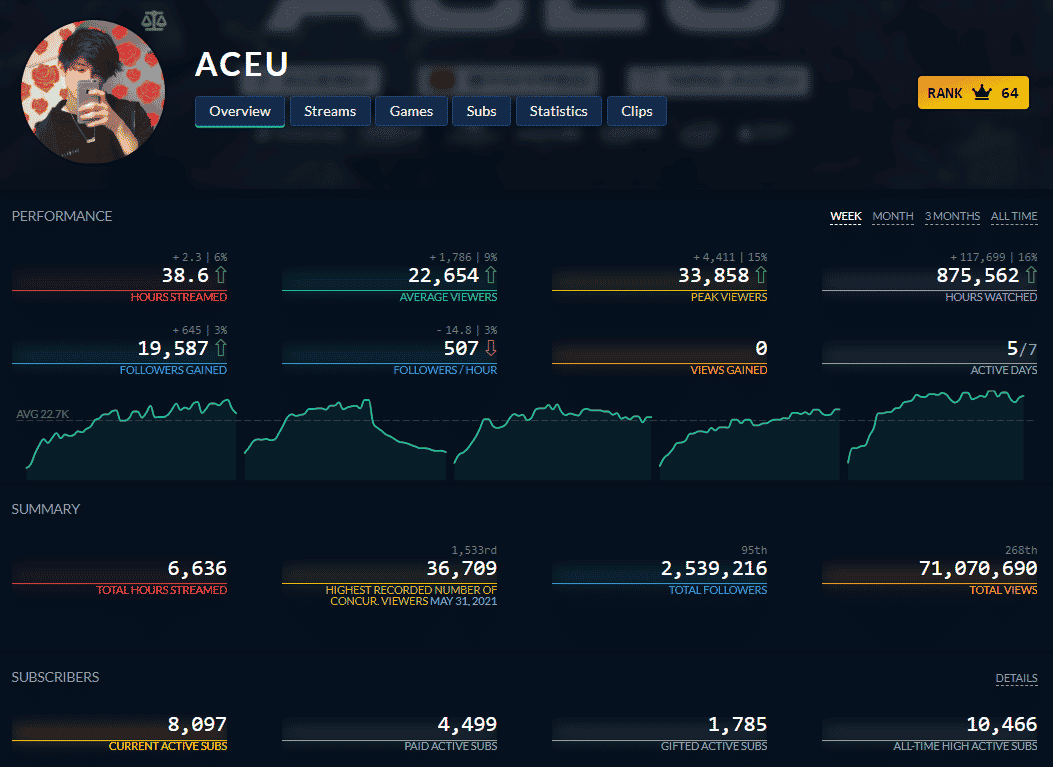 But then, Aceu himself said on a Twitter post that he's earning $100,000 per month, a far cry from his $2,000 monthly wage that he used to make as a pizza delivery guy. Of course, this figure might include his earnings from his YouTube channel. Aceu points out that he tweeted that not to flex his earnings, but to inspire other content creators and streamers who feel stuck.
In a Twitch leak that surfaced in 2021, Aceu reportedly earned $682,093.96 from August 2019 to October 2021 alone.
How Much Does Aceu Earn From YouTube?
According to Social Blade, Aceu earns $3k to $48.6k per month or $36.5k to $583.2k per year.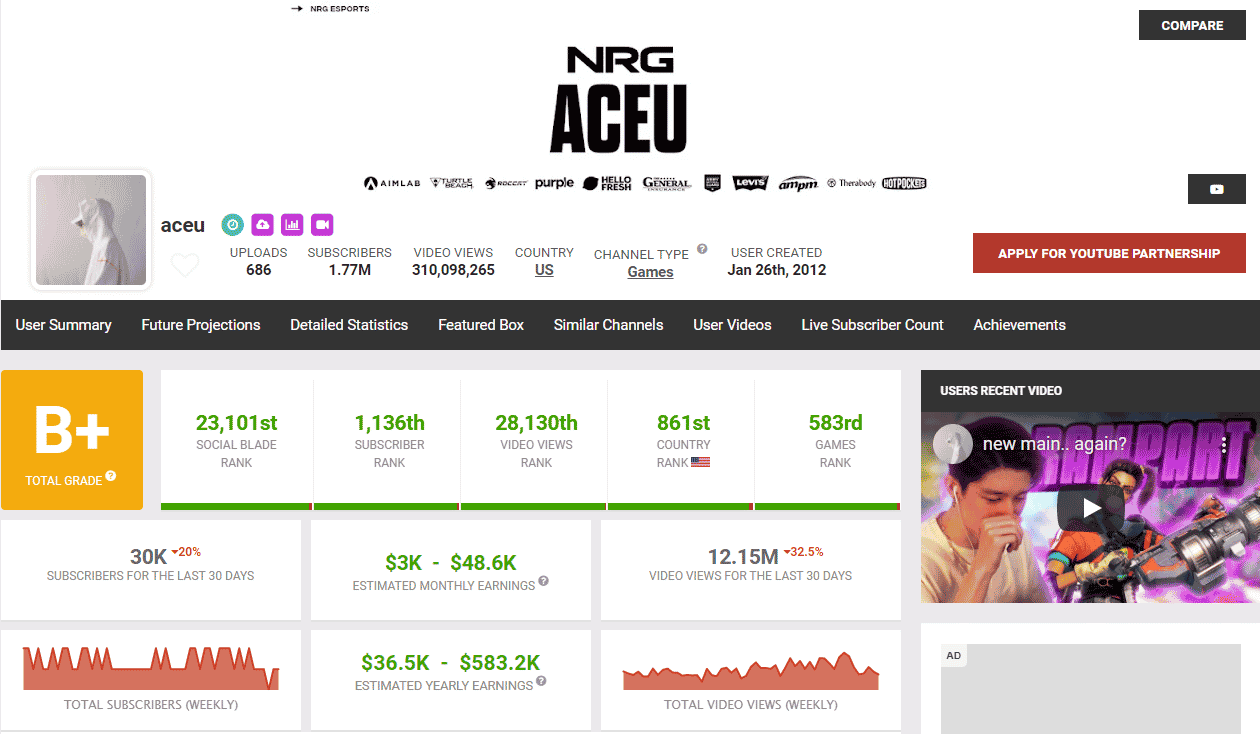 Other Ventures
Aceu currently doesn't have his own merch, but being a part of NRG esports, he promotes their products on his channels. He may be earning commission from their store's merchandise sales, as well as its sponsorship deals with various brands.
Who Sponsors Aceu?
Through his partnership with NRG esports, Aceu has been sponsored by various brands and companies, such as:
Aim Lab – a video game
Turtle Beach – a gaming headset brand
Hot Pockets – a food brand
am pm – a convenience store chain company
Levi's – a clothing company
Conclusion
Like a lot of other streamers, Aceu's passion for video games started at a young age and that deep interest paved the way for him to become one of the best in his field. However, it wasn't all sunshine and rainbows for him, too: there were difficult decisions he had to make and things he needed to let go of in order to keep moving forward. Aceu's story is a statement that even though we get stuck sometimes, everything will work out in the future. So, keep calm and keep going on.