Not only are there other physical products that you can purchase, but digital subscriptions will turn your mobile device into a stream deck.
This post will go over the best Elgato Stream Deck alternatives and touch on a product that is sure they will be able to overtake them in the future. We will cover the following:
Alternative Stream Decks
Keypads
Digital Stream Decks
Elgato Stream Deck Alternatives
If you want something like the Elgato stream deck but not the branded pad itself, you may be interested in one of these three options: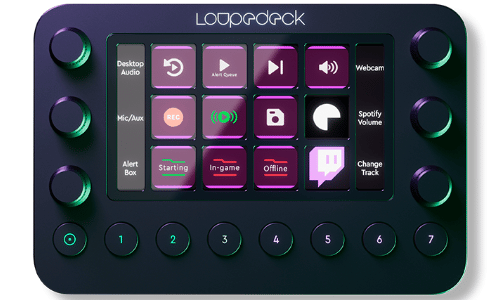 Loupedeck Live
The Loupedeck Live has both multiple buttons and programable dials. You can set up the LCD screen to show the customizations you need for whatever software you wish to use.
With multiple profiles available, you can set up precepts for multiple programs, which will automatically change as you move from software to software.
The Loupedeck also offers audio mixer controls to control your sound. You should note, however, several negative reviews about this device, many pointing out that there are fees involved if you want to use it with more than a few programs.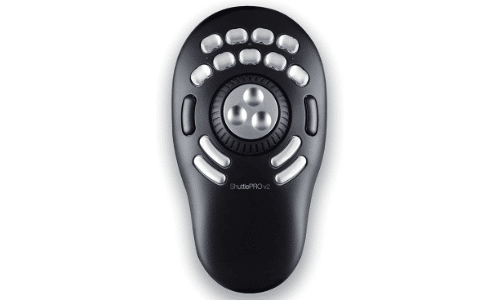 ShuttlePro V2
The ShuttlePro V2 looks like a unique item on this list. That being said, it is also very intuitive to use. It comes with a footage wheel to find the best parts of your stream or videos quickly.
The ShuttlePro also comes with 15 buttons with removable covers so that you can label them exactly what you need. It comes with app presets and the ability to set your keys up to do multiple functions.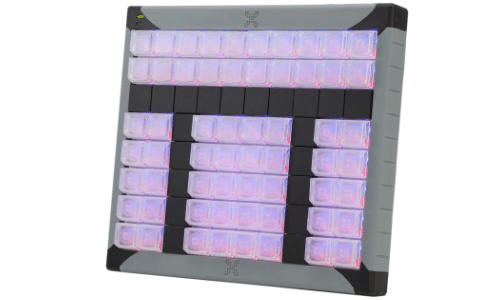 XK-60
The XK-60 comes with 60 customizable buttons and internal memory so that you don't have to worry about losing your settings if you transfer from PC to PC. Both landscape and portrait positioning is available due to their removable feet.
You can choose between red or blue backlighting to be shown behind the labels you can either print or write out. The keys will give you multi-action functionality on your best-streaming programs, allowing you to take your channel to the next level.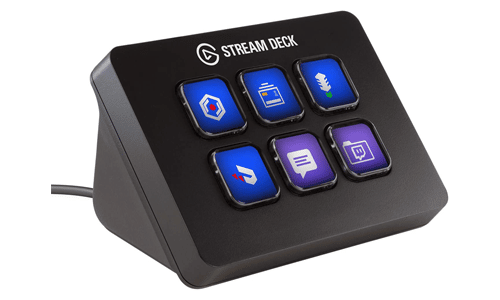 Stream Deck Mini
If you are looking for a smaller or cheaper alternative to the Stream Deck, you can opt for its Mini version (instead of the normal or macro deck). This may be smaller than the original, but it packs the same features as the others.
The Elgato Stream Deck Mini has 6 customizable LCD keys made to become your main control panel for streaming and creating content. Not only is it easy to use, but it is also easy to integrate with various streaming tools and streaming platforms.
Small as this might be, it still gives you the exact control and versatility as the full-sized Elgato Stream Deck.
Keypads Alternatives to Stream Deck
You can create your own stream deck alternative by purchasing a keypad and programming it using paid or free key remapping software. Plus, getting a keypad is a cheap stream deck alternative which is great for those on a budget.
Here are three of the best software available:
To keep track of what key meets each function, you can print out a sheet to place beside your keypad, or you can use a keycap puller to remove the keys and replace them with clear keycaps. You can create custom images for each key or print out the keys from one of the best stream deck icon packs online.
Here are three great keypads you can use to create your stream deck: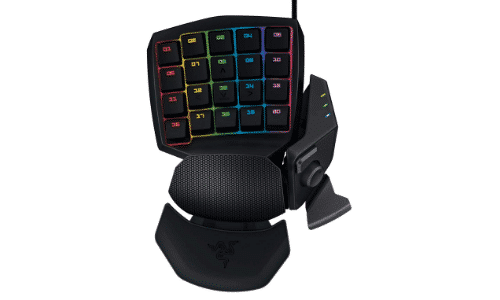 Razer Orbweaver
The Razer Orbweaver is a solid piece of equipment that will stand securely wherever you place it on your desk. It has been designed to offer comfort to whoever uses it, as parts of it are adjustable to fit your hand size.
It comes with 20 fully customizable buttons that are programmable. There is also a thumb joystick with two buttons. You can set up multiple profiles and remap keys to meet your needs.
You can customize how this keypad works to meet your stream deck needs.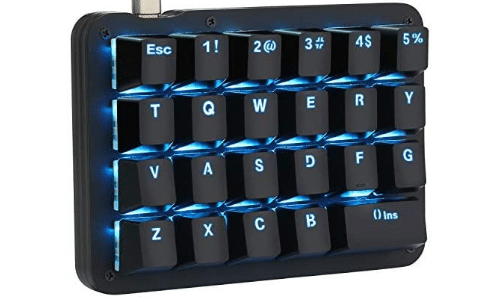 Koolertron Macro Keypad
The Koolertron Macro Keypad is an affordable backlit pad with 24 keys. It can support up to 792 commands for various scenarios and has built-in memory, so you don't have to worry about losing all your settings if you switch PCs.
The keyboard can be set with many different precepts for gamers and streamers, allowing you to set it up to meet both needs and give you many quick options while you stream.
It also comes with a detachable USB cable.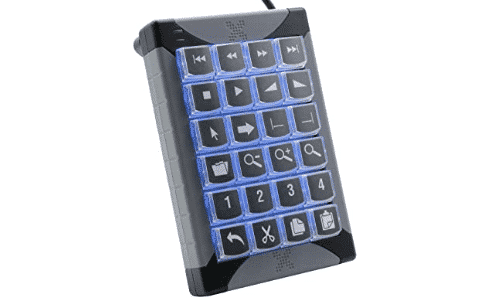 X-Keys Keypad
The X-Keys keypad is customizable with 24 buttons and the ability to save your settings. Not only does it comes with its own pre-printed icons, but you can also print out your own for full customization.
You can set up each button to meet your streaming needs by programming them.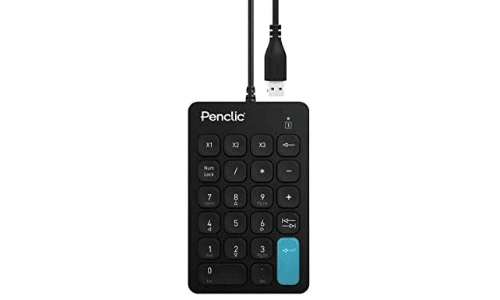 Penclic N3 Controlpad
The Penclic N3 Controlpad is an ideal Elgato Stream Deck alternative. This external number pad has 22 keys you can program to perform different commands.
This keypad is easy to use and perfect for work and play. It comes in a lightweight chassis and an ergonomic design. Furthermore, the N3 is macro-capable and compatible with different operating systems.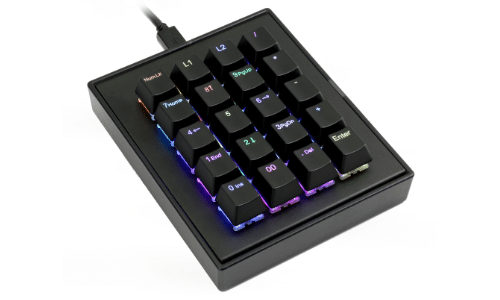 Max Falcon-20
The Max Falcon-20 has a beautiful RGB lighting display which most gamers would appreciate. It's an ideal Stream Deck alternative for people fond of mechanical keyboards. The Falcon-20 lets you select a switch type and allows you to include a wire keycap puller tool.
This is a great programmable keypad for streamers who love the clicking sound of mechanical keys and appreciate subtle RGB lighting.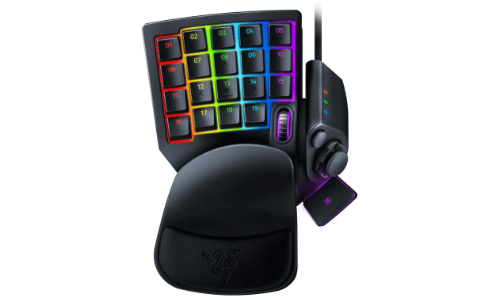 Razer Tartarus Pro
Razer is one of the most trusted brands when it comes to gaming and streaming equipment. With this, Razer has created the Tartarus Pro to give gamers a good gaming keypad option.
The Tartarus Pro has 32 programmable keys giving streamers plenty of options for customization. It uses analog optical switches for that wonderful tactile click. You also get 8 quick-toggle profiles, so you can easily switch from different commands for different games.
With all that said, the Tartarus Pro is truly a keypad worth considering.
Digital Stream Decks
These digital stream decks are perfect for those who want to turn their iPhone or Android into a programmable hotkey pad for their stream. These three are the best currently available on the market: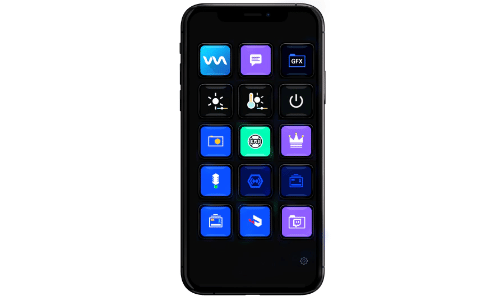 Stream Deck Mobile
If you are currently saving up for the Elgato Stream Deck, you could start using the full-functioning software with their mobile app. When you upgrade to a physical stream deck in the future, your settings will transfer to the stream deck instead of just being part of your mobile phone.
The Stream Deck mobile app gives you 15 keys to turn into folders and use widgets and multi-action, allowing you to easily navigate many of your stream and editing aspects. It is compatible with most streaming functions
The Elgato Stream Deck Mobile gives you a 30-day free trial and is fairly affordable after that, at $2.99 monthly or $24.99 annually. There is currently no lifetime license.
The Mobile version works on iPhone and Android devices (though you will want to turn off sleep mode on your Android) and can be wireless as it runs on your local network.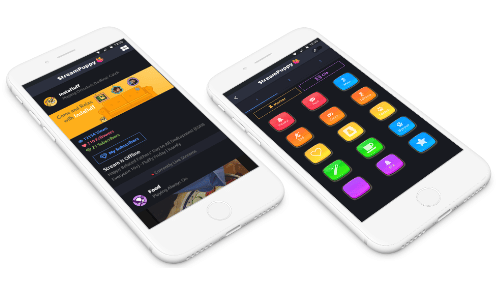 StreamPuppy
To use StreamPuppy, all you need to do is log in with Twitch. The app has a free version (with 6 buttons) and a paid version for $39.99, giving you 45 buttons across three different pages.
The app is Windows-based but can be used with Androids and iPhones. All data is stored on the cloud so that you never lose information, even if you switch PCs or devices in the future.
The buttons are easy to customize for many stream-related actions, including commands activated by Twitch chat, events, or even your voice.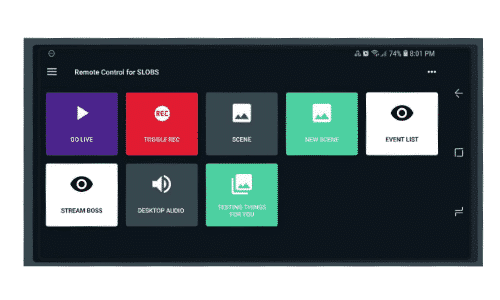 Streamlabs Remote Deck
If you use Streamlabs (as it is not available on any other streaming software), you can use the Streamlabs remote control deck. It will give you the basic functions necessary to change your scenes and manage your sound function and other streaming elements.
You cannot customize this app or add 3rd party widgets for more functionality.
Conclusion
No matter what brand you use, having a setup that includes an easy way to manage your stream is ideal for streamers. It makes transitions and special effects much easier, allowing you to create the best illusions for your viewers.