To create more of an incentive to watch and interact with your stream, consider making song requests a Twitch channel point award. This way, you won't have to always be playing the DJ, and you will get the added benefit of having more chats on your channel.
This post will go over what music is acceptable on Twitch and explain how you can set up the Streamlabs chatbot to help people request different songs.
Twitch Music Bots
With DMCA strikes on the rise and channels being banned for playing copyrighted music, it is important for streamers to use royalty-free music for Twitch on their channels. Just purchasing a song on iTunes or having a subscription service to listen to a song doesn't give you permission or rights to play that music for a live audience.
There are several places online where you can find music for song requests on Twitch. Here are our two favorites:
Epidemic Sound

Want access to 30,000 tracks of royalty-free music in over a dozen genres? Look no further than Epidemic Sound. The platform adds works with artists and composers to add new music every single week so you never have to worry about growing bored with your current playlist. The platform also offers a free 30-day trial so that you can experience their music firsthand with your audience. 
You can choose specific portions of the music to use as part of an intro or create elaborate playlists. Epidemic Sound also offers Twitch alert sounds as part of their package. As Epidemic owns the rights to their music, you will never have to worry about them passing out strikes while you have an active subscription. The company also never makes claims on content that was released during an active subscription, even after it has ended.
The Epidemic platform is easy to integrate with Twitch, YouTube, Facebook, and Instagram.
Own3d Pro
If you are looking for a service that offers several benefits for streamers, such as graphics, overlays, and more, then you may want to check out Own3d Pro. This is a premium subscription service that more and more streamers and content creators are using to build their channels and improve their content.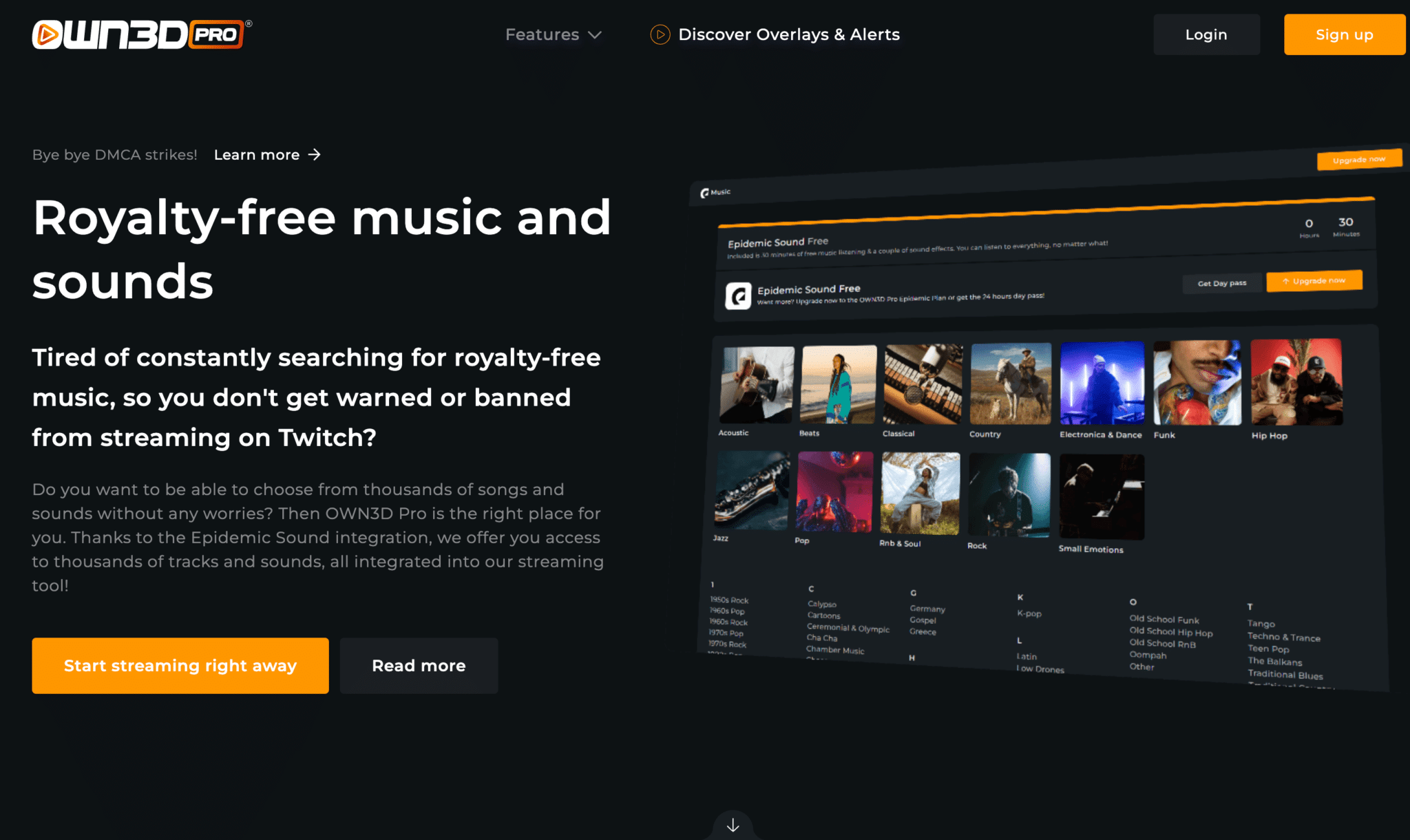 What's more, Own3d Pro offers content creators an extensive library of royalty-free music and sounds. By using Own3d Pro, you no longer need to worry about getting sanctioned by DMCA for music rights! This music player allows you to stream with confidence from their royalty-free song list.
Jingle Punks on Streamlabs Prime
If you are subscribed to Streamlabs Prime, the platform's premium plan, you have access to thousands of no-copyright tunes by Jingle Punks. The music easily integrates with Streamlabs; you can even add a Twitch overlay that will show the title and artist of the song as it plays.
The platform also offers features that allow you to play the music to your audience without having to listen to it yourself, freeing up your ears to the intricate sounds of your gameplay. There are several genres to choose from, allowing you to find the music that works best for you and your audience. 
How to Control Song Requests on Streamlabs
To set up song requests with the Streamlabs Cloudbot, you will need to complete the following steps:
Step 1

Sign in to your Streamlabs Dashboard. 

Step 2

Choose the "Cloudbot" section on the left-hand side of the screen under the "Features" section.

Step 3

Select the "Modules" tab, then toggle the switch for "Media Share" to on (it will turn green). 

Step 4

Select the "Commands" tab, then choose "Default." With this, you, your mods, and your viewers will be using default command settings.

Step 5

Scroll down to the media share options. Enable or Disable the commands you want to be used on your channel.  

Step 6

On the left-hand side of the screen, click "All Widgets" under the Features section. 

Step 7

Click on the "Media Share" option. 

Step 8

Make sure that the widget is enabled in the top-right of the screen. Lastly, double-check what you've enabled on Streamlabs songs request settings.
Streamlabs Song Requests Mod Commands
The following is a chart of all the Streamlabs Song Request Commands that your mods will be able to use:
| Command | Usage | Description |
| --- | --- | --- |
| !veto | !veto | Skips the current song |
| !blacklist | !blacklist | Adds current video/song to the blacklist list so that it can't be added again. |
| !volume | !volume 45 | Changes the volume of the media share bot. |
Streamlabs Song Requests Commands
The following is a chart of all the Streamlabs Song Request Commands that your viewers will be able to use:
| Command | Usage | Description |
| --- | --- | --- |
| !request | !request (YouTube Link) | Places a YouTube video in the queue. |
| !video | !video | Shows the current video |
| !skip | !skip | Skips the current song (streamer can set up a number of times command has to be used to skip the song) |
| !wrongvideo | !wrongvideo | Lets a viewer remove the last video they requested. |
Viewers will need to request songs using YouTube URL to the song after the name of the song. This is a great way for viewers to create a song queue for the duration of your stream.
How to Manage Song Requests on Nightbot
Nightbot is a chatbot you can mod to your Twitch channel. To add Nightbot to your channel, follow these steps:
Step 1

Sign up on Nightbot.tv with your Twitch or YouTube account.

Step 2

On the Nightbot dashboard, tap on Join Channel.

Step 3

Go to Control Panel to change Nightbot settings.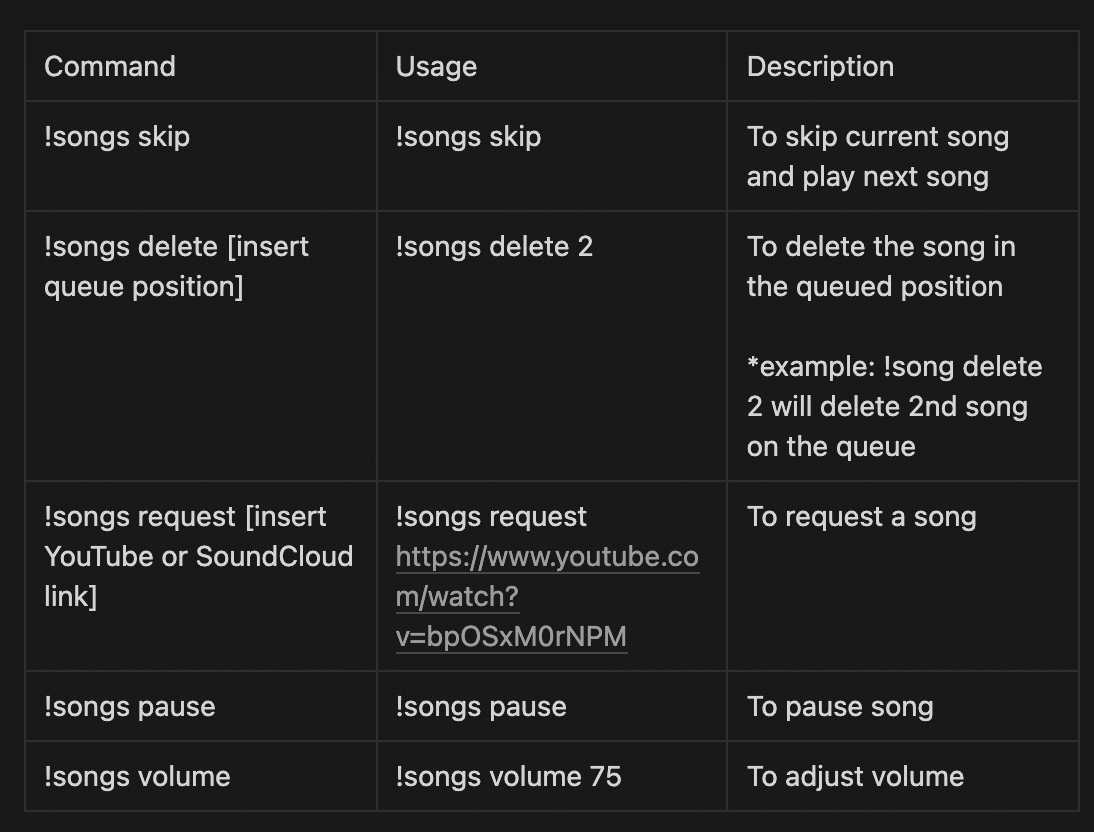 The Nightbot song request command list is shown below.
What Songs Should Be Allowed on Your Channel?
Depending on your overall plans for your channel, you may need to set some rules on which songs can be played. For instance, if you are a family-friendly stream, you will want to make sure not to play any songs with explicit lyrics. Playing music with violence or hateful speech should also be discouraged. 
Conclusion
Lobby or background music in your stream is a good way to keep people entertained and vibing while you play your games or chat. Playing a requested song is also great for building rapport with your audience.
Just make sure that your mic and the music's volumes are balanced so that they can hear you too.