While I wrote an article based on my first impressions, I've now used a Secretlab Titan 2020 with the 2.0 PU leather for nine months for streaming, work, and general gaming. There's no shortage of options for gaming chairs these days, and it's time for a deep dive into how I rate this premium chair.
Is a Titan Chair Worth It?
Short answer: The SecretLabs Titan gaming chair is a great choice for anyone who wants to stream comfortably. The build quality and materials are top-notch, making it a durable option that will last you many years of streaming without any issues.
"I used to think my old gaming chair was decent, but after sitting in the Streamlab Titan, it feels like I'd been gaming on a wonky barstool for the past few years."
Full disclosure our friends at Secretlab did send over the chair to try out, but they were very clear that they wanted an honest opinion. I've decided to rate the chair based on five core criteria:
Comfort and ergonomics
Aesthetic
Durability
Price
As I've sat on a few Secretlabs chairs belonging to friends, I'll also touch on some of the custom options you have at checkout. Most notably the upholstery selection and the lumbar pillows. As a whole, the Secretlab Titan range is the best gaming chair I've used to date.
Key Findings:
Very Comfortable

Secretlab chairs are known for their comfort. I can sit in this comfortable chair for long periods without experiencing discomfort.

Extremely Durable

Secretlab chairs are made with high-quality materials built to last, so users can expect them to hold up well over time. They come with a 5-year extended warranty for free. At nine months of owning the chair, there is no fading, stains, or wear, and the leather looks new.

Stylish Design

Secretlab chairs are available in various colors and finishes, so everyone can find a chair that fits their style.

Adjustability

Secretlab chairs have many adjustable features, such as lumbar support and four directional armrests, which allow you to find the perfect fit for your body.

Good Customer Service

Secretlab has a reputation for providing good customer service, which is important for those needing support or assistance with their chair. As functionality issues are extremely rare, this concerns shipping and delivery queries.
Comfort and Ergonomics
As one of the best gaming chairs, the Secretlab Titan has excellent lumbar support.
Is The Secretlab Titan Comfortable?
When I first sat on the Secretlab Titan chair, I realized how firm it was compared to other brands I've used. I felt immediately supported, and it responded well to my movements with great stability, with delightful armrests wide enough to balance a Redbull on.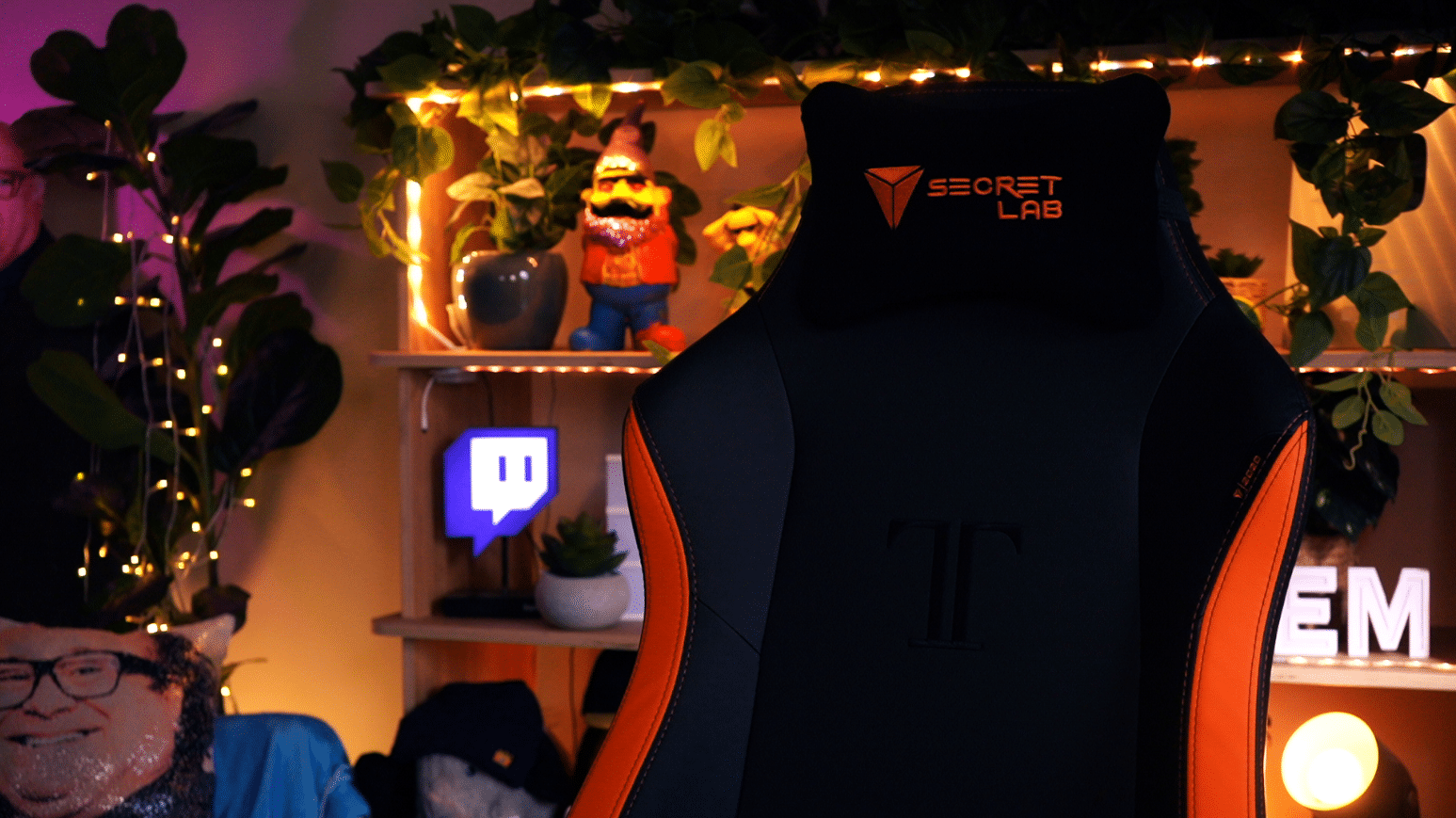 While I plan to cover the aesthetics, design options, and durability, I will spend the most time on comfort and ergonomics as I genuinely believe this is the most important factor.
Realistically while you may plan to purchase a chair to complement your stream set-up, it will likely be used for work, study, watching Youtube, and countless hours of off-stream activities.
The Streamlab Titan has an impressive range of layers that make up the seating cushion, providing additional support for various lengths of use. The combination of foam layers is ideal for those who plan to extend
SecretLabs offer three core upholstery choices:
PRIME 2.0 PU Leather
SoftWeave Fabrice
Napa Leather
Varying in price by a couple of hundred dollars, I opted to test out the entry-level PU Leather as I feel it's the most accessible. My take on the 2.0 PU leather was that the fabric is smooth and grippy. It's also easy to clean and doesn't leave any residue behind, which is great because I'm a snack person and tend to get crumbs everywhere.
I've also previously tried the Softweave Fabric on a friend's setup and would recommend it for later streamers located in warmer climates.
The SecretLabs gaming chair is designed for ultimate comfort and ergonomic support. It features 4-dimensional armrests that adjust to each user's body type, providing support in all directions.
The multi-tilt mechanism allows you to adjust the seat and backrest to just the right angle, helping to improve your posture while seated. The head pillow is a nice addition, but honestly, I don't find myself using it all that often.
The SecretLabs chair also features adjustable lumbar support, which helps keep your spine in alignment while sitting for extended periods of time. This was a great addition, and as someone with relatively poor posture, it was a huge improvement. After getting used to the added support, my old Typhoon Raid Gaming chair felt like a stool to sit on.
Overall, the SecretLabs gaming chair offers an incredibly comfortable and supportive experience that can help improve your streaming performance. Sadly a premium gaming chair doesn't make you any better at games, as I quickly proceeded to go 0-3 in my following League of Legends matches.
Also, the 160-degree recline is great for napping between meetings if you're using it to work from home.
Aesthetic
How Does the Chair Look?
The SecretLabs Titan has a sleek, modern design that will stand out. While they come in a full range of colors and styles, with several series based on popular shows and games, the minimalist black color scheme appeals to me the most.
It's an attractive chair that fits perfectly with my other gaming peripherals, and I can imagine it looking great in any setup. If you're trying to find a chair that matches your style here are a few ideas to consider:
A sleek, modern desk and monitor setup with minimalistic accents would look great with the Secretlab Classic range in neutral colors such as black or white.

If you have a more colorful or vibrant style, you could pair a Secretlab chair in a bold color with a desk and monitor setup in a complementary color. The special edition Game of Thrones range has some seriously cool options. If my stream set-up used more reds, I would have jumped on that House Lannister design.

If you want a more traditional or classic look, you could pair a Secretlab chair in a leather finish with a wooden desk and a monitor with a vintage or antique aesthetic.

For a futuristic or futuristic-inspired setup, you could pair a Secretlab Cyberpunk 2077 skin with a desk and monitor setup featuring clean lines and a metallic finish. Double down on those LED backlights and pretend you're streaming from the future.
The possibilities are almost endless when pairing the SecretLabs Titan gaming chair with other equipment. From gaming headsets and desks to monitors and storage solutions, plenty of options are available to suit any setup.
While looks are important to me, comfort and ergonomics are the primary things to consider when selecting a gaming setup.
So rather than choose a chair that matches your headset and keyboard, consider how you could deck out your streaming equipment to suit your amazing chair. It's durable enough to last many years, and other items will likely come and go during that period.
Durability
Is The Chair Durable?
The SecretLabs Titan gaming chair is built with premium quality materials and designed to provide the perfect combination of comfort, ergonomics, and aesthetics. The frame is made of steel and aluminum, so it's strong enough to last for years.
The fabric upholstery is also highly durable and resists staining and discoloration. A big part of this is also keeping moisture off the chair. The instructions that came with it specifically mentioned not sitting on the chair without a shirt, as sweat can damage the material and cause it to degrade over time.
I'm impressed by the construction of the SecretLabs Titan. The chair feels solid and sturdy, and I can confidently say that I'll be using it for many years to come without worrying about any durability issues.
Price
One potential drawback of a Secretlab chair is the price. Secretlab chairs are generally more expensive than other gaming or office chairs on the market. While the high price point may be justified by the use of high-quality materials and construction, it can still be a barrier for some consumers who are on a budget or who may not be willing to invest as much in a chair.
Why Are Secretlab Chairs Expensive?
Quality Materials

Secretlab chairs are made with high-quality materials such as premium leather and memory foam, which can drive the cost.

Attention to Detail

Secretlab chairs are designed with a focus on ergonomics and comfort, and the company puts a lot of effort into ensuring that their chairs are well-made and built to last.

Reputation

Secretlab has a strong reputation in the gaming and office chair market, which can contribute to its higher price point.

Research and Development

Secretlab invests heavily in research and development to ensure that its chairs are at the forefront of design and technology. This investment is reflected in the price of their products.
That being said, Secretlab offers various models at different price points so that options may be available for those looking more affordable.
If you've got your heart set on a Secretlabs chair but can't afford one, it may also be worth looking into the second-hand market. There are a lot of gamers out there who regularly upgrade, and the chairs are built to last years.
As a Secretlab chair owner, I feel that the investment is worth it due to the long-term comfort and durability of the chair. Ultimately, whether or not the price of a Secretlab chair is a drawback will depend on an individual's budget and priorities.
Secretlab Titan vs. Other Gaming Chairs
The Secretlab Titan Evo 2022 gaming chair is the newest iteration of their popular Titan chair lineup. It provides a premium blend of comfort, ergonomics, and aesthetics, making it perfect for gamers who want to get the most out of their gaming experience.
The Titan 2020 and Titan Evo are very similar chairs, with the major differences being the new proprietary pebble seat base and new and improved lumbar support. The head pillow and armrests in 2022 are also magnetic, which is more of an aesthetic improvement. The Secretlab NEO hybrid leatherette is also advertised as 12 times more durable than regular PU leather.
Most gaming chairs offer some level of comfort, adjustability, and support, but Secretlabs' chairs offer a more premium experience. The quality construction and attention to detail in the design set it apart from other gaming chair options. Not to mention that Secretlab also offers one of the longest warranties available for gaming chairs – up to five years on most popular models.
The primary competition in the premium gaming chair market is the Herman Miller Embody. While reviews for this model are overwhelmingly positive, the price point is roughly three times that of a Secretlab Titan Evo.
It's difficult to compare premium gaming chairs to cheap office chairs or racing-style gaming chairs that are currently flooding the market. When it comes down to it, Secretlab chairs offer a unique combination of quality materials, comfort, adjustability, and aesthetics that make them attractive for gamers who are looking for a luxurious gaming experience.
Conclusion
This comfortable chair's attention to detail and ergonomics make it worth the investment, though its price may be too much for some shoppers on a budget.
However, with the variety of models available at different price points, there should be an option to fit most budgets. For gamers looking for the ultimate streaming experience, the SecretLabs Titan is definitely worth considering.
The SecretLabs Titan gaming chair is a great choice for anyone who wants to stream comfortably. The build quality and materials are top-notch, making it a durable option that will last you many years of streaming without any issues.
So if you are looking for a new gaming chair that has a comfortable seat cushion and a memory foam lumbar pillow, check out the Secretlab Titan. It is an excellent gaming chair created by a company dedicated to the gaming industry. When compared to other chairs, you can really see why many consider it one of the best gaming chairs.