WizeBot Leaderboard Overview

Twitch Extension Category: Loyalty and Recognition
Types: Panel
Extension Link: WizeBot – Leaderboard
Extension Details
When you decide to add a stream schedule widget to your about section, you are giving your viewers an easy way to quickly find out when you typically stream.
The WizeBot Leaderboard is configurable based on the data you obtain if you use the WizeBot cloudbot for your stream. You can track several things about your community, such as how long they have been active, the messages they sent, and more.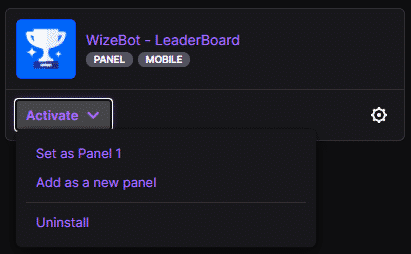 The WizeBot Leaderboard extension is easy to install and activate on your channel. You will need to set it as a panel extension.
Eligibility to Use the Extension
In order to use the WizeBot Leaderboard extension, you must have the following:
An active Twitch account
An available panel extension slot