Streamlabs Merch Store Overview

Twitch Extension Category: Loyalty and Recognition
Types: Panel
Monetization: This extension will showcase your Streamlabs merch in a Twitch Panel in your bio.
Extension Link: Streamlabs Merch Store
Extension Details
Streamlabs Merch allows you to create and sell several types of branded items to your viewers. You can use your own custom channel graphics to create unique designs that your audience will love.
Streamlabs will process each order as it is made, so you won't have to purchase items in advance. They also manage shipping, customer concerns, and anything else that comes with running a business.
You get a cut in the sale of each merch sale. If you have Streamlabs Pro, you will get a larger cut for each item sold.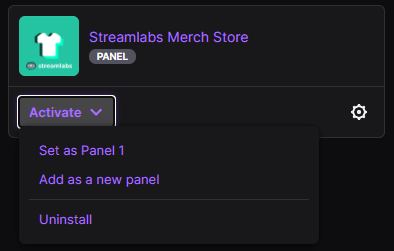 The Streamlabs Merch Store extension is easy to install and activate on your channel. You will need to set it as one of your three panel extensions.
Eligibility to Use the Extension
In order to use the Streamlabs Merch Store extension, you must have the following:
An active Twitch account
An available panel extension slot
Merch store through Streamlabs