Sound Alerts Overview
Twitch Extension Category: Viewer Engagement
Types: Component, Panel
Monetization: This extension has the option of requiring your viewers to pay bits to use specific features. All bits paid through the extension will be split between you and Sound Alerts. You will receive 80%, Sound Alerts will receive 20%.
Extension Link: Sound Alerts
Extension Details
Sound Alerts is an extension that allows you to upload your own sound alerts for your stream or choose from within their own library. Once you have created your selection, you can set monetary amounts to each sound.
During your stream, your viewers will have the option of purchasing and playing a sound using bits. After the transaction is made, the sound will play out for you and the rest of your viewers.
If you are strategic, you may choose to play sounds that relate to your game to create real reactions on stream that were caused by your viewers. For instance, using the creeper hissing sound while you play Minecraft could cause you to panic within the game and run around to avoid blowing up.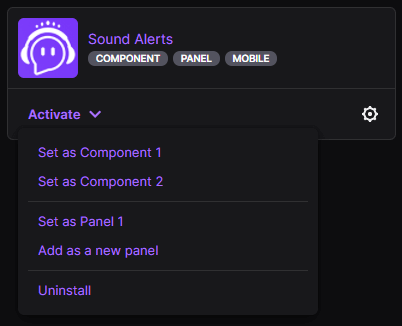 The Sound Alerts extension is easy to install and activate on your channel. You will need to set it as a component and a panel extension.
Eligibility to Use the Extension
In order to use the Sound Alerts extension, you must have the following:
An active Twitch account
An available component and panel extension slot