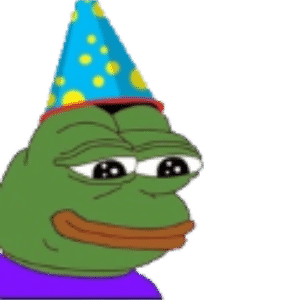 FeelsBirthdayMan BTTV Emote Meaning
The FeelsBirthdayMan emote is a FrankerFaceZ and BTTV emote that was heavily inspired by the FeelsBadMan and FeelsGoodMan emotes. The FeelsBirthdayMan emote is used when celebrating someone's birthday or when announcing your own birthday. It is also sometimes used in mock celebration.
Released: 2015
FeelsBirthdayMan Emote Origin
The FeelsGoodMan emoji is also part of the Pepe the Frog emote family. It is based on the FeelsGoodMan and FeelsBadMan emotes.  These emotes are based on the popular Pepe the Frog emotes such as MonkaS.
Since the Pepe the Frog emotes have become so popular, any that convey a special meaning are often used more than similar emotes without the same character. This one shows the frog with a birthday hat and a sweet smile on his face.
Click to see a full list of the most popular Twitch emotes.