Pokimane has been one of the most popular streamers on Twitch since 2017. She lived in the Offline TV house with other streamers such as Disguised Toast, LilyPichu, Michael Reaves, and others. Famously, Pokimane and other house members called out the inappropriate actions of Fedmyster while he lived with them.
Pokimane is a variety streamer (she often streams gaming content) and is generally known for her positivity. As a female Twitch streamer, she has had to deal with a lot of harassment and has needed to take breaks from time to time.
That being said, this post will cover the PC and streaming equipment that Pokimane uses when she goes live on a day-to-day basis.
Pokimane's PC Setup and Gear
Here is a list of Pokimane's streaming setup, PC equipment, and gear:
Pokimane's Mouse – HyperX Pulsefire Dart 
Pokimane uses the HyperX Pulsefire Dart mouse for gaming. This right-handed mouse has a great ergonomic design, perfect for all grip types and hand sizes.
Wireless charging is fast, taking about 2 hours to get full, and the long-lasting battery will keep you gaming for days before needing another charge.
Pokimane's Keyboard – HyperX Alloy FPS
Pokimane uses the HyperX Alloy FPS keyboard while she games and streams. This keyboard comes in both full-size and a tenkeyless design. Many FPS gamers prefer the tenkeyless design because it allows for optimized gameplay.
The reliable Cherry MX mechanical switches are reliable and functional. The solid steel frame is durable and will last for years of use. In game mode, you will experience 100% anti-ghosting.
Pokimane's Monitor – Alienware – AW2518H
Pokimane uses the Alienware – AW2518H gaming monitor. This monitor has a 240Hz native refresh rate for lightning-fast graphics to give you an edge over your competition.
There is a 1ms response time that minimizes lag and keeps things moving quickly. The monitor adjusts in height and will swivel or pivot to allow you to view the screen from the perfect angle.
Pokimane's Headset – HyperX Cloud Alpha
Pokimane uses the HyperX Cloud Alpha as her headset. It comes with dual-chamber drivers that will provide less distortion in the sound quality.
Their ear cups are so comfortable that you will be able to wear them through your whole gaming session happily. It is compatible with your desktop or laptop and works with several console devices.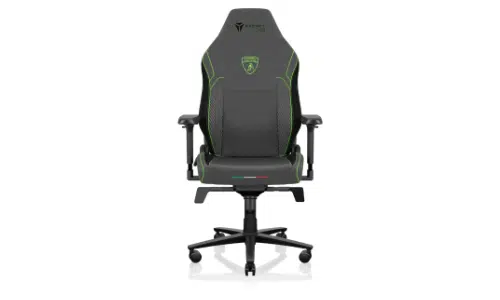 Pokimane's Chair – Secretlab Titan 2022 SoftWeave
Pokimane has the SecretLab Titan Softweave gaming chair. This super comfortable is made with high-strength yarn fibers, creating a feel as soft as your favorite t-shirt. The patented SoftWeave Fabric will keep you nice and cool during those long gaming sessions.
Pokimane's Microphone – Electro Voice RE-20 Cardioid Microphone
Pokimane uses the Electro Voice RE-20 Cardioid Microphone. This high-quality, dynamic microphone filters out background noise and reduces vibration-induced noises.
They have blast and wind filters to cover every opening and a frequency response of 45Hz-18kHz. The heavy-duty internal pop filter ensures superb sound quality, taking your production to the next level.
Pokimane's Mouse Pad – HyperX Fury S Speed
Pokimane uses the HyperX Fury S as his mousepad. There is currently a limited edition of the pad that displays his logo. It has anti-fray stitched edges to make it last, and the surface is densely woven to ensure that your mouse seamlessly moves in the way you wish.
The pad is approximately 35.5 inches long and 16.5 inches wide, giving you more than enough space for your keyboard and mouse. The soft surface keeps your wrist comfortable while you work or game.
Pokimane's CPU – Intel Core i9-11900k
Pokimane uses the Intel Core i9 11900K processor in her PC. This CPU's 8 cores and Intel's built-in UHD Graphics 750 controller allow for incredible performance, capable of handling the highly intense graphics of today's games.
With 16MB of L3 cache and 14nm design, you'll get amazingly efficient computing, performance, and power.
Pokimane's GPU – EVGA GeForce RTX 3090
Pokimane has a GeForce RTX 3090 graphics card on her PC. Sporting 24 GB of dedicated RAM, this GPU offers cutting-edge, hyper-realistic graphics. With triple HDB fans and 9 iCX3 thermal sensors, your graphics card will always be at optimal temperature.
Pokimane's RAM – G.SKILL TridentZ RGB Series 32GB
Pokimane uses the G.SKILL TridentZ RGB Series 32GB. These two modules will give your computer 32GB of RAM, allowing you to run multiple computer programs simultaneously without lag.
They are perfect for playing games that require high performance. This RAM offers the following features:
RGB LEDs – If you have a clear case, you'll love the addition of color this RAM will provide.
Finished aluminum heat spreaders – designed to efficiently dispense the heat to keep your memory going strong while remaining modern and sleek
Screened ICs and custom 10-layer PCH for maximum signal stability tested across many different motherboards.
Pokimane's Case – NZXT H510 Elite
Pokimane's PC case is the NZXT H510 Elite. This sleek case offers a very modern design, with great cable management and tempered-glass panels so you can show off your custom PC build with style. 2 front-side USB connectors make connecting your devices and external storage incredibly easy.
With 2 included fans, this modern case will ensure your system stays cool.
Pokimane's Motherboard – ASUS ROG Maximus XIII Hero
Pokimane has the ASUS ROG Maximus XIII Hero motherboard on her PC. This motherboard is designed for 11th Gen Intel Core processors and offers many AI capabilities, including overclocking, networking, and noise cancellation.
With Optimized Thermal Design, your system will stay at the perfect temp even during those long gaming sessions.
Pokimane's Webcam – Sony Alpha a6000
Pokimane uses the Sony Alpha a6000. This digital camera has up to 11FPS continuous shooting and capabilities to record or stream 1920×1080 video in cinematic 24p. It autofocuses if you move around, allowing you to maintain crisp images while streaming. 
Frequently Asked Questions
What Is Pokimane's Real Name?
Pokimane's real name is Imane Anys. She is of Moroccan descent.
Other Streamer's Equipment and Gear