Ninja is always full of energy, continues to find ways to grow his career, and keeps the world of game streaming interesting with different twists and turns. This post will go over the timeline of his early life and career to give you an overview of what the world's most well-known streamer has done.
| Question | Stat |
| --- | --- |
| Real Name | Richard Tyler Blevins (goes by Tyler) |
| Nationality | American |
| YouTube Channels | Ninja |
| Instagram | ninja |
| Twitter | NinjaInnit |
| Age | 29 years old |
| Height | 6' 1" |
| Net Worth | Approximately $20 million |
Timeline of Ninja's Early Life
5 June 1991 – Richard Tyler Blevins was born to Chuck and Cynthia Blevins in the Detroit area. On his birthday stream in 2019, Ninja revealed that doctors had believed he would be born with spina bifida or Down syndrome and recommended that his mother abort him. She chose to have him anyway and gave birth to a healthy baby.
2009 – Blevins graduated from Grayslake Central High School, located in the Chicago suburbs. He had played soccer while attending school.
Timeline of Ninja's Career
2009 – After high school, Ninja decided to start gaming professionally by playing Halo 3. He played with Renegades, Cloud9, and Team Liquid.
2011 – Ninja began to stream H1Z1 and PlayerUnknown's Battlegrounds.
2015 – Ninja and his family were featured on the Family Feud. They also returned to the show as a part of "Celebrity Family Feud" in 2019.
December 2016 – Ninja doxed a viewer because they had a racist name and received a 48-hour suspension.
2017 – Ninja joined Luminosity Gaming as a Halo player, but also played H1Z1 and PUBG.
August 2017 – Ninja won the PUBG Gamescom Invitational (Squads Classification).
3 October 2017 – Ninja plays Fortnite on Twitch for the first time. Due to Fortnite's popularity, his viewership began to grow. At the time he began streaming the game, he had 500k followers. Six months later, he had over 2 million.
February 2018 – Ninja raised over $110k for the American Foundation for Suicide Prevention. He donated additional funds to other charities throughout the year.
14 March 2018 – Ninja and Drake teamed up to play Fortnite duos and set the Twitch record of concurrent viewers of 635k people. The pair had a fallout later when Ninja stated that Drake only did it to become more popular. On the same day, Ninja also played with Travis Scott and Juju Smith-SSchuster.
April 2018 – Ninja broke the previous set record by streaming to approximately 667k concurrent viewers at the Ninja Vegas event.
June 2018 – Epic Games hosts a charitable pro-am event with popular streamers, including Ninja, at the e3 event. Ninja and Marshmello won.
21 July 2018 – Ninja and Red Bull (who had partnered together the previous month) created the Red Bull Rise Till Dawn event in Chicago, where many players challenged him.
13 August 2018 – Ninja announced that he would no longer stream with female streamers out of respect for his wife, due to the drama and rumors it would cause. He received a lot of backlash for this as it was seen as a way where women wouldn't be able to collab and be seen by more viewers.
September 2018 – Ninja became the first esports athlete to be featured on the cover of ESPN Magazine.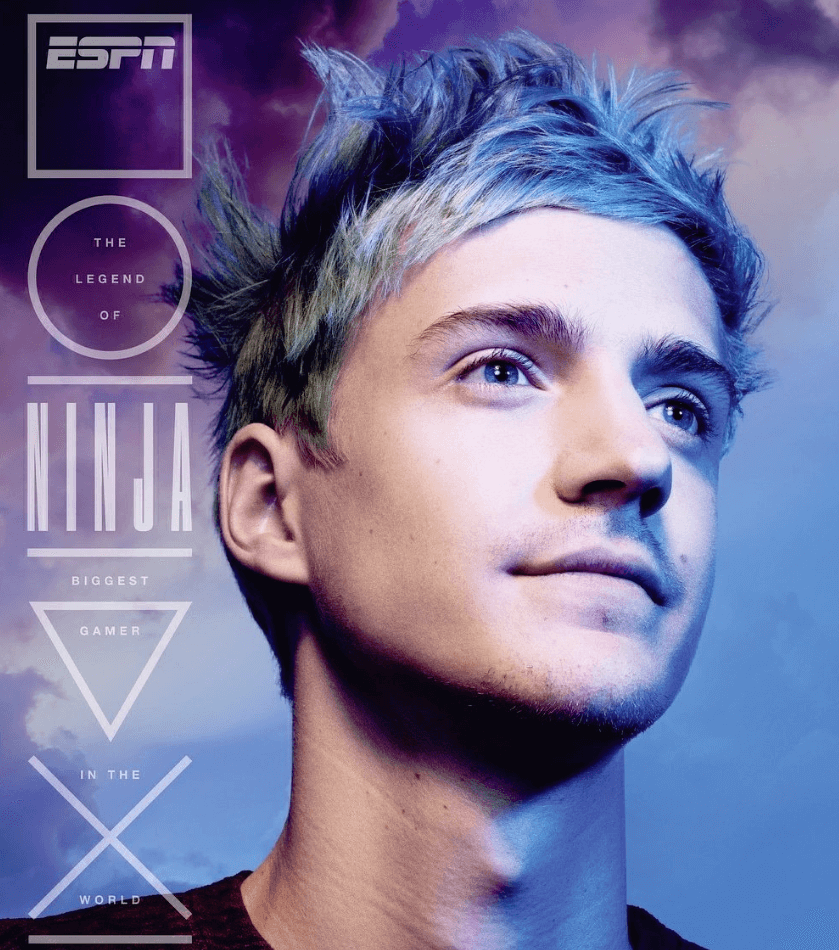 November 2018 – Ninja falsely reported the Fortnite player IcyFive for stream sniping. Dr Lupo told Ninja to watch for IcyFive doing an emote, and when the player did, Ninja assumed he was watching the stream. He was not, and Ninja received a lot of criticism for making the claim and ranting about it.
12 November 2018 – Red Bull uploaded their video of how they recreated Ninja's stream room based on his design.
14 December 2018 – the album Ninjawerks: Vol 1 was released. This record featured electronic music through the label Astralwerks.
February 2019 – Ninja played Apex Legends at its release. Reuters wrote later on that Ninja was paid $1 million by EA to promote the game.
1 August 2019 – Ninja announced that he would be leaving Twitch for Mixer. He and his wife stated that this was because he felt limited by his contract at Twitch and wanted to grow his brand in other ways. He also felt as though he was losing his love for streaming.
11 August 2019 – Ninja tweeted an apology to his fans based on Twitch promoting other channels on his old channel, one of which was streaming porn.
20 August 2019 – Ninja's book Get Good: The Ultimate Guide to Streaming was published alongside a sticker book.
25 September 2019 – Ninja appeared on the TV-show The Masked Singer and was unmasked after his first song.
15 January 2020 – Ninja announced that Epic Games was releasing a Fortnite skin that was based on his appearance. People were able to begin using it the next day.
July 2020 – Mixer closed its doors. Ninja was released from his deal. He was able to cash out his contract.
10 September 2020 – Ninja announced that he signed a deal with Twitch and was back on the platform the same day.
Ninja Sponsors and Partners
Ninja has worked with some of the following companies through gaming sponsorship programs:
Red Bull
Uber Eats
NZXT
Adidas
Hershey's