This article will detail how music can help build your virtual communities. We'll also discuss the best music you can use when Twitch streaming.
How to Use Music When Building Your Twitch Community
Music is such a powerful tool that can bring a community together. Not everyone may notice how online communities today use music to create a welcoming environment for their members. Here's how you can use music on your channel to build a Twitch community.
Appeal to Emotions

Music can greatly influence the emotional energy of community members. Human factors such as emotions can help you build your Twitch community. Music induces human brains to release dopamine, a happy or feel-good chemical.

This paper has shown that music affects everyone, especially one's emotions. Previous research has also discussed the correlation between music and dopamine. With the right dopamine-inducing music, you can appeal to the emotions of your viewers.

For instance, if you play upbeat, happy, cheerful music, then your regular viewers will feel the same. This is when they associate happiness and cheerfulness with watching your streams. This dopamine rush from listening to your stream's soundtracks helps establish a positive event in your follower's life.

It's the same for new viewers. When new people feel joyful after watching your stream for the first time, they will likely return to your channel.

Set a Mood

Setting a mood for your Twitch audience can help prepare them to interact with your channel throughout the entire streaming session. This can become a standard practice for you and your channel to establish a sense of familiarity.

Here are a few ways music can set the mood for your stream:

If you are streaming a horror game, using an eerie and suspenseful soundtrack would make sense. On the other hand, if you create content that's more chill and laid back, like Just Chatting streams, you can opt for music in the Jazz or LoFi genres. It's best to play these types of music at the beginning of your stream. This way, you build up a sense of thrill or calm, depending on your stream's content.

Moreover, playing upbeat and exciting music, like EDM, can help keep your viewers' energy up during a hype train event. People will more likely ride the hype of the event and contribute financial support to help your channel hit the target you set for the event.

Lastly, you can play music before your stream starts. You can select a dedicated soundtrack for your pre-stream screen. Now, people can associate that music with your channel.

Creates Social Bonds & Build Relationships

With online platforms like Twitch, you may find it difficult to connect with your audience. Engaging with people you don't see takes a lot of work. However, successful creators have discovered how music can help them create social bonds and build relationships with their audience.

They take advantage of the type of music they have playing in the background of their streams. Music is a staple for every Twitch stream, whether seen on larger or smaller channels.

So, how do you build relationships with your viewers through music?

You can ask them to suggest songs to play on your stream. This encourages viewer participation. Several tools and bots can help you facilitate this activity on Twitch chats while you are streaming. Other viewers can send chat messages to queue songs.

But how do we know that people will choose to participate in activities like this?

Humans have social motivations. Social motivation is the notion that humans are innately inclined to participate with others in social settings. According to this paper, a Twitch viewer's motivation to be involved socially is dependent on emotions, watch time, and monetary contributions.

Music is an influential medium for fostering participatory communities on Twitch. More viewers are likely to engage with you, your channel, and other viewers as they stay on your Twitch account.
Best Music for Live Streaming
Now that we've talked about how great it is to have music on while streaming on Twitch let's talk about the best music you can use on your Twitch channel. You may already be aware that there are certain restrictions when playing live music on a live stream.
It's best to use music content that's either licensed, personally created by you, or from the list of songs found on Soundtrack by Twitch. This way, you can avoid getting a copyright violation and having your stream taken down.
Royalty-Free Music: Epidemic Sound
One of the best ways to obtain music for your streams is with Epidemic Sound. This website is dedicated to bringing royalty-free music to those content creators, like streamers. They have tens of thousands of songs and more the 170 genres you can choose from. With this large selection, you will indeed find the best tracks to play during your game live streaming on Twitch.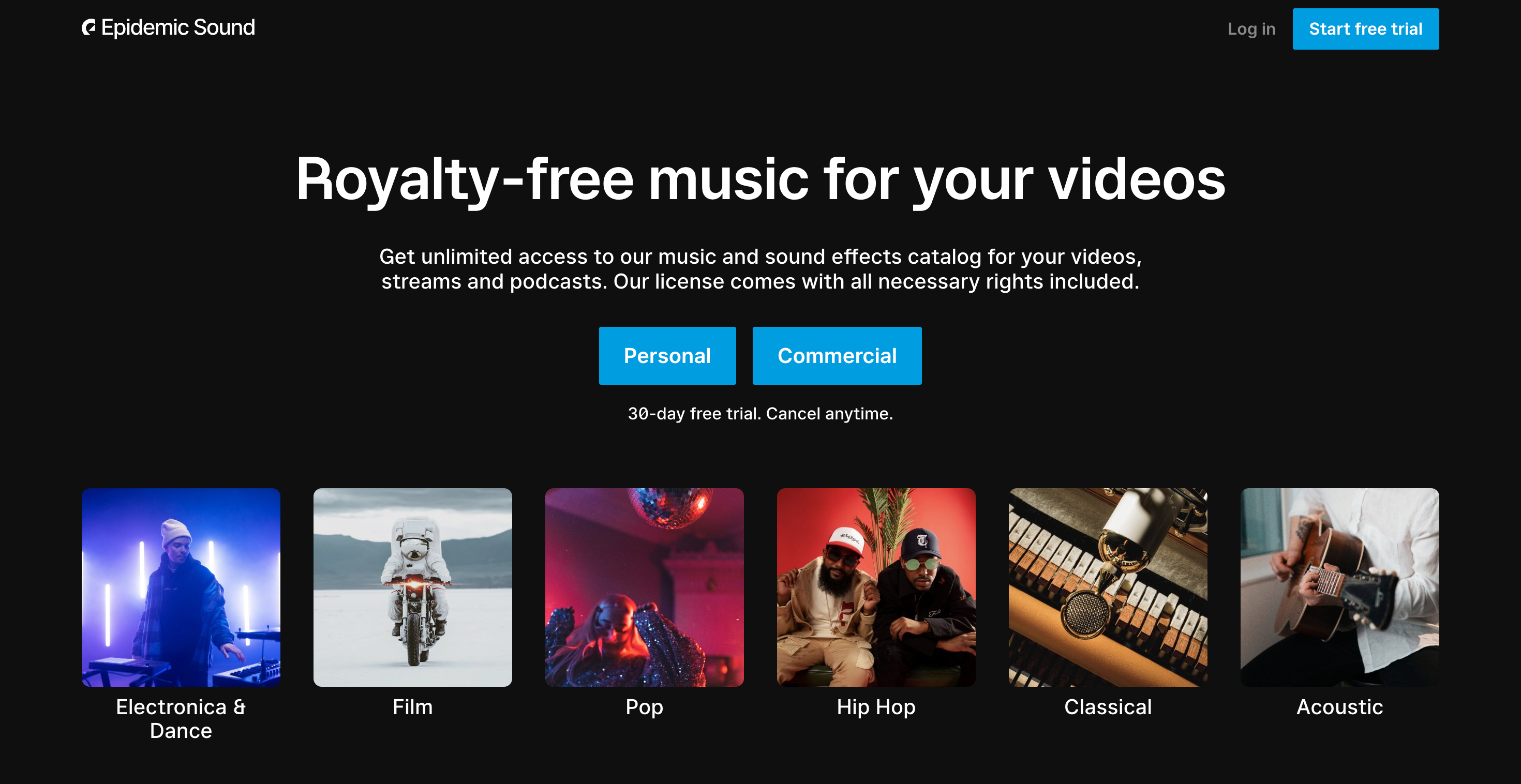 You can choose from several genres like film, pop, hip-hop, classical, acoustic, and electronic music. These are some of the most popular genres on Epidemic Sounds you can browse.
What's great about Epidemic sound is they offer a 30-day free trial period. This is a great time for you to try out their soundtracks on your online platform. They let you see just how great their music collection is. Many other streamers already use Epidemic Sound, so try it for your channel today.
Conclusion
Successful Twitch streamers know how to use music to their advantage. Regarding content on a live-streaming platform, it's important to use every tool you can to connect to a wider audience.
Music is a crucial aspect of building a channel and creating your very own Twitch community, so use it the best way you can. Good luck and good vibes!