With an initial print run of 2.6 million cards, Magic: The Gathering was released in August 1993. The card game continually built momentum over the years and still has an avid follower base that picks up new players every year. The computer Arena version of the game has since been released, and if you are skilled enough at the game, you may be able to earn from your hobby.
Magic: The Gathering Arena requires both knowledge of the game and a good head for strategy. Hiring a coach to help you refine your game could potentially be an investment in your future as the starting point to get into the esports industry. Not only will you be able to improve and rise higher in the ranks, but you may also get the opportunity to network with others who are doing the same.
Our Coaching Ranking Process
When we reviewed our list of coaches and platforms, we looked for programs that would meet our reader's needs and created a ranking process. We kept several qualifications in mind as we created this list and will share what we looked for in coaches with you. Here's the process:
Credentials – you will want to find someone that has achieved a lot in Magic: The Gathering, both in personal gameplay and in coaching.
Esports experience – look for a coach who has experience in the esports industry, especially if you are hoping to eventually join the pros. They will bring a different perspective than someone who is merely a high-ranking player-turned-coach.
Coaching experience – just being a great player doesn't necessarily mean someone will be a good teacher. You will want to find someone who has coaching experience so that your time with them will be maximized.
Price – we understand that price is an important factor for many gamers. While the more experienced pros will charge more per hour, we will provide options that are affordable for most Magic: The Gathering fans.
Best Magic: the Gathering Coaching Services
GamerSensei
GamerSensei hosts many Magic: The Gathering coaches who are willing to teach players of all levels. You can search through their database of esports pros. You can look at their past teams and see whom they have coached as to how long they have been teaching. Every coach selected by GamerSensei has to go through a 5-stage application process to ensure that they are both experienced gamers and teachers.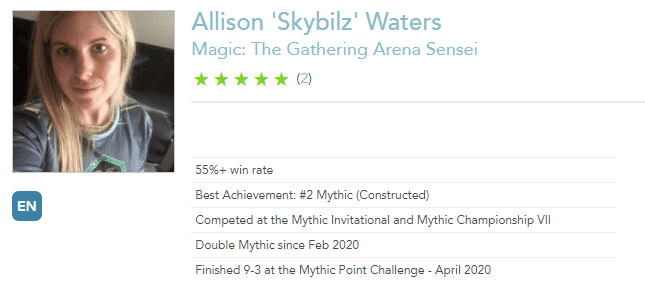 GamerSensei provides the following experiences:
One of One coaching – get full attention from one of the best coaches on the market as they go over your gameplay with you and give you tips and techniques that will help you rank to the next level.
Replay analysis – a sensei can go over your past gameplay and focus on specific areas of weakness to really point out what you could do better.
Team coaching – trying to grow as a team? Coaches can work with all five of you at the same time to help you find ways to work better together.
You can search through dozens of different choices, though the platform already ranks their top coaches in order. The platform also lists each coach's qualifications so you know that you can expect great results.
Fiverr
Fiverr is an online platform for freelancers that offer services in a variety of fields, including game coaching. Every Magic: The Gathering coach on Fiverr will have their own level of experience and price. Look through each listing to find an affordable trainer that fits within your budget and will give you the training you need.
You will want to read through what they typically offer as part of their service as well as any reviews from other customers before you make your selection to ensure that you find the perfect coach that can help take you to the next level of your gameplay.
Gramno
Gramno's coaches can help you move from the bottom 80% of Magic: The Gathering players by showing you ways you can improve your game. Their prices are reasonable and their coaches can help you reach your gaming goals.
Their coaches will give you a one-on-one analysis of your gameplay so that you can see the areas you need to work on to improve. They will also make sure that you fully understand the concepts of the game so that you can grow on the game and become a better player.
Spikes Academy
Spikes Academy offers several free courses for people who wish to learn to play the game well. Additionally, you are able to book coaching sessions with the six different gamers that are featured in the courses.
When Should You Get a Magic: the Gathering Coach?
There are several reasons why you may want to get a coach while you're playing Magic: The Gathering Arena:
Plateau – if you have reached a plateau and can't seem to improve your game or rank, a coach may be able to point out simple things you can work on to improve.
Deck construction – a good Magic: The Gathering coach will be able to help you build a better deck and point out the weaknesses in your current deck.
Learning new strategies – if you want to learn a new a new strategy in the game, find a coach that will be able to help you master it by pointing out the habits you will need to change.
Professional aspirations – if you want to improve your game enough to become a pro esports athlete, it is a good idea to regularly work with a professional coach. They will be able to help you improve your game and potentially help you find and join a sponsored team. Most coaches who have previously played at an elite level have industry connections and may be willing to share them with a loyal client who has proved that they are professional quality.
Magic the Gathering Coaching for Free
If you can't afford to purchase personalized coaching, but still want to learn to improve your game, you can watch YouTube tutorials or skilled streamers. Here are a few that we recommend:
Useful YouTube Channels
CovertGoBlue – this channel will show gameplay and will go over specific cards and decks to help you learn the ins and outs of game strategy.
Tolarian Community College – this "college" focuses on Magic the Gathering and has in-depth guides on how to play the game to the next level. While this channel goes into the card game more than the Arena game, many of the strategies remain the same.
Pro Streamers to Watch
Amazonian – Amy places in the top 16 on the first MTF invitational. She frequently answers questions and engages with her community as she plays at a high level.
Noxious – this streamer enjoys creating unique decks and theorizing what would be the best way to play. He understands the game at a god-tier level and isn't afraid to share his knowledge with others.
Conclusion
As a game, Magic: The Gathering has been both popular and inclusive. We believe it will remain popular and understanding the concepts and refining your strategy could potentially land you a gig with a team or help you grow a channel on Twitch, YouTube Gaming, or Facebook Gaming.