One of the best ways to get more viewers on Twitch long-term is to have good information in your stream bio relating to both you and your schedule. Make sure that your viewers know where to find you on social media sites and Discord. Give them enough information about yourself that they feel connected with you and want to socialize on your channel.
Note: if you are looking for information on what to put into the "Twitch bio" section that will show up on your mobile banner, read our post How to Write a Twitch Biography for Mobile Banners. The following post is what to write on your Twitch Profile.
What is a Twitch Bio (or Profile)?
A twitch bio is your introduction to new viewers who come to your channel. Use Twitch Panels that represent your brand and include information that entices people to follow your stream.
Don't know what to put on your Twitch About me? Use this easy to follow the template as a guide by filling out the questions below.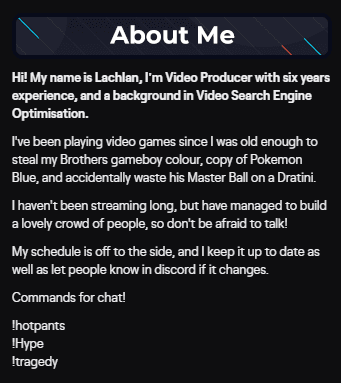 Always Use Twitch Panels
Keep everything organized and looking professional by using the best Twitch panels in your profile. Some of these can act as the full information, while others can serve as the header. Try to make them all look as though they are a part of your overall branding.
It is generally a good idea to have the same designer for the majority of your graphics. Work with them to find unique ways to make your profile look stylish. Here are three of the top places you can go to get Twitch Panels:
Nerd or Die – Not only does Nerd or Die offer packages containing premium panels, but they also offer a free panel maker, allowing you to make custom panels for your channel.
OWN3D – offers panels and packages for a discounted price, letting you give your channel a professional upgrade.
Placeit – Placeit provides templates that you can edit and build upon. Change the text and color to whatever you want and add personal images.
Twitch Bio Template
1. General Information about Your Stream
List the topics that you stream and why they interest you. If you are a gamer, briefly explain when and how you got into gaming. What game initially captured your attention? Do you play games from multiple genres or focus on just one game? Do you want to be a variety streamer?
Do you frequently stream with others? Do you want to? List anyone that you regularly collaborate with or the qualities of people with whom you would like to work. If you are part of a team or a group of people, list it, and any relative links.
2. Twitch About Me Template
The most important section in your profile is the personal information about you. It doesn't have to be super-specific but letting your viewers know basic information about yourself will answer a lot of questions they may have.
Answer the following questions in a short paragraph:
What kind of content do you stream? (variety or favorite games)
How old are you?
Where are you from? (Country or State you were born in)
What are your passions and hobbies outside of streaming? – Music, sports, Movies or Tv
Do you have a job other than streaming?
If you have pets, mention them. Explain what they are and list their names. If you have a spare camera and your computer can handle it, set up a pet-cam. Viewers love being able to see your pets alongside you.
Where do you go on vacation?
Are you married with kids
While you don't have to answer every question, fill your profile with tidbits for your viewers. Even broad details can make great talking points that will help your community interact and connect with you.
WARNING: Be careful not to share sensitive information. There have been several instances where streamers have been harassed because their location has been found.
At the end of your about me, including a call to action, something to entice viewers to stay.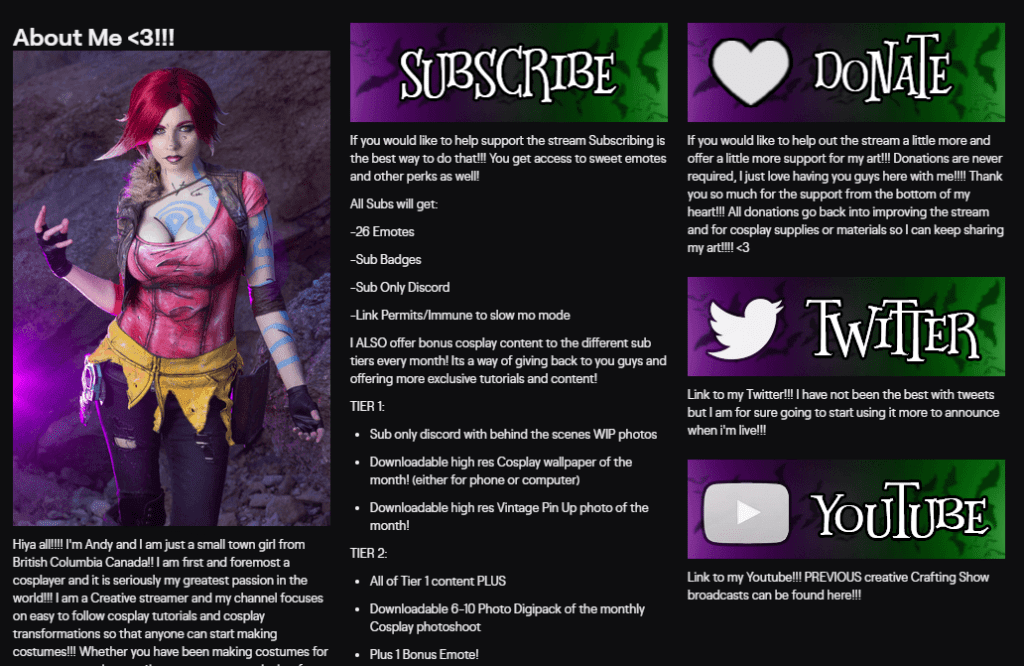 3. Twitch Subscriber Template
Add a panel that will remind people that subscriptions are a thing to entice them to support your channel. Add a unique message to let them know that it would help your channel. You can even let them know what the funds will be used for (if you wish).
Not sure what to write? Consider something like the following:
Why Should you Subscribe?
If you do choose to go above and beyond to support my stream by subscribing I'll be incredibly grateful, all the money earned will be put back into improving the quality of the stream and the viewer's experience.
Include Sub Perks
When your followers are able to start subscribing to you, list out special perks that you've created for them. Find special ways to give back to your supporters, whether it is through special play days or an automated Discord Channel. These extra incentives will set your channel above other similar channels and people will be more likely to subscribe!
If you stream on Twitch, list perks for each tier. You should also mention Prime Gaming and how it works. Not everyone who has Amazon Prime is already aware of the benefits they can receive at no extra cost. They may use their Prime Gaming on you!
Twitch Subscriber Rewards Example
Your perks should somehow involve your content and overall branding. Each tier should have something extra than the previous tier. Look at the following example:
Tier 1 – custom emotes, sub only games, movie nights
Tier 2 – all of the above + offline games, offline events, discord role
Tier 3 – all of the above + Access to Snapchat
Modify the above to give your viewers an extra incentive to sub to your stream.
Twitch Subscriber Emotes/Sub Badges
Post an image panel with your emotes and sub badges on it. Showing off your emotes will let people see the effort you are taking in your channel and subtly remind them to subscribe.

4. Twitch Loyalty Point Rewards
If you have a loyalty point system associated with your account, explain how those points can be earned and used. If there are chat commands to the points, post them in the channel. Give them a name associated with your brand.
5. Twitch Donation Template
If you want to accept tips for your stream, you will need to set up a Twitch donation system through a third-party company.
Don't make your message sound too needy or greedy. Let them know that any donations are appreciated and explain that there are no refunds. If you know what stream items you are saving up for, list them, so they know where their tips are going. State something like the following:
All donations are very much appreciated and by no means required. Currently, all donations received will go to the improvement of the channel so I can upgrade my *insert desired piece of pc equipment*.
Some may choose to have no donations explanation with just a link to PayPal by clicking the donations panel.
Set Up Stream Alerts for Donations
If you have set up exclusive stream alerts for specific amounts, list both the kind of alert and the amount needed. Stream alerts are a great way to give "mini recognition" to your followers.
If you use Patreon, link to that as well.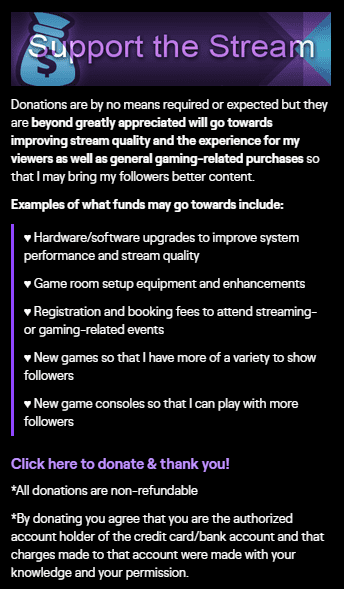 List Your Top Twitch Donators (Optional)
Post leaderboards of your top gifters in your profile. People love to see that they are appreciated, and this is an effortless way to let people know how much you appreciate their help.
One example that you can use is StreamLabs Leaderboard. This extension keeps track of your views, cheers, and loyalty points for the week, month, or all time.
You can also type out your leaderboard like this:
Xgamers – $200
KitforGod – $80
Spice4fun – $50
Chadlyalways – $20
6. Community Discord Information
Let them know about your Discord server. While many people post the link with a panel, take a couple of sentences to sell its value to them. Why should they want to join it? What do you and your community do there? Growing your Discord server is a great way to unify your followers. Many will become friends through your channel.
If you haven't build your Discord server yet, you should consider it.
7. Social Media Information/YouTube Channel/Patreon
Add links to your social media and YouTube accounts. Let people know how you use them, so they know they want to join. If you publish YouTube videos on a schedule, detail the general content and when they are posted.
Common platforms listed include Youtube, Twitter, Instagram, and TikTok.
8. Twitch Stream Schedule Template
Having regular stream times helps your viewers know when to tune in to your broadcast. Even if you are unable to begin your stream at a set time each day, create a Twitch schedule for your viewers to check periodically.
Detail in your profile which days you stream and what time they will begin. If you have special content on specific days, write it out (i.e., "On Tuesdays, I play with my subscribers."). Your viewers will be able to access this information at any time to make sure they show up to support you.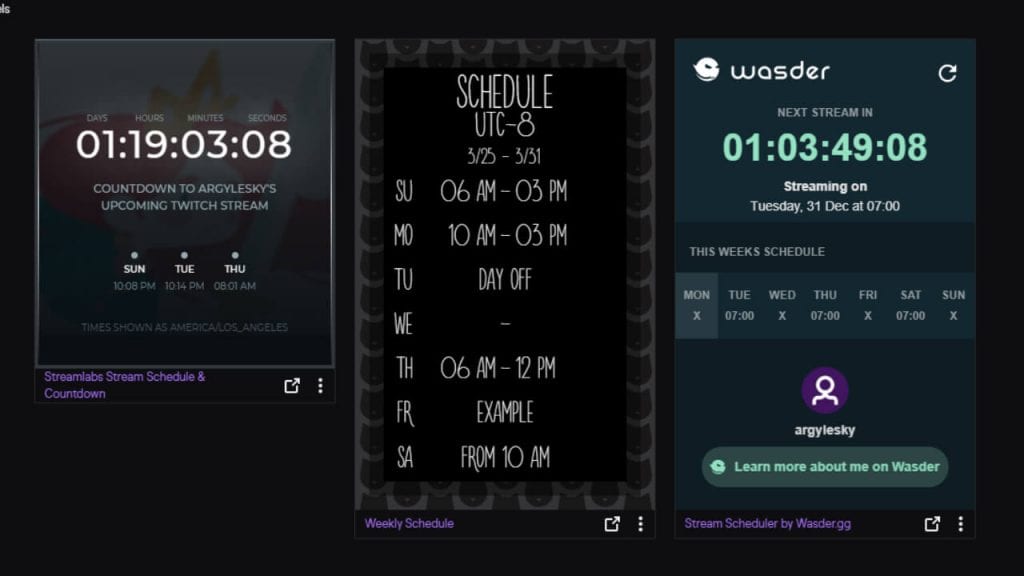 You can also set up a schedule widget to your profile that will tell your viewers when you will stream next in their own time zones.
Another good way to show your schedule is through using an offline screen. When viewers visit your channel, an offline screen will immediately show them your schedule.
9. List Equipment Specs in Twitch Bio
If you are proud of your equipment, list the specs (especially if your viewers can see some of it on camera). Viewers often ask what camera, microphone, or keyboard you're using. If you have the specs listed in your profile, you can refer to it to answer these questions. It can also help you set yourself up for working with sponsors in the future.
Here is a list of some of the items you should post in your equipment panel:
PC Specs Panel Template
Case
Motherboard
GPU
CPU
Fan/Cooler
RAM
Harddrive
PSU
Audio Specs
Microphone
Mixer
Any musical equipment
Headset
Visual Specs
What webcam/camera do you use
What lighting
Mention capture card if you use it
Mention stream deck if you use it
Amazon Blacksmith Panel
Amazon blacksmith allows you to earn affiliate commissions when viewers purchase an item you have recommended. This is a great way to monetize your channel.
Affiliate/Sponsor Links
Once you start working with affiliates or sponsors, post links to them in your description. Your viewers will be able to access their website easily. Read How to Attract Stream Sponsors for tips on getting your first sponsorship.
If you use any of the products sold by your affiliates, you should definitely list them in your equipment section.
Branded Stream Merchandise
When you get to the point where you want to make and sell merchandise related to your game or channel, add a panel for it. At first, try to keep the ideas vague and related to gaming or streaming as a whole. As you grow in popularity, you can reference inside jokes or other brand-related things.
10. Credit Channel Builders
If your graphics were custom designed by an artist link to their profile. Referrals are a great way to support those in the community.
Link to the person who helps you with editing or have assisted you to build your channel uniquely. This is an excellent way to show your appreciation.
11. Email for Collaborations and Business Inquiries
Post an email for your channel that you will check frequently (you can also forward them to your main email address). Potential sponsors or other streamers will be able to get ahold of you to ask if you want to work together.
Twitch Wishlist/PO Box
You may also want to include a Twitch Wishlist and a PO Box. If you live in a large town (where it is easier to remain anonymous) or you aren't worried about people tracking you down, you can add your PO Box number to your profile.
Fans would then be able to send you personalized art or small gifts that you can open and show on-screen. Make sure to pre-open the items beforehand to make sure everything is appropriate to show on camera.
12. Twitch Channel Rules
Write down your channel rules where they are easy to see. Make sure to keep them simple and clear so that there is no confusion. Let people know upfront about what you consider a bannable offense.
13. Channel Goals/Aspirations
If you are working toward specific goals or metrics on your channel, list them, and your progress. These can refer to the number of concurrent viewers you want to reach next or a specific level you want to beat in a game.
Posting your aspirations where your viewers can see them will inspire them to help push you toward that goal. People love to feel as though they are part of something bigger than themselves.
14. Any Shared Games/Servers
If you frequently play games with your viewers, write out a section detailing how they can be eligible to play. List any rules associated with their game time (i.e., no cussing).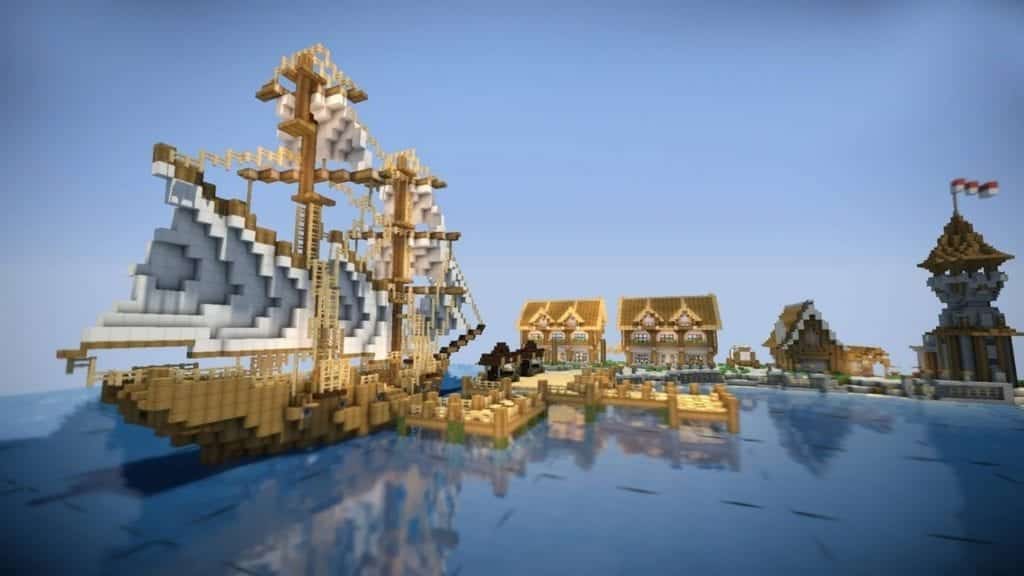 If you host any special servers (such as a Minecraft server), let your viewers know how they can join and what the server community is like. List any rules that apply to players.
15. List of Chat Commands
List every special chat command that you have for your channel. While you should have the usual commands that let people know when your next stream starts or gives basic information about you, make a few that are fun for your channel.
Have your viewers keep a count of how many times you die to a mage or the number of times you spill your coffee. The more interactive you make your channel for your viewers, the more people will follow, then later subscribe.
16. Twitch Channel Game
Consider adding a "channel game" for your viewers to play while they watch you. Look for games such as Stream Legends, a simple RPG that lets followers level up as they fight monsters together. Other Twitch extensions include Stream Minigames, Let's Play Together, and Streamer Smash.
17. Song Lists, Etc
Add links to anything else you incorporate into your content. If you are a musician, have a link to a page that lists all the songs you can perform so that your viewers know what they can request.
Conclusion
While you don't need to use every idea on this list, we hope you've found something that improves your profile and helps your viewers engage and support you more.