Figuring this out will help you determine what content you should be looking to provide in order to grow your YouTube channel.
This post will teach you how to find out how many subscribers you have on your YouTube channel as well as some information about them.
How to See Your Recent Subscribers on Desktop
You can easily see a complete list of your current subscribers in your YouTube Studio. Fortunately, it is easy enough to find out your YouTube subscriber count and more data from both your desktop and your mobile device.
In order to view your YouTube subscriber list on your desktop, follow these 3 easy steps:
Step 1

Log in and go to your YouTube channel page. Click on your profile icon in the top right corner to pull up your sidebar.

Step 2

Click on the "YouTube Studio" button from the drop-down menu.

Step 3

While on the "Dashboard" tab, scroll down to the bottom until you see the recent subscribers card, and click on "See All" to reveal a complete list of your subscribers on YouTube.
On the same page, you'll be able to see how many YouTube subscribers you have and some channel analytics. It's as simple as that!
How Many Subs Can You See on YouTube?
When a new YouTube account is created, the account is automatically set to private. Unfortunately, this list only includes your 100 most recent subscribers who have chosen to set their subscription settings to be public, and it will not show any accounts suspected or identified as spam accounts.
On the pop-up window, you can sort them either by their subscription date or their own subscriber count. You will also find a column that will show if you are subscribed to the channel yourself. This makes it very easy to go in and support channels that you may have missed a notification for.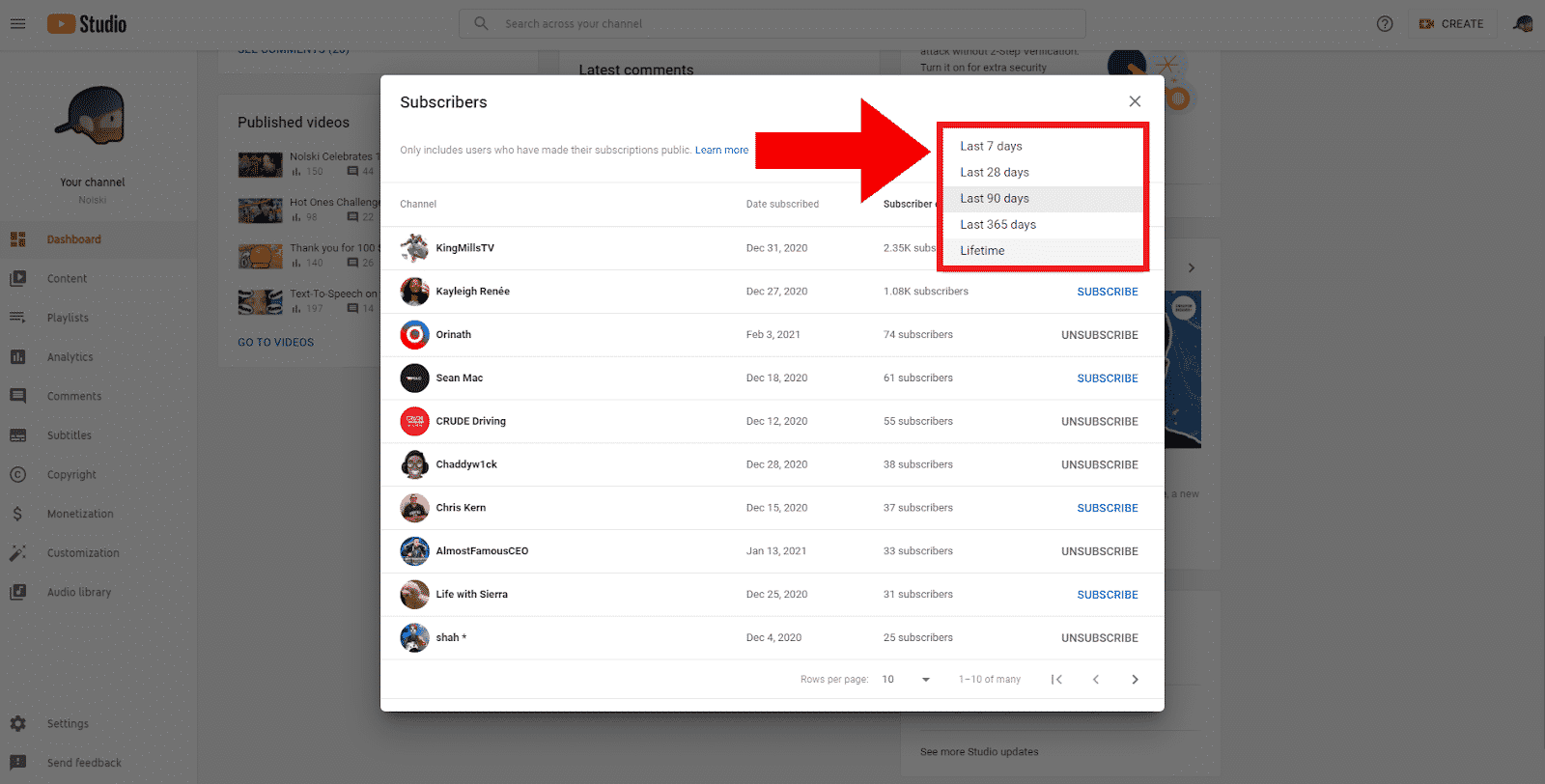 You can also filter this list by clicking on the drop-down tab in the top right corner if you wish only to see your subscribers in the last 7 days, 28 days, 90 days, or 365 days.
You can even choose to see the subscribers gained over the lifetime of your channel. There is an option at the bottom of the window to show either 10, 30, or 50 subscribers at a time per page this way you'll see more subscribers on one page.
If you happen to have the "Community" tab enabled on your account, it is a great way to send messages and interact with your subscribers in between video uploads. (You can post polls, images, animated GIFs, and more!) If your viewers have their notifications on, YouTube will send the post right to their inboxes.
Currently, you need 1000 or more YouTube subscribers in order to unlock this feature. (A handful of smaller channels that do not meet the subscriber requirement have gotten lucky and received the community tab as part of a beta test).
How to Hide Your Sub Count on YouTube?
Occasionally, some content creators don't want others to know how many subscribers they have. If you fall on that list, you can hide your subscriber counts on the YouTube Studio dashboard.
If you are looking to hide the subscriber count on your channel, you can do this:
Step 1

Click on your profile picture in the top right corner to pull up your sidebar.

Step 2

Click on the "YouTube Studio" button.

Step 3

While on the "Dashboard" tab, click on "Settings" at the bottom of the sidebar on the left.

Step 4

Click "Channel", and then "Advanced Settings." Scroll down until you find "Subscriber Count."
You can toggle this setting on and off as you please. This will hide the number for anyone viewing your profile, including yourself, but you'll still be able to see the number in your dashboard.
Conclusion
Being able to view a list of your subscribers is a simple, yet highly effective tool when trying to build a following on YouTube. Having a strong understanding of your audience will help you brainstorm new ideas and deliver quality content that your viewers want to watch.
Being granted the ability to analyze which one of your videos enticed a certain kind of viewer enough that would make them click the "Subscribe" button will allow you to grow the audience that you desire, provided that you continue to produce the same kind of content.
Viewer retention will naturally lead to the ultimate goal, which is growing on the platform.