If you have anxiety about streaming, there are also a variety of thing you can do to lesson your concern about viewers basing their initial judgments of your channel solely on your follower count, including:
Having an inviting About page
Displaying a consistent streaming schedule
Being engaged with chat
Using eye-catching overlays to get people looking at you instead of your metrics
This article will cover how to hide that pesky view count on the Twitch website and inside of Streamlabs. It will also answer the question of whether or not you can see your follower count on Twitch.
Turn Off Viewer Count on Twitch in 3 Steps
The stream manager page on the Twitch website can be very useful to access during a live stream, with the options to run ads, start predictions and manage polls. It can be found through the following steps:
Step 1

Going to your "Creator Dashboard."

Step 2

Selecting the "Stream Manager" tab on the left-hand side of the screen.

Step 3

Once you're on this page, there will be a bar across the top of the screen with some stats about your stream and your Twitch channel. If you click on the "Viewers" tab, it will change the view counter to be invisible unless you hover over it.
This can also be done for any other piece of information in these tabs which can be useful if you don't want to obsess over various data points while you're live.
How to Turn Off Viewer Count on Streamlabs
The viewer count in Streamlabs is visible from the chat window.

To hide the viewer count in Streamlabs, click on the eye icon adjacent to the viewer count.

Pressing this again will make your viewer count visible once more.
How to Turn Off Viewer Count on OBS Studio
In OBS studio you need to have the "Twitch Stats" panel enabled to be able to view your viewer count. This is found under the "Docks" section of the "View" tab at the top of the screen.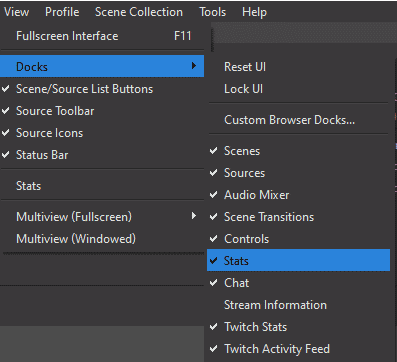 This is found under the "Docks" section of the "View" tab at the top of the screen.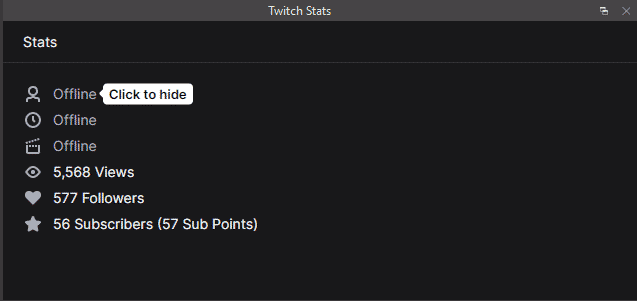 To hide your viewer count you can either remove this panel from your OBS using the little X in the top right corner, or you can click on the viewer count to change it to hover to view mode.
Should You Turn Off Your Viewer Count?
While live, you may feel that your viewer count helps you in that it lets you know when people join your stream – allowing you to leap into action and welcome them! Unfortunately, the viewer counter does not update in real time, meaning that a person can join your stream and leave without the count ever moving. Also, if you're not careful, watching the viewer count can distract you from providing a good show and cause anxiety/doubts if it's continually dropping or not moving up.
If you're the type to always be looking at the viewer count, or obsess over stats it may be beneficial to you to hide that viewer count and just enjoy the ride. If you always stream as if 10 people are watching then you'll be able to make better content, focus on chat, and have a good time. Plus, you'll have a little surprise after your streams to see how it did! You can always go back and look at the dips and peaks in viewers to analyse later rather than allowing it to distract you live.
Can You Hide Your Follower Count on Twitch?
As a streamer, you can not hide your follower count. It is one of many public metrics that help new viewers decide if your content is something that they want to engage in. However, you can control how your stream alerts react to new followers, and whether or not you display your follower count in your overlay.
One of the largest benefits a new creator has is their ability to connect to their audience on a personal level, to find their niche, and make their own obscure mark in a creative space. Many of Twitch's viewers love to find these creators first and are even rewarded for doing so with a Founder's Badge. An entire fanbase is waiting for their ability to permanently have "First!" written against their name; you just need to find them.
Conclusion
Turning off your viewer count can take a load of the mind while you're live, and with it being such a simple process there's no harm in trying it.