When it comes to broadcast software there's really only one name in the game, OBS. Created in 2012, OBS, or Open Broadcaster Software, is an intuitive and user friendly way to stream and record multiple sources at once. OBS allows users to combine video, sound, and animated and static graphics to create dynamic experiences for their viewers.
Why You Should Use OBS
OBS is the industry standard for live streaming broadcast software. There are some other, more niche, broadcasting programs available, but for live streaming on Twitch it's really the way to go. Not to mention that the two main services used to create overlays and alerts, Stream Elements and Stream Labs, integrate seamlessly with OBS. Stream Labs even uses its own proprietary OBS client, and due to that there are some slight differences so we'll be using Stream Elements for our overlay and alerts in this example. The software is also open source which means there is a thriving community online of people creating and sharing custom plug ins for OBS allowing users to customize their broadcasts even more.
How to Set Up OBS
So let's get into it and get OBS set up by completing the following:
Step 1

First things first, let's go to Open Broadcaster Software and download and install OBS.

Step 2

Once that's downloaded and installed I recommend right-clicking on the desktop shortcut, going to properties –> Shortcut –> Advanced –> and setting it to run as administrator. This will tell the computer to, when allocating resources, prioritize OBS to ensure you get the smoothest running stream your hardware can handle.

Step 3

When you first open OBS you'll be greeted by an Auto-Configuration Wizard. I recommend running that as it will give you a good baseline as to what your settings should be. You'll choose Twitch for you streaming service, one thing to keep in mind if you start tweaking the settings is that the max bit rate for Twitch is 6,000.
How to Set Up Scenes
Now that we've got that set up, lets get a scene set up. You'll want to make several scenes like a "Gameplay", "Starting Soon", and "BRB" scene for your stream to start out, but you can make as many scenes for as many scenarios as you'd like. Scenes will consist of at least three sources; a video/image source, an audio source, and an overlay.
Video and image sources will be things like your gameplay, your webcam, or a static or animated starting soon or BRB image. Audio sources will be things like your microphone, your gameplay audio, or a music player. Your overlay will be what ties it all together and will consist of things like your webcam border, alerts, and stream labels. You can make your own overlay or you can download them from websites like ours, NERD or DIE, and OWN3D.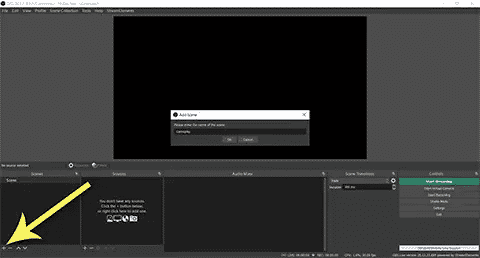 So go ahead and click the "+" in the bottom left of the Scenes frame and we'll start building a scene.
How to Set Up Stream Alerts in OBS
Now that we've got our first scene created we can start adding sources to it. Let's start with an overlay. As we said earlier, we're using StreamElements for our overlay and alerts. With StreamElements you'll create and manage your overlay assets in a web browser, and each overlay will have its own URL.
Once you've got your overlay and alerts set up you'll just need to copy the overlay's URL, click on the "+" icon in the lower right of the "Sources" frame, then "Browser", paste your overlay's URL in, change the dimensions to fit your canvas, hit "OK" and you're ready to go. Now anytime someone Follows or Subscribes to your stream will show the alert.
How to Import Your Audio
While the visuals of your stream are important, a very strong argument can be made that your audio is even more important. Almost every source you add will have an audio component to it. You'll control these sources with the "Audio Mixer". When you add in a source, like your overlay above, it will also create a slider in the "Audio Mixer". You will, however, also see a slider for your "Desktop Audio". This is where things are going to get a little complicated.
Any audio that plays through your computer will be included in your desktop audio. So your overlay's audio will be sent to your stream, but because it's playing over your computer so you can hear it in your headphones, it will also be sent to your stream through the "Desktop Audio" source. This will result in a slight echo for your viewers, and nobody wants that. You might think muting "Desktop Audio" would be the way to go, but that will stop other audio from being sent to your stream, like your music player. So what are we to do?
Step 1

First right click in your "Audio Mixer" and select "Advanced Audio Properties". A new window will pop up and you'll notice each audio source is listed and to the right there is a drop down box for each under "Audio Monitoring". I recommend leaving everything as "Monitor Off" and changing your Overlays and Video Sources as "Monitor Only (Mute Output)". You'll also do this for your microphone if you would like to hear yourself.

This will tell OBS to not to send those audio sources to your stream, but it will send the audio to your headphones, which will lump it in to the "Desktop Audio".

Step 2

You will also be able to change the level of each overlay's audio with its own slider and also your "Desktop Audio". The reason to do this is if you'd like to also play background music. I use Pretzel Rocks for royalty-free music, but you can use whichever service you like. As of this writing, however, there is no way to add an audio source for something like a music player so you'll need that "Desktop Audio" slider to control it. That's why just muting "Desktop Audio" isn't going to work for us.

Step 3

We haven't even added a mic yet, have we? Luckily, that's really easy. Just click on that "+" in the lower left –> Audio Input Capture –> Choose your mic from the drop down and it's ready to go. There are a ton of things you can then do to your microphone to make it sound better, but we have other articles for that. Luckily setting up the settings for your audio is much more involved than adding those sources to your scenes.
How to Import Video in OBS
We're in the home stretch now, all we need to do is add a video source. Luckily that's pretty simple. You'll want to bring in your gameplay and your webcam. The steps for both are the same, however. The only thing to note is the type of video source it is. There are four different types; "Window Capture" will import an individual window you have open, "Display Capture" will import everything from one of your monitors, "Game Capture" which will detect and import a game that you're playing on the same PC you are streaming from, and "Video Capture Device" which will import video from an external device like a capture card or a webcam.
Now that we know the difference let's set up a webcam.
Step 1

Click on the "+" in the lower right –> Video Capture Device and then select your webcam from the drop-down. For the most part all the settings should be imported and you won't need to change any. Click "OK" and you should see yourself on screen.

Step 2

In the "Sources" panel move your webcam under your overlay, resize it to fit in your webcam frame, and you're all set.

Step 3

You'll add your gameplay the same way, but selecting the type of input source it is for your setup, and making sure it's located under your webcam and your overlay. Now you've got your scene all set up and there's really only one thing left to do…
How to Go Live with OBS
You'll want to listen closely and follow these steps very closely to "Go Live". Look over to bottom right of the OBS window, there you'll see a button labeled "Start Streaming". Take a deep breath, hover your mouse over that button, and click it. Congratulations! You're now streaming live on Twitch! Nothing but fame and fortune on the horizon.
Conclusion
There you have it, you did it. You're a streamer now. Things got a little complicated there for a minute in the audio section, but we got through it. And, truth be told, we've barely scratched the surface of what OBS is capable of. Keep your eyes peeled here for more tutorials about all the advanced things you can do with OBS and Twitch.
Don't forget to hit "End Stream" when you're done and have a good time.