For starters, you will need to use a program like Restream, Streamlabs Prime, or MelonApp to stream to Twitch and YouTube at the same time. All of these programs offer different ways that you can restream to YouTube, Facebook Live, and many other streaming platforms. For example, Restream allows you to stream to 30+ broadcasting platforms simultaneously. 
But a better question is, should you live stream to multiple platforms at the same time? Sounds like an enticing idea, but at what cost? The answer to that question is a bit more complicated, and we will cover it in this post. We will also give strategies on how to use streaming to multiple platforms to your advantage for rapid growth and more viewers. Let's dive in.
How to Stream to Twitch and YouTube At Once
The best way to stream to multiple platforms is Restream.io. It's the easiest way to multi-stream, especially for beginners. Moreover, you can use it for free or pay a monthly/annual subscription for additional features.
Restream is a service that allows you to broadcast to over 30 different websites. Once you've logged in, you can add the channels that you wish to stream to at the same time. Restream will give you a unique key.
While OBS also allows multistreaming with the use of plugins like Multiple RTMP Output, Restream still takes the cake when it comes to ease of setup. Of course, you can also use OBS and Restream together for multi-platform streaming. However, with Restream, it will only take you a few steps to start streaming through the use of their browser studio. That's right, no need to download a whole new software, if that's what you prefer.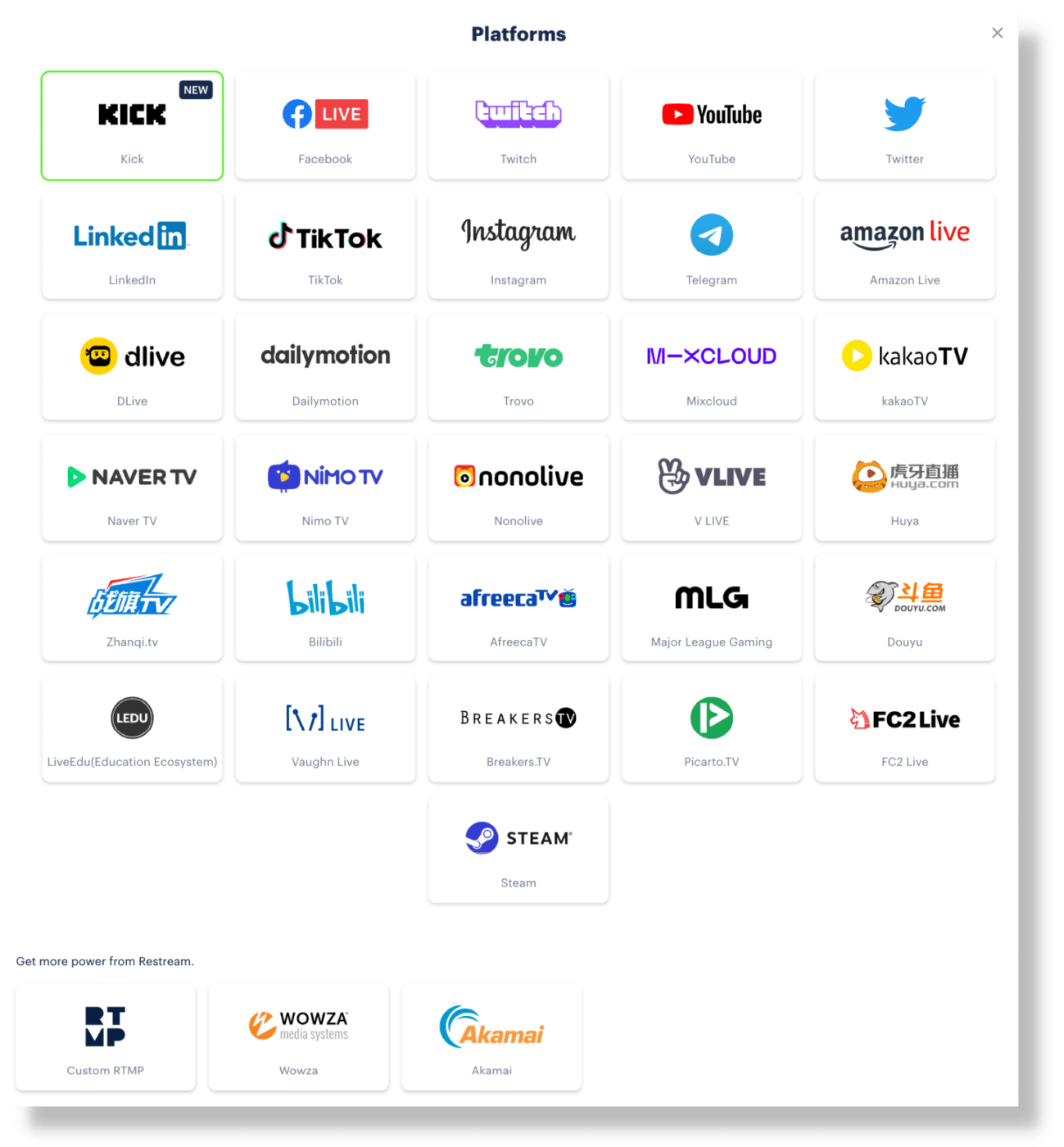 Even with a free account, you have complete access to major gaming live streaming platforms like Facebook Live, YouTube Stream, Twitch, Trovo, and Kick.
After you have made your selections, go to your broadcasting software and select Restream.io as the service to which you wish to live-stream. Insert your unique stream key, and you will be ready to go live. Restream offers an alternative service that will allow you to use their platform for free.
How to Stream to Both YouTube and Twitch for Free
Streamers have a few options on how they can stream on Twitch and YouTube at the same time.
How to Multi-Stream with Restream.io
If you want to stream on multiple platforms for free, you will need to use Restream and use their watermark. This is often the best option for new streamers regardless of which streaming services you've chosen to use. You do have to remember that if you have a Twitch channel, you can't multistream after getting affiliate status.
Here is how you can stream to Twitch and YouTube at the same time from Restream:
Step 1

Create an account with Restream. You will require a unique username, password, and a real email address.

Step 2

Choose which plan best suits your needs. Restream is 100% free although free accounts won't have recording or storage and will show Restream branding.

You can remove the "Powered by Restream" by upgrading to a Professional subscription from the Restream dashboard. Although not necessary for smaller streamers this is a viable option if you have a large community or are trying to grow rapidly ad-free.

Step 3

Select which individual platforms you wish to stream to. Restream works with 30+ platforms including, Twitch, Facebook, Youtube Live, Twitter & Linkedin.

Step 4

Connect your channels so that you can stream from a single platform, such as OBS Studio. Click on the platform icon and connect your various accounts with Restream.

Step 5

After the initial set up, you will be redirected to the app's homepage which looks like this.

Step 6

Set up your broadcasting preferences and streaming software. You can stream directly from your browser, multiple participants in different locations, from a phone or GoPro, or directly to your own website. You can find more about available broadcasting features on the Restream Help Center.

If you're streaming from a preferred streaming software like OBS, choose Multi-stream with 3rd-party software to begin. You will have to set it up first.

Otherwise, if you want to stream directly using Restream.io Studio browser, choose Stream with Studio option once you get to the app's homepage. Follow the on-screen instructions to get started streaming.

Step 7

Add sources, make some final tweaks, and go live!
Restream also offers many other services including the ability to play pre-recorded videos on Twitch at a later date.
How to Multi-Stream with Streamlabs Prime
Streamlabs Ultra (formerly Streamlabs Prime) is the premium addition to Streamlabs. It gives you access to over 40 different apps that can improve the quality of your streams and potentially earn you more money through merch sales.
Streamlabs Ultra also allows you to easily multi-stream from Streamlabs, one of the best streaming software currently on the market (and it's free!). If you already use the broadcasting software, this is the simplest way for you to start multi-streaming immediately.
A Little More About Streamlabs
Streamlabs is one of the top streaming services in the live streaming industry. Many content creators use it for streaming video on both YouTube and Twitch. With Streamlabs, you can connect to streaming services directly from the program. This eliminates the need for you to input your stream key, although there is a stream key box for certain platforms.
How to Multi-Stream with Streamlabs Talk Studio (formerly MelonApp)
Streamlabs Talk Studio (formerly MelonApp) is a browser streaming software that was created by Streamlabs during the 2020 pandemic. Streamlabs realized the need for an easy-to-use browser platform for professionals who needed to stream as part of their careers.
The app is extremely intuitive to set up and gives you several simple options to create a seamless stream straight from your browser. The premium version allows you to stream to several platforms at once with just a click of a button.
How to Multi-Stream Using OBS and Other Services
There are other ways you can stream to Twitch and YouTube at the same time. For instance, you can configure OBS studio when live-streaming. There are many tutorials online that will walk you through the process.
Advantages of Multistreaming
While there is only one real "pro" to streaming on multiple platforms, it is a good one: the ability to extend your reach and find a broader audience. As a new streamer, it can feel exhausting to broadcast to one of two viewers, and having a more extensive reach is very tempting. 
When streaming to multiple platforms, you pull from a pool of a larger potential audience. This means you can funnel them to social media or the channel of your choice over time. 

With multistreaming, your growth isn't tied to only one platform. This means, that if another platform (like Mixer) goes under, you won't lose your entire audience. 

The more views you have overall, the more appealing you will be to brands who will want to work with you through sponsorships or affiliate programs. You will also have greater odds of being found by gaming sponsors. 
Does Twitch Allow Multistreaming?
Multistreaming from Twitch can be tough as the platform really doesn't like it when you stream to multiple places at the same time. You may have to forgo being an affiliate or partner unless you stream on different platforms at different times than you stream on Twitch. You can also upload streams to a classic YouTube channel after 24 hours of it ending. 
While most monetized streaming accounts are not allowed to stream on other platforms, you can still stream on embedded sites or platforms that aren't built for streaming. You will need to read the rules of your platform to know what is allowed.
Several have gotten permission to steam to other platforms as well. On the other hand, as you are growing before you are monetized, you may want to consider multistreaming to build your audience in more than one place.
Why You Should Multi-Stream to Facebook
Of the streaming platforms, new content creators often find that it is easiest to grow a community streaming on Facebook Gaming. According to many, it is the easiest streaming platform for initial growth.
With the downfall of Mixer, there have been several streamers and viewers that have made the transition to Facebook and competition may pick up, but there are several ways you can network or find an audience on this platform.
Using the multistreaming software mentioned above, you will be able to reach several Facebook users, who will be able to bring others to your stream using social alerts. The one thing people worry about on this streaming platform is in the comments section.
Why You Should Multi-Stream to YouTube
As the second-largest search engine in the world, YouTube has an enormous reach when it comes to searches and finding audiences. Not only can you use your channel for live streaming, but you can also upload your own videos which can attract different viewers.
While the gaming live-streaming portion of YouTube is still in its infancy, it is rapidly growing year over year. The most appealing thing about streaming on YouTube is that it is easy to leverage your subs from your highlight videos and general content over to your live streams. 
Cons to Streaming to Twitch and YouTube Simultaneously
While this can be tempting as you can access more than one audience, there are several caveats if you want to stream on Twitch and YouTube at the same time:
Possible TOS violation

It is generally against the Terms of Service of the platform if you are monetized by it. For example, Twitch Affiliates and Partners are not allowed to show content streamed through Twitch on another service for 24 hours. 

Takes More Time

Streaming on multiple sites means you must split your time learning about each platform. You will also need a promotional strategy for each. While most aspects of a website will be the same as others, small variances can make a big difference in your workload. 

Takes More Effort

It is also challenging to create a community if you are streaming to multiple accounts. Even if you are reading the chats on every platform you are using, only you'll be able to see the entire chat. Your viewers will be unable to communicate with each other or follow the conversation. 

Hardware and Software Issues

While most multistreaming applications generally work well, they can occasionally disconnect, drop frames, or have other minor issues. This can be frustrating for both you and your viewers. 

Internet Connection Problems

You may also need to have a strong internet connection with a decent upload speed that can keep up when you are live streaming to multiple sites. Make sure that your gaming PC hardware will be able to handle that bandwidth.
Advice For Growing on Twitch and YouTube at the Same Time
If you don't mind the extra work, start your streaming career by broadcasting to multiple servers. We recommend streaming on Twitch as well as Facebook Gaming and YouTube Gaming. While Twitch has the largest user base by far, it is far easier to be discovered on Facebook Gaming and YouTube Gaming.
Let your viewers know that you are streaming to multiple platforms so that they understand you are talking with more than one chat. If you have one platform that you consider your "main" site, let them know so that your most loyal followers can watch from the same channel and communicate together.
Hold off on accepting a Twitch Affiliate or a partnership until you've built a decent-sized community, then cut back to the platform of your choice.
Create a Discord server for your communities to interact with each other. As they build their relationship with you and with each other, they will become loyal followers, even when you cut back to one streaming site. Make sure that you spend time with them and value their feedback.
Stream on Different Platforms on Different Days
If you want to try out different platforms, try spending a couple of days on one, and then a couple of other days on another. While you shouldn't judge either entirely on just your experience in two days, it is a good way for you to know which you prefer over time.
When it comes time for you to choose one and focus your energy on building that, let your viewership on the other platform know where you are. While many might not follow you, those who truly love your content should be willing to follow you to another site.
Multi-Stream to a Private YouTube Channel
Even after you've reached Twitch Affiliate (or the partnership of your choice), you can still use your Restream software to multistream to a private YouTube channel. This will save you an extra step if you want to publish your content on YouTube after a 24-hour period. It also gives you unlimited storage for your streams.
Conclusion
While it may be easier to reach a broader audience by multistreaming, the way to keep your viewers is by giving them quality content that will bring them back to your channel. Focus on getting your best content out first, and then perhaps you can think about expanding to other platforms later on if you believe it's best for your brand.