My personal experience with ASMR started back in 2012 when I read a news article that popped up, trying to make sense of this strange genre of YouTube videos that were circling around the platform at the time. The article listed a video titled: "What is ASMR?". I quickly began crying as I realized how intense the feelings I was experiencing were, and found comfort in Maria's calming voice and gestures, and the rest is history.
What is ASMR?
ASMR stands for Autonomous Sensory Meridian Response. It's a pleasant tingly feeling that you experience when you listen to certain voices, sounds, and gestures. You might have felt the effects of ASMR when you got your hair brushed by a loved one when you were a child or had felt a tingly feeling down your spine when you heard a unique sound (such as the wrinkling of a bag, or someone typing on a keyboard). If you're anything like me, you've experienced ASMR throughout your life without quite knowing how to categorize what that tingly feeling down your spine was.
What is ASMR on Twitch?
In the past 10 years or so, ASMR has become something much larger than just a few sounds that give us 'the tingles'. It has become the source of comfort, anxiety, and stress relief to the ASMR community. The community is spread around the globe and is united by its love for ASMR. You can find millions of YouTube videos and ASMR live streams on many social platforms, including YouTube and Twitch. The videos and streams are spread to different genres and types of ASMR triggers such as: Roleplays, cosplays, whispering, soft speaking, tapping, crinkling, brushing, scratching, massaging and many more.
In more recent years, the YouTube ASMR community has partly shifted and started streaming ASMR content live, both on YouTube and on the ever-popular live streaming platform, Twitch.
Should You Stream ASMR on Twitch?
While the ASMR community is still heavily featured on YouTube, in the past 2-3 years it has become more popular to stream ASMR live on Twitch. The format, however, is very different. If you're an ASMRtist on YouTube, your videos have a certain purpose, whether it may be personal attention to a singular viewer (such as in the roleplay and cosplay genre), or a trigger video dedicated to certain triggers, and the list goes on!
However, as the 'live' aspect on Twitch is highly important, streaming ASMR on Twitch is completely different than making an ASMR video and posting it on Youtube. Whether you should stream ASMR on Twitch depends on the type of ASMR content you'd like to create.
Unless you disable your chat completely, you will most likely have to speak to your chat, meaning that you cannot do "triggers only" ASMR. Some people enjoy the live aspect of ASMR and are happy to request specific triggers that they like, giving an advantage to streaming ASMR. So the question you need to ask yourself as an aspiring ASMRtist on Twitch is: Do I want to make ASMR interactive and chat while I do it? If your answer is yes, you should stream ASMR!
How to Stream ASMR on Twitch
Streaming ASMR on Twitch is quite different from streaming gaming content. In terms of preparation, you would want to equip yourself with an ASMR microphone (I will expand on equipment later), and a nice set of props you will use to create unique triggers to make your viewers tingle!
In terms of overlays, most ASMRtists tend to go for a full screen, minimal overlay.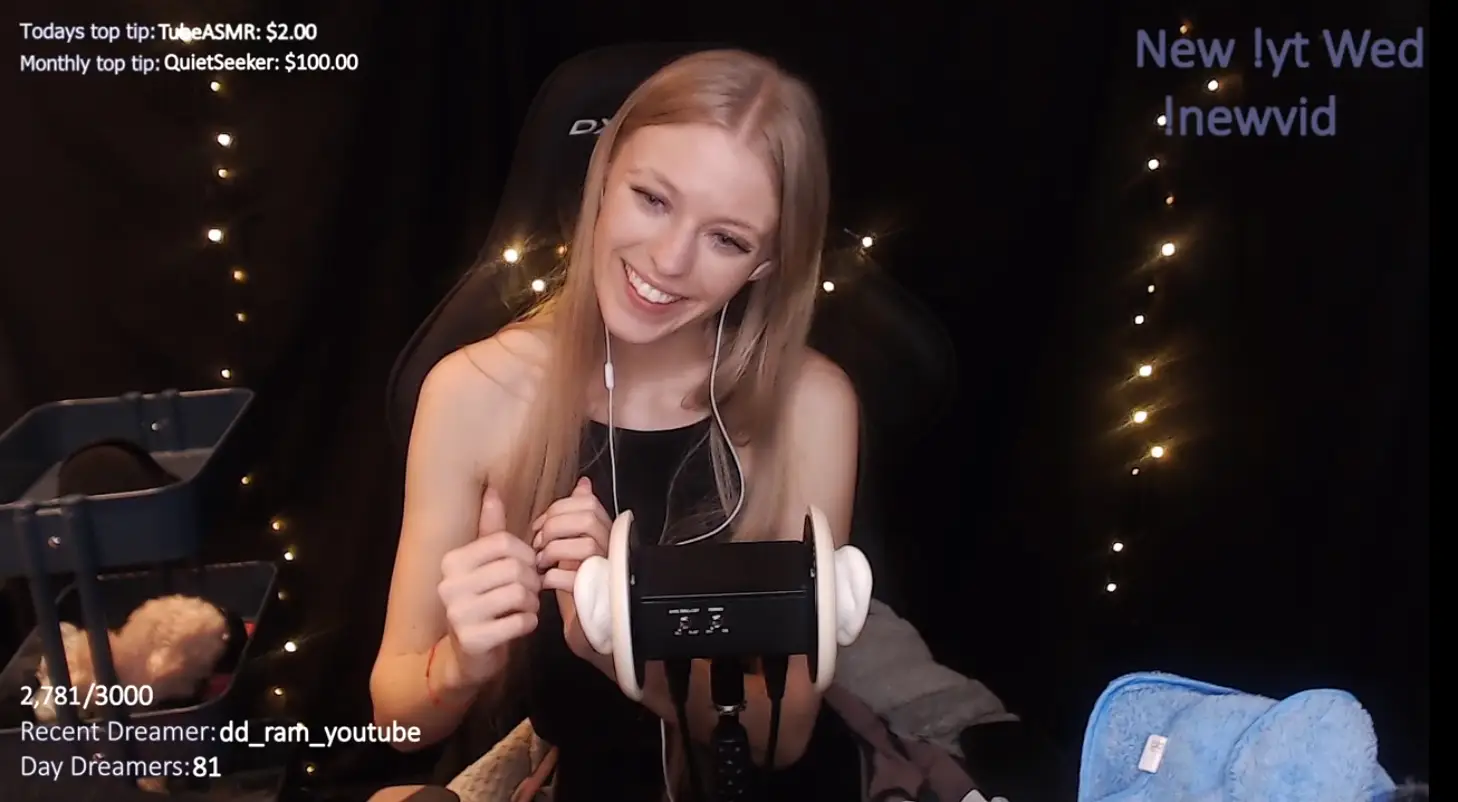 As you can see, CopyKat_'s overlay is very different from the traditional "in-game" overlay that most streamers on Twitch use. The reason behind it is that with ASMR, you want your viewers to focus on you, and the sounds you're making, instead of being distracted by flashing images and rotating numbers on the screen.
Some ASMRtists choose to add background ambient noise, whether it's the sound of soft piano playing, lofi, meditation sounds and more. Whatever you choose, make sure you are leveling your audio in OBS or StreamlabsOBS so that you are the center of attention, not the music (which goes for both ASMR and non-ASMR streams).
For further preparation, I always have my 'props' beside me, so I can make a few adjustments and unnecessary sounds during the stream itself. I will list some of my favorite triggers in the next section.
Equipment Needed for ASMR
So you've decided you want to stream ASMR on Twitch, and now you're wondering what equipment should you be using to immerse your viewers in a calming experience?
Here are the categories we will be covering for the aspiring ASMRtist:
Microphone
An ASMR Microphone is arguably the most important piece of equipment for ASMR and for streaming in general, I suggest you consider investing the most out of your budget on a good microphone. Here are some of my suggestions:
Blue Yeti Series
The ever-popular Blue Yeti microphone has been one of the best bang for your buck mics for years, and whether you're doing ASMR or any other streams, it is definitely a good option for anyone looking to spend no more than around $150 for a microphone. 
To learn more, check out our review:
3Dio Free Space
If you're looking to get serious about binaural sounds, and your budget can afford it, I would definitely recommend the 3Dio mic. This unique mic has been a favorite of many ASMRtists for a long time. It is equipped with two silicone ears that mimic human ears, which allow for a binaural, side-to-side, real-life experience for the viewer. These are my personal favorites.
Zoom H4N Pro
The Zoon H4N is a handy portable digital recorder that poses as a great ASMR mic on its own. The capsules that come on the top are great for binaural sounds. It also comes with built-in effects.
Rode NT1-A
The Rode NT1-A has unrivaled low distortion. If you're looking to invest a little more into your ASMR career, definitely check out a pair of these mics to provide an immersive ear-to-ear experience for your viewers.
Camera
After you've chosen which microphone you're going to use for your ASMR streams, it's time to think about visuals. If you are choosing to use a full screen for ASMR, I would recommend you think about a decent camera/webcam for a true HD experience for your viewers.
Logitech C922
HD 1080p Resolution
Brighter Images
72° Field of View
Logitech C920
Balanced option
1080p at 30 FPS
Tripod ready
Logitech C922
The Logitech C922 camera provides great visuals and is definitely the best bang for your buck if you're on a budget. It is known as the "Streamer's webcam."
Logitech C920
The Logitech C920 is similar to the C922, lacking a few stream-related features. This is the camera I personally use on my ASMR streams, and after playing around with some settings on Streamlabs, it looks pretty decent!
DSLR and Mirrorless DSLR Cameras
If you're looking to invest some money into it, you can't go wrong with a good DSLR camera. There are too many to list, but feel free to do your research and decide on which one suits your needs.
Triggers and Props
You've chosen your microphone and camera, you've adjusted your overlays in either OBS or Streamlabs, and now you're wondering what kinds of triggers you should do and which kinds of props you should use? We've got you covered.
A quick disclaimer: triggers are incredibly subjective, and you should be aware that not everything works for everyone. I suggest you listen to some ASMR streams/videos on youtube if you haven't already, and list out some of your own favorites as a start.
Here are some of my favorite triggers:
Soft whispering
Inaudible whispering
Crinkly sounds
Tapping on wood/cork/books/glass
Brushing sounds
Massage
Glove sounds
Visual triggers
Here are some of the props you can start off with:
Cork coaster
Bubble wrap
Books
Cleaning/latex gloves
Scissors
Containers
Lids
Glass objects
Makeup brushes/hairbrush
Conclusion
There is truly so much to discover with ASMR in terms of sounds and props, as well as different genres of ASMR (roleplays, non-speaking ASMR, fast ASMR, visual ASMR and the list goes on). Don't be afraid to experiment and ask your viewers what they like seeing and hearing, feedback is key!
I hope this guide will help you get started on your journey to becoming an ASMRtist. Best of luck, and most importantly, have fun! 🙂
Feel free to check out my ASMR streams on Twitch to ask me any further questions you may have!