The best thing about streaming from a computer instead of from a console is the ability to be able to add overlays to your live streams. Having a unique design can really help your channel stand out, whilst reaffirming your brands theme or colour scheme.
But how do you add a stream overlay to Twitch? This article will walk you through everything you need to know about setting up Twitch overlays in OBS.
How to Set Up Twitch Overlays in OBS
Whether you are adding overlays from assets such as overlay packs, or you have some built online using services such as StreamElements, the process is going to be very similar and easy to follow.
Firstly, you are going to want to add a new scene to OBS by clicking the + on the scenes dock. Once your first scene is created, you can start adding your source and overlays. Once you have your first scene, you can start adding your overlays:
Step 1

Open OBS Studio andclick the + icon in the bottom right of your sources section.

Step 2

Select the type of source you want to add. For example; static backgrounds will be Image, animated backgrounds will be Media Source. Now click OK.

Step 3

A properties window for the new source should now be on screen. If you are adding an image or media source, click browse.

Step 4

Locate the folder which includes your stream assets and select the file you need for the scene you are creating, then click open (if you have an overlay pack, you may have to unzip the pack folder first).

Step 5

Click OK in the properties window and resize/move your asset to where you need it. You will be able to see this on the preview window on OBS Studio.

Step 6

Repeat the process until your scene is complete.
Add Overlay From Own3D Pro or StreamElements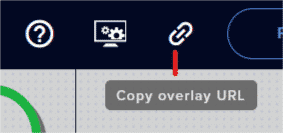 If your overlays are built online using services like StreamElements, simply copy the link from the overlay URL and add the image as a Browser source. You can learn more about how to add browser sources in my article, How to Set Up Twitch Alerts in OBS.
Free and Premium Overlays for OBS
Choosing a stream overlay for your channel will require you to have an understanding of your viewers, your niche, and how it will look when you are playing your game or creating your content. There are many quality stream overlays online that range from free and basic overlays to full premium overlays that have been designed for every scene.
If you don't have Twitch overlays for OBS already, you can find them in the following places:
You can also design custom made overlays with a photo editing software such as Adobe Photoshop, Canva, or similar products. If you learn how to design you own, you will be able to add overlays to OBS whenever you need a new design to keep your audience engagement up. You will be able to upload your own stream overlay to OBS in the same way you did on the above steps.
Different Types of Twitch Overlays
No matter what content you create on your channel, you can create an overlay perfect for you. Here is a list of ten different types of overlays for you to think about!
Cam Stream Overlay

An overlay to make your camera stand out. As simple as this may sound, there are all sorts of things you can do with a cam border. Whether it's changing color with interactions like follows and subscriptions, to simply adding a mask filter and making your camera a different shape entirely – this overlay can really add a unique design to your stream.

Chatting

An overlay designed for just chatting segments. Often this will feature a large camera, an interesting background, and your Twitch chat displayed on the scene. These types of overlays are great for building viewer interaction.

Alerts

An overlay that displays when someone interacts with your stream, such as following the channel. Great for celebrating and giving thanks to the people who do interact.

Labels

An overlay used to display metrics/labels. These overlays are great for displaying recent events, like follows or donation goals, on your channel for a longer period of time.

Gaming

An overlay used for gameplay. This overlay can be anything from simply just a capture of the game you are playing, to what is referred to as a community gameplay scene. Community gameplay scenes are often used by backbox streamers. These types of overlays display a smaller gameplay window, metrics/labels, and your Twitch chat.

Socials

An overlay used to display your social media account names. This overlay could be something as simple as an asset rotator, which cycles through the names of your socials – adding a somewhat animated feel.

Sponsored

An overlay used to display sponsors' logos and images. Often seen on a sponsored stream, but can sometimes be seen in an asset rotator cycling through multiple sponsors. When working with brands, they will generally send you an image overlay that you can add to your stream.

Starting Soon

An overlay used for starting a stream (i.e. intro screen). Normally this will be something simple like a header that says 'Starting Soon', a timer, and your Twitch chat, though more and more streamers have been displaying their camera with a blur effect in these overlays.

Be Right Back

An Overlay used for taking a short break! A simple overlay displaying a header that says 'Be Right Back' and your Twitch chat.

Ending

An overlay used to show that stream is ending. Another simple overlay, in the style of your be right back or starting soon overlays, used the same as a credits reel.
Conclusion
A good OBS stream overlay can help influence people to click on your channel. You can also easily switch from one Twitch overlay to another on OBS Studio either manually or with a tool like the Envato Stream Deck.
Both professional and casual streamers can benefit with OBS overlays. With a little pre-planning, you can create a whole branded channel with Twitch panels, social branding, and more. You can even use Streamlabs widgets to create additional branding when you get viewer donations, follows, and subscriptions.