You can't see or hear when your audio is bad while you are streaming, so it is a good idea to make sure it is set up correctly in advance. The good news is, that just a little understanding of how your mic works can make all the difference in how you sound to your viewers. 
Invest in a Good Mic
While the tips in this article will be good for any type of mic, it is a good idea to invest a small amount into a decent USB mic if you intend to take your streaming career seriously. Your sound quality is extremely important to your channel and using a webcam mic or a headset mic is not designed for content creation. They are designed for quick calls between co-workers or friends and can't offer the same quality as even a basic USB mic.
In the film industry, we have the saying, "60% of your film is audio." When it comes to Twitch, this can go up to 100% as people will listen to you as they walk around the house or play other games.
While a gaming headset with a built-in mic can be an option, you will still produce better voice quality with a separate and dedicated mic. Now, here are the things you should consider when looking for a good-quality microphone for your Twitch stream.
Sound Quality

Of course, sound quality comes first on the list. There is no point in buying and investing in a mic with horrible microphone audio. Be sure that the mic sound output is crisp and clear. Good audio quality makes a huge difference for your Twitch audience.

Directionality and Sensitivity

Directionality refers to your microphone's pick-up or polar pattern. There are different patterns such as the following:

Omnidirectional
Cardioid
Supercardioid
Subcardioid
Hypercardioid
Bi-directional
Shotgun

Your sound quality may differ depending on the pattern settings available on your microphone.

On the other hand, sensitivity refers to the ability of your mic to capture a low decibel level. Having a more sensitive mic is great, but it is more likely to pick up background noise and vibrations.

Noise Reduction

It's best if your mic is able to reduce background noises. You may want to consider getting a condenser mic to do so. This type of microphone does a great job of suppressing unwanted sounds and other loud noises during your stream.

Build Quality

Another important thing to note when choosing a microphone is its durability. You want to invest in a microphone that will last you for years to come. With this in mind, a good-quality microphone built from quality and durable material is a must.

Compatibility and Adjustability

Before going ahead with a mic purchase, see if it is compatible with your current hardware. You can choose between a USB or AUX mic input, so make sure to purchase one so you can easily input the device into the streaming setup. As for adjustability, a mic that can be mounted on the arm is ideal. This will give you an ideal mic placement while streaming and gaming.

Value For Money

And lastly, we have value for money. Microphones today are sold in different price ranges depending on the brand, its features, and overall performance. With this, some microphones may be out of your budget. But there is surely a microphone that's worth more than what you are paying for.
High Value Microphones
With that, here are three best USB microphones that are affordable and will improve your sound quality: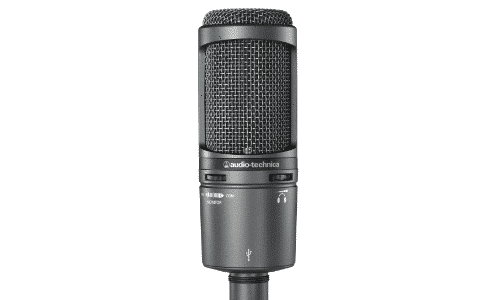 Audio-Technica AT2020+
Affordable

Good audio quality

Plug and play

Rejects off-axis noise
Fixed polar pattern

Tripod is flimsy
The Audio-Techinica AT2020+ is a plug-and-play gaming microphone that's offered at a budget-friendly price. This mic offers zero latency for headphone monitoring, giving you real-time audio feedback.
The Audio-Technica AT2020+ is a USB mic which is perfect for most beginners. With this mic, you can advance in your broadcasting career, without the complexities of an XLR mic. It is a highly reviewed microphone that is perfect for both podcasts and streams where voice quality is a little more important.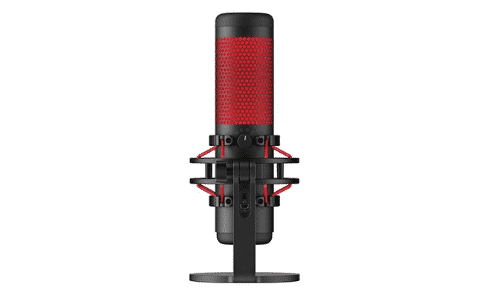 HyperX Quadcast
Premium build

Smooth sound quality

Tap-to-mute

RGB lighting
Software only works with PC
Despite being known as one of the better gaming microphones (looking at you, variety streamers), the HyperX Quadcast is also powerful enough to pick up quality ASMR-type sounds to keep your viewers tingling. It has a wide frequency range and four polar patterns: bidirectional, cardioid, stereo, and omnidirectional). You can change these patterns easily with a dial.
Another great feature of the HyperX Quadcast is the tap-to-mute feature. When you are streaming, you can't always control external noises (such as sirens), which can disrupt your viewer's experience. With this mic, you can quickly tap it to mute yourself until the unwanted noise has passed.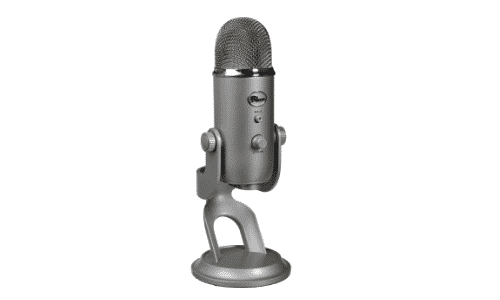 Blue Yeti
Beautiful and durable design

Plug and play mic

Recording studio sound quality
Accessories sold separately

Does not have a power switch

Can be too sensitive that it picks up background noise
Blue microphones have been making their mark for many years. The Blue Yeti is the most popular USB microphone on the market. It's a reasonably priced streaming mic that's perfect for content creators.
What's more, the Blue VO!CE software provides several vocal effects for streamers to play with. Plus, the Blue Yeti has 4 polar patterns you can choose from. This quality mic offers the following modes: Cardioid, Stereo, Omnidirectional, and Bidirectional.
This mic also gives you maximum control over a number of mic settings, such as mic gain, mic sensitivity, and even a dedicated mute button. In addition, you get headphone monitoring without delays. It's truly a dynamic microphone that'll help you improve your streaming sessions.
How to Improve Your Audio on OBS or Streamlabs
To improve your audio, you will need to first listen back so that you can diagnose the issues. Here's what you should do:
Step 1

You will need to open OBS or Streamlabs to turn on the monitor feature for your microphone and start speaking. 

Step 2

Open advanced audio settings from your mixer. You can use preset audio filters on your OBS or choose to mix it yourself.

Step 3

Change your microphone monitoring to "monitor only" or "monitor and output" if you are recording your audio through the process. 

Step 4

At this point, you should be able to hear yourself in your own headphones. Make sure that you are speaking at the mic properly, as it can sometimes be difficult to know where to speak in a condenser USB mic, so it is important to find where you sound the best or loudest. 

Step 5

Level your mic on your desktop before leveling it on your broadcasting software. Go onto your PC settings, then the sound tab. Select your microphone, then go to device properties. Start to level the volume and listen to yourself as you make adjustments. 

Step 6

After you have leveled your desktop, open your streaming software and level your mic volume there. Try to aim for the "yellow" bar as the green can be too quiet and the red is too loud.  
How to Use Filters to Improve Your Twitch Audio
There are three filters that can really improve the audio of your stream. These are the following:
Noise Suppression Filter

Can pick up sounds, such as fans in your stream room and remove them from the sounds being picked up on your mic through your audio interface.

Limiter

This will limit how loud you can be. You set up your max audio sound and the limiter will ensure that you don't peak above that. This will protect your viewer's ear drums.

Noise Gate

This will make sure that your mic doesn't pick up sound unless a certain loudness is hit. It is different from noise suppression in that your mic will not pick up anything until something is loud enough, whereas the suppression just quiets a certain steady sound in the background. 

Pop Filter

You can purchase a pop filter. This is a great way to muffle pop sounds when speaking, making your audio signal that much better.
To add these filters, click on your microphone settings on your broadcasting software and pick "filters" from the options. Turn on each filter you need and adjust the settings until your audio sounds better. 
Additional Equipment: Audio Mixer
An audio mixer helps you to combine audio signals. This device is able to control the volume of one audio source to another. For example, a mixer can adjust the volume of a mic and an instrument, even if these are from two different devices. Likewise, you can also play with the audio equalizer with an audio mixer. You can adjust the bass, mid and treble.
How to Mix Your Stream Audio for Professional Results
While mixing your audio can be tricky and confusing at first, it is a very important aspect of streaming that every broadcaster needs to learn. While you won't be able to use the monitoring process you used earlier, you can record yourself playing the game, listening to your Twitch royalty-free music, and speaking into your mic to play it back later.
While you are recording, play with your mixer settings so that you have an idea of what sounds best when you are done with the experiment. You will typically want to have your game audio quieter than your mic and your background music quieter than your game.
Once you find a good mix, keep track of your settings so that you can make minute changes in the future.
Conclusion
Audio is one of the most important features of any stream on Twitch. I hope the above tips helped you toward creating a higher quality show next time you go live.