This increased level of access, especially for smaller streamers, has provided an amazing opportunity for creators to really go all out with customization. Stream overlays, sound mixing, and anything else you can think of can help your content stand out amongst the crowd.
But it doesn't stop there.
Many entertainers have begun using VTuber avatars to make their content stand out. The ability to design an avatar with personalized physical and personality traits has made streaming as a VTuber incredibly popular.
If you are interested in creating your own VTuber avatar, or maybe you've never heard of this growing trend and want to know more, this article is for you.
We will be covering the process of making your own customized VTuber avatar, as well as some general information about what makes VTuber avatars so popular.
What is a Vtuber Avatar?
A VTuber (or virtual YouTuber) is a streamer that uses a customized animated avatar to represent themselves instead of the usual video image.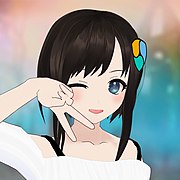 This trend started in Japan around 2010 with just a handful of VTuber creators but quickly grew in popularity to over 10,000 VTuber streamers by 2020.
Most VTubers use motion capture software and a webcam to map their facial expressions and upper body movements onto a 2D or 3D model. Popular animated model software includes ReadyPlayerMe, a free online app you can create 3D models with right in your web browser, and VRoid Studio, a program you can download through Steam where you can create and customize a character model.
A VTuber uses an avatar to represent themselves in their stream for a number of reasons. Maybe they want to present a persona that they feel defines them or better represents the atmosphere of their content. Or they may be using an avatar for personal security reasons.
Whatever the case, creating your own VTuber avatars is an excellent addition to your stream if you want to create a more confident and safe environment.
How to Make a Virtual Avatar
On the surface, creating your own VTuber avatar can seem like a lot of work with a steep learning curve. However, with the recent increase in popularity, simple and effective 2D or 3D models can be created by almost anyone.
There are a number of VTuber software options when it comes to software for creating your own VTuber model creation software. Below are some of the most popular options on the market:
VRoid studio

VRoid studio

Free, beginner-friendly app. Great for starting your journey as a VTuber. Available on Steam or downloaded from their website.

ReadyPlayerMe

ReadyPlayerMe

Free in-browser app. Perfect for amateur VTubers looking to create their first model.

Animaze Editor

Animaze Editor

The basic version is free, with paid options for higher customization. Previously called FaceRig Software. Available on Steam or from the Animaze website.

VTube Studio

VTube Studio

Free with optional paid DLC to remove the app watermark. Available on Steam.

Live3D

Free and paid plans are available. The free version includes basic functions and resources. Available on Steam.
Creating a VTuber Avatar Using ReadyPlayerMe
In this guide, we will be using a program called ReadyPlayerMe. Other apps offer more options for customization, but this one is free, user-friendly, and easily accessible in a standard web browser.
As you grow as a VTuber, you will probably want to move to software with paid services, such as VTube Studio, where the company requires payment to remove their watermark and open up more freedom with your avatar.
Step 1. Personality

This step can be one of the most difficult if you don't already have a persona in mind.

Your avatar should represent the qualities you want to present to your audience. Maybe you want to highlight some aspects of your personality, or maybe you want to create a new persona just for your stream content.

Making sure your character is fully developed is very important, as the following steps will be made more difficult without a clear picture of how you want your avatar to look and act.

Step 2. Create Your Avatar

As stated above, we will be using ReadyPlayerMe to create our Vtuber avatar. Head over to readyplayer.me to get started.

On the homepage, click Enter Hub to get started.

Enter Hub

Next, choose your body type:

Choose your body type

Now, upload a photo of yourself so the program can match the avatar to your likeness.

Upload a photo of yourself

Finally, pick one of the basic avatars. This will automatically generate a standard avatar for your base. Click Next and use the customization options (skin color, eye, nose, and mouth shape, accessories, hairstyle, etc.) to manually fine-tune your avatar and make the character your own.

When you are finished, click Go To Hub and claim your avatar.

Claim your avatar

Step 3. Making the 3D Model

In this step, we will be turning your avatar into a 3D model that can be used for streaming. We will be using Animaze to convert your avatar into a virtual being.

In ReadyPlayerMe, go to your account and click on My Avatars in the bottom right corner.

Click the three-dot icon in the top left of the avatar you want to use and select Download avatar .glb to get the avatar file. Make sure to save the file in a place you can easily find.

Click the three dot icon

Now, we need to install Animaze. Head to animaze.us and install the software.

Open the launcher and click Install Animaze Editor. We will be using this to convert our avatar file to a file type that can be manipulated by the Animaze software.

In Animaze Editor, click Assets > Import 3D Object.

Import 3D Object

Find your file from ReadyPlayerMe and Import. This process can take a few minutes.

Once your avatar is loaded, you can fine-tune your look in the Animaze menus. When you are finished, right-click your avatar name in the hierarchy panel and select Bundle.

Step 4. Broadcast

Now for the fun part!

In this final step, we need to open the main Animaze program from the launcher.

Animaze program

In the left-hand menu, select Avatar and go to My Avatars. Click the plus sign and load your avatar into Animaze.

Now, you can use your own avatar you just created to go live on your YouTube or Twitch stream. You will need to set up the Animaze virtual camera input and enable the virtual camera to overlay your VTuber model on your stream in your preferred streaming software.

This virtual camera is used to help track head position, shoulder movement, eye movements, and other key information for your model to mimic.

Click the Animaze virtual camera to set up and start streaming with your customized VTuber model!
Places to Commission a VTuber Avatar
For those of you who don't want to create your own avatar from scratch, there are a few good options to have a VTuber avatar made for you.
Many Twitch and YouTube creators use commissioned avatars. The main benefit of having an avatar created for you is that someone with more experience and additional software designed to create VTuber models can help you customize your character better than you can. Higher skill usually means higher quality.
Below are a couple of great places to search for character services:
Fiverr

Fiverr

Fiverr is an amazing marketplace for freelance commissions. Here, you can find a designer to help you create the best custom VTuber model. Whether you want anime-style avatars or something else, these sellers will work with your personal preference to start creating the perfect virtual model for you.

Etsy

Etsy

VTuber commissions are available for just about anything you could imagine. Sellers will work with you to develop a character model based on the details you give them.

VTuber.gg

VTuber gg

Tons of experience in the creation of VTuber avatars. Many VTuber creators have successfully created the model they're looking for with the artists at VTuber.gg.

Reddit

Reddit is a great place to connect with several people through shared interests. Reddit functions through communities that you can join. You simply have to look for a Vtuber community. Once you've found a good community, you can either look for someone who creates VTuber avatars or create a post looking for one.

It may surprise you how easy it is to make connections on Reddit. However, be wary of scammers.
Frequently Asked Question
Is making a VTuber avatar free?
You can make a VTuber avatar using free VTuber software. You can use software like VRoid Studio, Steam, VTuber Maker, AI VTuber Maker Online, and more.
What app to use to make a VTuber avatar?
You can use the apps mentioned in this post: VRoid Studio, ReadyPlayerMe, Animaze Editor, VTube Studio, and Live3D. These are the most popular and widely used VTuber Avatar makers. These are easy to use and navigate, making them ideal for beginners.
What is the minimum requirement for VTuber?
You will need a laptop or PC with at least 8 GB of RAM. This will ensure that your device can handle the 2D or 3D Avatar. In addition, you will need a quality webcam that has motion-tracking technology. This will allow you to create accurate facial expressions and movements for your VTuber avatar.
Does a VTuber model have to be anime?
While VTuber avatars are often associated with the anime style, it does not necessarily mean it has to be in that style. You are free to create your avatar the way you want it to be.
Conclusion
Hopefully, this article has provided the answers you need to get started as a VTuber. As you can see, it isn't as complicated as it might seem on the surface, especially with the help of VTuber maker software today.
Just grab one of the amazing VTuber software options, create your virtual avatar, and go live with your new, customized VTuber model.
So, what are you waiting for? Turn on your computer, connect a webcam, and start chatting or playing games as a VTuber today!