In order to export your Videos from Twitch to YouTube, you must save your broadcasts and link your YouTube account to your Twitch account. This post will explain how to complete these steps, export to YouTube, and a couple options you should consider.
How to Enable VOD on Twitch
In order to export your VODs, you must make sure to save your broadcasts. To do this, follow these steps:
Step 1: Click your avatar at the top-right of your screen, then choose "Creator Dashboard" from the drop-down menu.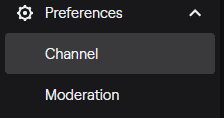 Step 2: Open the "Preferences" tab on the left side-bar and choose "Channel" from the available option.

Step 3: Find the "Store my Broadcasts" section under "Stream Key and Preferences". Toggle this option to "on."
How Long are VoDs Stored on Twitch?
Once you have enabled them, your streams will be saved on the Twitch platform for 14 days. If you are a Partner or use Twitch Turbo or Twitch Prime, the VODs will be saved for 60 days. 
You can keep portions of your streams on Twitch forever if you create Twitch clips or highlight portions of your stream.
How to Link Your YouTube Account to Your Twitch Account
In the past, you were able to link your YouTube account with your Twitch account, but with the growth in popularity for YouTube Gaming, there is less interaction between the two platforms. Sadly, this feature has been removed and there is no news about it returning at this point in time.
How to Export VODs From Twitch to YouTube
Once you have saved a broadcast and have connected your Twitch and YouTube accounts, you'll need to access your VODS. To upload your Twitch VODs to YouTube, follow these simple steps:
Step 1: Click your avatar at the top-right of your screen, then choose "Video Producer" from the drop-down menu
Step 2: Find the correct VOD and click the "More" button.
Step 3: Choose the "Export" selection, then find the options for your YouTube video.
Highlight Your Twitch Videos
Many people don't want to watch a 3-hour past stream on YouTube. While you can post it as an option, consider exporting the highlights as well. These 15-20 minute clips are generally more popular on the platform as people can watch them in "bite-sized chunks. Simply use Twitch's highlight maker to make the clip, then export it in the same way you would a full VOD.
Everything Shemerson makes very creative compilations from his gameplay on Albion Online. 
How to Make Highlights on Twitch
To make your own highlights on Twitch, follow these simple steps:
Step 1: Click the avatar at the top right-hand side of the screen, then choose "Creator dashboard" from the drop down menu.
Step 2: Click on the "Content" tab on the left sidebar, and choose "Video Producer" from the drop down options.
Step 3: On this page, you will be able to see a list of past broadcasts. Find the VoD that you will want to highlight and click the "Highlight" button next to it.
Step 4: Once you have selected the video, you will be taken to a new section where you will be able to highlight your favorite parts of your VOD by inputting the times you want to highlight at the bottom of the page.
Step 5: When you have finished, clkci the "Create Highlights" button to save your work.
Should You Upload Your VODs and Highlights from Twitch to YouTube?
It doesn't hurt. While some videos will do better than others, having your content in a place where your fans can see them is useful. Again, we recommend focusing on the highlights or important announcements about your stream.
Make sure to include in your description where you originally streamed the content so that people can find and support your Twitch channel.
Additionally, if you are an Affiliate or Partner, make sure to wait 24 hours before you upload the stream to YouTube so that you are in compliance with Twitch's Terms of Service. 
While there is no automated way to export Twitch videos to YouTube anymore, you can still download them and do it manually.
Download Your Twitch Videos
Another option is to download your Twitch VODs so that you can edit them in third-party software. At that point, you can upload a polished video that will bring in a greater YouTube audience who enjoy watching just the best bits of content.